The NFL's Week 3 is upon us. Week 2 was one hell of a week, but one of the great things about the NFL is that every week seems to get better and more exciting. Say what you want about Roger Goodell, but the league knows how to put on a show. Last week saw stars like Jimmy Graham, Jeremy Hill and DeMarco Murray play awful, while virtual unknowns like Travis Benjamin and Matt Jones put on superstar-like performances. Let's see what's in store for us this week.
Let's take a look at my 5 biggest Fantasy Football storylines heading into Week 3:
1. The return of Le'Veon Bell
DeAngelo Williams shockingly enough proved himself to be a capable fill-in for Le'Veon Bell, much to the appreciate of Steelers coach, Mike Tomlin, no doubt. That could come in handy down the road for the Steelers, but it's time for Williams to step aside because the King is back. This week, Bell returns to the lineup from his two-game suspension. The Steelers, despite being 1-1, are playing well to start the season and Bell's return will give them an added boost of production. Perhaps Bell will be rusty this week, but it won't be long before he's himself again on the field.
2. The struggle is real – Eagles offense is killing your fantasy numbers
Not only has Chip Kelly been the one to blame the most for the terrible 0-2 start, but he's managed to render his players useless for Fantasy purposes as well. There's not one player at this stage that I feel 100% comfortable starting. If you own DeMarco Murray, you need to start him just because of where you most likely drafted him [keep tabs on his health, though]. But as far as Sam Bradford, Jordan Matthews, Zach Ertz & Nelson Agholor go, I'm pretty sure that you could find anyone else at those players' positions that you'd feel more comfortable rolling into your starting lineups. Chip needs to address his team's performance on the field and change something, so we can reap the benefits in Fantasy.
3. The Denver defense
If I told you at the start of the season that the Broncos defense would be the big early season storyline, you likely would've done this to me: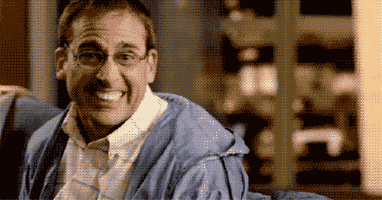 But, it's true. It's early on, but it's the best Fantasy defense and what's crazier is that as of this writing, their D is only owned in 58% of Yahoo! Fantasy leagues. Where are you guys and gals? Wake up! If they're available in one of your leagues, run, don't walk to the waiver wire because this team is going to put up some Fantasy points, as they've already done in weeks 1 and 2 with 16 and 21 points, respectively.
4. The NFC Least
I already touched on the Eagles a bit earlier, but man oh man, is the NFC a dreadful division. The Cowboys' offense is dropping like flies. First Dez, then Romo and now word comes out of Dallas that Jason Witten has two jacked up ankles and may miss some upcoming games. Not to be outdone are the Washington Redskins, who are a joke of an organization, led by Dan Snyder, who doesn't even have the testicular fortitude to release RG3. Instead, they allow RG3 to go out on the field in preseason and let opposing teams tee off on him. Then they have MEsean Jackson dealing with an injury that's costing him to miss a few weeks of the season. Last, but not least, the Giants stink. They've blown two fourth quarter leads already and show no signs of wanting to actually pull out a win. Then their star defensive player, Jason Pierre-Paul goes out in the offseason and rips off some of his fingers in a fireworks accident. Are you kidding me? Seven wins may get this division's winner into the playoffs. It's an absolute joke.
5. J-E-T-S JETS, JETS, JETS!!!!
Don't look now, but the Jets seem to have a competitive team on their hands. It shouldn't come as a surprise either as they have a new head coach, Todd Bowles, along with an actual solid quarterback, Ryan Fitzpatrick. But, what's cranking up this team a notch the most is their newly acquired, playmaking wide receiver, Brandon Marshall. I projected Marshall to have a so called rebirth year, once I saw that he'd have a solid game manager throwing him the ball. So far on the year, Marshall has 13 receptions for 163 yards and two touchdowns. If he keeps up his strong play and the Jets D keeps performing at a high level, this team will no doubt be dangerous down the stretch. Do I expect them to win the Super Bowl? Hell no! But, this is also a land far away from how the Jets usually perform.
Each week I will present what I think are the juiciest fantasy matchups at each position. I don't want to keep you guys waiting, so let's take a look at the juiciest matchups for Week 3:
Quarterbacks
Aaron Rodgers (GB vs KC) – The Packers just find ways to win and that's because they have such a great QB. No Jordy Nelson, no problem. Aaron Rodgers is 43/56 on the year for 438 yards and 5 touchdowns. His numbers aren't going down unless he's not playing. He'll keep it going this week against the Chiefs.
Matt Ryan (ATL vs DAL) – Next up on the schedule for the 2-0 Falcons are the Dallas Cowboys. The Ryan to Julio connection has been gold so far this year and it's not stopping this week either. Ryan is 53/80 for 661 yards with 3 touchdowns and 2 interceptions. This Falcons team has a certain swag to them. Look for 3 touchdowns this week for Matty Ice.
https://vine.co/v/eFV2g7KZ6DH
Tom Brady (NE vs JAC) – Nothing needs to be said other than the Patriots play the Jaguars this week. If Tom Brady carved the Bills D up for 40 points, imagine what's going down this week.
Wide Receivers
Julian Edelman (NE vs JAC) – The Pats are on cruise control and so is Julian Edelman. For the season, he has 22 receptions for 194 yards and 2 touchdowns. The Pats get the Jags this week and I see no reason that Edelman can't keep rolling this week.
Julio Jones (ATL vs DAL) – Yes, I know I'm not going out on a limb here, but Julio is ballin' out this year. Like Rob Gronkowski, there's no reason to think that he won't dominate each week. The Cowboys D is solid and with all of their offensive stars out, their D will need to keep them in the game. I just don't see how Julio can be contained. I'm expecting 130+ yards and at least 1 touchdown against the Cowboys.
Emmanuel Sanders (DEN vs DET) – Sanders has 8 receptions in each of his first 2 games of the season. As a Sanders owner, you should love that. He has 2 touchdowns so far and he's going to remain one of Manning's key targets. The Broncos play the Lions this week, so it could be a high scoring game. Plug Sanders in with confidence this week.
https://www.youtube.com/watch?v=Zdy0jYRLN_E
Running Backs
Marshawn Lynch (SEA vs CHI) – The Seahawks have started the season 0-2. It's time for them to get back to basics and start feeding the beast. The Seahawks opponent this week, Chicago, was carved up by the Cardinals this week. This is a great opportunity for Seattle to get back in the win column and it starts with getting the ball to Marshawn Lynch. I like Lynch for 100+ total yards in offense and 1 touchdown for this week.
https://vine.co/v/OXHBM1LHQWb
That's just a little reminder of what #BeastMode is capable of.
Adrian Peterson (MIN vs SD) – Peterson had 29 carries in week 2, which should make your mouth water. I think this is the start of a monster year for him. The Vikings play San Diego this week and the Chargers have the perfect defense for Peterson to eat up.
Jamaal Charles (KC vs GB) – Charles has had a nice start to the season as he's had 37 carries for 182 yards and 1 rushing touchdown, to go along with 9 receptions for 48 yards and 1 receiving touchdown as well. He does have 2 fumbles, one of which cost them the game against the Broncos. Needless to say, Charles should have another nice game this week against the Packers.
Tight Ends
Jimmy Graham (SEA vs CHI) – Jimmy had 1 reception for 11 yards last week and that is absolutely unacceptable. Hopefully, the Seahawks coaching staff are smart enough to figure out that Graham needs more touches. I think Graham feasts on the Bears D this weekend.
Greg Olsen (CAR vs N.O.) – The Saints are struggling and is exactly what the doctor ordered for Greg Olsen and the Panthers this weekend. Look for Olsen to get in the end zone this week to go along with 5+ receptions.
Rob Gronkowski (NE vs JAC) – Rob Gronkowski is great, yada, yada, yada. You already know the deal with him, so just make sure he's in your lineup.
Kickers
Josh Brown (NYG vs WAS) – Thursday night games tend to be a bit ugly and I fully expect this one to be. Look for both teams to kick a bunch of FG's in this one.
Mason Crosby (GB vs KC) – Should get plenty of opportunities to get some FG's against a solid Chiefs D.
Defense
Houston Texans (vs TB) – JJ Watt and the Texans D are going to put a hurtin' on Jameis and company here.
New England Patriots (vs JAC) – Jags are no match for the Patriots here. The Patriots D should be able to force multiple turnovers against this young Jags team.
Bust of the Week
Odell Beckham, Jr. (NYG vs WAS) – Normally I wouldn't bet against Odell Beckham, but because we usually see sloppy games on Thursday Night Football, I expect a low scoring game, where the Redskins keep Beckham somewhat in check. I'm not saying Washington completely silences him, but I don't expect the typical game from Beckham.
…
Daily Fantasy Sports
By now you've probably seen plenty of advertisements during NFL games for Daily Fantasy Sports (DFS). It's been part of the Fantasy world for a few years now, but now it's taking off commercially. There's been a huge acknowledgement by the NFL and other major sports companies and teams that DFS is becoming overwhelmingly popular with the public, and they're trying to cash in while the iron is hot.
Honestly, what's not to love about DFS? If you love Fantasy, DFS gives you a chance to play daily. The two biggest DFS companies currently are FanDuel and DraftKings, both of which give you a chance to be a General Manager. You're allotted a certain budget and you have to fill out your teams with players who are assigned salaries for the week. If you haven't tried the games, you should. You can set a new lineup daily and both sites will match your initial deposit up to a certain amount. Both sites have plenty of free games available. There's a certain skill involved with making some lineup decisions, but as with anything in life, if you practice and pay attention to what's going on around you, you can succeed at these games. As is the case with regular Fantasy Football, I'm here to help you navigate through the wonderful world of DFS. At the end of the day, the final decisions are yours to make, but I will be here with you to help guide you through some value picks. Going forward in my weekly previews, I will supply you with some suggestions for value plays that you can make at both FanDuel and DraftKings weekly for the NFL. The salaries are a bit different at each site, so you may not see the same guys on each list because of that difference. Also, please note that I won't cover kickers with my picks. I want to focus on the main positions.
FanDuel Value Picks of the Week
Teddy Bridgewater (MIN – QB – $6,800) – The price is right for Teddy against the Chargers. He should have a nice game this week.
Latavius Murray (OAK – RB – $7,000) – Goes up against a tough Cleveland defense, but he's too good to hold down at this price.
Larry Fitzgerald (ARI – WR – $6,700) – Like DraftKings, I'm stunned at his salary for the week. It's too good to pass up.
Greg Olsen (CAR – TE- $5,900) – The TE salaries are a bit higher on FanDuel, so rather than take Ebron at $5,100, I'd rather spend a little bit more for a TE that I think will be more involved in the offense.
Atlanta Falcons (DEF – $4,300) – As is the case with the TE's for FanDuel, the salaries for defenses are inflated. I still love the Falcons D here as most of the defenses have similar salaries.
DraftKings Value Picks for Week 3
Carson Palmer (ARI – QB – $6,600) – If the Cards have another big week here against San Francisco, Palmer's cost won't be this low again.
Latavius Murray (OAK – RB – $5,800) – Slowly but surely, Murray is getting it going. This is a great price for a player that's about to blow up.
Larry Fitzgerald (ARI– WR – $5,800) – Had three touchdowns last week against the Bears and is only $5,800 – and against the 49ers? Yes, please.
Eric Ebron (DET – TE – $3,300) – No one is really talking about the solid year that Ebron is having so far. Instead of spending high with Gronk, go low here and use that extra cash on another position.
Atlanta Falcons (DEF – $2,900) – The Falcons are rolling and are going up against a Cowboys team without their star offensive players. I have a good feeling about this one.
You can stay up to date with everything Fantasy Football related by following me on Twitter (@ViggieSmalls765) and Instagram. I'll be available on Twitter for upcoming Twitter Chats and to give out advice to help guide you through your fantasy season.