Do you remember a couple weeks back when Villanova lost to Seton Hall in the Big East Championship? Specifically, do you remember in that game when there were seven seconds left and the Wildcats were trailing by one, Josh Hart grabbed an offensive rebound and he was clearly fouled as he attempted a layup? The refs didn't blow the whistle and Hart didn't have his chance to win the game at the free throw line and at that moment we all realized that the Wildcats lost out on a likely number one seed in the East Region, which would've meant Villanova could play in Philly for the Sweet Sixteen and Elite Eight.
It turns out it did cost them and instead of having the chance to play in Philly, Nova was a number two seed in the South that would head out to Louiville, Kentucky if they won their first two rounds. Nova fans were pissed! It turns out that Nova didn't need any home court advantage by playing in Philly because last night they beat the mighty Kansas Jayhawks in Louisville and they're now heading to the Final Four in Houston next Saturday.
Here's a little post-game celebration from Nova, as the team sings happy birthday to Ryan Arcidiacono.
WATCH: #Villanova & ENTIRE Arena Sing Happy B-Day to Ryan Arcidiacono

POST REPORT:https://t.co/LCajX5Iyx5 pic.twitter.com/SJa7kmEhdI

— Jeff Skversky (@JeffSkversky) March 27, 2016
On Saturday night, it was truly a team effort for the Wildcats. They didn't shoot as well as they've been shooting, but it didn't matter. For most of the game the Nova defense swarmed and suffocated the Jayhawk offense. Mikal Bridges and Josh Hart each made huge steals in the final minute to help Nova pull off the win and end the Jayhawks' 17-game winning streak.
Jayhawks' Head Coach Bill Self described it the best after the game courtesy of Fox Sports.
"The basket shrunk a little bit for us, and certainly, they probably got some confidence the way they were defending us. But it came down them making free throws and it came down to a couple of loose balls, and that was the difference in the outcome."
The Nova hustle was on full display all night long as was in the case as they shut the Jayhawks down on their final attempt to tie things up here.
STEAL! #Elite8 https://t.co/NPzEnDI08k

— NCAA March Madness (@marchmadness) March 27, 2016
Kansas trailed 32-25 at halftime after struggling with nearly every part of its offense, which included forward Perry Ellis, who had no first-half points on 0-for-2 shooting with four turnovers. For the Wildcats, Kris Jenkins, Josh Hart and Ryan Arcidiacono each scored 13 points. They used a 10-0 run to take a 50-45 lead and got huge baskets when they needed them.
Nova's Kris Jenkins spoke afterwards about his team's effort courtesy of ESPN.
"Every guy on this team is willing to do whatever it takes to win, man. Everybody on this team sacrifices. But we're not satisfied. We're looking forward to our next game in Houston. This definitely is a special feeling, but like I said before, we're not satisfied."
As time expired, the official celebration began.
Villanova headed to #FinalFour for first time since 2009! https://t.co/beEE2sNzie

— NCAA March Madness (@marchmadness) March 27, 2016
The Wildcats shot just 40.4 percent from the field and 22.2 percent from three in the win, however the team proved last night that they could win a gritty slug fest, which they hadn't had to do yet in the NCAA Tournament. Of course one of the proudest people on earth last night was Nova Head Coach Jay Wright. He talked about the feeling of watching his team play last night. Here's what he had to say courtesy of USA Today Sports.
"It's like being a parent. You think your kids are the greatest and then when you see them live that out and become great it just makes your heart swell. Even if they would have lost you still think they're great. But you can see they proved to everybody else they're great and I'm so proud of them and happy for them."
The Villanova Men's Basketball twitter account (@NovaMBB)  posted great videos and photos from the night, including this video of Jay Wright getting doused with water in the locker room after the game.
Inside the winning locker room! All smiles! Houston bound for the #FinalFour#LetsMarchNovapic.twitter.com/aiPFLbtudd

— Villanova MBB (@NovaMBB) March 27, 2016
Here are some more photos from their account that truly capture the huge night for the team.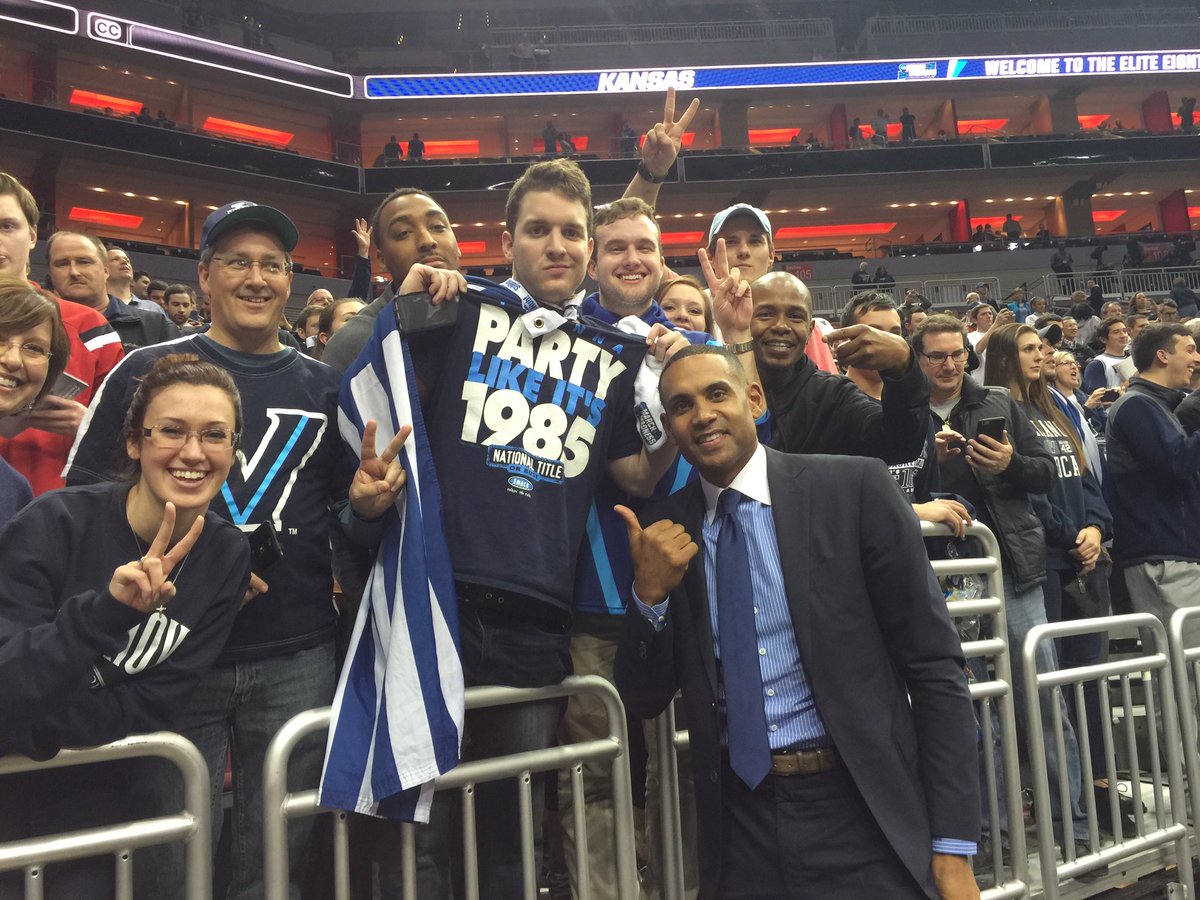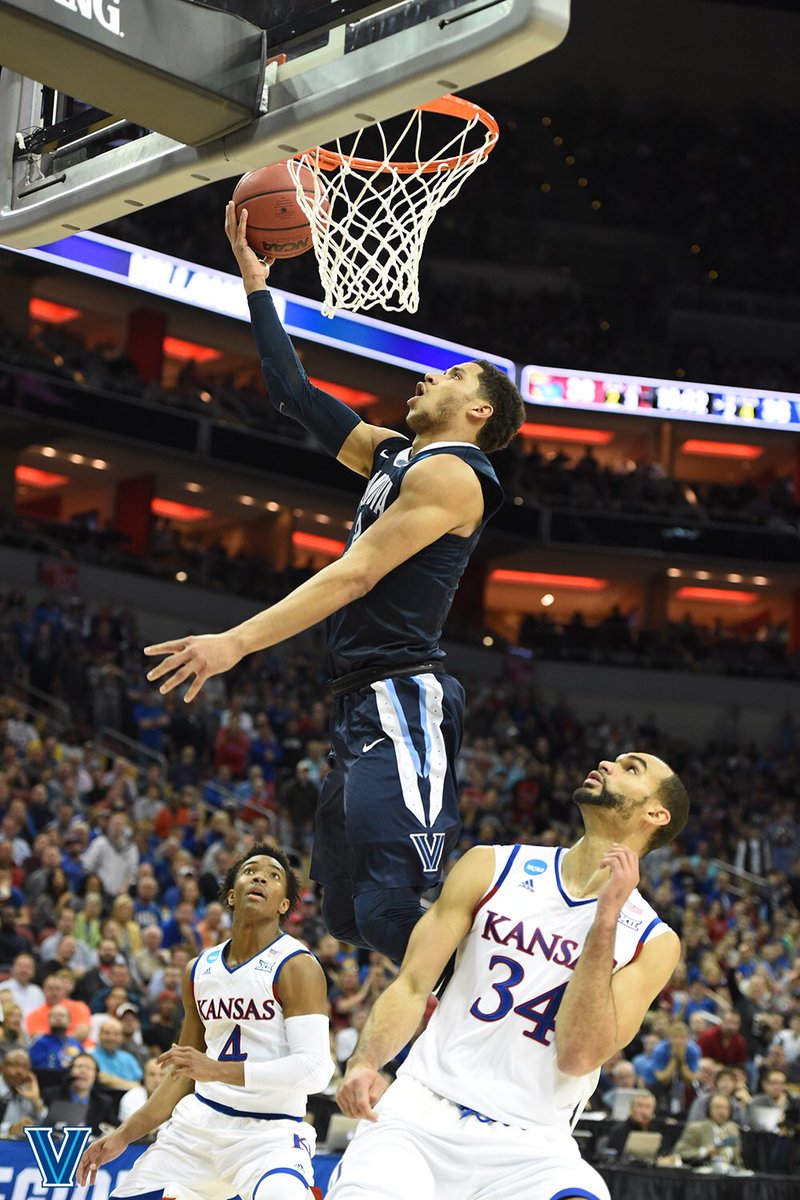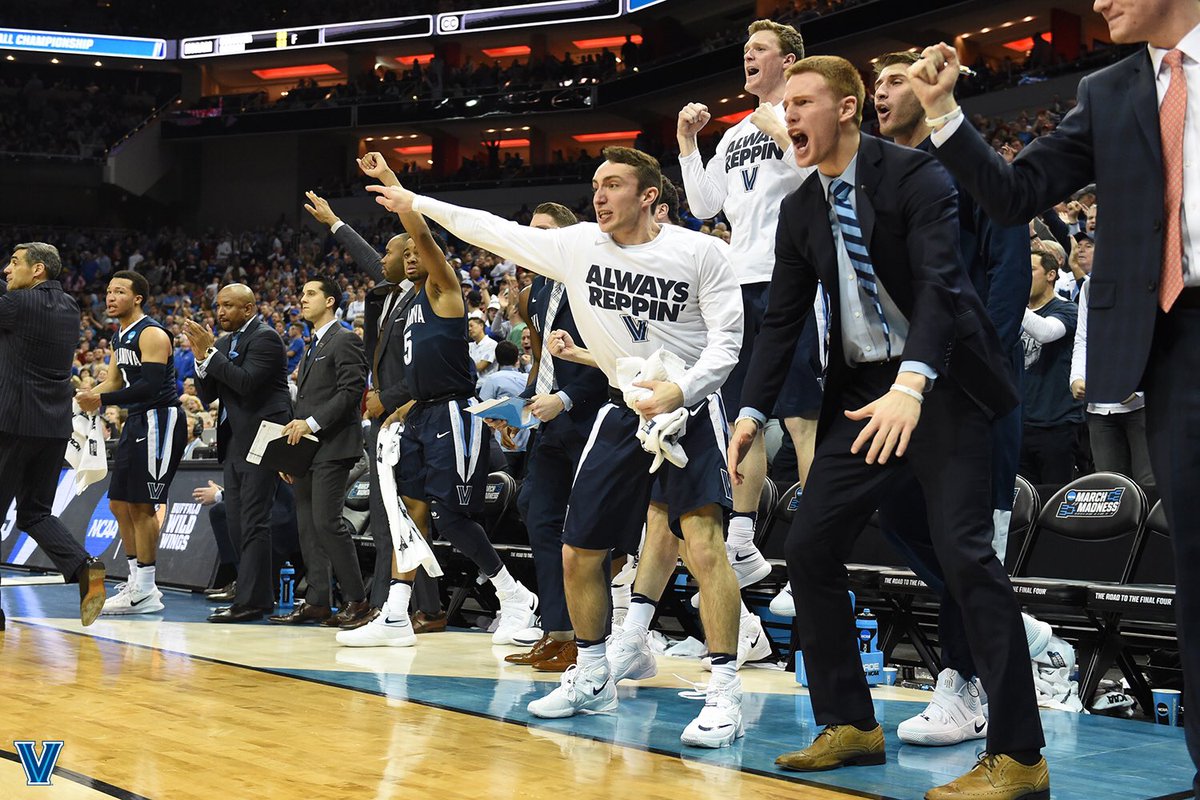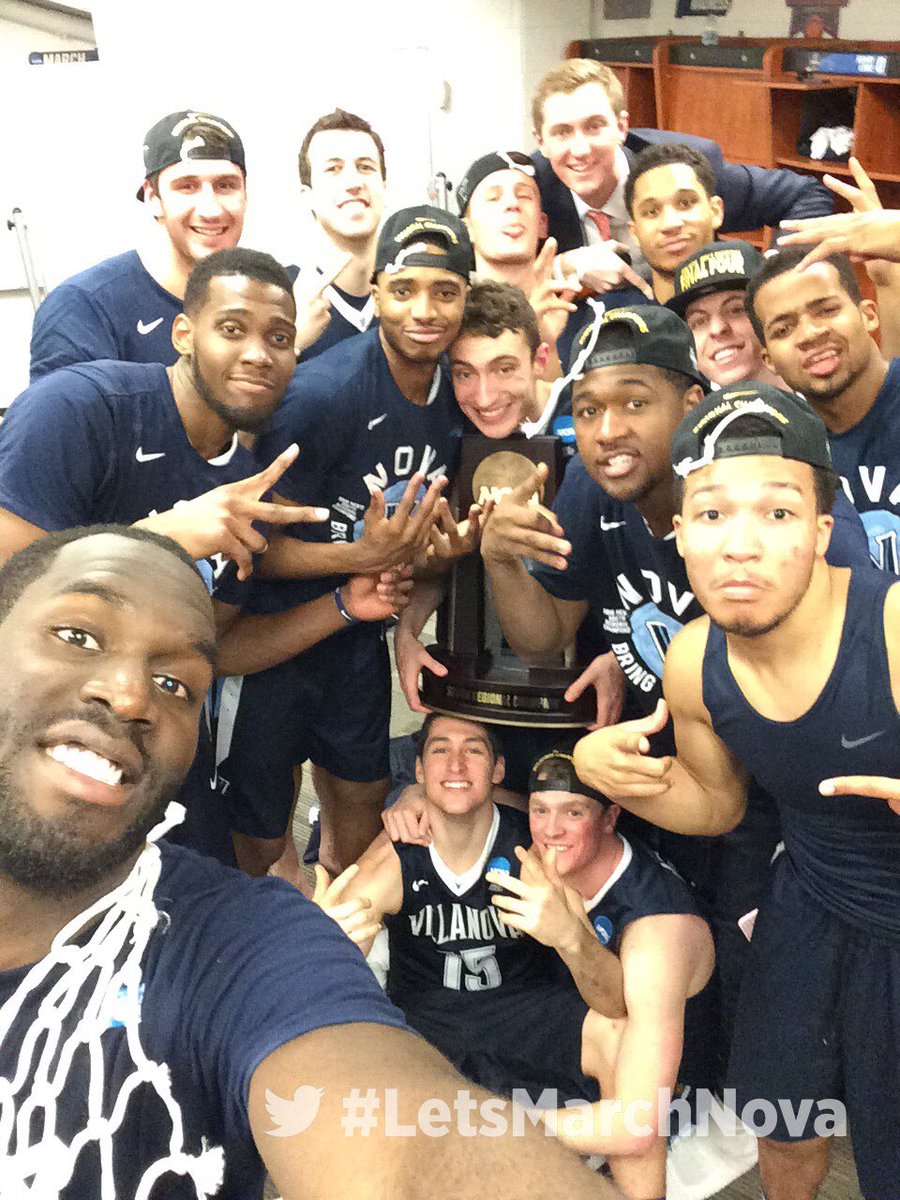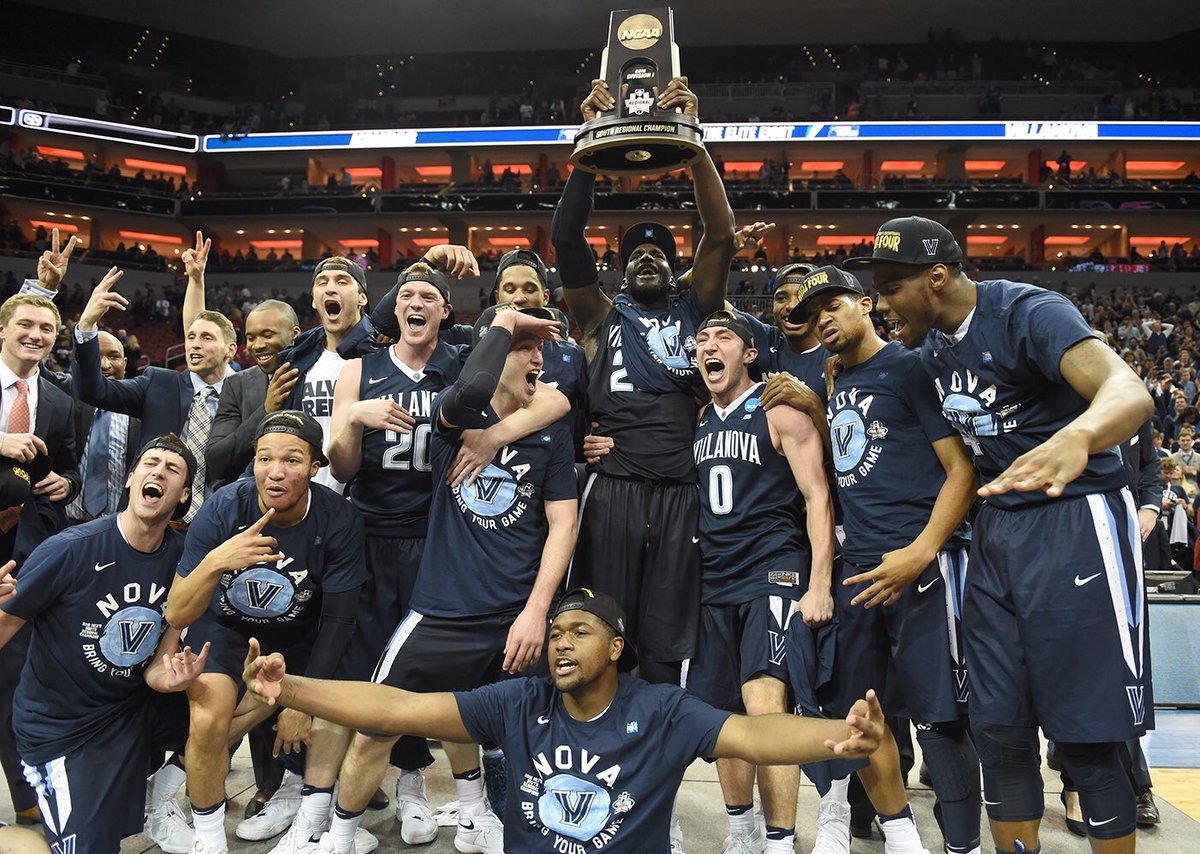 While it was a great night for Villanova, the show isn't over just yet. They'll meet the Oklahoma Sooners in one of the National Semi-Finals next Saturday. Oklahoma was led by Buddy Hield, who hit eight 3-pointers while scoring 37 points, as they won 80-68 over the number one seed in the West, the Oregon Ducks. Here's a sample of some of Buddy's work last night.
Buddy finishing the half, the same way that he started it! ?#MarchMadnesshttps://t.co/z2tg7X2bpQ

— Bleacher Report (@BleacherReport) March 26, 2016
Regardless of who this team plays (and yes I know a date with UNC could be looming), at this point it's hard not to believe in this team and what Jay Wright has them doing. This is a complete team and there's no reason to think that Nova can't take it all this year. I hope you're enjoying this ride because I sure as hell am.