Featured Bars and Restaurants 
…
This Week in Cocktails:  Philadelphia Brewing Company's  Fleur de Lehigh
Spring is in the air (AND the Phillies hot start) and Philadelphia Brewing Company knows the best way to celebrate is with a Fleur de Lehigh, the brewery's newest release, perfect for spring and summer sipping. Fleur De Lehigh is an unfiltered golden ale brewed with ginger, lemongrass and other natural herbs. This light (4.74% ABV) and refreshing brew blooms upon the palate and boasts a vibrant, floral character perfect for an evening of imbibing al fresco in Philadelphia Brewing Company's newly expanded beer garden, on your front porch or at a tailgate this summer. Reminiscent of Shibe Park, the bottle features an image of the former home of the Philadelphia Phillies that stood on the corner of N 21st St and W Lehigh Ave. until 1976.
…
The Spotlight of the Week: Easter Weekend 
MilkBoy South Street: MilkBoy South Street is located on the bustling intersection of South St. and 4th, is mixing up an Easter inspired cocktail, Hare of the Dog, with mango habanero whiskey, homemade sour mix, and egg whites. This sweet, sour and spicy libation is available for $12 on April 20 and 21.
Ocean Prime: Ocean Prime, the steakhouse located on the corner of Sansom and 15th St, is opening its doors early on Easter Sunday for those looking to enjoy a mid-afternoon Easter lunch or dinner. Starting at 2 p.m., guests can enjoy features from new Executive Chef Steve Ackner in addition to dishes from the regular dinner menu. Options include a Shrimp Cocktail ($22) for an appetizer, Lamb with two double cut chops, English peas, mushrooms, and caramelized onions ($49) for an entree, and Ten Layer Carrot Cake with cream cheese icing and pineapple syrup ($13) for dessert.
Red Owl Tavern, located across from Independence Mall, is serving an Easter Sunday brunch featuring select specials in addition to their usual brunch menu. With a $20 Bellini bar, over the top brunch dishes, and more, there is something for everyone in the family to sip on, dig into, and enjoy. Reservations are strongly encouraged and can be made by calling 215-923-2267.
Square 1682: Square 1682 located steps from Rittenhouse Square, is serving brunch all day long for Center City Easter goers. With an over-the-top Bloody Mary Bar ($8), special Easter-inspired mimosas, and free cookies for the kiddos to decorate, there's great Easter options for everyone in the family.
The Twisted Tail: The Twisted Tail, Headhouse Square's lively Southern-influenced restaurant and bar, is serving a decadent Easter Brunch Buffet with a cornucopia of seasonal brunch items, including multiple chef carving stations with porchetta, spring leg of lamb, omelets and waffles. Guests can also enjoy pastries, bagels, smoked salmon, shrimp cocktail, fresh fruit and more. The buffet is available on April 21 from 10 a.m. to 4 p.m. for $48 per person and $25 for kids (3 to 10 years of age).
…
Weekly Events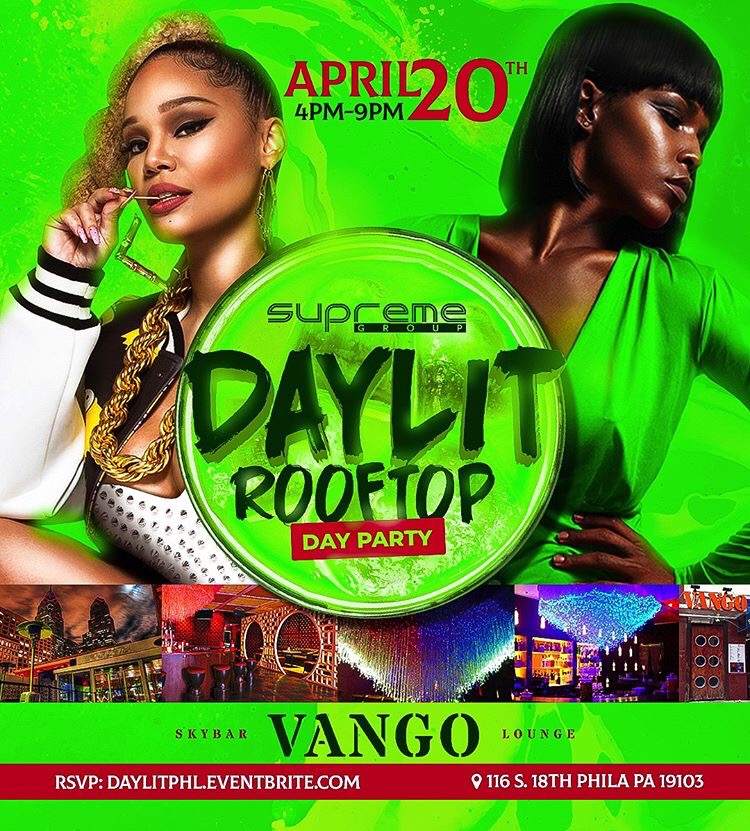 Each week, Philly Influencer picks the best parties, events, and social gatherings the area has to offer
Manayunk Restaurant Week: Manayunk Restaurant Week runs through Friday, April 26th.This food extravaganza is one that shouldn't be missed. Come out for three-course, prix fixe menus ranging from $15-35 per person.
Morgan's Pier Opening: Morgan's Pier beer garden and deck will be opening this Thursday. The waterfront beauty has over 40 brews, sandwiches, burgers, tacos, and more snacks. The venue often has live entertainment, attractions, and social events.
Dining Out For Life:  Over 200 local restaurants will be hosting a great night of dining for a good cause. Dining Out For Life will be the highlight of this Thursday. Diners who go back to this establishment will be prided by the fact 33 percent of the day's sales will go to the AIDS service organization.
If My Grandma Were to Cook for You: If My Grandma Were to Cook for You is a dinner series hosted by Jezabel's Argentine Cafe.  Fork purchasing manager Ana Caballero will be running the second installment of the series. The BYO alcohol event will have lunch and dinner three-course options.
SRT Spree with Sly Fox Brewing Company at Saint Michael Park: This Saturday, come to the SRT Spree along the  Schuylkill River Trail at Saint Michael Park. There will be 50K relay run, a group bike ride, and more. For entertainment, live music will be at the event.  Uncle B's BBQ Shack will be filled with brews and food specials.
That's What She Said: The Office Trivia Tour: JJ Bootleggers and several bars will be merging a bar crawl and quizzo night into one this Saturday.  You'll be tasked with answering 25 multiple choice questions about "The Office" at every bar you go to. Drink specials will be in abundance at this ultimate test of The Office knowledge.
Boozin' Through the 90s Bar Crawl: Rittenhouse Square's Howl at the Moon will be one of the several spots you'll stop at during Boozin' Through the 90s Bar Crawl. This Saturday wear your favorite 90s gear and assemble your team for a fun time. You'll receive drink specials and LED bracelets that change color when its time to go to your next stop.
Day Lit Rooftop Day Party: This Saturday, come out to Vango Lounge and Sky Bar for the ultimate day party experience. Day Lit will be jumping from 4 pm-9 pm. There'll be discounted VIP prices, free entry (with RSVP) until 5 pm, drink and food specials, and more. Enjoy amazing views of the city while the DJ blasts the best hits all day long. This will be a can't miss event.
Voltage Lounge Classic Hip-Hop Night: Voltage Lounge will be hosting a Classic Hip-Hop Night this Saturday night from 9:30 p.m. to 2 a.m. This party pays tribute to the golden era of rap. On this night DJ Selecta will rock the wheels of steel with hip-hop bangers from 1979 to 1999.
…
Featured Event 
---
The Twisted Tail Hosts Über-Exclusive Whiskey Tasting Event with Four Rose 130th Anniversary
Where: The Twisted Tail, 509 S 2nd St.
When: Friday, April 26th, 7 p.m. to 9 p.m.
The Twisted Tail, the popular Southern-inspired restaurant, bar and live music venue on Headhouse Square known for its extensive array of brown spirits, is hosting an exclusive Owner's Collection Whiskey Tasting with Four Roses 130th Anniversary on April 26th, from 7 p.m. to 9 p.m. George Reilly, Master Craftsman and The Twisted Tail owner, will lead guests in a guided whiskey tasting of several top-rated bourbons, featuring the incredible Four Roses 130th Anniversary Bourbon alongside other one-of-a-kind bourbons, such as Angel's Envy Cask Strength, Wild Turkey Master's Keep Revival, and Willett 80th Anniversary. Pour size is 1oz. for each bourbon.
As a limited-edition, small batch bourbon blend, approximately 13,140 bottles were distributed for this release. Guests will enjoy complimentary hors d'oeuvres in addition to the one-of-a-kind bourbons. Event space is extremely limited with space for only 23 guests. Tickets for this exclusive tasting are $250.
For more information, click here.
---
You can follow Candis McLean on Twitter (@CandisRMcLean) and e-mail her at candis.mclean@gmail.com.
Follow Philly Influencer on Twitter (@PHL_Influencer),Facebook and Instagram.