When taking on the responsibility of PhillyInfluencer.com's fantasy football contributor, I asked myself how can I set myself apart from the rest? Do I just want to crunch numbers? Do I want to explain in detail why I believe what I do so it hopefully convinces you that my advice is the best advice you could follow?
I've found a happy medium, so I hope you enjoy it. Any comments and constructive criticisms are welcome. I'm here for you – the man or woman who wants to win their fantasy football league this season. So, let's hit it.
My mission as we proceed, is much like the mission of Bad Boy Records in the 90's and that's to give you what you need. Fantasy Football season is upon us and things are about to get real. Over the next few weeks I'm going to give you a five part mini-series of articles to hopefully help guide you through fantasy draft season and highlight players that I like or don't like. Now is the time to start prepping (if you haven't already started) for your drafts and start reading up on articles that will better prepare you for the season. Without further hesitation, let's get into the first part of my mini-series and take a look at my top seven sleepers that I believe can have big seasons this year.
Quarterbacks
Teddy Bridgewater (Minnesota Vikings)
Help is on the way for Teddy Bridgewater and the Minnesota Vikings this year with the return to the field of star running back Adrian Peterson. Peterson ran into legal troubles last year when photos surfaced of his then four year old, battered and bruised son. I could spend all day talking about that case, but we're here to talk about the now and NOW, Adrian Peterson is well rested and will surely be on a mission to make the league pay on the field for that whole debacle last year. Enter Teddy Bridgewater. Bridgewater is coming off a solid rookie season, where he became the starter, mid-way through the season. Bridgewater was 259-402 and threw for 14 touchdowns, 12 interceptions and 2,919 yards. All of that was done with a sad receiving core and virtually unknown running backs. Now, with the veteran Peterson back in the saddle, Peterson is sure to be a work horse as always and Peterson's mere presence on the field will no doubt open the passing game up for Bridgewater and the Vikings. The Vikings also added veteran Mike Wallace to their receiving core to go along with the speedster Wide Outs such as, Jarius Wright and Cordarrelle Patterson. My confidence in Bridgewater is pretty high and so much so that I'd feel comfortable taking him in the later rounds of the draft, so that I can stock up on solid running backs and receivers and get the core of my team stacked. In the one quarter that he played in the Hall of Fame game against the Steelers, Bridgewater was 5-6 for 44 yards. The game was meaningless, but hopefully it's a sign of things to come for Bridgewater this year.
Ryan Tannehill (Miami Dolphins)
Over the last four years, Ryan Tannehill has shown gradual improvement in his game. In 2014, Tannehill was 392-590 and threw 27 touchdowns, 12 interceptions for 4,045 yards. Tannehill has played in each of the 16 games of his first 3 seasons in the league. The Dolphins made some nice little moves when they added Kenny Stills and Greg Jennings to their wide receiving core that already houses Jarvis Landry, Rishard Matthews and rookie Wide Receiver, DeVante Parker from Louisville. In addition, the Dolphins also went ahead and snagged themselves Tight End; Jordan Cameron in free agency, who spent the last few seasons in the Abyss, also known as the Cleveland Browns organization. However, in my humble opinion, the reason for the most optimism for Tannehill this year is the much improved Dolphins defense. Perhaps they landed the most prized possession in all of free agency, when they landed former Detroit Lion; Ndamukong Suh. An absolute man beast on the field, Suh's toughness will no doubt bring a ton of grit and edge to an already solid Dolphins defense. I expect the Dolphins defense to take on a bit of Suh's nasty attitude and I expect their defense to provide Tannehill and the offense with solid field position throughout the year. Tannehill doesn't need to be a superstar, he just needs to be an in game manager. As with Bridgewater, if you wanted to stack your team with receivers and running backs in the early rounds of your draft, you could certainly employ that strategy and take Tannehill in the later rounds.
Running Backs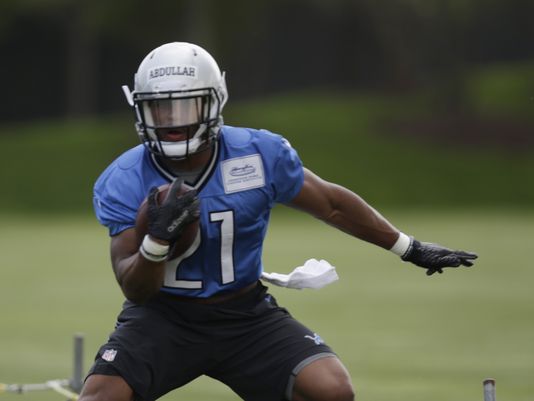 Ameer Abdullah (Detroit Lions)
Truth be told, I generally don't think rookie running backs can be expected to have great first years in the league as they generally get babysat from their perspective teams and they tend to suffer from fumbleitis. However, in the case of rookie Ameer Abdullah of the Lions, I think there's a chance here to land a solid RB2 option for your team. Abdullah, the 5-9 receiver who played college ball in Nebraska, gets a shot to play for a Lions team who are anything but stable at the running back position. Reggie Bush left Detroit to go to disaster central in San Francisco, leaving Joique Bell and Theo Riddick as the "featured" backs. If you've followed the Lions over the last few years then you know that while the promise is there for Bell, he tends to miss games throughout the year due to injuries. Theo Riddick is a virtual unknown as he enters his third year in the league. The opportunity will be here for Abdullah's taking. Whether he snatches up this chance, that's another story. The Lions still have a solid offence with Matthew Stafford at Quarterback and they have some obvious talent with Calvin Johnson and Golden Tate as their primary receivers. But, they will surely need to incorporate their running backs into their game plan, if they have any shot to compete for the playoffs. Keep your expectations in check for Abdullah, but the ceiling is there for him to have a solid rookie season in the NFL.
Joseph Randle (Dallas Cowboys)
I absolutely loathe the Dallas Cowboys! However, when it comes to fantasy football, you need to be able to view things objectively and in doing so in this case, Joseph Randle has the potential to have a great year. Clearly the Dallas Cowboys have one of the most dominant offensive lines in game, as they showcased their talents while helping DeMarco Murray become rushing champion last year. Murray made a tremendous decision to leave Cockroach City, A.K.A. Dallas and head to Philadelphia to join the Eagles. Murray's departure opened up a huge hole at the running back position for Dallas. In hopes of filling the gap, the Cowboys thought it would be a wise investment to sign free agent Darren McFadden. Anyone who doesn't live under a rock knows that the only things that are certain in life are: Death, Taxes & a Darren McFadden injury (or 8) during the season, which brings us to Joseph Randle. Randle is now entering his 3rd year in the NFL and will get his chance to show what he has. The Cowboys offense can be potent at time, but they'll need to incorporate a heavy dose of the run game to help out Tony Romo. For his career, Randle has rushed 105 times for 507 yards and 5 touchdowns, with 2 fumbles. There's not a huge sample size here, but Randle has served his backup role pretty well in the last couple of years. Randle has an explosive burst to him and if he can it the hole quickly, with that huge offensive line, there's an opportunity here for Randle to do damage. Randle also poses a threat out of the backfield to catch the ball, which makes him even more of potential stud in PPR formats. While I hope the Cowboys fail miserably this year, I think that I may have stumbled upon gold in regards to fantasy. Just keep an eye out for news on Randle as he appears to be dealing with a "slight oblique strain" and while it doesn't appear to be too serious, injuries like that could cause havoc and linger on a player throughout the year.
Wide Receivers
Amari Cooper (Oakland Raiders)
Success and the Oakland Raiders don't often go hand in hand. However, I believe that the Raiders are heading in the right direction, as their last couple of drafts have been excellent. They have what they believe is a franchise quarterback by the name of Derek Carr and they have a future stud running back in Latavius Murray. With the 4th pick of the 2015 NFL draft, the Raiders selected 6-1 Wide Receiver, Amari Cooper out of Alabama. He certainly comes from a winning system and if he can develop together with Carr, the Raiders may have a dynamic duo that can lead them in years to come. The Raiders went out and signed Michael Crabtree in free agency and while that wasn't a huge signing, it is a pickup that will allow some heat and attention to be taken away from Cooper. This of course is if Crabtree can stay away from the injury bug. As was the case with my thoughts on Ameer Abdullah, I'm generally not high on placing the "Sleeper" tag on rookies, but the rookie season that New York Giants Wide Receiver, Odell Beckham had last year certainly opened my eyes to the fact that it's certainly possible that a rookie can step in and make an impact. While I don't think that Cooper is anywhere near the level of athlete as Beckham, Cooper will certainly see his share of targets in the Raider's offense and really could make himself valuable in PPR formats this year.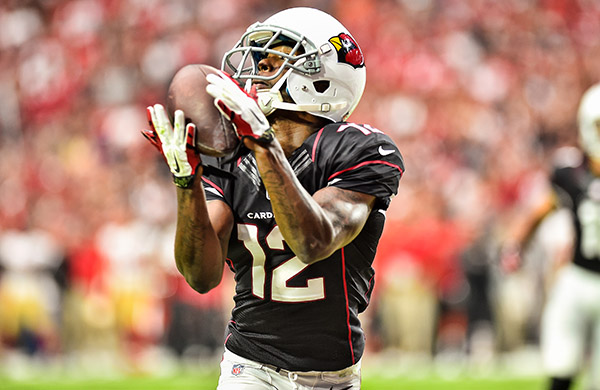 John Brown (Arizona Cardinals)
Here he is. This is my boom or bust guy of the year, John Brown. This is the guy that I'm going to target in every draft that I have. I had an asterisk next to this guy's name even before Cardinal's receiver, Michael Floyd went down for a few weeks due to a hand injury. Floyd recently underwent surgery when his fingers were punctured through his hand. The timetable for return that was given 3-5 weeks, but I'm not a doctor and it certainly sounds like Floyd may miss even more time than that. Even with Floyd in the lineup, Brown was an intriguing option to have a solid year. With Larry Fitzgerald clearly in decline and now this injury to Floyd, as well as Floyd's putrid play last year, Brown has my eyes seeing jackpot. Brown fits well within the Cardinal's offensive scheme regardless of whether Carson Palmer is the man at the helm or not. Brown is going to see his targets this year and should greatly improve upon the numbers that he had in his rookie season, last year. His rookie campaign saw him net 48 receptions for 696 yards and 5 touchdowns and that was in an offense that didn't really look his way at times during the season. Try to snag Brown somewhere in the draft because you're going to regret not scooping him up. But beware, the secret is already out on him and he will be a hot commodity in drafts, so you may have to snag him higher than you want to.
Tight End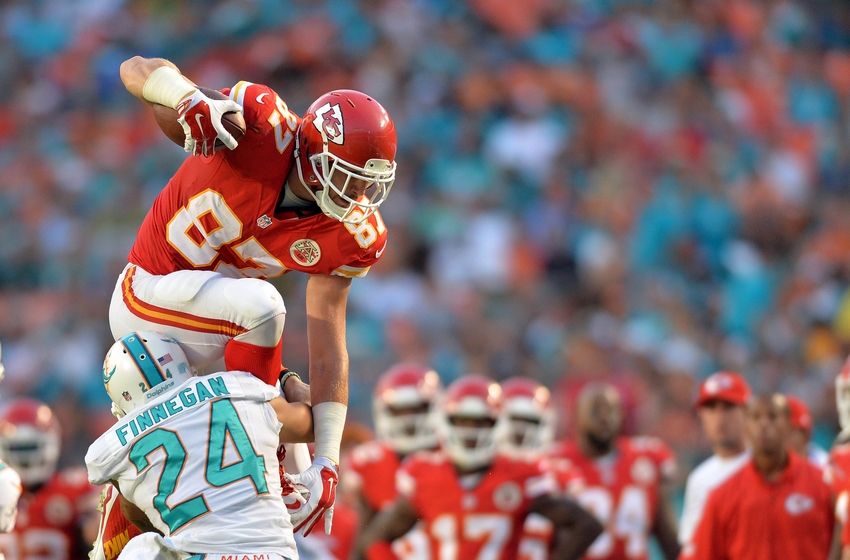 Travis Kelce (Kansas City Chiefs)
One of these days, the Kansas City Chiefs will wake up and magically decide to use that 6-5 giant that they have at the Tight End position and his name is Travis Kelce. It boggles my mind that they haven't thrown to him on every down that Jamaal Charles doesn't touch the ball. Their receiving core has stunk over the years and while Quarterback Alex Smith has noodle arms and can't throw the ball more than 8 yards, he should be able to throw lobs up to Kelce. Kelce is a monster and if given the chance, he'll show the league that he's a true stud. While the Chiefs didn't use him as much as they should've last year, Kelce certainly produced when the opportunity was given to him. Kelce had 67 receptions for 862 yards and 5 touchdowns. Andy Reid decided in the offseason that it might be productive to have a solid Wide Receiver on their team and the Chiefs went out and signed former Eagle, Jeremy Maclin. It still doesn't solve the fact that their quarterback has an arm of a five year old, but hey, it's a step in the right direction. Look for Maclin to take coverage away from Kelce, which should free up Kelce for when Alex Smith decides to throw better than a pitch from 50 Cent. The Chiefs still have the ultimate playmaker in Jamaal Charles, which will take up most of the opposing team's attention, so the giant will be open a lot this year. The floor is now Alex Smith's and my gut says that this is the year for Kelce.
Every year there are players that come out of nowhere and exceed expectations. We all try to make our own projections as best as we can. However, there's no exact science to our madness, but if we can strike gold on one or two on our "lists" then perhaps we can take home Championship gold at the end of the year. Stay focused, stay prepared and always read up to try to get a leg up on the competition.
You can stay up to date with everything Fantasy Football related by following me on Twitter (@ViggieSmalls765) and Instagram.