The 2018 ESPY Awards took place on Wednesday, July 18th, live from the Microsoft Theater in Los Angeles. Host Danika Patrick took to the stage for a
night of jokes, performances, and trophies.
Philly was well represented with nominations and presenters throughout the entire evening. As the red carpet began to fill up, several key players from the region made their presence felt.
Red Carpet and Pre-Show Looks
And it wouldn't be a pre-show without a slow-mo cam:
The @Eagles are hoping to add to their trophy case at the #ESPYS as Best Team.

(?@CapitalOne) pic.twitter.com/elbCrZaWVO

— ESPN (@espn) July 18, 2018
Nominations and Winners
The night began with a little of a surprise. Donovan Mitchell won Best Breakthrough Athlete over Alvin Kamara, Sloane Stephens, and Ben Simmons. However, the region and fanbases were well represented: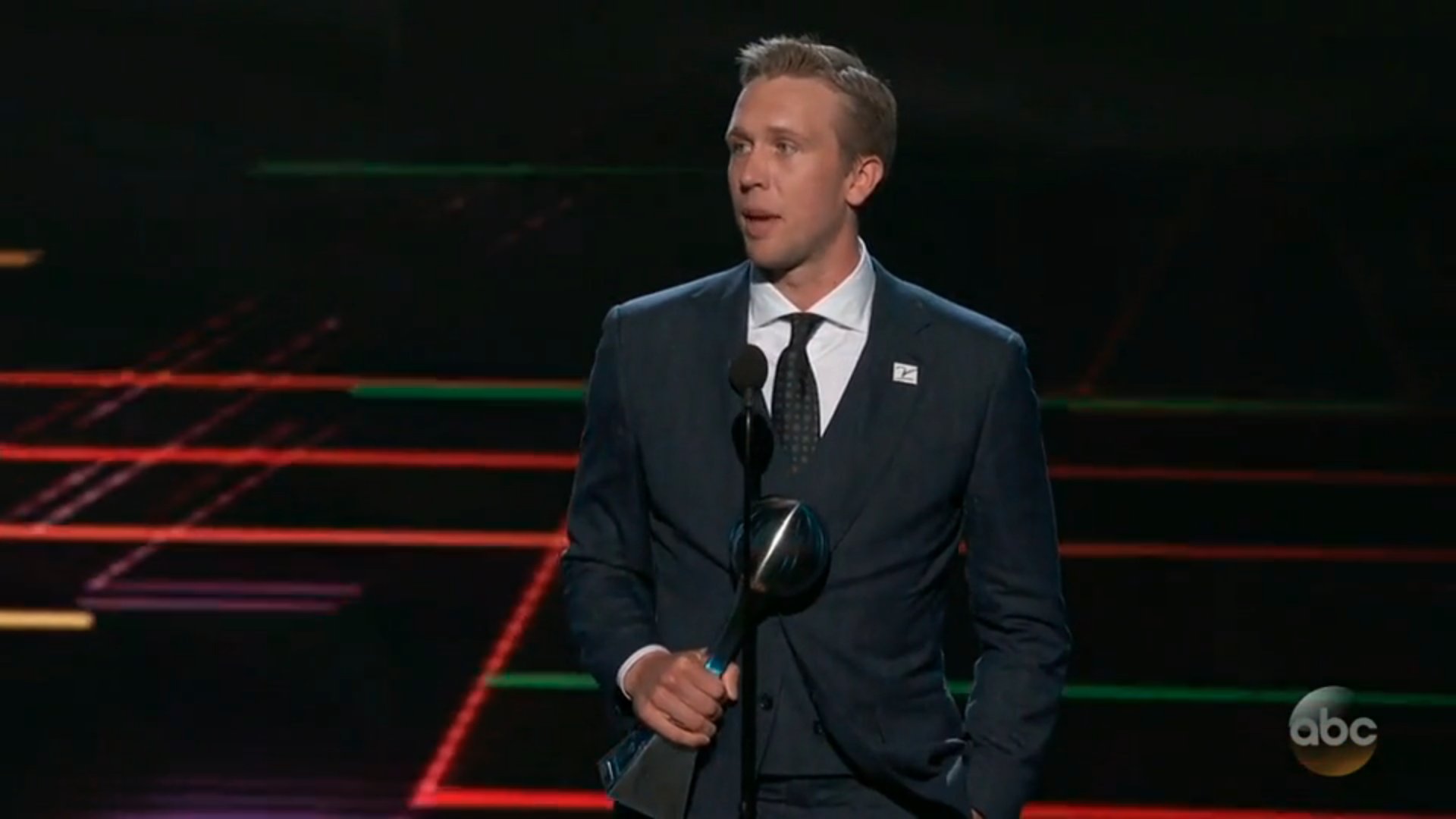 BEST CHAMPIONSHIP PERFORMANCE
George Springer, Houston Astros – MLB World Series
Nick Foles, Philadelphia Eagles – Super Bowl LII *winner*
Kevin Durant, Golden State Warriors – NBA Finals
Donte DiVincenzo, Villanova Men's Basketball – CBB National Championship
BEST BREAKTHROUGH ATHLETE
Alvin Kamara, New Orleans Saints
Ben Simmons, Philadelphia 76ers
Donovan Mitchell, Utah Jazz *winner*
Sloane Stephens, Tennis
BEST TEAM
Houston Astros, MLB *Winner*
Philadelphia Eagles, NFL
USA Women's Ice Hockey
Notre Dame Fighting Irish, NCAA Women's Basketball
Villanova Wildcats, NCAA Men's Basketball
Golden State Warriors, NBA
Washington Capitals, NHL
BEST COLLEGE ATHLETE
Baker Mayfield, Oklahoma Football *winner*
Jalen Brunson, Villanova Basketball
Katie Ledecky, Stanford Swimming
A'ja Wilson, South Carolina Basketball
BEST PLAY
ND's Arike Ogunbowale hits 2nd buzzer beater to win NCAA women's national title *winner*
Philly Special: Eagles fool Patriots with fourth-down TD toss to Foles
Minnesota Miracle: Stefon Diggs makes last-second TD Catch to send Vikings to NFC championship
LeBron James nails buzzer beater 3-pointer to beat the Pacers in Game 5 of Round
Cristiano Ronaldo scores bicycle kick goal against Juventus
For a full list of nominees and winners, click here.
…
Recap and Highlights
Danika Patrick's opening monologue stayed true to the usual award show meter. It was chuckle-worthy at some parts and cringeworthy at others. Sgt. Jake Wood received the Pat Tillman Award for Service for his work in disaster relief and emergency response. The former Marine is also co-founder and CEO of benevolent company Team Rubicon. The Vikings received the Best Moment award. The Minnesota Miracle propelled them to a NFC Championship game a week later where they were desimated by the Philadelphia Eagles 38-7. Nick Foles finally broke the Philadelphia drought with his win for Best Championship Performance. This was the only local athlete to win in the entire program. No one likes us we don't care.
Jim Kelly received the Jimmy V Award for Perseverance. Kelly was lauded for his heroic fight with cancer and unflinching determination. He delivered a pheomenal speech of inspiration and the relentess will of never surrendering. There weas also a touching segment deidcated to three brave coaches who saved their students lives during the tragedy at Marjory Stoneman Douglass Highschool in February 2018. Another moment of poignancy and strength came when the survivors of the massive US Gymnastics scandal graced the stage.
In totality, the awards show was a celebration of the calendar year of athleticism. The culmination of effort and the power of teamwork. The city might not have gotten all of its glory and applause but the great feats of triumph displayed Wednesday night surely deserved them.
…
Reactions
Watched that Danica Patrick monologue like… #ESPYS pic.twitter.com/G0FAfJ92zB

— The Shadow League (@ShadowLeagueTSL) July 19, 2018
Former Wisconsin football player & U.S. Marine Jake Wood is the winner of the Pat Tillman Service Award.

Seeing the challenges veterans face upon leaving active duty, he co-founded Team Rubicon, a nonprofit that uses veterans to deploy emergency response teams in disaster areas. pic.twitter.com/mGTcSnLyhD

— ESPN (@espn) July 19, 2018
#ESPYS pic.twitter.com/JSBqmRR3bC

— Ricky "Reports" Sayer (@RickyReports) July 19, 2018
I'm not crying … you are!

Jim Kelly … one of the toughest men you'll ever know. #Hero

@JimKelly1212 #ESPYS #Bills #NFL pic.twitter.com/Yxggs8G2EF

— Joe Mama™ ☜=㋡ (@JoeSteelerFan) July 19, 2018
When you see the Minnesota Vikings win best moment at the Espys and your a Saints fan smh #ESPYS #ESPYS2018 #WhoDatNation pic.twitter.com/Fq0jrjVOpu

— Trey McBride (@D_M_III) July 19, 2018
MSD high school coaches #espys #NeverForgotten pic.twitter.com/Pa3dwwsh2Z

— Connie Shih (@connieshih) July 19, 2018
I can name one thing. Super bowl 52.
4th and goal. Diract snap to Corey Clement. Pitch to trey burton. Nick foles running his route perfectly. Catches one of the biggest passes of the game. Philly philly. #FlyEaglesFly #ESPYS https://t.co/SkUA57YvHY

— Jordan McGahy (@Jordan_McGahy49) July 19, 2018
I can understand the Eagles not winning every category at the #ESPYS but they must have something against Villanova. pic.twitter.com/yPCYqCj6CI

— Albert Lee (@urphillypal) July 19, 2018
Love and admire the courageousness and strength of the women of Us gymnastics. Your stories are being heard and you are making a huge difference in the world!! We love you! #ESPYS

— Kya (@KyaCenae) July 19, 2018
---
You can follow Candis McLean on Twitter (@CandisRMcLean) and e-mail her at [email protected].
Follow Philly Influencer on Twitter (@PHL_Influencer), Facebook and Instagram.