Yesterday, I looked at five of the preliminary fights at this weekend's UFC extravaganza. Today, I look at the five fights on the pay-per-view card.
The main card is one of the better cards, boasting solid name recognition – for better or worse – in all five fights. So without further ado, we look to the odds:
Greg Hardy (-200) vs. Yorgan De Castro (+165)
Yes, Greg Hardy, the former disgraced NFL football player. Hardy has been a non-factor since joining the UFC in 2019, sporting a 2-2-1 record. De Castro, on the other hand, is an up-and-comer, having won his lone UFC fight by knockout.
Hardy has the name recognition here, but I'm leaning towards De Castro. Hardy doesn't have a history of being knocked out but I like the under 1.5 rounds at +115 which gives you wiggle room on who finishes who. From there De Castro by KO, submission, or DQ is going at +202, Hardy at +127. Personally, I'd hit the De Castro moneyline.
Jeremy Stephens (+206) vs. Calvin Kattar (-250)
You may recognize Stephens as the man on the receiving end of Conor McGregor's infamous, "Who da fook is that guy?"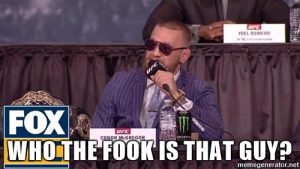 So disrespectful to Stephens who's been in the UFC forever. Since 2007 to be exact. When he took his first fight I was finishing up eighth grade at Glen Landing Middle School. Anyway, dude hits like a mac truck and has all the experience in the world. However, he's been on a losing streak, 0-3-1 in his last four fights. In his defense, he's faced a murderer's row of opponents like Yair Rodriguez twice, Zabit Magomedsharipov, and Jose Aldo. His next opponent is no walk in the park, either. Kattar is 4-2 in the UFC and has a mutual loss to Zabit.
I like this fight to go all three rounds. Neither guy has a history of being knocked out or submitted, Stephens has only been knocked out twice in his career: once by Aldo, once by Yves Edwards. With the way Stephens and Kattar stand fearlessly and throw hands this fight has Fight of the Night potential. Honestly, this could be my favorite fight on the card that doesn't have a belt on the line. I've long been a fan of Stephens and it's time he gets back on the right track. Give me Stephens by decision at +525. If you think he can give Kattar his first knockout loss that goes at +360.
Francis Ngannou (-278) vs. Jairzinho Rozenstruik (+225)
I want to kick this off by saying I'm not a Ngannou fan. I think he's a terribly overrated fighter and his fight with Stipe Miocic is one of the most boring fights I've ever seen.
With that said, however, I think his experience in that fight will lead him to be more daring and risky this time around. Rozenstruik boasts a perfect 4-0 record with four KOs. Ngannou is a knockout artist himself boasting 8 KOs in the UFC.
Because of his experience against guys like Junior Dos Santos, Cain Velasquez, Stipe Miocic, Derrick Lewis, and Curtis Blaydes, I give the edge to Ngannou. Sure, Rozenstruik has the puncher's chance: +333 to win by KO, I think Ngannou will get another feather in his cap en route to another crack at the heavyweight belt. Give me Ngannou by KO at -143, the best odds you can get on him.
Henry Cejudo (-210) vs. Dominick Cruz (+175)
Remember when I said I wasn't a Ngannou fan? That goes triple for Cejudo. While I respect the hell out of him as a wrestler, I do not like him as a fighter at all. He's won his last five fights, thrice by TKO, and beat a bunch of good fighters in the process: TJ Dillashaw, Marlon Moraes, and Demetrious Johnson to name a few. Now he looks to put his bantamweight title on the line against former champ Dominick Cruz.
Cruz, who grew on me over the years, last fought in December 2016 where he lost the bantamweight title to Cody Garbrandt. I know what you're thinking, three and a half years without a fight is a big deal. Ring rust isn't a thing – in Cruz's opinion.
I believe him. Couple my belief in Cruz, who only has two losses in the UFC and knows the game better than anybody, with the fact that I think Cejudo is as overrated as they come? Mix in my desire to see him fall and I will take Cruz every day of the week and twice on Sundays. I don't think he'll get the knockout, but the bantamweight belt will be on Cruz's waist by the end of Saturday night. Give me the Cruz moneyline at +165, +275 if you think he'll win a decision. To be fair, Cejudo by decision runs at +140 if you think he gets the job done and defends his belt.
Tony Ferguson (-186) vs. Justin Gaethje (+158)
The interim lightweight belt is on the line, guaranteeing a date with Khabib Nurmagomedov once the COVID-19 travel restrictions are lifted. Ferguson, perennial title contender will face off against a human highlgiht real in Gaethje.
Ferguson hasn't lost since 2012. Need I say more? He's faced just about everybody in the lightweight division, except Khabib, and won. In those 12 fights he's won since then, he's won nine by finish either KO, TKO or submission.
Gaethje is still fresh to the UFC scene, taking his first fight in 2017 and winning four fights by KO or TKO and losing two fights by KO/TKO.
What I'm saying is this one's gonna be a barn burner. My money's on Tony Ferguson – which isn't a slight to Gaethje at all – I love watching him fight, he doesn't stop moving forward or throwing hands at all. He'll either put you to sleep or go to sleep himself. I just think that with a belt on the line and a bon-a-fide, guaranteed fight with Khabib in the balance, Ferguson will come through and give UFC fans the fight they've been asking for since 2016. I like the Ferguson moneyline, but Ferguson by KO, TKO, submission or DQ runs at -106. If you think Gaethje can play spoiler, betting him to win by KO, TKO, submission or DQ is +175.
What do you think? Who are your picks? Tweet me (@AntMazziotti).
---
You can follow Anthony Mazziotti on Twitter (@AntMazziotti) and e-mail him at [email protected].
Subscribe, rate, and review all Philly Influencer podcasts here. Follow Philly Influencer on Twitter, Facebook, and Instagram.