The year 2020 has been a whirlwind for Ocean City High School pitcher Jake McKenna, but right now, the 18-year-old is on cloud nine.
McKenna got the call of a lifetime on Sunday, being offered a free agent contract worth $20,000 by the Philadelphia Phillies. Despite not being drafted in last weekend's MLB Draft, the Saint Joseph's University commit will instead make the jump to professional baseball in hopes to play for his favorite team one day. A Phillies fan, McKenna admitted it was an easy decision when he received the call.
"Over the last few months, I've started building some new relationships with the guys in the Phillies organization and within their minor league teams, so it really seemed like the right fit for me," McKenna said in an interview with Philly Influencer. "The fact it was the Phillies made it that much better, it was a no-brainer to sign with them."
"The first time they saw me was a practice at Ocean City earlier in the spring and since we've talked pretty frequently. We've done Zoom calls and I've talked with guys higher in the organization. They knew I was super signable, they knew where my head was at. I was bummed to not be taken in the draft, but I super thankful to get the call afterwards."
After only pitching eight innings in the 2019 high school season, McKenna was labeled to be the Red Raiders' No. 1 guy for 2020. Ocean City rolled to a 19-5 record last season and was expected to be fighting for a Cape-Atlantic League title with McKenna leading the way. However, the COVID-19 pandemic forced the season to be canceled, thus ending McKenna's high school career prematurely.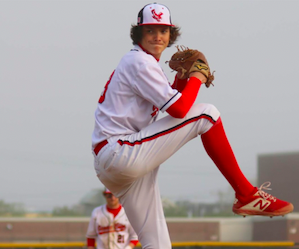 The 6-feet-7, 230 lb. left-hander remained positive and continued to work hard for his next opportunity. McKenna worked diligently last summer and this winter, both on the mound and in the weight room, and was rewarded for it. Now, he continues to use that motivation as he prepares to begin life as a professional baseball player.
"A couple of my friends would go to the field in town and throw together and work out," McKenna said. "We also take videos pitching which we use for our prospect pages, so it's a good way for teams to continue monitoring you even if the high school season wasn't happening. I was throwing bullpen sessions and trying to make the most of the situation."
"I only pitched eight innings in 2019, so it really fueled the fire inside me to be better once 2020 came around. My coaches told me that I would be the lead guy in the rotation like others were before me and that also gave me motivation. I worked out last summer and this winter, put on about 30 pounds, and continued to work on my pitches."
"The velocity improved and I have seen myself take good developmental steps forward. I feel I have done really well during these situations of not having a regular season."
Armed with a fastball ranging between 88-92 miles per hour, McKenna is one of four pitchers acquired by the Phillies over the last week. However, the tall hurler is now waiting for what's next with the current Major League Baseball and minor league seasons on hold due to COVID-19's continued impact in the United States.
McKenna is scheduled to graduate in July from Ocean City High School, the town he's called home for most of his life. While also keeping a strict regiment, McKenna has made sure to stay close to his friends and family during these crazy, new times. He credits his family for sticking by him and doing everything possible to show their support.
"My parents have been key, they've been really supportive throughout all of this and have done so much to help me," McKenna said. "They've done anything I've needed, whether it's answer phone calls or help me with emails. They're just awesome and have truly helped me get to where I am today."
"Overall, my family has been important. On Sunday everyone was just coming to my house and congratulating me and I can't thank them enough for being here for me. It's a big decision, but it's my dream and I was always going to say yes to the Phillies."
It's been 12 years since the Phillies famously captured the 2008 World Series title; McKenna was just six-years-old at the time. Led by club legends Jimmy Rollins, Chase Utley, Cole Hamels, and Ryan Howard, the Phillies ended a 28-year drought defeating the Tampa Bay Rays in the Fall Classic.
McKenna may not remember all of the moments of that title-wining run, but he does thank one Phillies player for being his idol during his time in Philadelphia.
"Being left-handed, I always looked up to Cole Hamels," McKenna said. "He never showed any emotion on the mound and never let anything bother him. He's always been one of the greats during the modern days of baseball and being able to pitch for the same team as him is truly amazing."
For now, McKenna is going to keep working out and be ready for when the Phillies call for training camp to begin. It may be a long wait with this season looking ever-more likely to not occur, but it didn't stop the Ocean City native from savoring a once-in-a-lifetime moment.
"I'm really excited for the future, whenever we get together and start training," McKenna said. "Until then, I have graduation coming up so I get to see friends one final time before we all head in different directions. I'm always keeping busy with my family here on the island and I'm always working to get better as a pitcher. Just have to keep making the most of every day."
---
You can follow Larry Henry on Twitter (@lhenry019) and e-mail him at [email protected].
Subscribe, rate, and review all Philly Influencer podcasts here. Follow Philly Influencer on Twitter, Facebook, and Instagram.