The Spirit of Philadelphia Sets Sail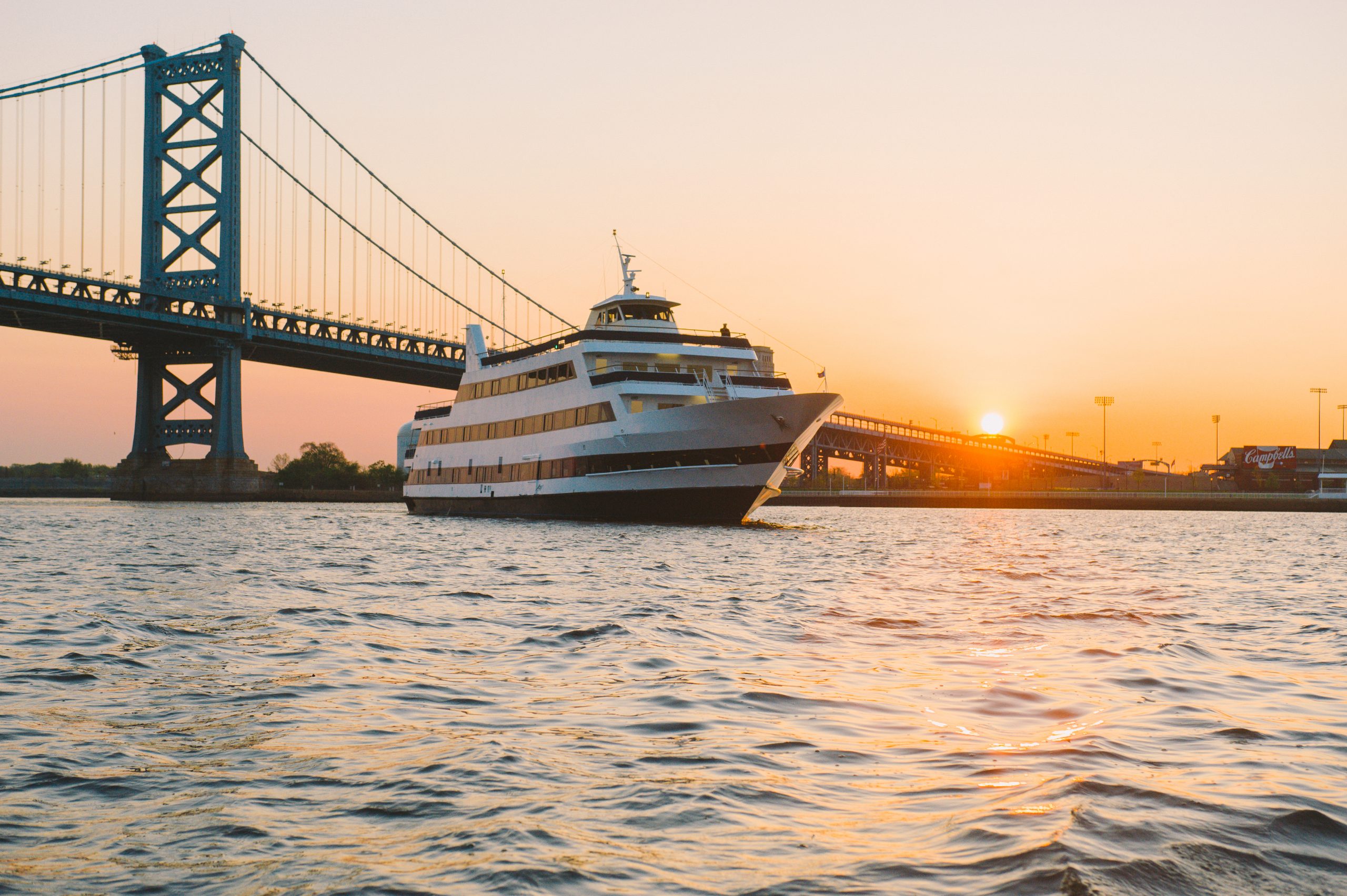 Hornblower Cruises and Events will begin cruising again from its Penn's Landing berth July 24. For Philadelphians making summer plans with social distancing in mind, they are offering outdoor dining experiences for those craving a getaway closer to home. Dining cruises aboard the sleek Spirit of Philadelphia feature Philadelphia's most sought-after rooftop – where mesmerizing, fresh-air laden views are guaranteed while gliding along the mighty Delaware.
To prepare for operating in the current environment, Hornblower Cruises has expanded its SafeCruise by Hornblower program and have adapted the onboard experience to reflect the need for social distancing, alongside elevated health and hygiene practices. Guests can still expect the same high standards and welcoming service and they can be assured that the cruises are fully compliant with all requirements.
Hornblower's General Manager, Ryan O'Connor is urging fellow residents to take a staycation and let Philadelphia surprise them all over again, "What better way to celebrate summer and rediscover the charm of our wonderful city from the spacious deck of Spirit of Philadelphia! Whether looking to dine under the stars, soak up a unique 360-degree perspective or simply take to the majestic Delaware for windswept, fresh-air laden experience – we are thrilled to safely welcome our Guests back aboard."
Having undergone a multi-million-dollar transformation last year, Spirit of Philadelphia boasts the region's most exciting on-the-water dining cruise experience while offering unparalleled vistas of the Philadelphia and Camden skylines from its expansive rooftop deck.
While aboard, guests can expect DJ entertainment peppered with engaging narration about the city's storied history and landmarks. Cruises feature freshly prepared multi-course menus complemented by a sophisticated selection of award-winning wines, craft beers and specialty cocktails. Prices start at *$52.90 (lunch), *$79.90 (dinner). For private groups, Hornblower Private Yachts also operates luxurious charter options.
For more information or to book a cruise experience, visit hornblower.com or call 866-455-3866.
…
The Parking Lot Social
Named by Forbes as one of the premier drive-in entertainment tours of the summer, The Parking Lot Social will be coming to Philadelphia's Navy Yard, beginning on Wednesday, July 22. This limited-engagement event modernizes the traditional drive-in experienced through a supersized, multi-sensory attraction. With the ability to host up to 250 cars at each event, The Parking Lot Social represents the next evolution in the 'drive-in' experience and each tour stop will offer five nights of incomparable entertainment with the emphasis on having a fantastic night out while maintaining social distancing recommendations.
At the event's core, and setting it apart from a traditional drive-in experience, is its unique, custom-designed performance space. This spectacular installation is a blend of art and technology and consists of a fully covered stage, two 40ft. screens, a 52ft. Tall Rainbow-Shooting Fire Hydrant, and two, larger than life, inflatable 'Parking Lot Social' gorillas!
The event was the creation of Grahame Ferguson and Cameron Craig, founders of XL Event Labs. Ferguson discusses what is to be expected in the 2020 summer tour of The Parking Lot Social:
"The Parking Lot Social has been designed with a special emphasis on the event being immersive and interactive. Given that people will be restricted to their cars, this aspect of the event becomes super important. Think of it like a mini-festival that takes place right inside your very own car. We've used our experience in event production to design and build an amazing looking and completely versatile entertainment hub. Everything you'll see is custom designed, from the stage set up to the screens. The entertainment we've programmed is second to none and features experiences and shows that we've put on stage at major music festivals, clubs and colleges around the world. It's a crazy night out that's SAFE at the same time. You'll be 'socially distant' but 100% together with hundreds of other funseekers."
Tickets begin as low as $29. For tickets and the complete The Parking Lot Social schedule, visit: theparkinglotsocial.com/.
…
Red Owl Tavern Re-Opens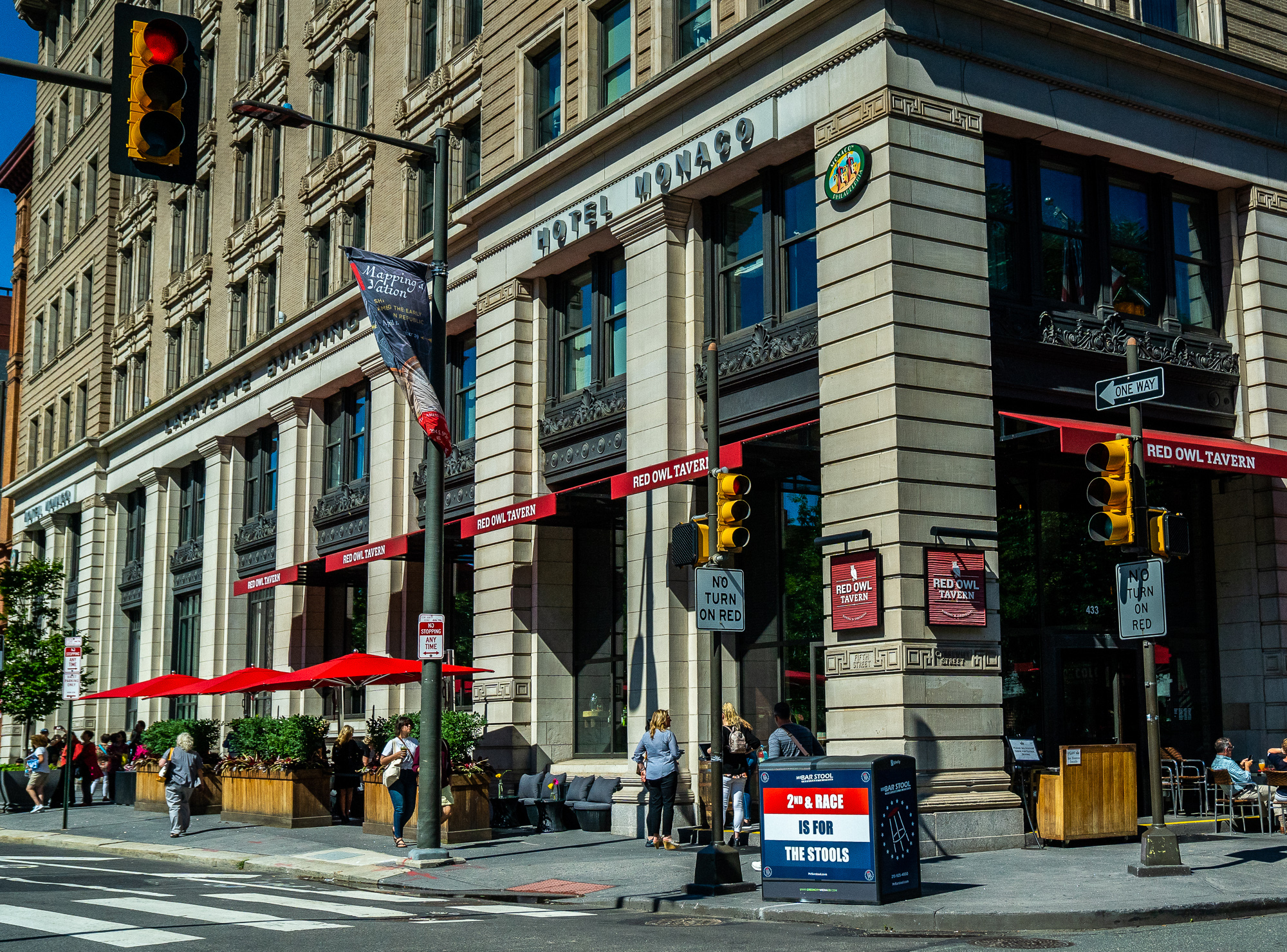 Guess WHO's back? Red Owl Tavern, Old City's modern American restaurant and bar perched on the corner of 5th and Chestnut Streets across from Independence Hall, has re-opened for takeout with outdoor dining beginning Friday, July 17, and brunch beginning on Saturday, July 18.
Starting this Friday, passerby, locals, hotel guests and the like are invited to stop by Red Owl Tavern for fresh-made breakfast offerings, including a Porkroll, Egg and Cheese Breakfast Sandwich ($8), Yogurt Parfait ($10), Croissants and Muffins ($4 each). These light bites will be available from 8–11 a.m. daily at Red Owl Tavern's grab-and-go counter. Guests can preorder or walk-in takeout.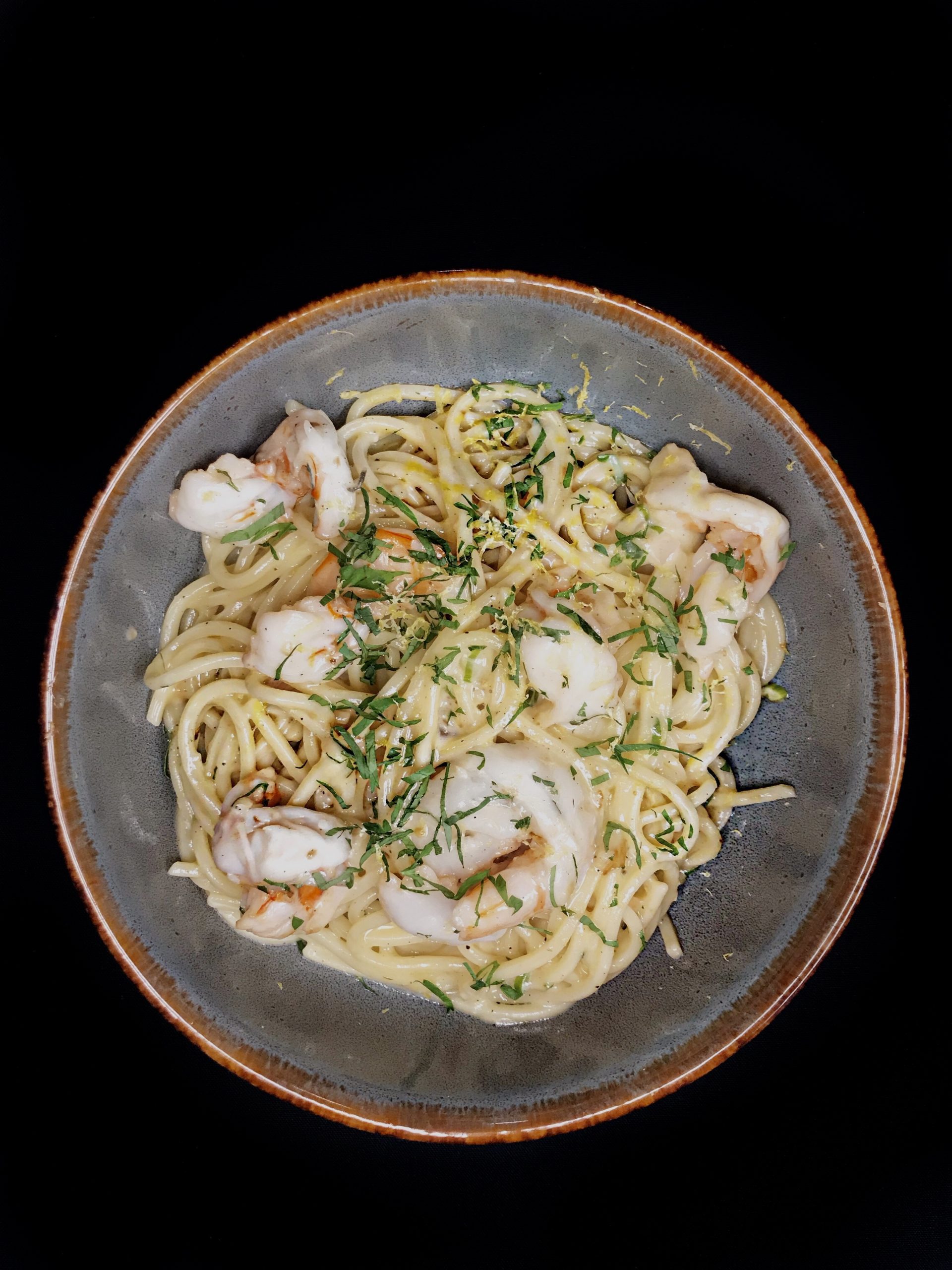 As for the rest of the day, diners are encouraged to grab their Quaran-Team and sit down for a sizzling Lunch or Dinner on the sunny, socially-distanced patio across from Independence Hall from 12 p.m. – 7 p.m. Monday through Friday. Dine in the shadows of history on mouth-watering dishes from the now-combined Lunch and Dinner menu include apps like the Whiz Fries ($10) and Burratta ($14), entrees such as the Wagyu Double Bacon Cheeseburger ($18), Housemade Cappellini Pasta ($28), Branzino ($24), and more. And, of course, dessert – for those with a sweet tooth hard to satisfy, the Double Chocolate Bread Pudding ($7) is a must-have. For guests of the Hotel Monaco, these menus are also available to order for in-room dining.
Starting Saturday, July 18, the all-too-tempting brunch menu will return this weekend with favorites such as the Tavern Omelet ($15), Berry Cobbler French Toast ($14), Egg White Scramble ($15), or Breakfast Sandwich ($16). The brunch menu will be expanded to include some lunch offerings and will be available on Saturdays from 12 p.m. – 7 p.m., and on Sundays from 10 a.m. to 3 p.m. on Red Owl Tavern's expansive patio. The full brunch menu can be found here.
In order to safely maintain social distancing procedures, reservations are highly encouraged. To make a reservation, guests can call Red Owl Tavern at 215-923-2267 or go online to redowltavern.com.
…
Royal Boucheie is Back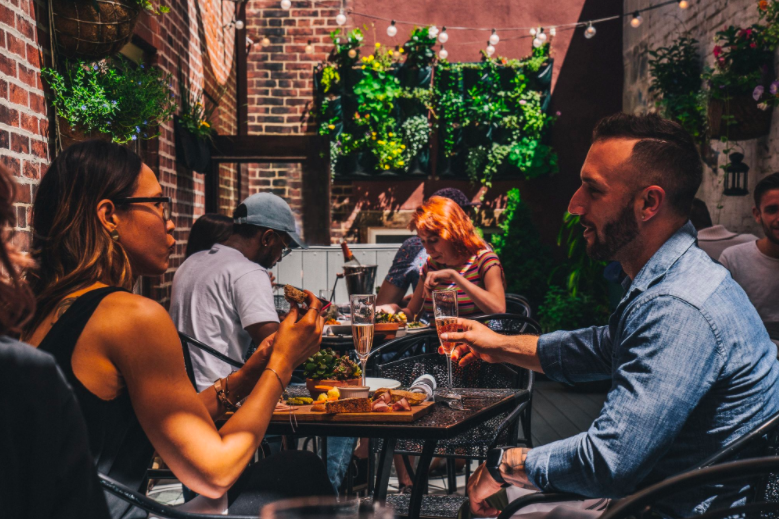 Royal Boucherie, Old City's American-inspired brasserie from Top Chef winner Chef Nicholas Elmi, is re-opening for outdoor dining on Friday, July 17 at 4 p.m.. Guests can look forward to cocktails, French wine, and Elmi's signature dishes such as the Boucherie Burger, charcuterie boards, and more, in the secret and socially distanced upstairs garden. Come try dinner and brunch in Royal Boucherie's new 'streetery' in the parking space in front of the brasserie.
A delivery and to-go menu will be available through DoorDash. Guests ordering take-out via phone will have the option to add cocktails and wine to-go.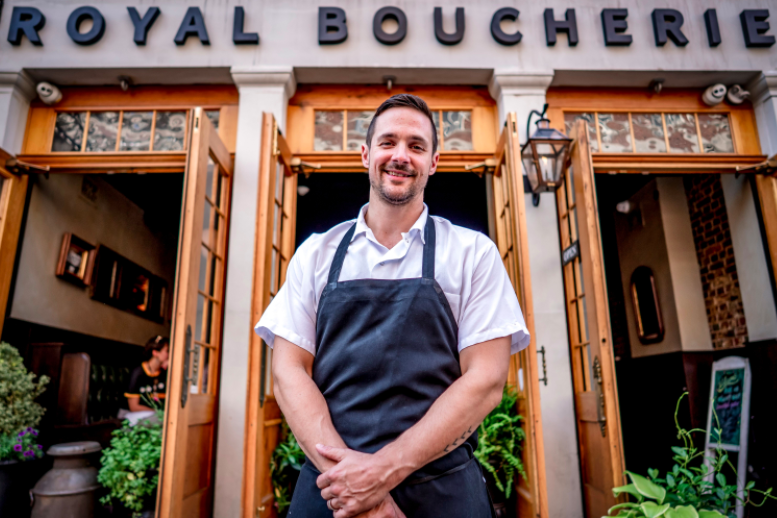 "Out of concern for the well-being of our employees, guests, families and community, we wanted to take our time and work on a safe and smart re-opening strategy," said Suzanne O'Brien, Director of Operations at Royal Boucherie. "Our new streetery allows for us to serve our guests while also following the CDC's social distancing guidelines. We can't wait to host our guests in our new streetery as well as welcome everyone back to our beautiful second-floor garden."
The streetery and outdoor garden will approximately hold 50 guests with socially distanced seating. Outdoor dining is weather dependent. No guests will be allowed to dine inside.
"The streetery is a great and safe way to utilize outdoor space around the restaurant," said Elmi. "The idea of our new concept is inspired by outdoor dining in Europe and we are excited to bring a flair of France to the streets of Old City and to serve our French signature dishes again while taking all necessary precautions."
In addition to the French streetery and outdoor dining on the garden patio, Royal Boucherie will be open for all-day brunch on Sundays. Royal Boucherie's new opening hours are Wednesday and Thursday from 4-9 p.m. and Friday and Saturday from 4-10 p.m. On Sundays, the kitchen will open early for brunch at 10 am and stay open through 9 p.m.
…
Belgian Independence Day & Devilish Grins at Devil's Den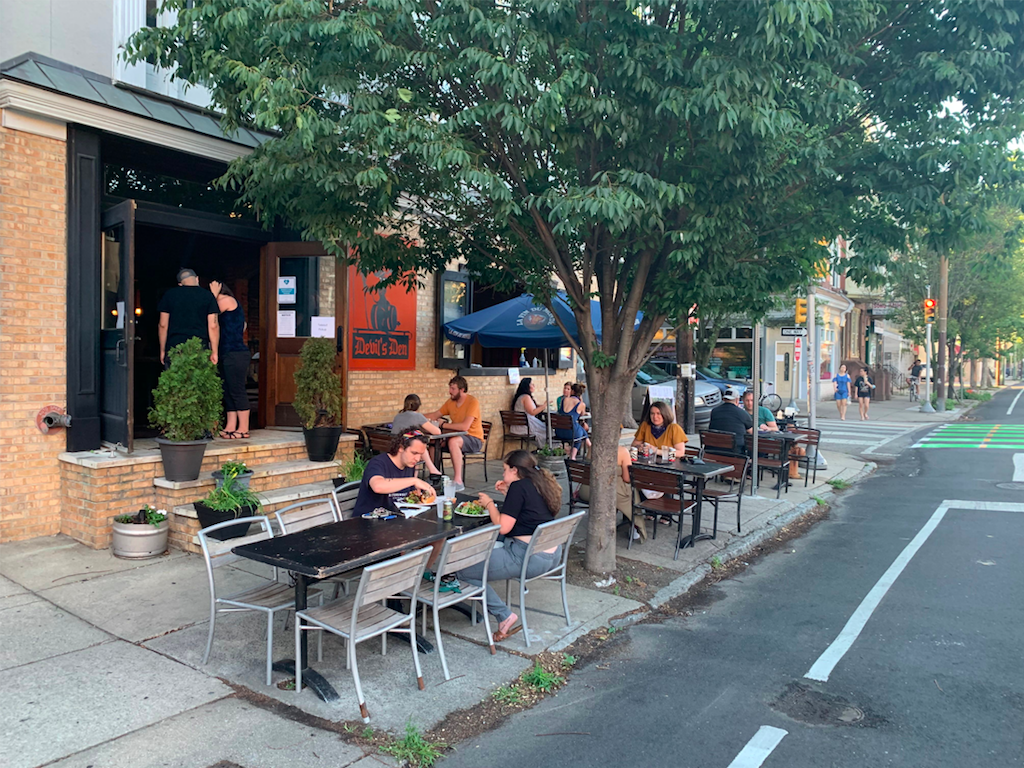 Devil's Den knows the best way to treat yourself in quarantine is with some beer and an online comedy show so the beloved craft beer bar is celebrating Belgian Independence Day with featured beers from Duvel and Brewery Ommegang, PLUS Devilish Grins returns.
From July 15-31, Devil's Den is toasting Belgian Independence Day (July 21) with featured beers from Duvel and Brewery Ommegang. Guests will receive a complimentary Duvel glass for every two Duvel beers purchased, and a complimentary tulip glass for every two Ommegang beers. Beers can be purchased in-person or to-go.
Devil's Den will be making the most of quarantine with two fun events for beer and comedy lovers alike on Friday, July 24th at 9 pm. Devil's Den's popular online comedy show, Devilish Grins returns with host Alyssa Al-Dookhi. Tickets can be purchased here and include tiered pricing depending on the attendee's beverage of choice. Those looking to imbibe while watching the show can opt for a $15 ticket which includes a 6-pack of Founders Brewing Company or All Day IPA – $5 from every ticket will go to the comedians; or a $30 ticket, which includes a quart of Starfruit Sparkler (serves 3-4) — $5 from this ticket will go to the comedians, the other $25 will be donated to the Starfruit Project. A link to the live stream will be sent to viewers on the day of the event. The beer and cocktails can be picked up prior to the show at Devil's Den on Wednesday, July 22, or Thursday, July 23 from 4-9:30 p.m. or Friday, July 24 from 2-8 p.m.
Devil's Den is located at 11th and Ellsworth Sts. and is currently open Wednesday-Friday from 4-11 p.m. (kitchen open until 10 p.m.), Saturday from 12-11 p.m. (kitchen open until 10 p.m.) and Sunday from 12-9 p.m. (kitchen open until 8 p.m.).
…
National Ice Cream Day at the  Scoop Shop at Thirsty Dice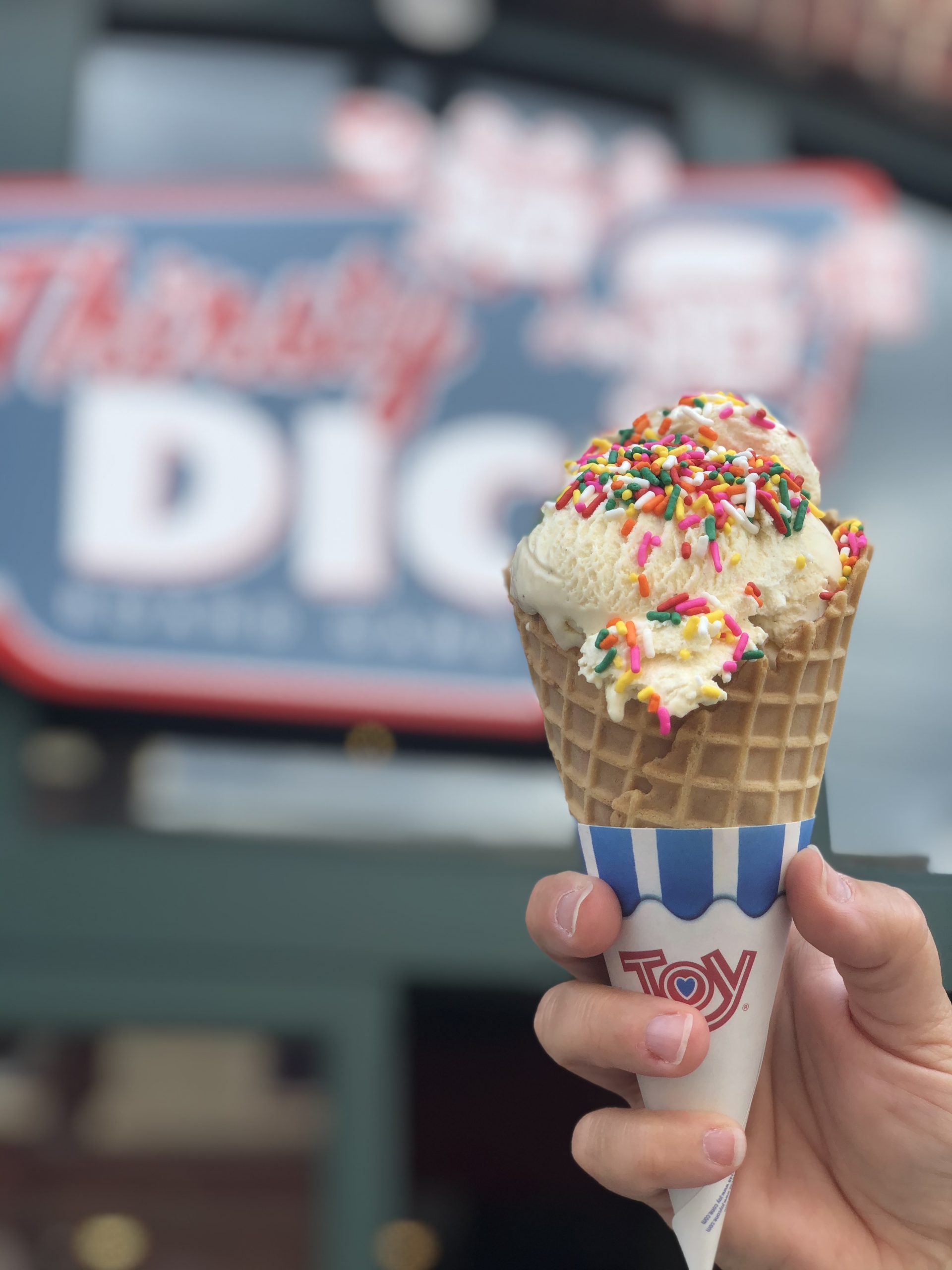 Sunday, July 19 marks an important summer holiday, National Ice Cream Day. For any stories or round-ups, you are working on, below is more information about the recently opened Scoop Shop at Thirsty Dice.
Thirsty Dice Scoop Shop features Bassets ice cream in a dozen flavors, loads of toppings, milkshakes, and coffee roasted by Herman's in South Philly. Ice cream flavors range from classics like French Vanilla and Cookies & Cream to the more adventurous Guatemalan Ripple made with Guatemalan-sourced coffee and mocha fudge ripple blended with mini coffee-filled chocolates. Scoops are available in a cup, sugar cone, or waffle cone starting at $4.50.  Pints ($7.75) and quarts ($12.00) are also available to go.
Specialty shakes ($10.00), including the PB Lover's made with peanut butter ice cream, butterscotch, peanut butter cup pieces, or Baker Shake cookie dough ice cream, brownie pieces, hot fudge are perfect for the whole family.
Adults (21+) looking to add an extra kick to their shake can try one of six boozy adult shakes like Bananas Foster with dark rum, banana ice cream, caramel ($12.00), or Cherry Pie with bourbon, cherry vanilla ice cream, amaretto syrup ($12.00).
---
You can follow Candis McLean on Twitter (@CandisRMcLean) and e-mail her at [email protected].
Subscribe, rate, and review all Philly Influencer podcasts here. Follow Philly Influencer on Twitter, Facebook, and Instagram.