The Miami Marlins knew they had additional positive COVID-19 tests, but reportedly held a player's only meeting to decide whether or not to play at Citizens Bank Park Sunday.
They did.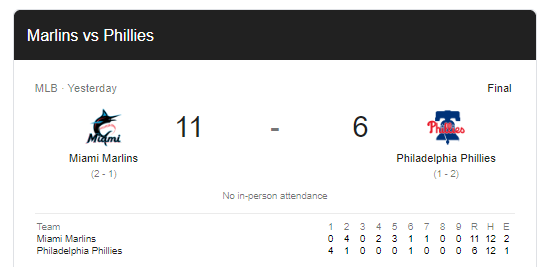 Marlins CEO Derek Jeter released a statement.
Statement from Marlins CEO Derek Jeter pic.twitter.com/v9FyACzJkQ

— Eric Fisher (@EricFisherSBG) July 27, 2020
"The health of our players and staff has been and will continue to be our primary focus as we navigate through these unchartered waters. After a successful Spring 2.0, we have now experienced challenges once we went on the road and left Miami. Postponing tonight's home opener was the correct decision to ensure we take a collective pause and try to properly grasp the totality of this situation. We have conducted another round of testing for our players and staff, and our team will all remain in Philadelphia pending the results of those tests, which we expect later today. We will provide additional information as soon as it becomes available."
Major League Baseball released a statement, also.
"Tonight's scheduled games between the Miami Marlins and Baltimore Orioles at Marlins Park and the Philadelphia Phillies and the New York Yankees at Citizens Bank Park have been postponed while Major League Baseball conducts additional COVID-19 testing. The members of the Marlins' traveling party are self-quarantining in place while awaiting the outcome of those results. Major League Baseball has been coordinating with the Major League Baseball Players Association; the Marlins; the Orioles; the Marlins' weekend opponent, the Phillies; and Club medical staffs, and will continue to provide updates as appropriate."
---
You can follow Nick Piccone on Twitter (@nickpiccone) and e-mail him at [email protected]. You can read his pro wrestling articles on PhillyVoice here.
Subscribe to The Straight Shooters on Apple Podcasts, Spotify, Google Podcasts, Pandora, iHeartRadio, TuneIn Radio, Stitcher, Player FM, and wherever else you get your podcasts! Follow The Straight Shooters on Twitter (@ShootersRadio), like them on Facebook, and listen to every episode at ShootersRadio.com.
Subscribe, rate, and review all Philly Influencer podcasts here. Follow Philly Influencer on Twitter, Facebook, and Instagram.