The Philadelphia Flyers are only 10 days away from kicking off training camp ahead of the 2021 NHL season and will be eager to replicate a lot of successes achieved in Alain Vigneault's side first season.
2019-20 saw the Flyers not only bounce back from a disappointing regular season the year before, but they reached the second round of the NHL Playoffs and received a good mix between veteran players and rising young talent. After a strange offseason which went well into normally what would be the midway point of the regular season, both players are eager to get back to action in January.
"For me, that's a part of my game that I take a lot of pride in," Van Riemsdyk said about offseason conditioning. "Preparing right, always being ready to roll and looking for things to improve upon each and every offseason. As far as that goes for me, it's something that I've always prided myself on. Something that I will continue to do. I'm ready to roll and get the season started."
"Yeah, that's huge," Hayes said in regards to starting off strong in a shortened regular season. "Every year I feel like you see these teams that go on these 10 to 15 stretch wins where they get points. If that's the case this year, they have a serious case to make the playoffs. It's very important to start the season the right way. It's very important for the guys on our team to show up to camp in shape and ready to go."
Hayes excelled in his first season with the Flyers after playing most of his career to date with the New York Rangers. Not only was Hayes' scoring ability on display in Vigneault's offensive set-up, but his defensive awareness was also a major boost to the Flyers who struggled defensively the prior season.
As for Van Riemsdyk, he continued to be one of the top power forwards in the NHL, reaching 18+ goals for the sixth time in his career and showing off his physicality on both ends of the ice. JVR also remains a leader in the Flyers squad despite spending six seasons in Toronto before returning to the team in 2018.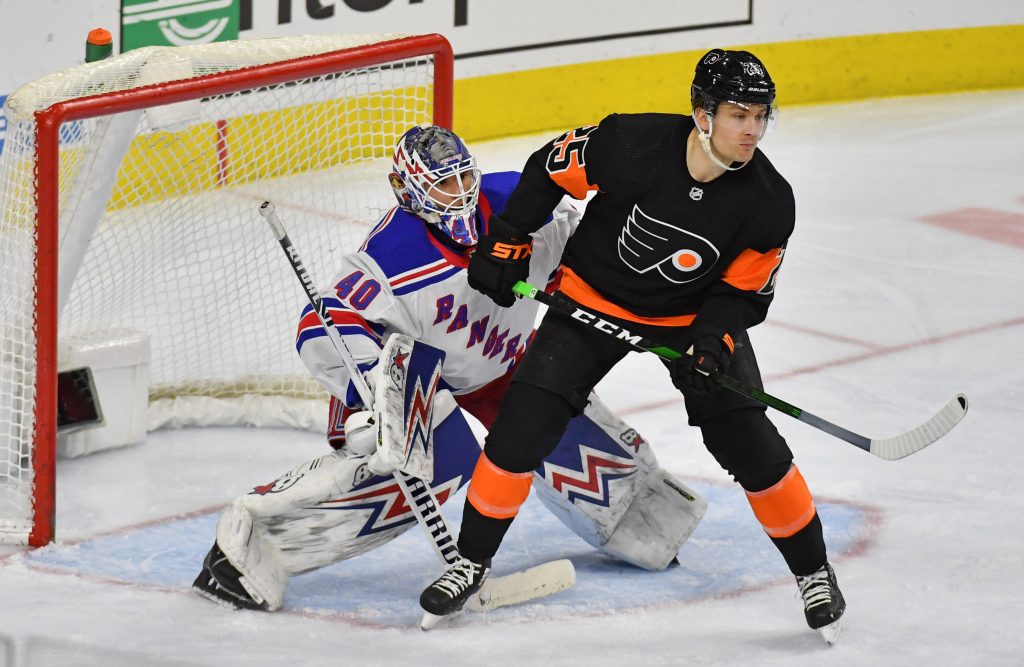 Both players will be a part of a re-adjusted 56-game schedule which will feature eight games each against division rivals Pittsburgh, New Jersey, Washington and newly-added Boston and Buffalo. But first training camp kicks off on January 3rd, the first time the players will be together since losing to the New York Islanders in last season's playoffs.
"I know in the past, the first ten games is kind of a walk in the park," Hayes said regarding the new schedule. It's still tough NHL games, but everyone kind of knows, 'oh he's not playing very good, but he'll figure it out come week 5 or something.' That's not the case right now. Everyone needs to be at the top of their game. I know coaches are working hard. We're going to have a lot of meetings and a lot of film. There is going to be a lot of battling in that short ten-day camp."
"Obviously that [Toronto bubble] was a little taste of what this camp will be like," Van Riemsdyk said. "The lockout year also was a nice way to prepare us for a shortened window and less days together. Obviously no exhibition games for that one. I think with the way a lot of guys train now and stay pretty sharp for most of the year, that time to transition into playing games can be abbreviated to get back up to the speed and level we want to be at. Ultimately, all the teams are in the same boat. All the players are in the same boat. We'll make the best of it and go from there."
The Flyers may have been eliminated a little premature in last season's NHL Playoffs, but it won't stop them from having a target on their backlines this winter. The Orange and Black rose to the challenge and went toe-to-toe with some of the best teams the league had to offer and raised a lot of eyebrows along the way.
Every minute of game time should help the Flyers going forward, most important younger players like Carter Hart, Joel Farabee, and Philippe Myers, who all played key roles last season.
"Anytime you play important games, I think it helps everyone," Hayes said. "The older guys are used to it. The younger guys like Hartsy, Joel, Kube, Mysey and guys that have played a lot of playoff games, it obviously helps them. It was a weird year. I felt like we had a lot of momentum and then the season stopped."
"We started playing really good in the bubble and then played against two good defensive teams. We fell one game short to the Islanders. Anytime you play in games that are very important and every player needs to be invested in, it can only help in the long run."
---
You can follow Larry Henry on Twitter (@lhenry019) and e-mail him at [email protected].
Subscribe, rate, and review all Philly Influencer podcasts here. Follow Philly Influencer on Twitter, Facebook, and Instagram