Zach Ertz has been outspoken about his interest to receive a new and improved contract with the Philadelphia Eagles, and with one unlikely to come, the team looks set to send the longtime tight end away on a trade.
The Kansas City Chiefs are among several teams reportedly interested in acquiring Ertz from the Eagles this off-season, The Athletic reported Tuesday. The news came not long after NFL Network's Ian Rapoport reported that the Eagles granted Ertz permission to find a new team via trade.
Ertz currently holds a tradable contract which has one year remaining at an $8.25 million base salary and a total cap hit of $12.47 million. The 30-year-old played in only 11 games in 2020 due to injury, hauling in 36 passes for 335 yards with one touchdown.
The eight-year veteran is a former 2013 second-round pick by the Eagles out of Stanford University and has been one of the best at his position since coming into the NFL. Ertz has recorded 561 receptions for 6,078 yards with 36 touchdowns in his career and is a fan-favorite in Philadelphia, scoring one of the most memorable touchdowns in the Eagles 41-33 Super Bowl win over New England in 2018.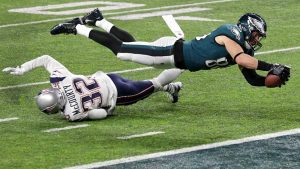 Ertz stated before last season that he wanted an improved contract, similar to those of K.C.'s Travis Kelce and San Francisco's George Kittle. However, the Eagles did not offer Ertz a deal and now it looks likely he will end his time in Philadelphia.
"I want to be here, even if for some reason something were to happen, maybe I come back at the end," Ertz said after a season-ending loss to the Washington Football Team. "I think this city is the best city to play for and I couldn't have asked for a better experience. The city has meant a lot to me and to my family."
I don't know what's going to happen next year. You never know when your time is going to be up anywhere."
Green Bay, Arizona, and Pittsburgh could also be on the market for a tight end as all three would see Ertz as an upgrade from their current corps of players.
---
You can follow Larry Henry on Twitter (@lhenry019) and e-mail him at [email protected].
Subscribe, rate, and review all Philly Influencer podcasts here. Follow Philly Influencer on Twitter, Facebook, and Instagram.