The Philadelphia Eagles desperately wanted to make a splash in Thursday's First Round of the 2021 NFL Draft, and did so in a big way with the help of their biggest rival.
After moving up two spots to the No. 10 overall pick, Howie Roseman selected 2020 Heisman Trophy winner and University of Alabama wide receiver DeVonta Smith. The Eagles traded with the Dallas Cowboys to No. 10 to select Smith, but bolstered its receiving corps immensely.
"I was shocked that they had traded up for me," Smith said during a virtual conference call from the site of the 2021 NFL Draft in Cleveland. "I was really excited and it's a blessing."
In exchange to giving Dallas their No. 12 overall pick, the Eagles also gave the Cowboys a third-round pick, No. 84 overall in Friday's slew of picks. Not only did the Eagles draft one of college football's best wide receivers, they snatched him away from fellow rivals New York Giants, who looked destined to take Smith with the No. 11 selection.
Smith had a season for the ages in 2020, recording 117 receptions for 1,856 yards and 23 touchdowns helping Nick Saban's team capture the National Championship while becoming just the fourth wide receiver to ever win the Heisman Trophy. He was the first wide receiver to win the historic award since Desmond Howard in 1991.
"What I saw in DeVonta was just a guy who can consistently win one-on-one," said Eagles Head Coach Nick Sirianni. "It's a little different with how he does it. He does it with speed, quickness. He does it at the top of the route, beginning of the route, off the line of scrimmage."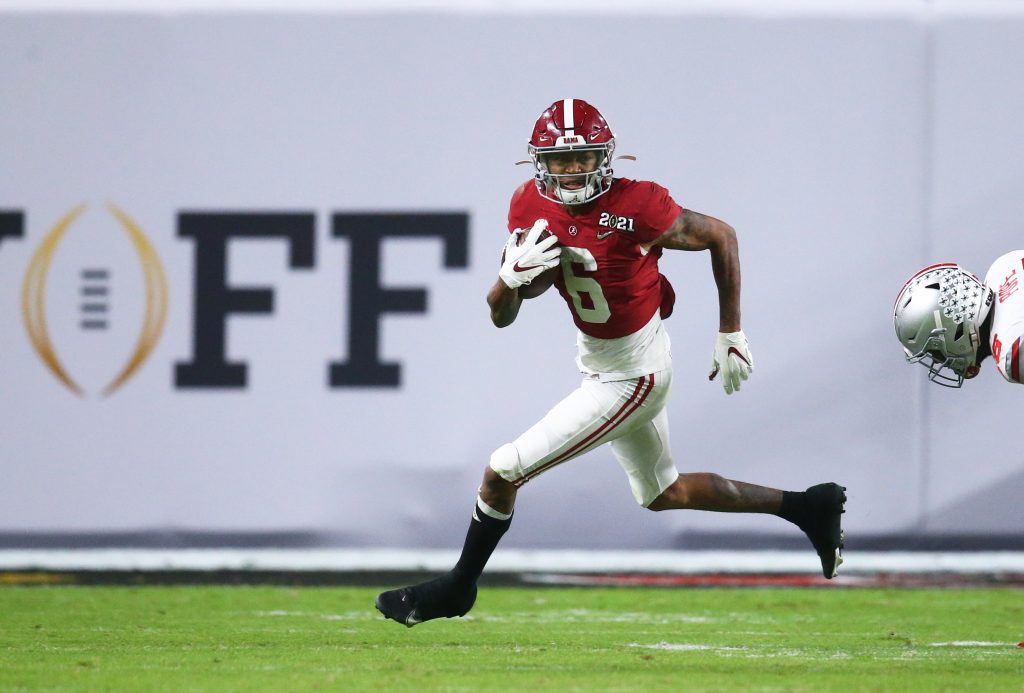 A three-year starter in Tuscaloosa, the 22-year-old Smith led the Crimson Tide in receptions in back-to-back seasons despite sharing targets with three eventual first-round selections (Jerry Jeudy, Henry Ruggs, and fellow 2021 first round selection by Miami, Jaylen Waddle).
The Amite, Louisiana native was a second-team All-American and second-team All-SEC selection in 2019 after registering 68 catches for 1,256 yards and 14 touchdowns. He caught a school-record five touchdowns in a single game against Mississippi that season.
For his career, Smith posted 235 receptions for 3,965 yards (16.9 yards per catch) and 46 receiving touchdowns.
He was the sixth Alabama player drafted in the first round of Thursday's action, tying the program with the University of Miami-Florida for the most selections in a
"We saw a player that was a smooth mover. He can open up and run and he was a player that can win at all three levels from different alignments," Eagles Vice Present of Player Personnel Andy Weidl said. "I think his ability to high-point the ball, to play above the rim, to adjust to the football, to make contested catches, really stood out. I think another thing about Smith that we really liked about the guy is his selflessness."
"Not only was he a productive receiver, he was a punt returner. He returned a punt for a touchdown this year against Arkansas. He's been a gunner in the past on the punt team. When you talk about a teammate that would go above and beyond to help his team win, he embodied that. We're excited to bring him in, excited to have that caliber of receiver that DeVonta brings to us."
---
You can follow Larry Henry on Twitter (@lhenry019) and e-mail him at [email protected].
Subscribe, rate, and review all Philly Influencer podcasts here. Follow Philly Influencer on Twitter, Facebook, and Instagram.