The Philadelphia Phillies took the field in front of fans at Citizens Bank Park for the first time since September 29, 2019 and was able to deliver a sensational victory on 2021 Opening Day.
Jean Segura's walk-off RBI single in the 10th inning propelled the Phillies to a 3-2 win over the Atlanta Braves, giving them a positive boost to start this weekend's opening series. 8,500 fans packed CBP and witnessed a promising start to the regular season as the Phillies claimed an important first win.
"[It was] so much better. So much better," pitcher Aaron Nola said. "It's how it should be, I'm glad, [and] hopefully it'll be more soon. But it was good to hear humans in the stands, the fans getting loud with two strikes, when we score, on a strikeout."
Nola did not pick up the win, but was strong through 6 2/3 innings of work. The Phillies ace right-hander struck out six Braves hitters, while only allowing two earned runs on two hits.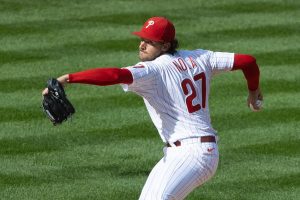 His only blemish in the game came against Pablo Sandoval in the top of the seventh inning, in which the veteran slugger homered for the first time in the new season.
Alec Bohm's sacrifice fly in the second inning paired with J.T. Realmuto's RBI single in the third gave the Phillies a 2-0 lead, but Sandoval's home run would tie things up in the seventh and eventually force extra innings.
New signings Archie Bradley and Jose Alvarado combined for 1 1/3 innings of relief work, while Alvarado struck out the side in the eighth inning. Hector Neris also pitched a scoreless inning of relief work while Connor Brogdon picked up the victory after pitching the top of the 10th.
Segura's walk-off single stole an opening day win for the Phillies, who return to action at home on Saturday. Both Segura and Realmuto each delivered two hits apiece, excelling in their first regular season performance of 2021.
👖👖👖 #RingTheBell pic.twitter.com/010657oZTP

— Philadelphia Phillies (@Phillies) April 1, 2021
Only Ronald Acuna Jr delivered more than one hit for Atlanta, going 2-for-4 with one walk.
Adam Haseley started in center field for the Phillies, but left in the seventh inning after exiting with hamstring tightness. Roman Quinn replaced him and finished the game.
"How he feels [Friday] will probably be really important and declare, was it just a cramp or was it more than a cramp," Phillies manager Joe Girardi said. "We'll know more [Friday]."
---
You can follow Larry Henry on Twitter (@lhenry019) and e-mail him at [email protected].
Subscribe, rate, and review all Philly Influencer podcasts here. Follow Philly Influencer on Twitter, Facebook, and Instagram.