Center City Restaurant Week
With a volume of restrictions easing up last week and plenty of people in the city heading to the streets to catch some sunshine and rays, one of the most beloved culinary experiences is back and better than ever. Center City Restaurant Week began on Monday, May 17, and will run through Friday, May 28. With more than 60 restaurants partnering, CCD is ready to provide a safe, fun, lively, and wallet-friendly dining experience for indoors, outdoors or takeaway.
Some of your favorite restaurants are offering multi-course prix fixe lunches for $20  and dinners for $35. Participating restaurants include Amada, Bank and Bourbon, Little Nonna's, Red Owl Tavern, and newcomers like Clementine's Stable Café. For this summer session of CCRW, you can enjoy Maker's 46 and Roku Gin. They serve as a special and sponsored compliment to Restaurant Week menus. Cocktails to-go will also be offered at select locations. Patrons also have the opportunity to win dinner for a year.
"As Center City continues to safely reopen, we look forward to welcoming back our regional and city residents to our restaurants," said Michelle Shannon, Vice President of Marketing for Center City District. "For those who have not yet enjoyed our vibrant, yet socially distanced, streeteries, it's a chance to come back to your favorite restaurants or try something new. We encourage guests to support our servers by tipping them generously."
Participating restaurants must follow all CDC, City, and State guidelines to ensure the safety of all guests. People who decide to dine out are asked to protect themselves and others by being responsible customers. Help keep workers safe by wearing a mask until it's time to eat or drink. Stay six feet away from others when possible, and wash your hands often. Anyone who feels sick, or has come in contact with someone who has tested positive for COVID-19 within the past 14 days, should stay home.
While enjoying CCD Restaurant Week, park for $9 or less at participating Philadelphia Parking Association and Philadelphia Parking Authority facilities from 4:45 p.m. – 1:00 a.m.
Click here to view a list and searchable map of participating parking facilities and instructions for receiving the CCD Restaurant Week discount.
Click here for CCD Restaurant Week participants.
Click here for CCD Restaurant Week takeout participants.
Click here for CCD Restaurant Week outdoor seating participants.
…
 National Escargot Day
Celebrate #NationalEscargotDay on Monday, May 24 with a few of our favorite local offerings from Fond, Forsythia, and Royal Boucherie, each boasting a unique, delicious take on the classic French dish.
• Fond: Fond, the acclaimed French-focused restaurant on East Passyunk Avenue, puts a Mediterranean twist on the popular French dish with their brand-new menu addition Greek-style Escargot ($14) crafted with oozo, red peppers, feta, and served with freshly-baked grilled bread. Chef Lee Styer's flavorful, seasonal offerings are available now for limited indoor dining, takeaway, and spacious outdoor seating on the patio at 11th and Tasker.
• Forsythia: Forsythia, Old City's contemporary French bar and restaurant helmed by Chef Christopher Kearse, often incorporates variations of the popular hors d'oeuvre on the ever-evolving, seasonal menu. This go-around Forsythia boasts Escargot ($15) prepared in tomato butter with house-made focaccia crouton – a crowd pleaser amongst locals and tourists. You can enjoy for dinner service indoors, as well as takeaway and expanded sidewalk seating.
• Royal Boucherie: Royal Boucherie, Old City's American brasserie specializing in French-style cuisine, offers guests a sophisticated and sexy take on the classic dish with Champagne Braised Escargot ($15) in a chartreuse hazelnut butter, served with fresh crispy baguette. Folks can enjoy this dish, and a plethora of elegant French-forward offerings available for dinner service at limited capacity indoors, and outdoor seating at the expanded sidewalk streetery or second floor rooftop garden, as well as takeaway.
…
Rittenhouse Row's TAG Time Happy Hour Weekend
On the weekend that would have been the annual Rittenhouse Row Spring Festival, Friday, May
21 – Sunday, May 23, the member businesses of Rittenhouse Row will collectively fundraise to fight lung cancer.
Rittenhouse Row's TAG Time Happy Hour Weekend is a three-day experience that will allow visitors to experience the best of Rittenhouse Row while raising funds for the LUNGevity Foundation. The event will span all day-parts, to allow each business to support the cause in the way that works for their business. It will not be an outdoor street festival, but instead a community-wide opportunity to fight lung cancer while supporting Rittenhouse Row's neighborhood businesses.
Randi Sirkin, of Starr and EllenYin, of a. kitchen+bar, serve as the Rittenhouse Row TAG Time Happy Hour Weekend co-chairs, and worked with Rittenhouse Row to organize the large-scale benefit in honor of Rittenhouse Row's neighbors and colleagues, Chef Jim and Kristina Burke. The public is invited to partake.
"This is the first public community collaboration that Rittenhouse Row is putting forth after this trying year… we are looking forward, leaning into doing good, and finding new models of destination marketing that work despite a global pandemic. We've done little things—this is our first attempt at a big thing," said Corie Moskow, Executive Director, Rittenhouse Row.
"The redo of the actual Rittenhouse Row Festival will occur on Saturday, September 25. Save the date! We always bring our businesses together to present an attractive destination for visitors. This year, we are using our energy to build a stronger community and to present our best aspects as one united front, while welcoming the public to come experience the neighborhood."
Participating Bars and Restaurants 
a. kitchen + bar: Happy Hour, Friday through Sunday, 4 p.m. to 6 p.m. Donating 20% of sales at this time. They will have charcuterie $10 – any single charcuterie; 3 – 4 types $28 — Chef Eli Collins' specialty cocktail $10– It'sGotta Be Something – RokuGin, Lillet Blanc, Lemon, Rosemary, Ginger, and Soda.
Bar Bombon: Bar Bombón will donate $1 from the sale of new menu items, blood orange margaritas, and seasonal guacamole fresca with pineapple and orange, May 21 – 23, to LUNGevity.
Barclay Prime
Butcher Bar: On Friday, May 21, 33% of all happy hour sales from 4:00 p.m. to 6:30 p.m. will be donated to LUNGevity.
Butcher & Singer
Continental Mid-town:$1 from every frozen Astronaut sold May 21-23 will be donated to LUNGevity.
CORK theWine Shop at COOK: Through Sunday, 50% of wines selected by Kristina and Jim Burke will be donated to LUNGevity.
The Dandelion: $1 from every fish and chips sold May 21-23 will be donated to LUNGevity.
DiBruno Bros.: Di Bruno Bros. has carefully selected the finest ingredients so you can shop & try your hands at Chef Jim Burke's celebrated risotto dish named after his wife, Risotto alla Kristina. A portion of the proceeds will be donated to our LUNGevity.Offered throughout the month of May.
Five Iron Golf
Friday Saturday Sunday
Huda
Jason Matthew Salon: 10% of proceeds from all haircuts will be donated to LUNGevity.
Joan Shepp: Joan Shepp hosts a special trunk show from local designer Bela Shehu's NINObrand. 10% percent of proceeds from sales on Saturday and Sunday from 11-5 will be donated to LUNGevity.
LAGOS: The LAGOS Rittenhouse store will give back 10% of sales from Friday, Saturday and Sunday to LUNGgevity, open 11-6 daily. Purchases may be made in person or by phone, 215.567.0770.
Lost Bread Café: From 4-9 p.m., May 21-23, Lost Bread Cafe will donate all proceeds from theirWildGreens Pizza—ramps and stinging nettle ricotta on a fresh-milled wheat crust topped with shaved, dressed asparagus to LUNGevity.
Mac Mart: 20% of all Mini Macs sales from the weekend will benefit LUNGevity…to make sure people have a little snack in their belly for happy hour!
MilesTable: On May 21-23, from 9:00 a.m. – 2:00 p.m., MilesTable will donate 10% of all proceeds to LUNGevity.
Parc: $1 from every frosé sold May 21-23 will be donated to LUNGevity.
Patchwork at the Hyatt Centric Center City Philadelphia: May 21st through May 23
rd, the Hyatt Centric Center City Philadelphia will be donating 25% of all proceeds from the specialty drink Green Teashka Mule to LUNGevity. Made with green tea-infused honey vodka from
local, minority-owned Mishka PremiumVodka, theGreen Teashka Mule will be featured at Patchwork Bar all weekend.
Pizzata Pizzeria: $2 from every pizza sold on Saturday and Sunday to LUNGevity, with a goal of 500 pizzas overall. Upon reaching the goal, owners Davide and Vinny will personally donate $250.
Porcini
Pub and Kitchen
Revolution Taco: 100% of pineapple guava margarita mixers proceeds and 15% of food sales from 4 p.m. to 6 p.m. on May 21-23.
Rouge: $2 from each specialty cocktail sold, May 21-23, will be donated to LUNGevity. In honor of their 100th-anniversary commitment to #doinggood, property loss consultants Clarke & Cohen will match proceeds raised at Rouge up to $500.
Scarpetta at The Rittenhouse Hotel: Friday and Saturday, 20% of sales from three specialty cocktails, will benefit LUNGevity. They are Vespa Italiana (Tuaca brandy with Aperol and lime), Tuaca Daiquiri (white rum and agave), Rittenhouse Spritz (prosecco and hibiscus)
Spice Finch
Stock Rittenhouse: Chef/OwnerTyler Akin worked under Evan Collndres at Little Sorrow in DC, who happened to work under Chef Jim Burke years before that at James. Evan is going to do a collab dish offered all weekend at Stock, and 100% of sales on that dish all weekend will be donated to LUNGevity.
Trattoria Carina
Tria Café Rittenhouse: From Friday, May 21 at 12 p.m. – through Sunday, May 30th at 8 p.m., 50% of all von Trapp Brewing Bohemian Pilsner draft sales will be donated to LUNGevity.
Vernick Wine Shop: Vernick Wine will be selling Olé & Obrigado's 'Liquid Geography' dry rose made with 100% Mencia grapes from 53-year old vines grown in the Bierzo region of Spain. This wine will retail for $25/bottle and purchasing it is especially impactful -Olé &Obrigado donates 100% of LiquidGeography's profits in equal parts to: the Martell Foundation in its search for cancer cures, World Central Kitchen, an organization devoted to providing meals in the wake of natural disasters, and Wheeling Forward to help people with disabilities experience life to the fullest. Vernick Wine will donate 100% of our profits from the sale of this wine to LUNGevity in support of Chef Jim Burke.
Via Locusta: 10% of Happy Hour Sales from 4-6 p.m. on Friday, Saturday and Sunday will be donated to LUNGevity.
For the most up-to-date list of participants, specials, and information, click here.
…
The Wonton Project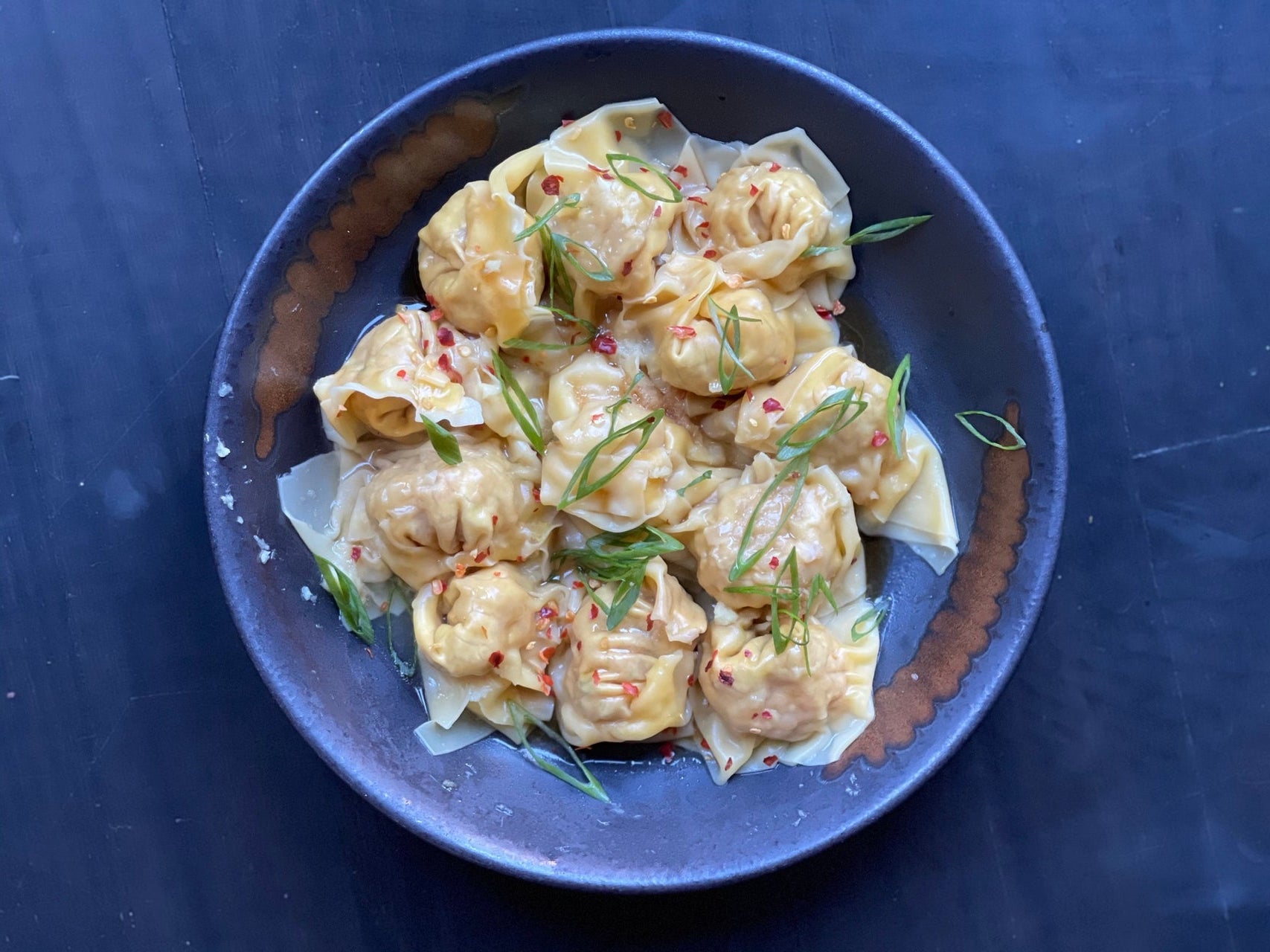 Ellen Yin and her ever-evolving High Street Hospitality Group (HSHG) have a new venture underway — The Wonton Project, a pop-up ghost kitchen concept operating out of HSHG's flagship, Fork, delivering tasty wontons made with the freshest ingredients to Philadelphians.
The violence in Atlanta last month inspired #doughsomething, a national campaign to help promote a fair and equitable society for all.  The campaign was designed for chefs to create dough-based dishes with proceeds donated to organizations that advocate for the civil and human rights of Asian Americans and other underserved communities. Working alongside the #doughsomething campaign, Yin decided that proceeds from The Wonton Project would benefit Asian Americans United and Asian Americans Advancing Justice directly.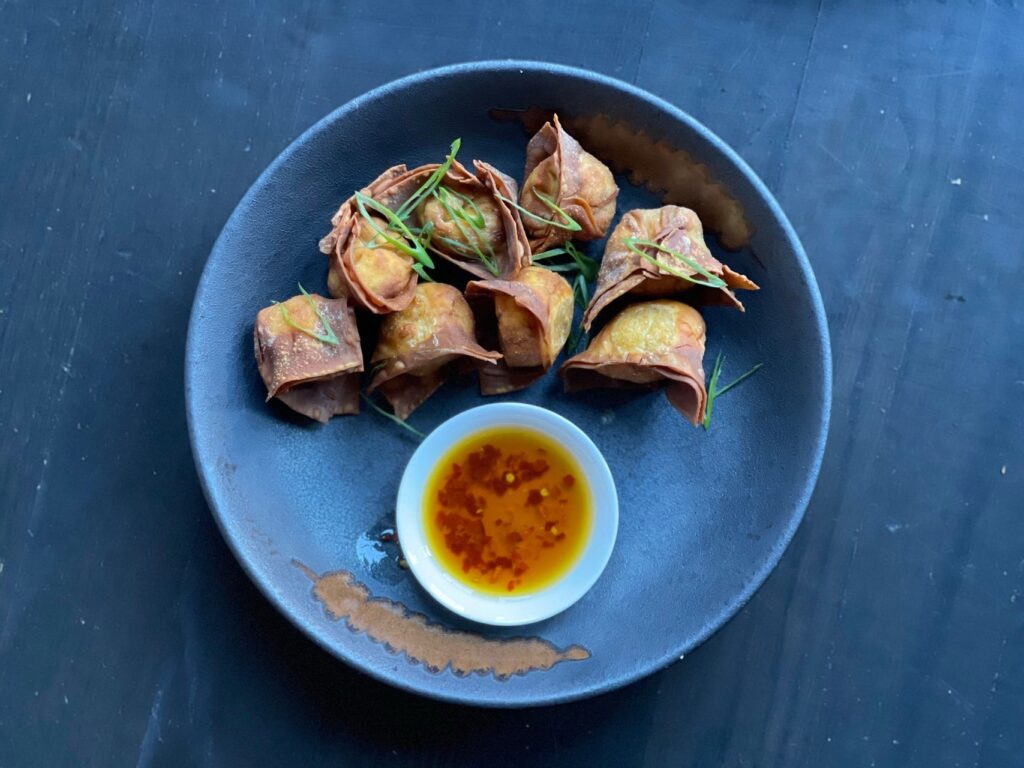 Available Wednesday through Sunday, 11 a.m. to 8 p.m., The Wonton Project calls upon Yin's mother's original home-style wonton recipe that she recreated for this pop-up. Orders can be placed here.
Now, more than ever is time to champion Asian entrepreneurs and support Asian American advocacy efforts in our communities. With Asian American Pacific Islander Month (May) in full swing, this is a great chance to support the community.
---
You can follow Candis McLean on Twitter (@CandisRMcLean) and e-mail her at [email protected].
Subscribe, rate, and review all Philly Influencer podcasts here. Follow Philly Influencer on Twitter, Facebook, and Instagram.