The month of June is Pride Month across the country. Philadelphia is leading the charge with those celebrations with several tremendous happy hours, panel discussions, vaccine events, fundraisers, art shows, and so much more. Philly Gay Pride Month is always one of the major events in the city and with the pandemic limiting so many festivities last year, this year is bigger and better than ever.
From Pride Days at Parks on Tap and Philadelphia Flower Show to Pride Nights at Philadelphia Zoo and Concourse Dance Club, to LGood afternoon, there are so many events that you don't want to miss.
Looking further down the calendar, the LGBTQ celebration, Pride Parade and Festival will take place on Saturday, September 4, 2021. Instead of a parade, the event will focus on a mini-festival at Penn's Landing.
For more events to be added for Philly Gay Pride Month, please click here.
1. Sofitel Philadelphia Events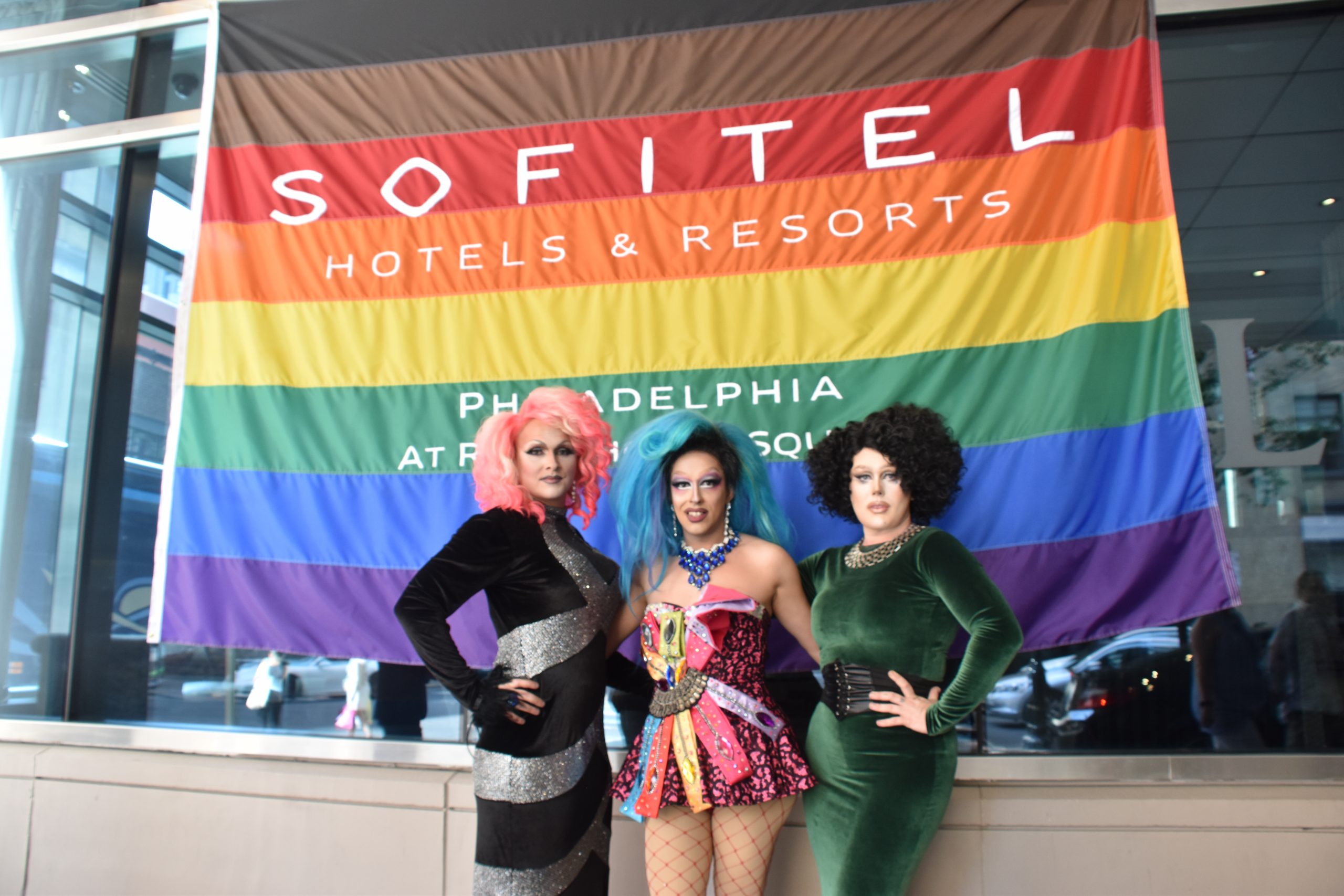 Where: Sofitel Philadelphia | 120 S. 17th St
When: Various events running through Wednesday, June 30
Sofitel Philadelphia invites the community to celebrate Philadelphia's Pride rainbow flag on the outside of the building in June. An oversize rainbow flag, with Philly's addition of the brown and black stripes to honor diversity in the community, greets visitors as they enter to the left of the front doors. Also, Sofitel will debut a new Drag Tea featuring Brittany Lynn's Drag Mafia. Sip tea (or spill it) in the presence of fabulous Drag Queens as you enjoy delicious offerings from Sofitel's award-winning culinary team.

Drag Tea starts each week at 2 p.m. and runs through 4 p.m. inside Chez Colette Brasserie. Come ready to be entertained as you enjoy classics, like scones, tea sandwiches (smoked salmon, dill cream cheese, cucumber, pinwheel; ham, truffled egg salad, quinoa cup; fig jam, boursin, red onion, sesame pretzel; turkey, cranberry, orange, pumpernickel), pastries (orange and grand marnier cake, matcha mousse, chocolate profiterole, macaroons), and Palais Des Thes (selection of nine different teas for you to choose) – plus your choice of Champagne, Mimosa or Bellini. Due to popular demand, there has been an additional show added on June 26.
…
2. Philly Gay Pride Month: Cocktails for a Cause
Where: Various locations
When: Runs through Wednesday, June 30
Philadelphia's largest and most stunning outdoor and indoor restaurants and concepts will celebrate June as Philly Gay Pride Month with a month-long celebration! FCM Hospitality and owner Avram Hornik announce that Lola's Garden (Green), Juno (Black), Parks on Tap (Purple at both locations), Morgan's Pier (Orange), Harper's Garden (Yellow), Craft Hall (Brown), The Garden at Cherry Street Pier (Blue), and Rosy's Taco Bar (Red) will all work in unison to help raise funds for LGBTQ Philadelphia-based charities through Philly Gay Pride Month Cocktails for a Cause. All eight locations will feature a special-colored cocktail that matches up with the eight colors of the Philadelphia Gay Pride Flag.  One dollar from all eight cocktails during the 30 days of June will go to support William Way LGBT Community Center, Attic Youth Center, Philly Asian Queer, and Galaei.
…
3. Evil Genius Beer and Happy Hour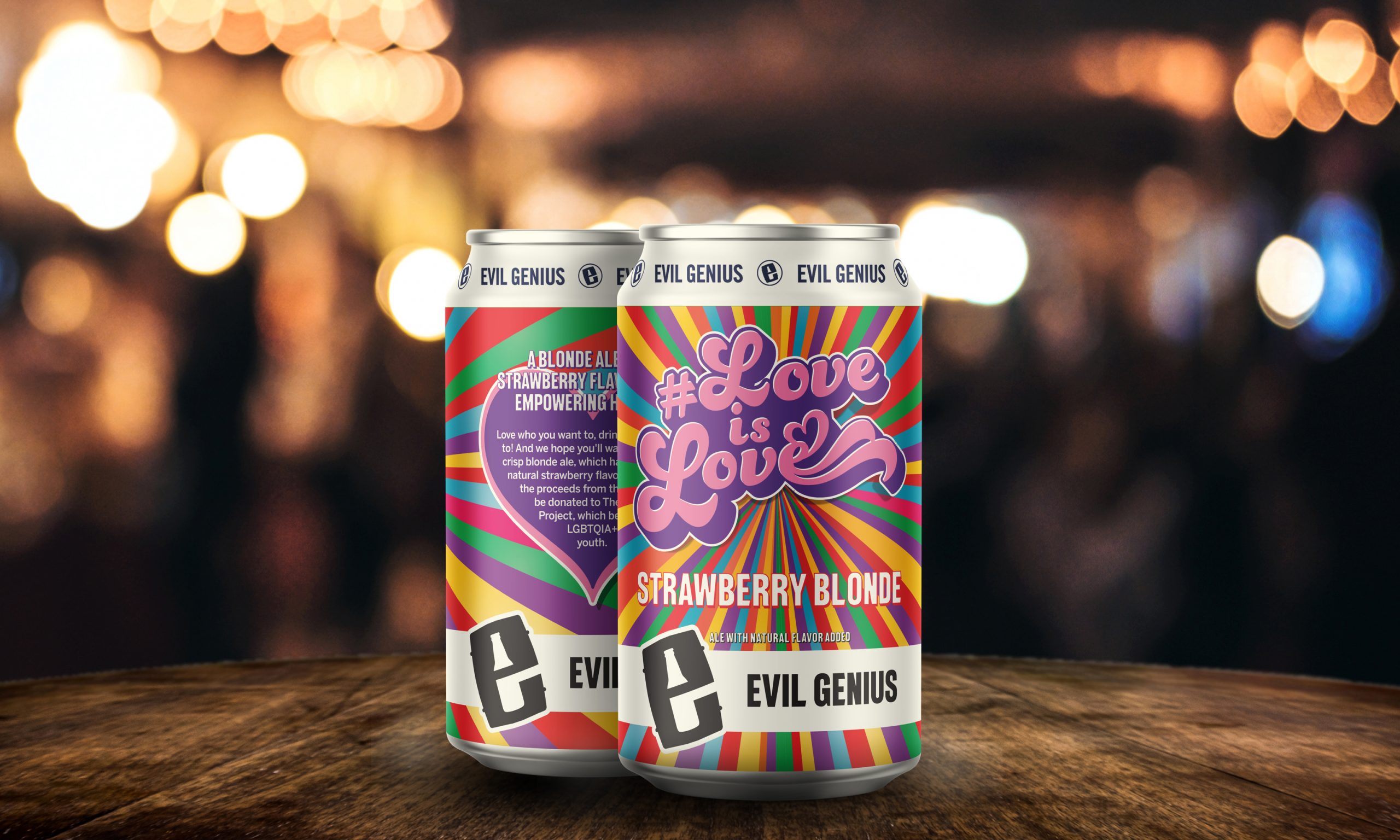 Where: Evil Genius Beer Company | 1727 N. Front St
When: Beer available starting June 1; Happy Hours are every Thursday in June (6 p.m. – 8 p.m.)
Just in time for Philly Beer Week and Pride Month, Evil Genius Beer Company is set to release #loveislove, a Gay Pride Month special beer. This brand-new Strawberry Blonde Ale (6% ABV) is crisp with a hint of natural strawberry flavor. A portion from all sales will be donated to The Trevor Project, a national organization that provides crisis intervention and suicide prevention services to LGBTQIA+ youth. Starting June 1, #loveislove is available in Evil Genius' new 12 ounce cans at the Lab in Fishtown – and for exclusive delivery to your front door through a Pride partnership with GoPuff. The beer will also be available on limited release in drafts at the Lab and Evil Genius Beer Garden. Evil Genius Beer Company Charity will also be hosting special happy hours starting Thursday, June 3. $1 from each beer sold in the beer garden between 6 p.m. – 8 p.m. is donated to The Trevor Project as well.
For more information, click here.
…
4. PrideFLIX; The Virtual Pride Film Festival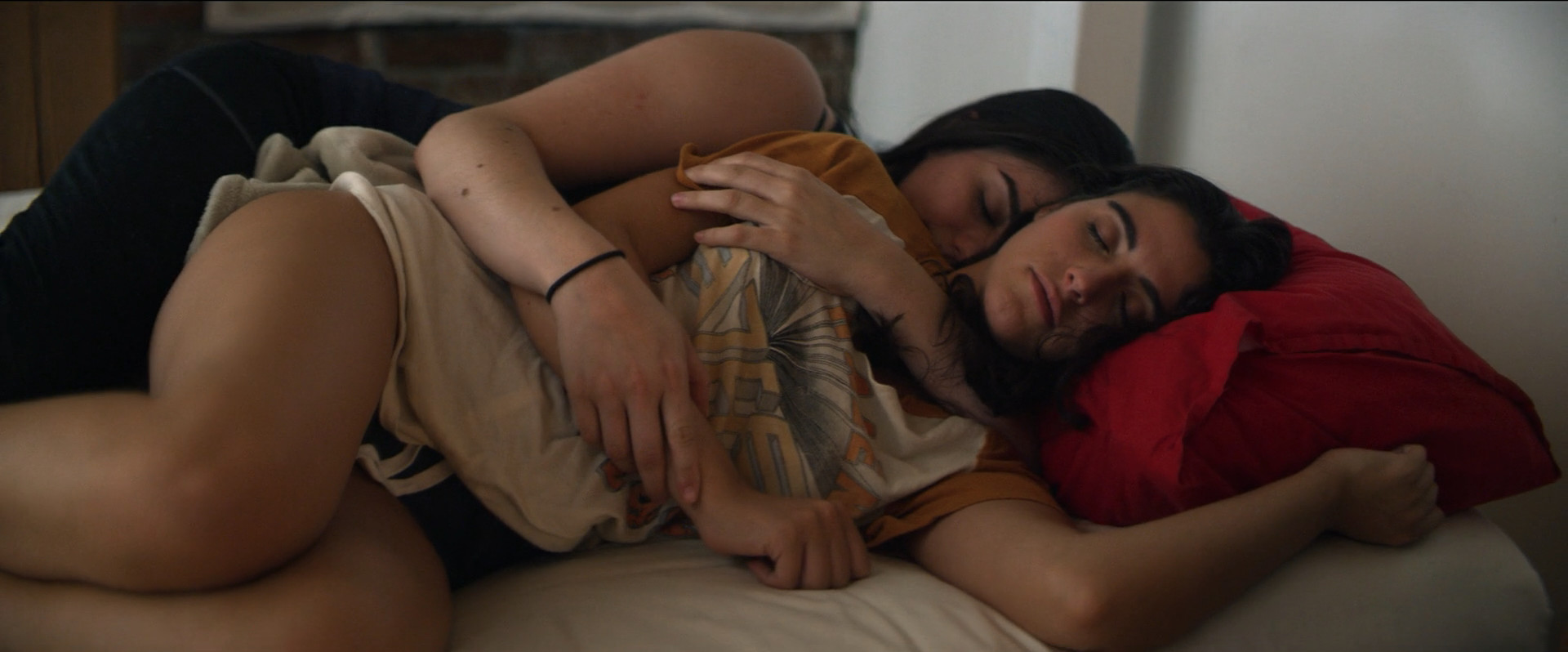 Where: Digital event
When: Begins Tuesday, June 1
Just in time for Pride month, qFLIX launches "PrideFLIX; The Virtual Pride Film Festival" featuring 5 weeks of LGBTQ+ Documentaries, Feature Films, Short Films, and Web Series from the comfort of your home as you celebrate Pride. qFLIX Philadelphia, the region's LARGEST LGBTQ+  film festival found itself in the position that many festivals have faced with the onset of COVID-19. Their annual festival was set to kick off in March 2020 but was postponed to the fall due to the global pandemic. Philadelphia Pride was subsequently postponed, and out of that, PrideFLIX was born. Rooted in its 26-year history, qFLIX proudly continues its tradition of sharing the stories of LGBTQ+ people. The virtual film festival promises a stellar lineup of LGBTQ+ documentaries, feature films, short films, and web series.
For more information, click here.
…
5. Gay Pride Month at Philly AIDS Thrift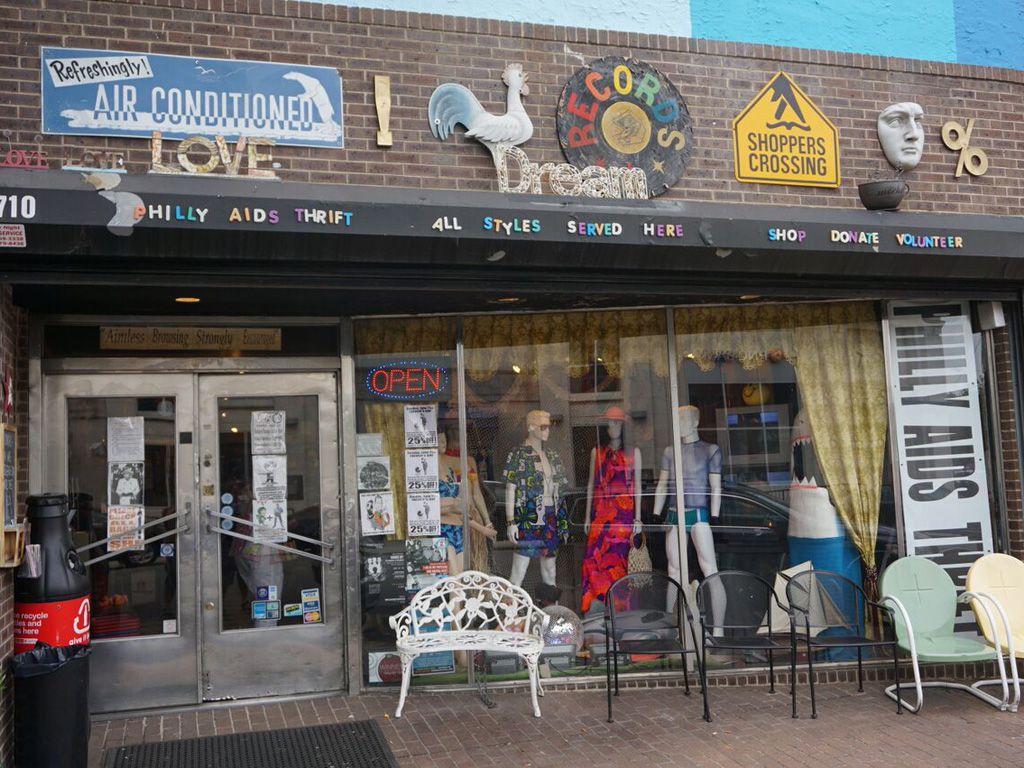 Where: Philly AIDS Thrift | 710 S 5th St
When: Runs through Wednesday, June 30
Philly AIDS Thrift celebrates June as Philly Gay Pride Month with a colorful, Queer-centric wowing window display celebrating the diversity of our city and region's queer community. Come get dressed up for Pride Month by supporting Philadelphia's largest and gay-owned thrift store where you can find a rainbow of fashions all month long. Whether you want to celebrate with the eight colors of the Philly rainbow or add to your own personal style, Philly AIDS Thrift has shirts, pants, dresses, shoes, accessories, and more for each and every person – and each and every taste. Don't forget to stop by the vintage jewelry room to add some extra sparkle and bling to your pride outfit. Additionally, support one of our community's most important non-profits by shopping for home goods, games, and other thrift items. Donate and do-good in June by donating gently used items to the thrift store. Pride month and June is a great month to clean out those basements, shore houses, and closets. Philly AIDS Thrift turns yesterday's treasures into tomorrow's grants to help provide life-saving services for dozens of HIV/AIDS service organizations.
For more information, click here.
…
6. Gay Pride Month Essentials at Philly AIDS Thrift at Giovanni's Room
Where: Philly AIDS Thrift @ Giovanni's Room | 345 S. 12th St
When: Open Monday-Sunday 11 a.m. – 8 p.m.;  Sunday 11 a.m. – 7 p.m.
Celebrate Gay Pride Month at America's oldest continuously operating LGBTQ bookstore. For Philly Gay Pride Month, stop by Philly AIDS Thrift at Giovanni's Room in the gayborhood for all of your gay pride month essentials – including ramped up selections of the special Philadelphia edition of the Gay Pride Flag, other LGBTQ flags, pride t-shirts, magnets, buttons, and other queer ephemera. Pick up your recently published copy of queerbook anthology – a collection of fiction and non-fiction work by LGBTQ people from all over the world that was published by PAT during the pandemic. Add this must-do stop to your Gay Pride Month itinerary!
For more information, click here.
…
7. Without a Cue Productions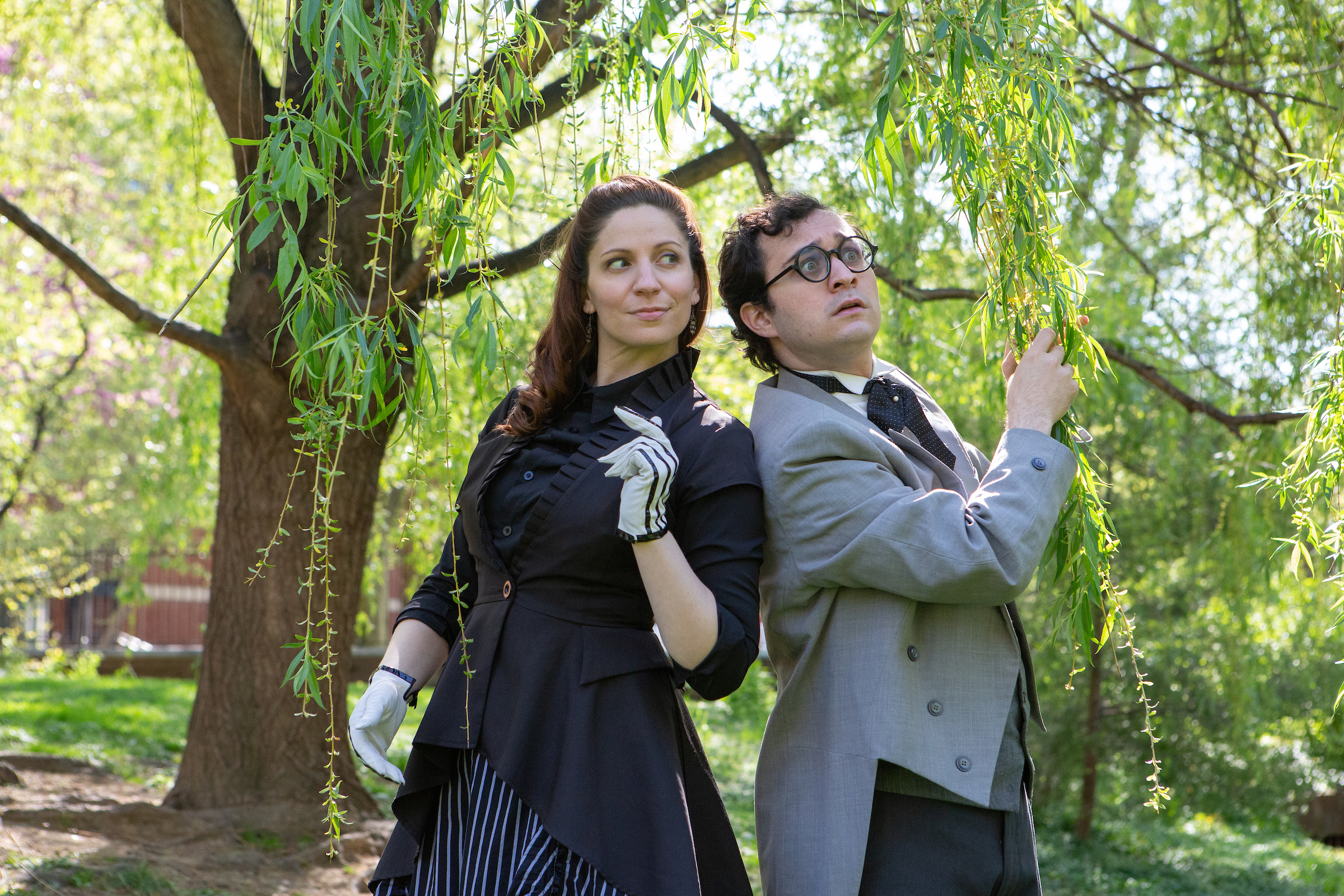 Where: Various locations
When: Runs through Wednesday, June 30
Without a Cue Productions celebrates Philly Gay Pride Month with $5 off the new mystery walking tours in Historic Philadelphia. The Bucks County female-owned theatrical company celebrates the launch in Philly with five-dollar savings for any walking tour in the entire month of June using the promo code PRIDE5 . Watch for stories spotlighting Without a Cue Productions out and proud gay cast members during June and Pride Month.
For more information, click here.
…
8. Vaccine Events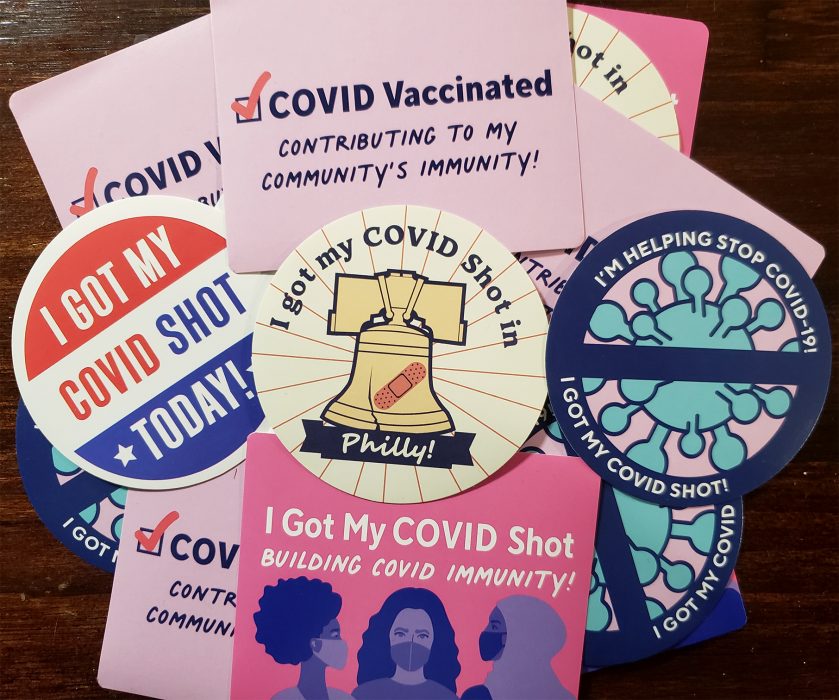 Where: Various locations
When: Various times
Philadelphia FIGHT will host free walk-in vaccinations in the heart of the gayborhood at their location at 1233 Locust Street on the second floor. You can stop by on Mondays to Fridays, 9:30 a.m. to 11:30 a.m. and  1:00 p.m. to 3:30 p.m.  For more info or to make an appointment click here or call 267-436-3126. There will be a Vax Up, Philly! event on Saturday, June 5, 9 a.m. to 5 p.m. at Galaei (118 Fontain Street outside area). Galaei in partnership with Mazzoni Center aims to vaccinate 250 folks ages 16 and older. (you do not need to be a PA resident or a documented citizen).  This is going to be a day that brings vaccine access to our communities and we will also have a DJ, snacks, and a socially distanced dance party in the street in front of their building. Create an account on the patient portal, here.  Find "Don't have an account? Sign up today to stay connected to your healthcare." on the page and click "Sign Up." Then, on the create account page under "Who will use this account?" select " Patient" Next, you will need to know your household member's: Full Name, Date of Birth, Email, Phone and then watch for a Code – and select "Nancy Brisbon" as Medical Provider and create a password. Once registration is completed, you can go to the appointment tab on the portal or call the office to schedule the session: 215-563-0652.
…
9. William Way Events
Where: William Way LGBT Community Center | 1315 Spruce St
When: Various times
The art show, Moving Forward When the World Stopped: Queer Life 2020-2021, will be at the William Way LGBT Community Center for the entire month of June. It showcases the works of 28 artists from the Philadelphia area, Moving Forward When the World Stopped: Queer Life 2020-2021 presents a timeline of events, memories, and experiences from the past year. The pain of suffering through the pandemic, the shifts in our relationship with technology, the immense amount of loss, the calls to action, and our strength to carry on as a community are all themes explored by artists of this show.
The William Way LGBT Community Center will also be celebrating its fifth year of loud and proud running through the city streets of Philadelphia and beyond with the virtual Philly Pride Run 5K race and fun run, held Sunday, June 13-20. All race proceeds will support key services for the William Way LGBT Community Center, including senior services, LGBTQ history archives, free library, Trans Resource Center, cyber center, and a generous space-sharing program. Registration is open at Runtheday. The virtual run is keeping up with the tradition of highlighting the diverse groups that make up our fabulous community, this year we are proud to celebrate our Non-Binary and Gender Non-conforming community members. The first 100 participants to register will receive a Philly Pride Map sticker and iron-on t-shirt transfer from Stickeryou.com
For more information, click here.
…
10. Pride Month Fundraiser for New Mural in Gayborhood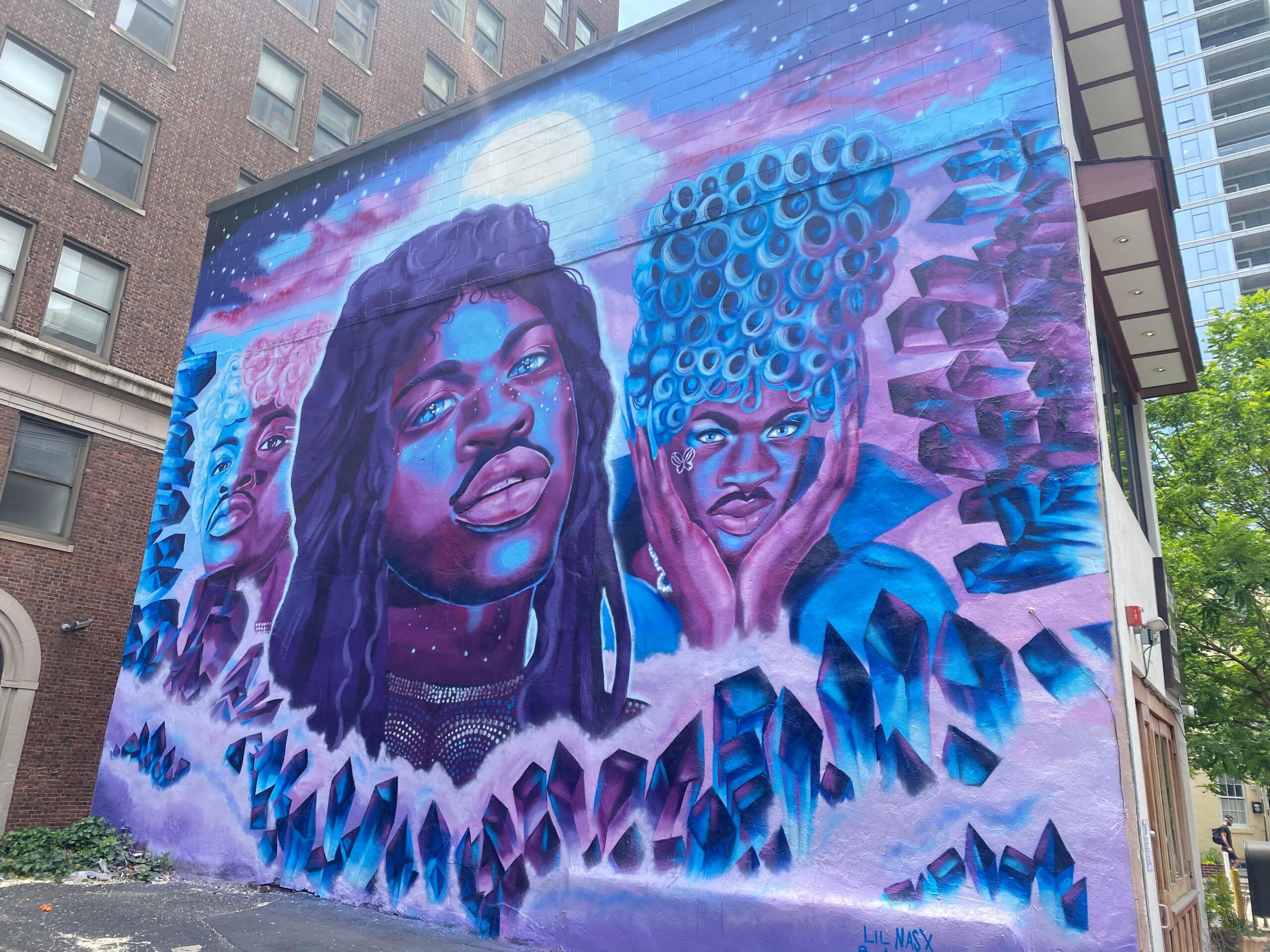 Where: Writer's Block Rehab | 1342 Cypress St
When: Donate today
Writer's block is excited to add a new mural to the gayborhood featuring Lil Nas X in Montero, where he has given a bold voice to a new generation of queer artists and queer people of color. The mural is by Ashley Ryan. Please help by supporting this work. The mural is currently on the East wall of Writers Block Rehab at 1342 Cypress St, Philadelphia, PA 19107. Writers Block Rehab is wanting to raise $5000 for muralist Ash Ryan @asheyeart for this tribute to Lil Nas X—a profound icon who is a proud voice for the LGBTQ  community.
For more information, click here.
…
 11. Philly Gay Pride Month Drive-in with Female Trouble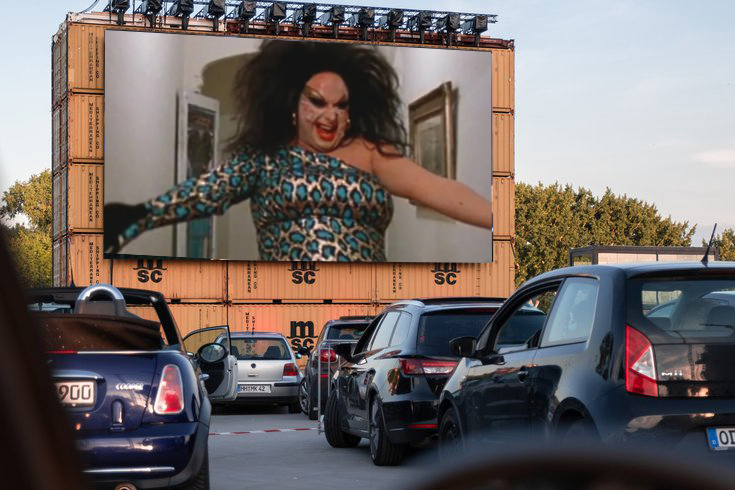 Where: Philadelphia Navy Yard | Admiral Peary Way and League Island Blvd
When: Wednesday, June 2 | doors open 8 p.m., movie 9 p.m.
Philly AIDS Thrift invites you to grab your cha-cha heels, clutch your pearls and head to the Philadelphia Navy Yard for a special movie fundraiser at sundown. Philly AIDS Thrift, in collaboration with Philadelphia Film Society, presents a special Philly Gay Pride Month drive-in movie with Female Trouble on Wednesday, June 2. The 1974 cult classic by John Waters stars the one and only Divine – and the drive-in event will feature Divine-esque drag queens greeting and thanking all the movie-goers. Proceeds from the event will help raise money for a major building expansion that will include a brand-new donation intake center that means more donations can safely be taken in, producing more sales and even more grants to local nonprofits helping people with HIV/AIDS. Tickets for the drive-in movie are $35 per car and include access to the movie, food trucks, and a chance to win fun door prizes. The drive-in movie lot opens at 8 p.m., with the movie starting at 9 p.m. Female Trouble runs for 89 minutes.
For more information, click here.
…
12.  allyouneedislove YOGA + BEER Event
Where: Love City Brewing | 1023 Hamilton St
When: Thursday, June 6 | 10:30 am to 11:30 am
Turntable Yoga will be hosting a PRIDE yoga flow on Sunday, June 6 at Love City Brewing! Join us for allyouneedislove: yoga set to music featuring all queer artists. It's sure to be a party of all practices – all levels and beginners welcome – the goal is to move to music, breathe fresh air, and most of all, HAVE FUN! Held outside, socially distanced (but not too far from the bar!), you can get a morning stretch and sweat in and then enjoy a beer of your choice – included in the price of the class. Bring friends and your own yoga mat. This event is $10 and includes the yoga class and a beer of your choice. The class is capped at 50 people. We are using Venmo charge for ticket purchases! Anyone interesting in buying tickets can fill out the below link, or email: [email protected] directly to purchase.
For more information, click here.
…
13. Vera Pride Showcase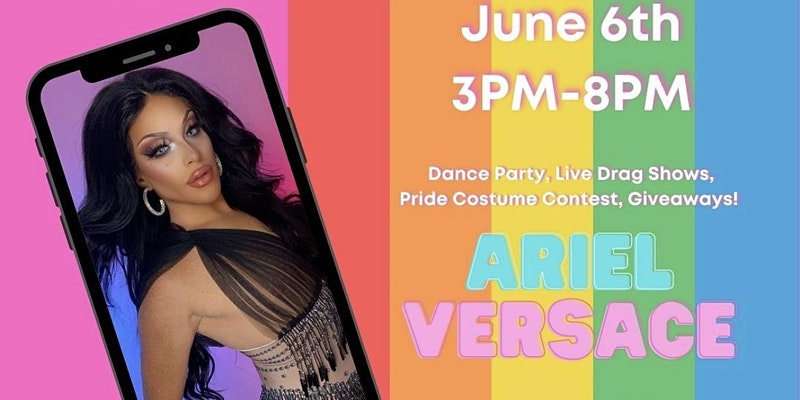 Where: Vera | 2310 Marlton Pike West |  Cherry Hill, NJ
When: Sunday, June 6 | 3 p.m. – 8 p.m.
Come out to  VERA for their first-ever Pride showcase, hosted by Ariel Versace and featuring a ton of special guests. Food and drink specials all day, so get ready to come out and party! Tickets are $25 each.
For more information, click here.
…
14. SPLAT and Spray by Galaei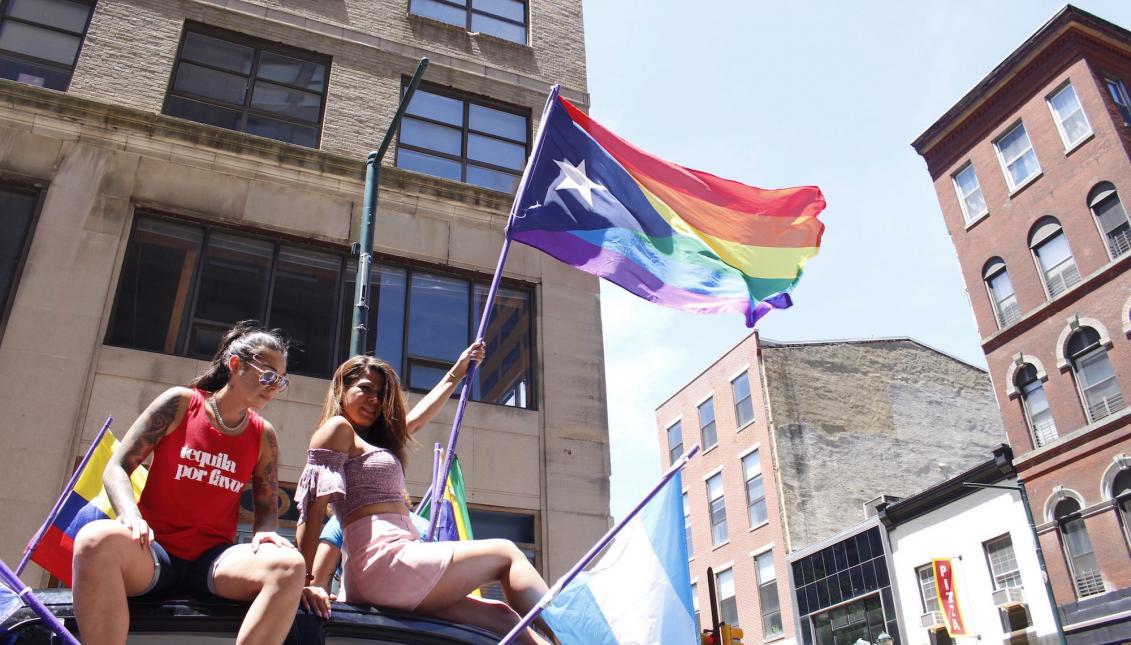 Where: 118 Fontain St
When: Wednesday, June 9 | 4 p.m.
Galaei moved into a brand new space and building over the pandemic and as they prepare for a giant grand opening – they invite LGBTQ teens to a free SPLAT and Spray event to make the youth lounge their own – with welcoming art the gay teens created themselves. Through these events, teens will come together and find community, learn new artistic skills, and make space their own. Galaei's SPLAT program works to support the empowerment and leadership development of queer youth of color through individual coaching, group support, and community engagement. Galaei provides a safe and affirming environment where youth are coached through various issues relating to sexual health, education, employment, conflict resolution, and trauma. Group activities allow queer youth to strengthen their social support system and facilitate dialogue about how they can make an impact on their community through organizing. Come out and SPLAT and Spray and paint in the new youth lounge. It's free and for ages 13-18.
For more information, click here.
…
15. Pride Day at Philadelphia Flower Show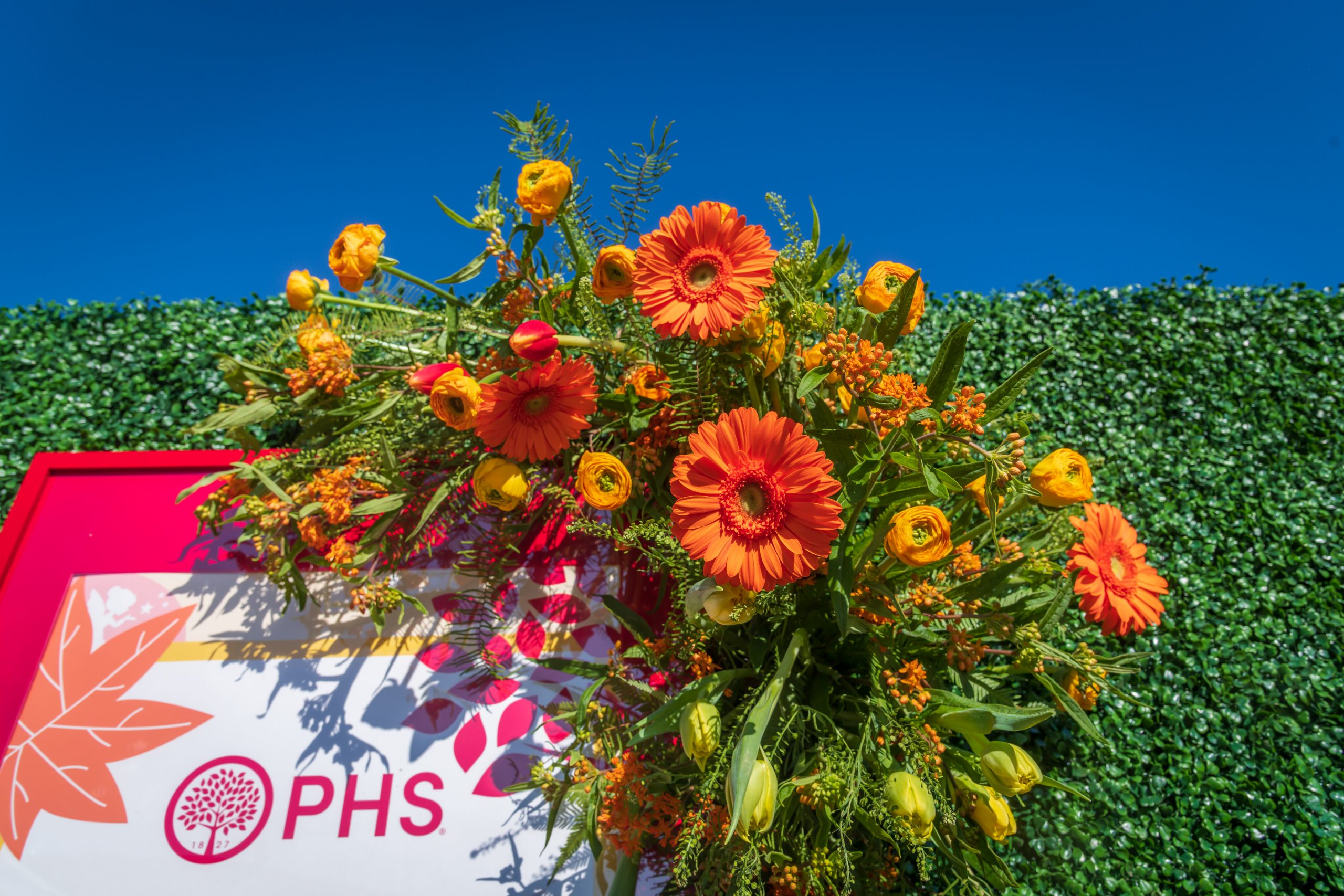 Where: FDR Park | 1500 Pattison Ave & S. Broad St
When: Thursday, June 10 | 10 a.m. – 7 p.m.
Thursday, June 10 will Pride Day at The Philadelphia Flower Show. You can save $5 on a weekday adult ticket. With the special William Way Community Center price, of $40 (valid for up to 4 adult tickets per order). Limited Availability (discount code is limited to the first 50 tickets sold through June 1 only). Reserve your tickets NOW at www.PHSonline.org using coupon code RGWWCC21 to save! The Flower Show will move outdoors for the first time, making this a history-making, once-in-a-lifetime experience that will incorporate the beautiful, unique landscape of FDR Park.
For more information, click here.
…
16. BOS Philly Presents Pride Night at Concourse Dance Bar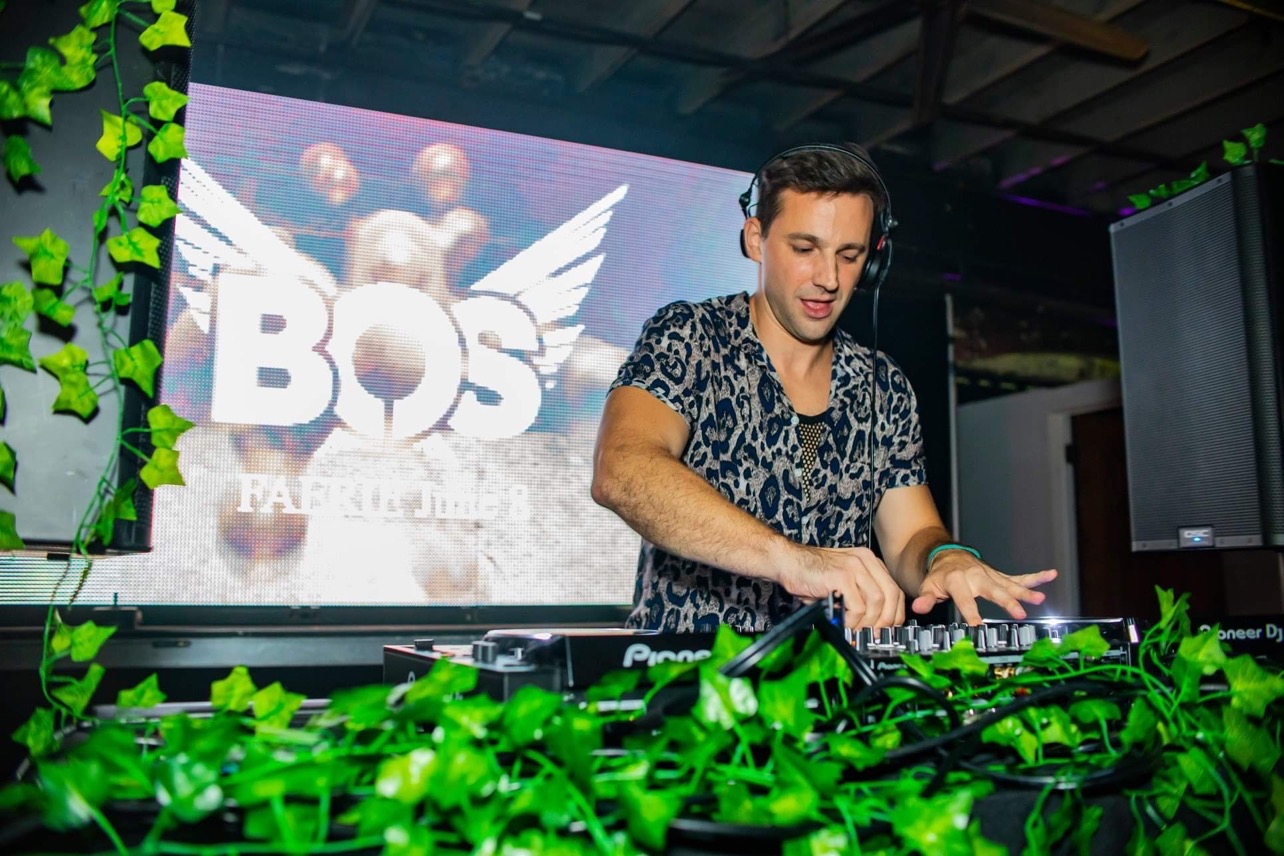 Where: Concourse Dance Bar | 1635 S. Market St
When: Friday, June 11 | 10 p.m. – 2 a.m.
Philadelphia, get ready to dance again! Timed with the reopening of Philadelphia bars and dance floors, BOS Philly will take over Concourse Dance Bar with Pride Night featuring DJ K!RK. Get ready for the first big party of the year! Celebrate Pride Month with the team that brought you Primal, Goldlust, Fairydust, and more! Concourse has become known for its Instagram-famous ball pit, this massive underground nightclub in Center City is decked out with eclectic, retro flair. Get ready to dance for the first time in a year and a half! This event is presented by BOS Philly. Tickets are $25 or save $5 when tickets are bought in advance with promo code BOS2021.
For more information, click here.
…
17. Drive 'N Drag Saves 2021 ft Drag Race Stars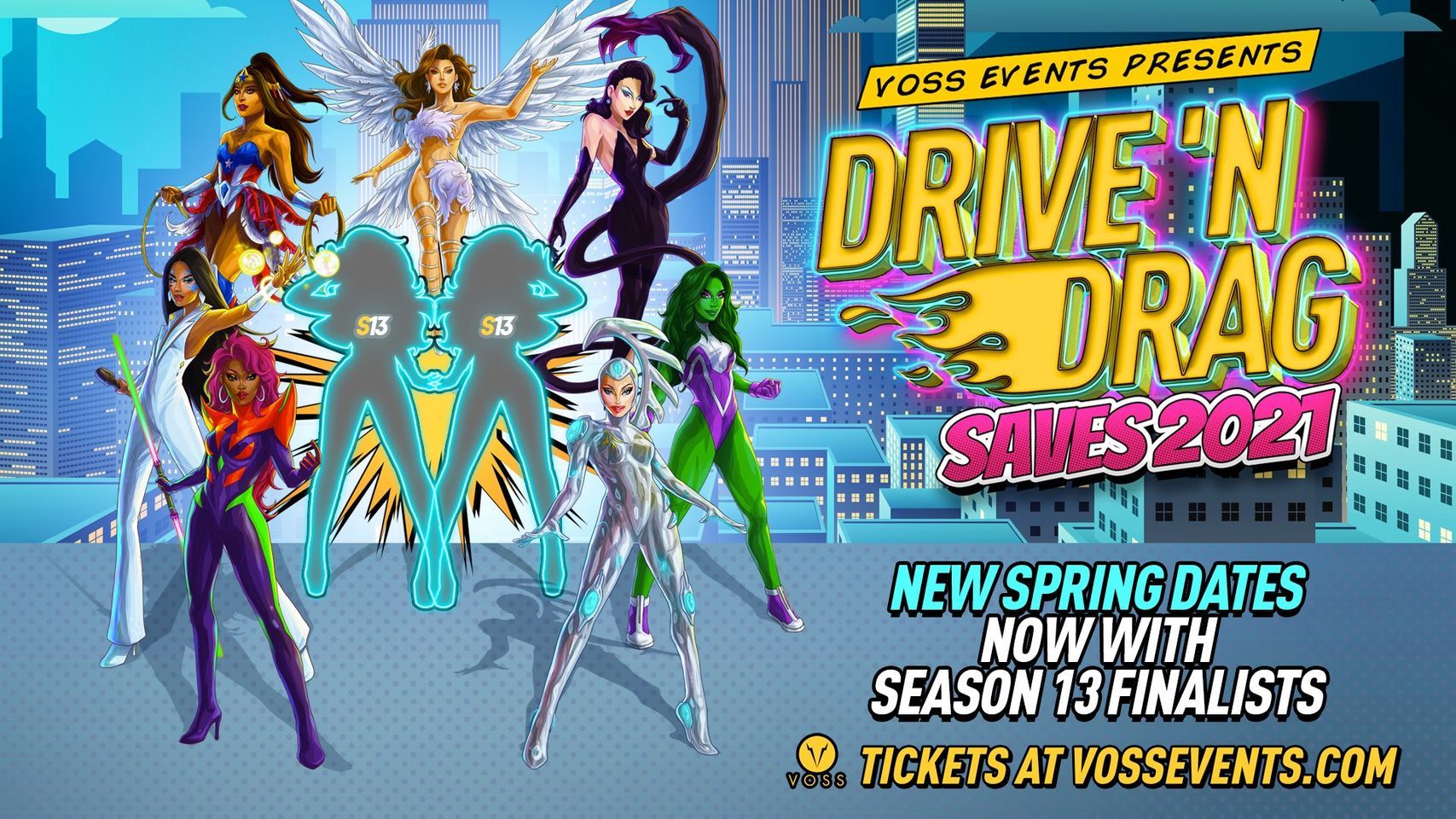 Where: King of Prussia Mall Parking Lot | 160 North Gulph Rd | King of Prussia, PA
When: Friday, June 11, Saturday, June 12, and Sunday, June 13 |  7 p.m. & 9:30 p.m.
The fiercest of all drive-ins featuring RuPaul's Drag Race alumni, will be rolling into King of Prussia Mall for June Gay Pride Month. The super queens Aquaria, Asia O'Hara, Kameron Michaels, Vanessa "Vanjie" Mateo,  GottMik,  Rosé and Violet Chatchki are on a mission to save us from the dreaded 2020! Now starring the soon-to-be-announced Season 13 finalists and new outdoor party patios. (Line-up subject to change.) At Drive N' Drag Saves 2021 Drag Race Stars, the ladies will perform live on a huge stage in front of attendees' cars for a show with extravagant lighting, fabulous attire and jumbotron LED screens. The sound will be broadcasted both from the stage and via an FM radio that you'll be able to tune into once you arrive at the venue, plus there will be a concert-quality light show and gourmet food trucks with food available for purchase.  Tickets are $75 and up for General Admission for a car with two people – with VIP options available as well at the link above.
For more information, click here.
…
18. Women's Party: Sip City Mixer on the River
Where: Cavanaugh's River Deck |  417 N Columbus Blvd
When: Friday, June 11 | 6 p.m. to 9 p.m.
Restrictions away, and it's time to be gay! It's been a long long long year+ since we last got to get together. But, it's time! The city has given the green light to gather, and gather we will! Cavanaughs Riverdeck is right on the water, huge and open with great views for our first foray back into normal life. They will offer our group drink specials and a beautiful place to meet up! As always, Sip City is free to attend. They ask that you consider a donation to the very worthy and needed The Arcila-Adams Trans Resource Center at the William Way LGBT Community Center. It is a resource hub providing health care services, therapy referrals, job assistance.
For more information, click here.
…
19. Teen LGBTQIA Circus Workshop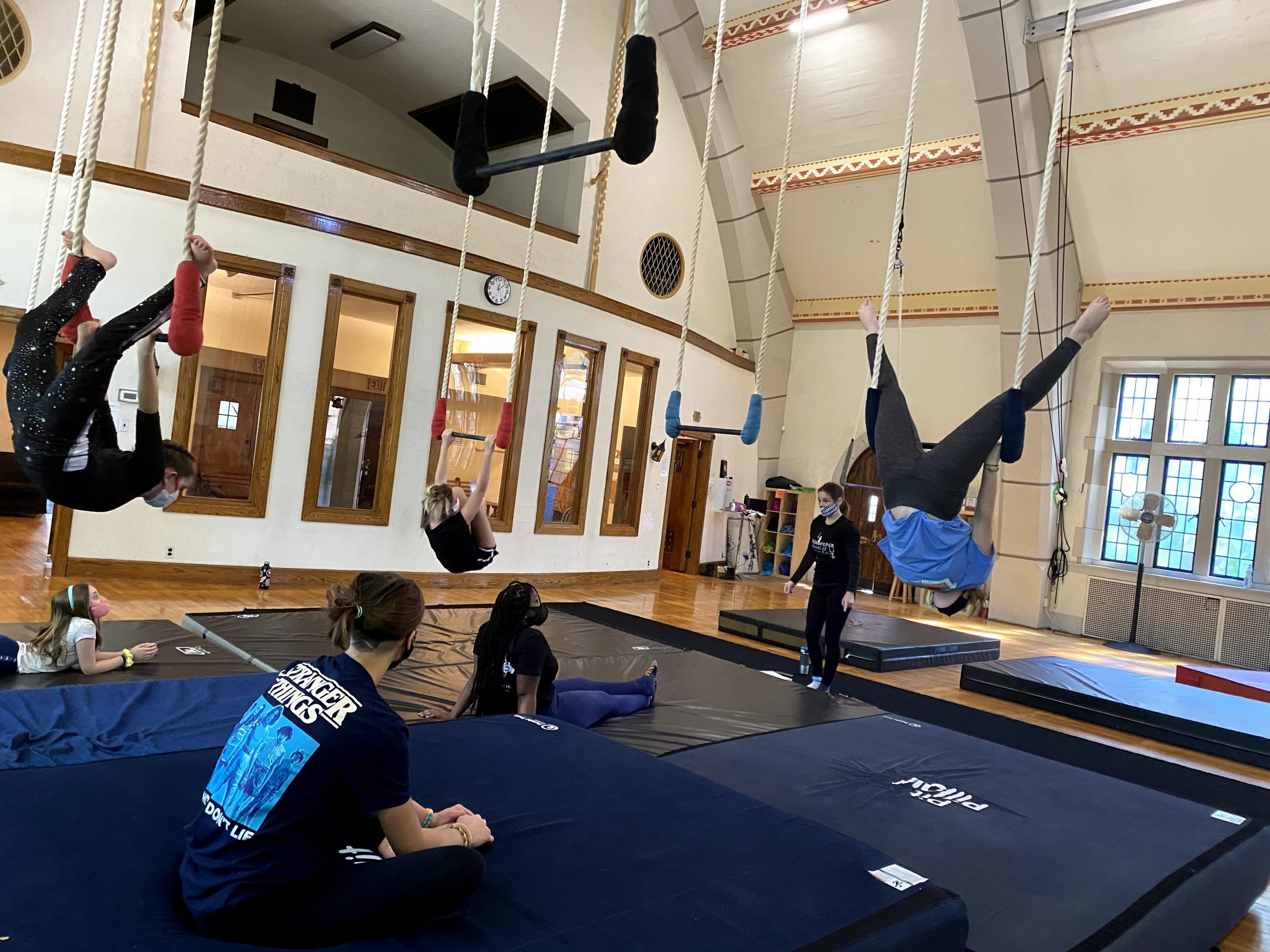 Where: Philadelphia School of Circus Arts | 6452 Greene St
When: Saturday, June 12 | 12 p.m. – 1:30 p.m.
Philadelphia School of Circus Arts celebrates Philly Gay Pride with a free circus workshop for LGBTQIA teens on Saturday, June 12th. While PSCA's classes, workshops, and events are always open to ALL, PSCA wanted to make this Pride Month extra special for the LGBTQIA Teen Community. In this 1.5 hour workshop, PSCA's LGBTQIA Staff & LGBTQIA Staff Allies will introduce Teens to the Circus Arts by teaching the basics of Aerial Sling, Static Trapeze, Tumbling, Juggling, and Tightwire. The last half hour of the workshop will be dedicated to a Cyr Wheel performance and Q&A with a recent graduate of Circadium School of Contemporary Circus, Alexandra Feit. Teens will leave feeling inspired, empowered, and connected to new circus friends. Masks are required to be worn at all times, and social distancing will be in effect in the space. This event is FREE, but space is limited to 15 participants (ages 13-19), so registration is required. All skill levels and abilities welcome!
For more information, click here.
…
20. Pride in the Park: Pride Day at Parks on Tap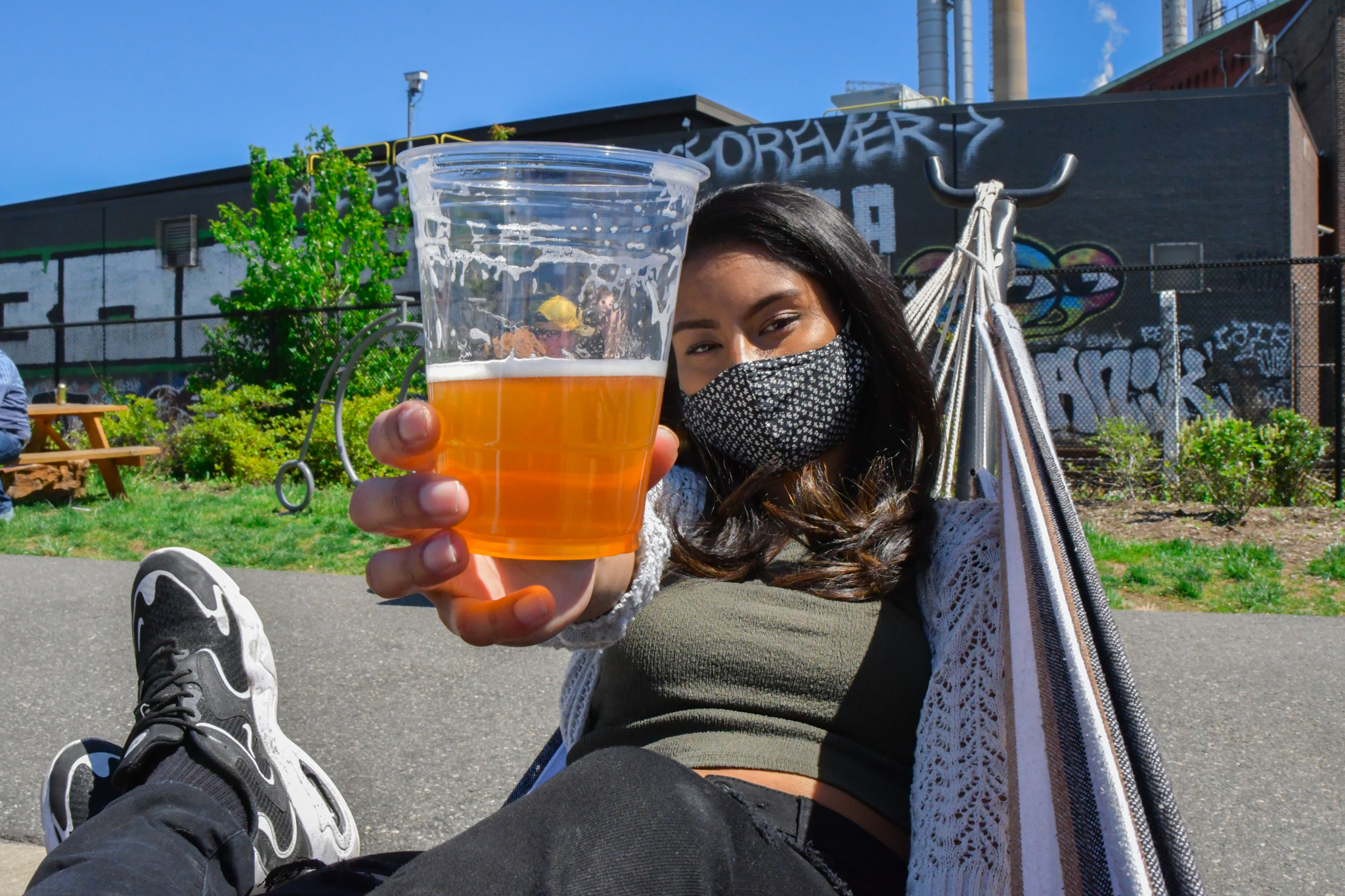 Where: Parks on Tap Trails End |  South St & S. 27th St
When: Saturday, June 12 | 12 p.m. – 6 p.m.
FCM Hospitality presents their first-ever Pride in the Park event, an outdoor gay pride day at Parks on Tap on Saturday, June 12th at the new Trail's End location (South and 27th Streets). From Noon to 6 p.m., come out and enjoy the sweeping river views, the delicious food and drink, and the comfortable seating with your family and friends during this all-ages outdoor event. Philadelphia out and proud celebrity DJ Robert Drake will provide music from 2 p.m. to 6 p.m. Local LGBTQ organizations have been invited to greet guests at the entrance and share information about their services. Support four local LGBTQ charities with your purchase of Pride Punch. One dollar from each Pride Punch sold during Pride in the Park, and all June long, will be combined and split between the William Way LGBT Community Center, Philly Asian Queer, The Attic Youth Center, and Galaei. Pride in the Park is presented by FCM Hospitality, with promotional partners Philly Gay Calendar, BOS Philly, and Aversa PR. Admission is free. Food and drink are pay-as-you-go. Seating is first-come, first-served.
For more information, click here.
…
21. Artists at Work Celebrate Pride Month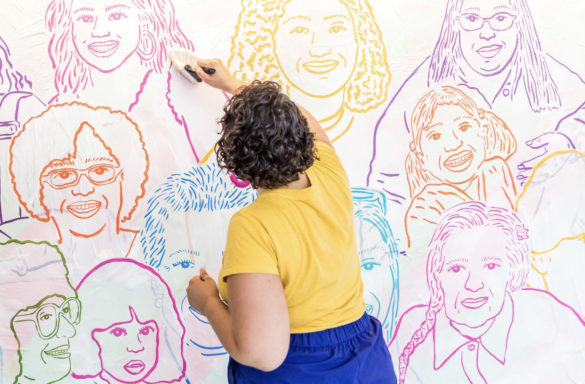 Where: Various locations
When: Saturday, June 12 | 5 p.m. – 7 p.m.
Northern Liberties Business Improvement District presents Artists at Work Celebrate Pride. Head to various businesses in Northern Liberties for a celebration that features local artists showcasing and making their wares, including several featured LGBTQ artists. Gay-owned, female-owned, Black-owned, and Veteran-owned boutique and gift store Trunc will kick things off with live music outside the shop featuring Justus Riveria, Justusviolin, playing music inspired by disco, and Studio 54. Trunc also invites families, dog dads, dog moms, and everyone to bring their furry friends for a free digital image by Justin Timins. Hudson Table will feature Artist at Work Vincent Marc, more publicly known as Marc, a Black queer creative director, stylist, and photographer. The full list of artists and locations at this time include:
Hudson Table, 1001 N 2nd St featuring Vincent Marc
Once Worn Consignment, 906 N 2nd St featuring Jess Craine
R.E.Load Bags, 608 N 2nd St featuring Annette Monnier
Sue Moerder Skull Art, 214 W Wildey St featuring Sue Moerder
The Random Tea Room & Curiosity Shop, 713 N 4th St featuring Alison Dilworth
Bagels & Co, 1001 N 2nd St featuring TBD
Casa Papel, 804 N 2nd St featuring TBD
This event is free and open to the public. Please follow health and safety protocols as outlined by each participating business.
For more information, click here.
…
22. Drag Brunch At The Wayward Featuring Drag Mafia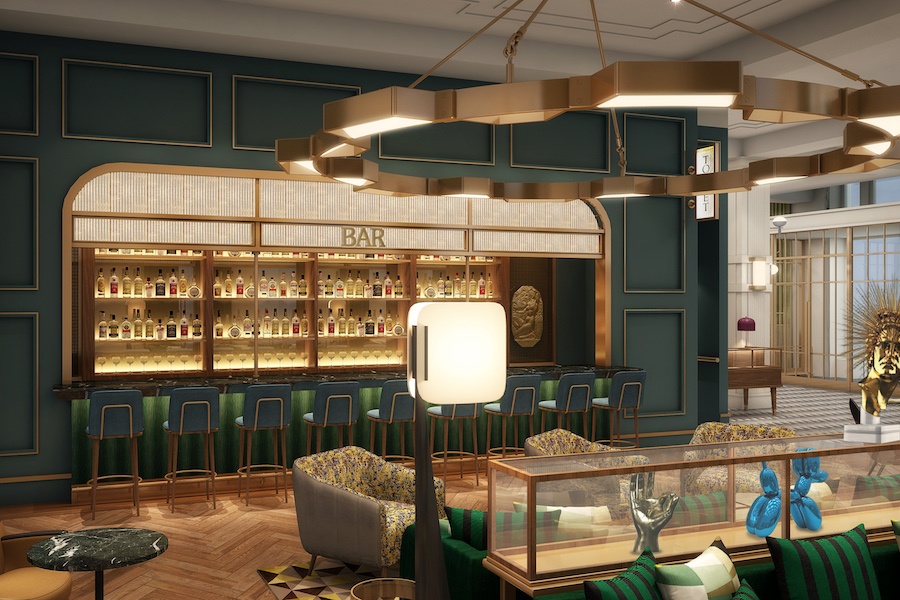 Where: The Wayward | 1170 Ludlow St
When: Sunday, June 13 | 10:30 a.m. – 3 p.m. (seating 10:30 a.m., show 11 a.m., seating 1:30 p.m., show 2 p.m.)
Come to The Wayward on Sunday, June 13th for Drag Brunch on the patio. With two showings starting at 10:30 a.m. and 1:30 p.m. The girls are back and ready to serve, kick, and twirl! Join your hostess Miss Brittany Lynn (Of the Mummer's Miss Fancy Brigade, Drag Queen Story Time, and the tri-state area's most award-winning drag queen), and her girls of the Philly Drag Mafia for a fabulous brunch. The Wayward is featuring a brunch prix fixe menu with $35 per person, with a la carte beverages. Food and beverages are sold separately. Tickets are sold in groups according to the table size. For example, 4 Guests at a table = $80 ($20 per guest).
For more information, click here.
…
23. Brunches at Tabu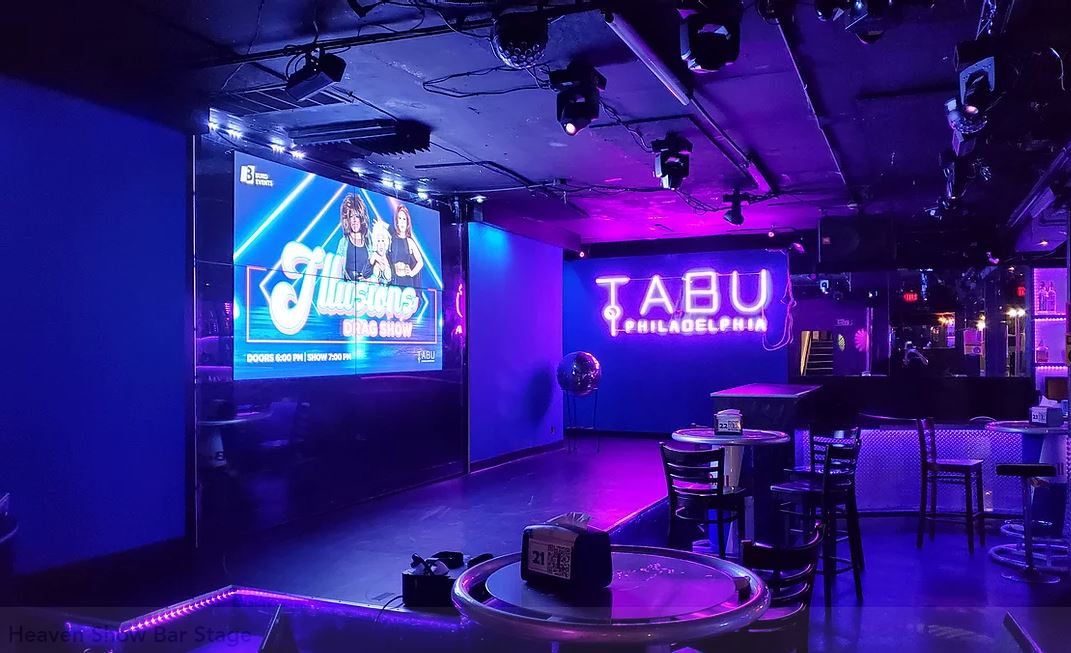 Where: Tabu | 254 S 12th St
When: Various times
For Ladies of Tabu Drag Brunch, Burd Events brings you performances by Philadelphia's finest queens for a brunch like no other. Enjoy your meal, drinks, and friends while experiencing top-end drag performances and interactions. General admission is $15 for the show and a seat. VIP tickets are $25 for the show and the best seats. Food and drink are pay-as-you-go. Cutthroat Queens is an all-out competition.  Three performers start the competition with $150 each. If they want to leave the stage with any of the cash, they have to survive three drag challenges … and each other! In this show, shade is not only encouraged: it's for sale! We like to call it Cutthroat! Tickets are $12. Food and drink must be purchased. This one-night competition is composed of three rounds. At the end of each round, a performer is eliminated. Before each round, they'll be assigned a challenge and they'll have 60 seconds to search their playlist for the perfect song to perform. Then we have a little fun in the form of an auction where they can bid on shady sabotages to throw a wrench into their competitors' performances. But they need to spend wisely! At the end of the night, one performer will reign supreme, winning the money they have left and the title of Cutthroat Queen Continental International Worldwide Extravaganza 2020!
…
24. Brunches at Level Up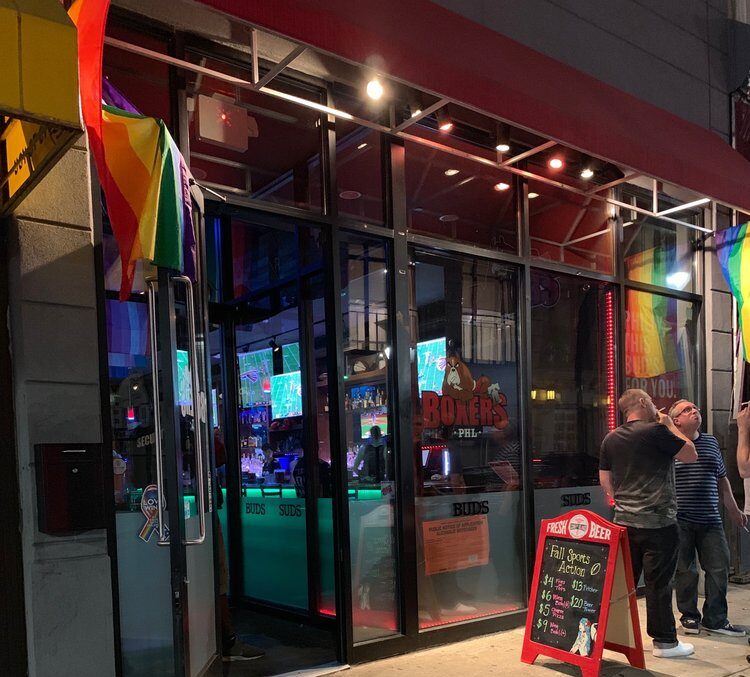 Where: Level Up (Formerly JocksPHL) | 1330 Walnut St
When: Various times
Every Sunday catch Drag Matinee at JocksPHL Starting at 1 p.m. hosted by Iris Spectre (first and third Sunday of the month) and Diva Luvsit (second and fourth Sunday of the month) and their special guest performers. Maximum of four (4) people per table, be sure to be up close and socially distant while enjoying JocksPHL food and drinks during the show! Indoor seating is limited so be sure to get your tickets today! $20.00 per person which includes your meal, the show, and bottomless mimosas. Tables can seat up to four (4) four people (no refunds will be given, other restrictions may apply). MadHouse will take over the venue on Sunday, June 13 at 8 p.m. Calling all crazy wile and cooky performers – come out and join Madhouse for an alternative live gameshow/drag show where the weird and the mad are showcased.
For more information, click here.
…
25. Pridezilla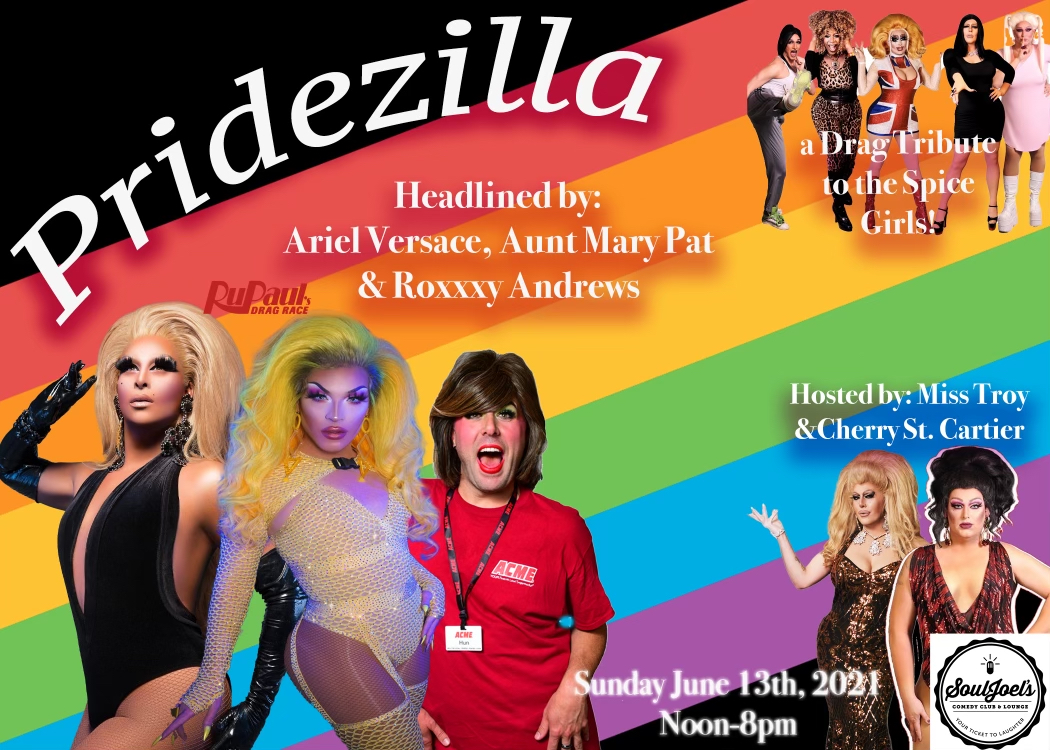 Where: SoulJoel's Comedy Club and Lounge | 155 Railroad Plz | Royersford, PA
When: Sunday, June 13 | 12 p.m. – 8 p.m.
Come for the day or enjoy select shows with DJ Carl Michaels, Spice Girls Tribute, Roxxxy Andrews & Ariel Versace, and Aunt Mary Pat. Tickets for this all-day event are $40 for an all-day pass or $10-$20 for select performances. The soiree features an All-Star tribute to the Spice Girls! Hosted by Cherry St. Cartier and Miss Troy.
For more information, click here.
…
26. United Colors Drag Show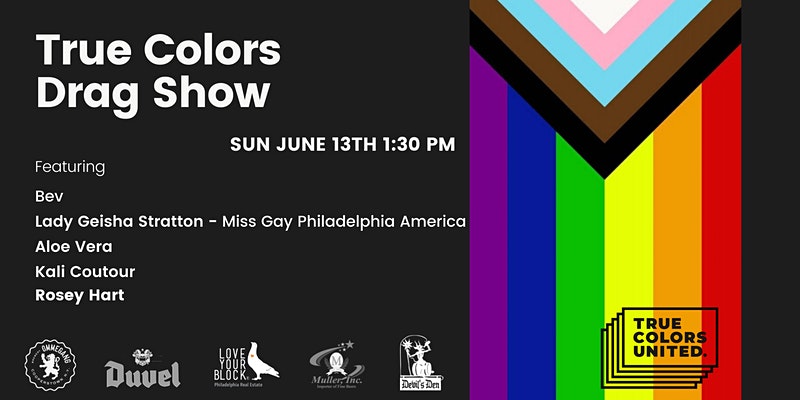 Where: Devil's Den | 1148 S. 11th St
When: Sunday, June 13 | 2 p.m. Showtime; Doors Open 1:30 p.m.
Come to Devil's Den in South Philly for a truly special drag show. Duvel, Ommegang, Love Your Block, and Muller are hosting a drag show extravaganza, benefiting True Colors United. True Color United is a nonprofit that implements innovative solutions to youth homelessness that focuses on the unique experiences of LGTBQ young people. We have put together a show with the best drag queens and kings in the Philadelphia area. Each True Colors Drag Show is unique. Sunday's performers: Rosey Hart, Lady Geisha Stratton – Miss Gay Philadelphia America 2020, Bev, Kali Coutour, and Aloe Vera. The show will take place in the Devil's Den outdoor beer garden. Seating will begin at 1:30 and the show will start promptly at 2 p.m. The cost of the ticket includes a donation to True Colors, your reservation, a draft of Ommegang Witte or Duvel Single, and a raffle ticket for a chance to win a True Colors Gift Basket. Additional beverages and food can be purchased a la carte. The Devil's Den will be donating $1 from every Duvel and Ommegang beer sold during the show to True Colors. Tickets are $30 for a table of two, $60 for a table of four, or $90 for a table of six. Reservations and tickets at the link above.
For more information, click here.
…
27. Pride Month: Speed Dating Men (Age 21+)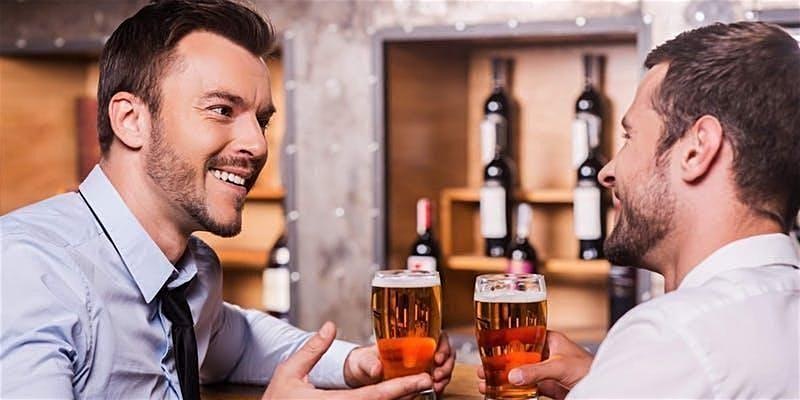 Where: Stir | 1705 Chancellor St
When: Wednesday, June 16 | 7 p.m. – 9 p.m.
We're back to hosting in-person events! Come have a fun night of great conversations with gay singles at Stir! Speed dating is a fun and different way to meet new people! Check-in is at 6:45 p.m. After the speed dating event, please join the singles mixer to socialize more without being timed. Within 24 hours after the event, you'll be emailed your matches. Tickets are $25.00 each. CDC guidelines will be followed at the venue and by buying a ticket to this event you agree to abide by these guidelines.
For more information, click here.
…
28. Pride Night at Philadelphia Zoo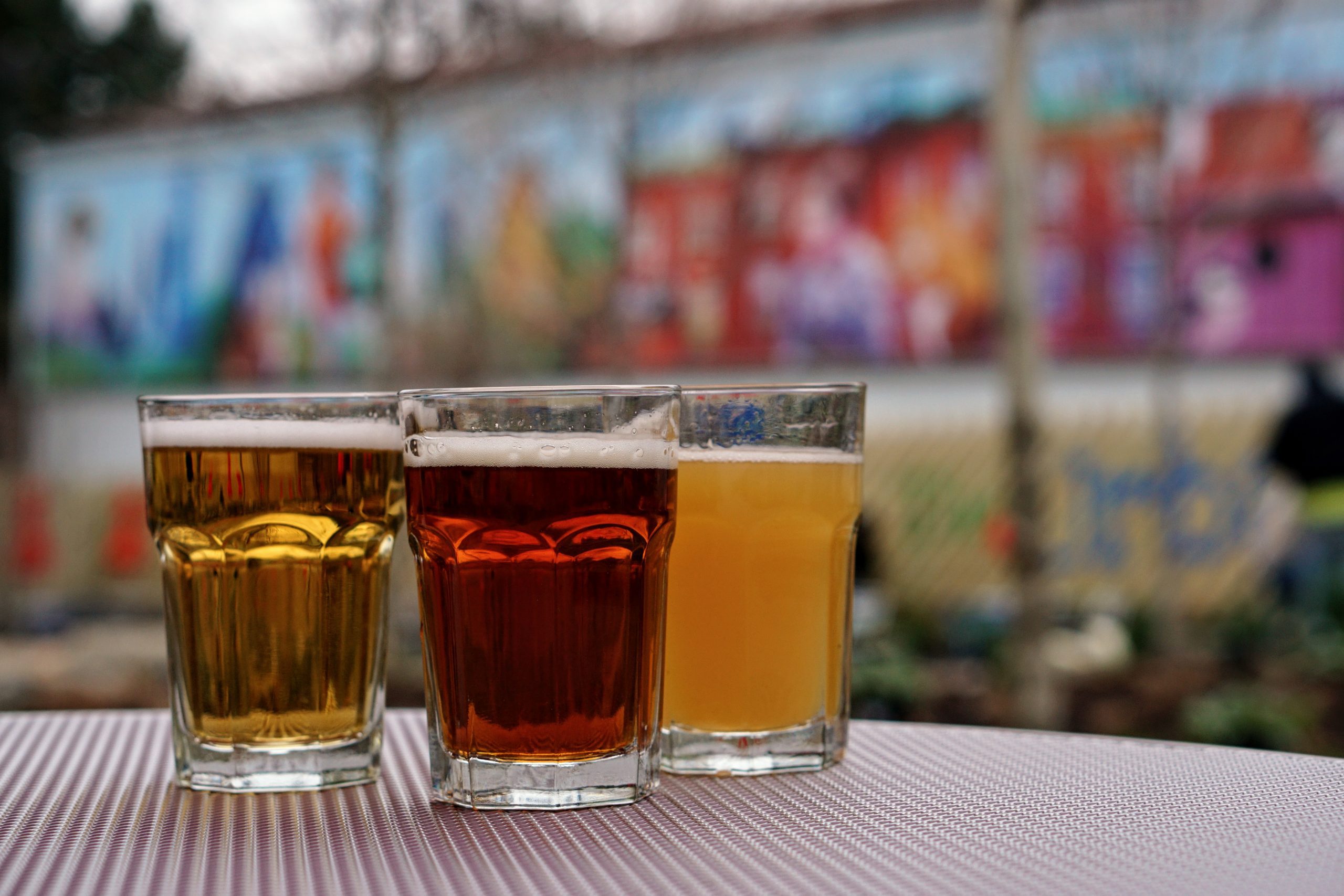 Where: Philadelphia Zoo | 3400 W. Girard Ave
When: Friday, June 18 | 5 p.m. – 8 p.m.
The Philadelphia Zoo celebrates Philly Gay Pride Month with a special extended-hours, night-time event.  Pride Night at the Zoo is an all-ages experience and a great opportunity to get outdoors with family, friends, and significant others. Come enjoy the animals and celebrate the awesome diversity of the LGBTQ community. Out and proud celebrity local DJ Robert Drake (as heard on WXPN) will provide family-friendly tunes for the night from 5 p.m. to 7 p.m. Local LGBTQ organizations have been invited to give away literature and talk about their services. Guests are invited to show off their Gay Pride by wearing their most colorful rainbow and pride-themed threads for a chance to win Zoo tickets for a future visit. Enjoy life-size animatronic dinosaurs and prehistoric-themed foods, that complement the new exhibit, Big Time: Life in an Endangerous Zone experience. Come hungry for Friday Nights Dinos and Bites special burgers and beer pairings at Bedrock Brews beer garden and Dino Bites fooderies. Zoo Admission is $24 for ages 12+ and $19 for ages 2-11, children under 2 are free, plus entrance for Big Time $6 (adults and children ages 2+).  Food and drink are paid as you go.
For more information, click here.
…
29. Gay Pride Month Afternoon Tea and Discussion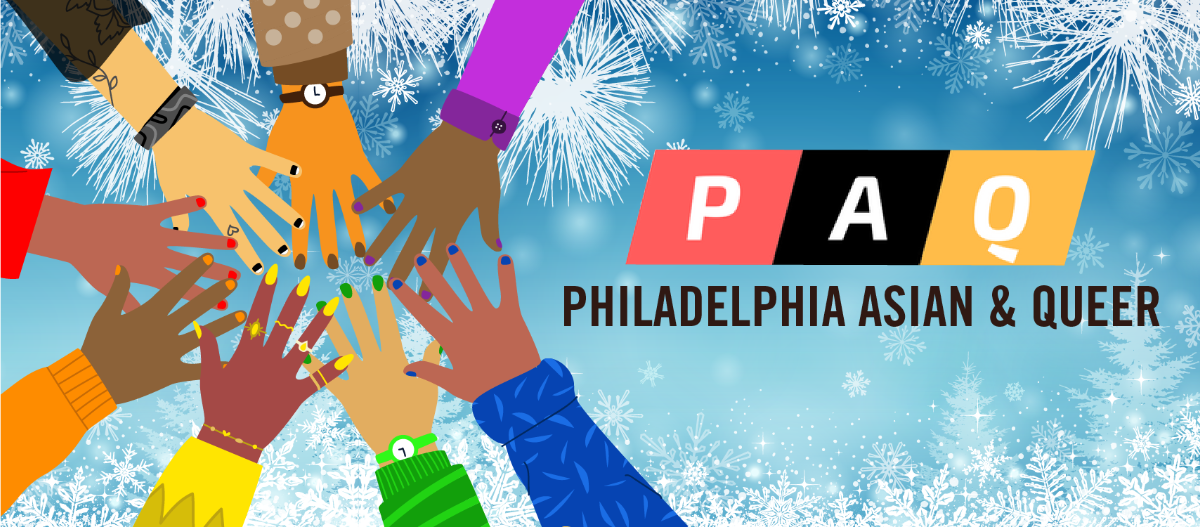 Where: Digital event
When: Saturday, June 20 | 3 p.m. – 4:30 p.m.
Presented by Philly Asian Queer (PAQ), RSVP and Join them for this June's Tea and Coffee Conversation event where PAQers will discuss a topic of the month. Follow them on Instagram or Facebook for updates and the zoom link. Please note that this is a safe space and is intended for Asian/Asian American and LGBTQIA+ identified individuals only.
For more information, click here.
…
30. HipCityVeg June Pride Shake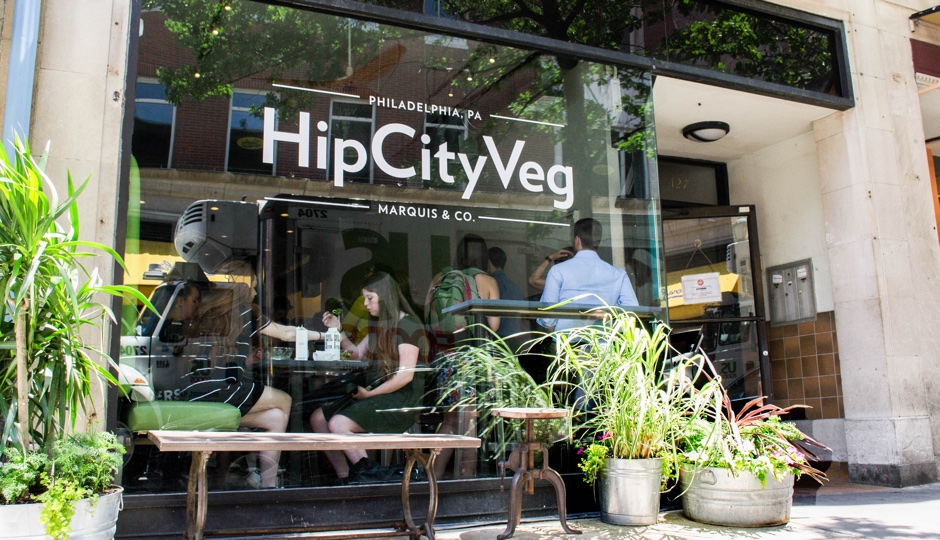 Where: Various locations
When: Begins Tuesday, June 1
HipCityVeg is launching its first-ever Pride Shake, The Love Shake. The Love Shake is a pink strawberry shake, with rainbow and glitter sprinkles, and a compostable rainbow straw. HipCityVeg is donating 10% of the sales of the shakes to local organizations that serve the LGBTQ+ community. The shake will be available in all stores from June 1 – June 30th
…
31. The Philadelphia Orchestra Pride Month Episode Premiere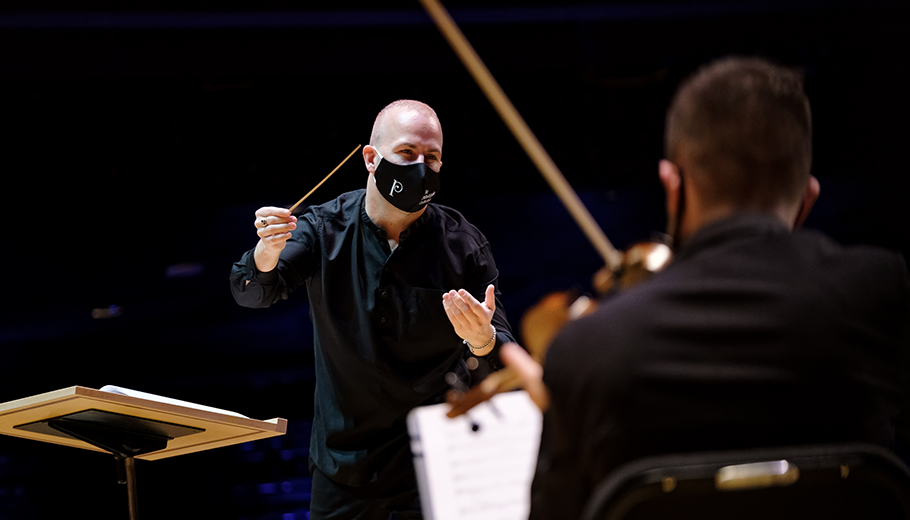 Where: Digital event
When: Monday, June 28 | 7 p.m.
Music Director Yannick Nézet-Séguin and Our City, Your Orchestra filmed a filmed phenomenal concert in April at the William Way LGBT Community Center. The William Way LGBT Community Center encourages, supports, and advocates for the well-being and acceptance of the LGBTQIA+ community of Philadelphia through service, recreational, educational, and cultural programming. Joined by Nézet-Séguin partner's, violist Pierre Tourville, as well as GRAMMY-winning composer and Philadelphia resident Jennifer Higdon, the program is one that you don't want to miss. The program also featured Orchestra members David Kim (concertmaster), Juliette Kang (first associate concertmaster), Choong-Jin Chang (principal viola), Judy Geist (viola), and Hai-Ye Ni (principal cello). William Way LGBT Community Center Executive Director Chris Bartlett (piano) joined Geist for a duet. The episode, which celebrates Pride Month, will premiere on Monday, June 28 at 7 p.m. at www.philorch.org/ocyo and www.facebook.com/philorch, and will be available on both sites for viewing following the premiere.
For more information, click here.
…
Map
---
You can follow Candis McLean on Twitter (@CandisRMcLean) and e-mail her at [email protected].
Subscribe, rate, and review all Philly Influencer podcasts here. Follow Philly Influencer on Twitter, Facebook, and Instagram.