This year's wide receiver class in Fantasy Football is very deep and it's one of the reasons that I'm suggesting taking a running back with your first pick in your draft (depending on your exact draft spot). An important lesson that needs to be learned is that when it comes to drafting in your leagues, the draft should be held as late as possible, prior to the start of the season. There is too much risk associated with the NFL preseason and training camp that you don't want to end up royally screwed because you drafted early and a player proceeds to get injured prior to the first game of the year. We saw that exact case happen yesterday when Packers wide receiver Jordy Nelson went down for the season with a torn ACL without even being hit. [Editor's note: I don't think Nelson's absence means Aaron Rodgers has less value – he'll still be the number one quarterback I go after… with my #10 pick in a 10-team league. Le sigh.]
Let's take a more in depth look at my top ten at the position, and then a glance at my list of 11-30 receivers going into the season.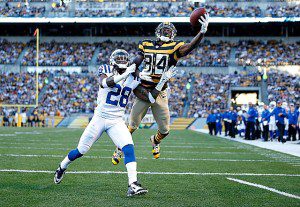 #1 – Antonio Brown (Pittsburgh Steelers)
Antonio Brown is as dangerous of a PPR player as there is and for that reason, he comes in as my number one receiver going into the season. He's coming off of a career year with the Steelers as he had 129 receptions for 1,698 yards and 13 touchdowns. What makes him even more deadly is that he's also a punt returner. Out of 30 attempts, he returned the ball for 319 yards and 1 touchdown. Le'Veon Bell is set to miss the first two games of the season due to suspension, so Brown may come out of the gates with a big bang. Surely, Ben Roethlisberger will turn to his favorite receiver early and often this year. Brown is only 27 and may be entering the prime of his career. I don't see anything getting in his way this year with the exception of an injury. The arrow is pointing through the roof for him.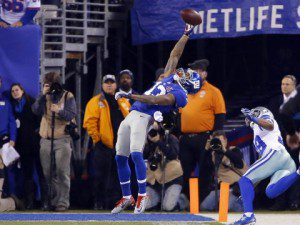 #2 – Odell Beckham Jr. (New York Giants)
In what may be a shock to some, Odell Beckham Jr. comes in at my number two WR going into the season. Don't get me wrong, I think OBJ is the most talented WR out of them all, I'm just not sure that Beckham can be as dominant this year as he was last year. In only 12 games in his rookie season, Beckham had 91 receptions for 1,305 yards and 12 touchdowns last year. The man can catch any ball within his vicinity as he made insane catch after insane catch last year. Another concern of mine here is his hamstring. His hamstring caused him to miss the first four games of the season last year and it's been a bit ginger in training camp so far this year. That being said, Beckham's upside is way too high and if he does produce at the level he did last year, fantasy teams that he's on will thrive and win some Championships.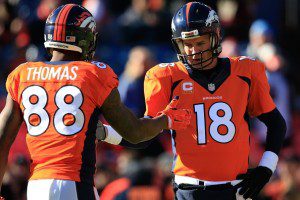 #3 – Demaryius Thomas (Denver Broncos)
In only five seasons in the league, Demaryius Thomas continues to quietly become a superstar WR in this league. Last year, Thomas had his best year in the receptions and yards categories with 111 receptions for 1,619 yards to go along with 11 touchdowns. Even though the Broncos changed their style of play midseason, Thomas didn't stop producing. He's one of Peyton Manning's most reliable receivers and he will continue to put up big numbers in this league with Julius Thomas leaving to go to the Jaguars. The Broncos brought in Owen Daniels and James Casey at the TE position, but Demaryius will remain the number one target for Manning. Expect more of the same from Thomas this year.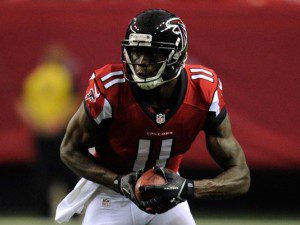 #4 – Julio Jones (Atlanta Falcons)
The 2015 season could be a huge one for Atlanta Falcon's receiver Julio Jones. The year already looked promising prior to the news that fellow Falcon's receiver Roddy White would be undergoing "Minor" elbow surgery before the season opener. Though the powers that be state that White should be ready for the first game, it's just another reason that Jones will see even more targets. Gone are the days of Mike Smith's predictable and boring offense because under new Head Coach, Dan Quinn; the Falcons hired Kyle Shanahan as their new offensive coordinator. Shanahan is one of the brighter offensive minds in the league and with an offense where things will be uncertain this year at the running back position, Shanahan will certainly scheme things up more for Jones. Jones is entering his fifth season in the league and last year he had a 104 receptions for 1,593 yards, but only 6 touchdowns. I think that this could be a truly monster year for Jones and his number of touchdowns will surely increase.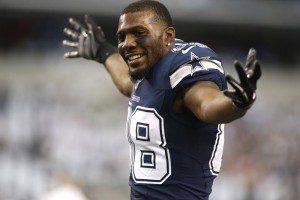 #5 – Dez Bryant (Dallas Cowboys)
Entering his sixth season in the league, Cowboy's receiver Dez Bryant will look to build upon the great season he had in Dallas last year. Bryant had 88 receptions for 1,320 yards and a monster 16 touchdowns. The Cowboy's offense lost their star running back DeMarco Murray to rival Philadelphia in free agency. The Cowboys don't think that they'll miss Murray, but that's yet to be determined. I'm not convinced that Joseph Randle and Darren McFadden are the answers to replace Murray, though Randle does have plenty of upside. Should the Cowboys running game fizzle, the loud mouthed Bryant will certainly be the beneficiary of that. I keep going back and forth with how the Cowboys as a whole will fare this year, but I'm quite certain that Dez Bryant will be a big part of the offense and is in line for another big year.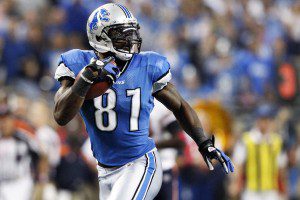 #6 – Calvin Johnson (Detroit Lions)
It's hard to believe that Calvin Johnson actually had a bad year, but last year he definitely had a bad year. He dealt with a nagging foot injury all year that caused him to miss 3 games, but if that foot is all healed then perhaps Johnson can reclaim big dog status at Fantasy WR. However, I'm not too convinced that Johnson can climb that super elite mountain again, though I know he's far from a bum. In his 13 regular season games last year, Johnson had 71 receptions for 1,077 yards and 8 touchdowns, which is not too shabby for most players. But, Johnson is not most players. I think his value goes hand in hand with the performance of his QB Matthew Stafford. Stafford is very inconsistent from one minute to the next, so how Stafford goes, so will go Johnson. Either way, Johnson will have some nice numbers this year, but I don't expect them to be elite numbers.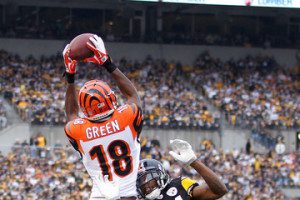 #7 – A.J. Green (Cincinnati Bengals)
Speaking of nagging foot injuries, A.J. Green of the Bengals knows all about what Calvin Johnson went through last year. Like Johnson, Green only played in 13 regular season games last year as he was hampered with a foot injury all season. Green was also hampered by the dreadful play of his QB Andy Dalton way too often last year. On the year, Green had 69 receptions for 1,041 yards and only 6 touchdowns. I expect business to pick back up for Green this year. The Bengals running game led by Jeremy Hill should continue to cause problems for the league and you have to think that Dalton can perform better this year, so I think Green will be back around the 90 receptions mark and double his touchdowns from last year.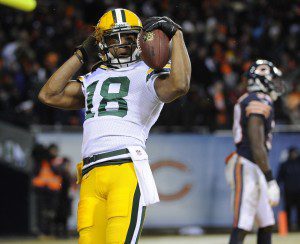 #8 – Randall Cobb (Green Bay Packers)
Number eight on my list was previously reserved for Packer's WR Jordy Nelson. Nelson fell victim on Sunday to what the first indication appears to be, a torn ACL. He'll have a MRI to confirm, but we're most likely not going to see Nelson in a Packers uniform again this year and that's terrible for both Nelson and the Packers. This is why I'm a big proponent of not playing starters in the preseason. It's just not worth the risk. While the Packers will suffer with this loss, the biggest beneficiary of the Nelson injury is my new number eight on this list and that's Randall Cobb. When Aaron Rodgers is your QB, you'll get plenty of opportunity to shine and with most of the receiving core in Green Bay being young, unless they go out and sign another WR, Cobb will no doubt be the go to guy for Rodgers, since he's played with Rodgers the longest. Last year Cobb had 91 receptions for 1,287 yards and 12 touchdowns. Cobb is now set for a monster season, especially in PPR formats. He's a guy I'll be targeting in every league I play in.
#9 – Alshon Jeffery (Chicago Bears)
Staying in the NFC Central Division with my number nine WR is Alshon Jeffery of the Chicago Bears. The Bears traded their prior number one WR, Brandon Marshall to the Jets in the offseason and their number one draft pick, WR Kevin White already suffered an injury that could keep him out of the season. That leaves two key targets for Jay Cutler to throw to and they're Martellus Bennett and Jeffery. Jeffery had 85 receptions for 1,133 yards and 10 touchdowns last season and ALL of those numbers will greatly increase this year, provided Jay Cutler doesn't suck like typical Jay Cutler. Jeffery is only going to continue to get better and better over the upcoming years, so this may be the start of something really special in the Windy City.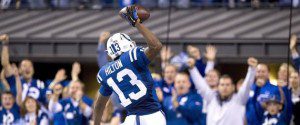 #10 – T.Y Hilton (Indianapolis Colts)
Two signings in the Colts offseason have made that team even more deadly. The Colts went ahead and got themselves a legit running back in Frank Gore and they went out and signed Andre Johnson at WR. These moves all obviously benefit the Colts offense and QB Andrew Luck, but it also does wonders for T.Y. Hilton. It allows the Colts to spread the ball around and now teams can't just shadow Hilton without having to be concerned of Luck's new offensive toys. Last year Hilton had 82 catches for 1,345 yards and 7 touchdowns. While I do think the Colts new offensive toys can help free up Hilton, they also could do some damage to his fantasy numbers, as there are now more options for Luck to go to. I don't expect a big drop off or a big gain in numbers for Hilton this season, but he should be able to give your fantasy team some solid numbers this year.
Here's my top 11-30:
#11 – Mike Evans (Tampa Bay Buccaneers)
#12 – Emmanuel Sanders (Denver Broncos)
#13 – DeAndre Hopkins (Houston Texans)
#14 – Brandin Cooks (New Orleans Saints)
#15 – Jordan Matthews (Philadelphia Eagles)
#16 – Julian Edelman (New England Patriots)
#17 – Sammy Watkins (Buffalo Bills)
#18 – Amari Cooper (Oakland Raiders)
#19 – DeSean Jackson (Washington Redskins)
#20 – Brandon Marshall (New York Jets)
#21 – Andre Johnson (Indianapolis Colts)
#22 – Vincent Jackson (Tampa Bay Buccaneers)
#23 – Golden Tate (Detroit Lions)
#24 – Mike Wallace (Minnesota Vikings)
#25 – Jeremy Maclin (Kansas City Chiefs)
#26 – Keenan Allen (San Diego Chargers)
#27 – Martavis Bryant (Pittsburgh Steelers)
#28 – Nelson Agholor (Philadelphia Eagles)
#29 – Roddy White (Atlanta Falcons)
#30 – Larry Fitzgerald – Arizona Cardinals
The fact that the wide receiver position this year is so deep, means that you'll have plenty of options to play around with for your draft strategy. In my opinion, you can take a running back with your first pick and still turn around and land 2-3 receivers that could be big time contributors to your team. I've said it before and I'll say it again: Now is the time to start mock drafting to see where players are going off the board at. It's important that you do multiple mocks, with multiple strategies to help give you a feel for what may happen in your actual draft. You can never be fully prepared as each draft will always throw you a curve ball or two, but mocks will help keep you on your toes and help prepare you for anything that may get thrown at you.
You can stay up to date with everything fantasy football related by following me on Twitter (@ViggieSmalls765) and Instagram. I'll be available on Twitter for upcoming Twitter Chats and to give out advice to help guide you through your fantasy seasons.