What in the world is going on with Philadelphia Eagles offensive tackle Jason Peters? The 33-year old seems to believe he's still in his prime when those days are clearly in the past. Peters went on a bit of a rant late last night regarding this year's AP All-Pro roster. "The Bodyguard" felt some type of way when he was left off the roster while Cincinnati Bengals offensive tackle Andrew Whitworth made the list.
Here's just an example of what Peters had to say on his own personal Instagram account, this particular post specifically targeted Whitworth (Peters has since deleted his rant but the internet never forgets, remember that):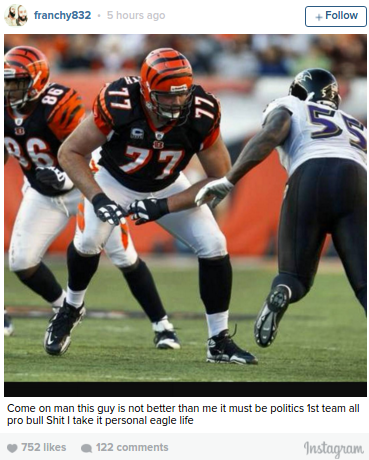 Don't get me wrong, Peters has been a top offensive tackle in the NFL for a long time but he needs to wake up and smell the coffee, as they say. Maybe this year's fluky Pro Bowl nod got to Peters head a little bit but I expect much more from an 11-year NFL veteran. Just look at the numbers for both Peters and Whitworth this season, it isn't hard to see why Peters was excluded from the list. Here are some numbers comparing the two, courtesy of Pro Football Focus:
Andrew Whitworth: Allowed four sacks, one QB hit, 15 QB hurries and was called for 8 penalties in 1,050 total snaps.
Jason Peters: Allowed five sacks, seven QB hits, 11 QB hurries and was called for 11 penalties in 784 total snaps.
Maybe it isn't all "politics" like Peters alludes to. Many have made excuses for Peters' performance this season, hinting that injuries and the uptempo scheme were the reason for his decline. Yet that didn't stop him from flourishing in his first two seasons in former head coach Chip Kelly's system. Statistically speaking, 2015 was Peters' worst season since 2008, his final season with the Buffalo Bills.
What's most concerning to me is Peters' attitude regarding the entire situation. First he mysteriously took himself out of the Eagles' Week 16 match-up against the Washington Redskins. Then he had some choice words regarding a potential position switch and basically called out the rest of the locker room, stating there wasn't a better option at left tackle available.
Then there is this whole Instagram fiasco that went down last night, when will it all stop? This isn't the behavior you expect from someone that's supposed to be a positive presence in the locker room. Considering the combination of his high priced salary, entitled attitude and questionable comments towards the end of the regular season, we may have seen Peters play his last game in midnight green.