We thought the hate for Chip Kelly was winding down here in Philly, but it turns out that we may now have an Eagles player ready to move on and reunite with the former know-it-all head coach of the Eagles.
According to reports, Connor Barwin has told the Eagles' front office he would like a trade to reunite with the former Eagles head coach in San Francisco.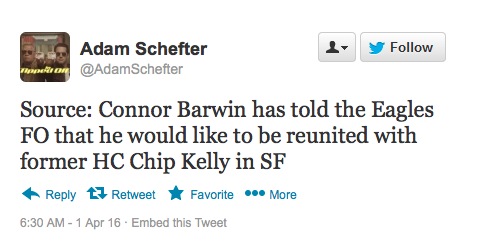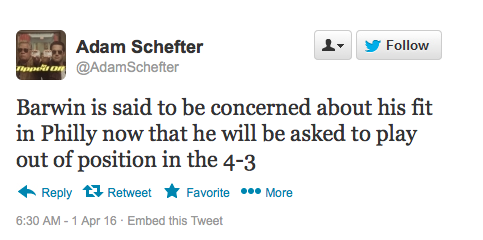 This shouldn't be completely surprising, as Barwin has stood up for Chip in the past, and he doesn't exactly have a natural fit in the Eagles new 4-3 front. Is he a defensive end? Is he still an outside linebacker? We don't exactly know, and apparently Barwin doesn't either, and he is ready to get back to what he knows best.
"Screw snow. I hate it," we're told Barwin said after building a snowman in Philly. So that could also be an issue for the big man.
…
So what should we think about all of this? That it's April 1st, and we wanted to keep it light and bring you something fun to start the day off. Enjoy the day and all of the fake pregnancy and engagement announcements on Facebook.
Let's go Eagles!