After the scandal in which several DNC emails were leaked by Wikileaks, it was questionable wherever Rep. Debbie Wasserman Schultz would speak during her week in Philly. However this morning she addressed the Florida delegation with this message: "We need to make sure we move together in a unified way."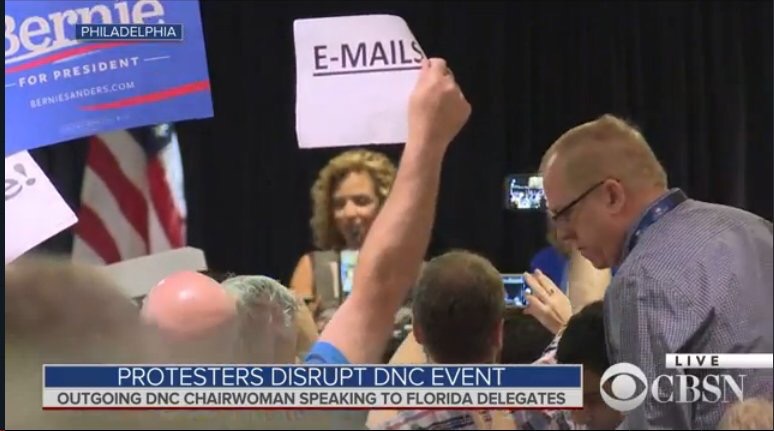 She also insisted that convention constituents and attendees would see more of her throughout the campaign, "You will see me every day between now and Nov. 8 on the campaign trail and we will lock arms and we will not stand down," she implored.
The crowd was not receptive to Wasserman Schultz, holding signs that said "emails," and heckling words like "Shame." Others repeatedly shouted "no!"
She responded with a commentary on Florida voters and her desire for unity again. "We know the voices in this room that are standing up and being disruptive, that's not the Florida we know. The Florida we know is united, the Florida we know will continue to create jobs."
Watch here:

Wasserman has been replaced by DNC Vice Chair for Civic Engagement and Particpation, Donna Brazile.
DNC Vice Chair Donna Brazile will serve as Interim Chair through the election #DNCinPHL

— Luis Miranda (@LuisMiranda) July 24, 2016
Former PA Governor Ed Rendell hinted Monday that strategically, having Wasserman speak, may not be a great idea. "Debbie is very single-minded, very dedicated. She worked very hard but she's stubborn and she wants to see this thing through. I just think it's wrong for her and it's wrong for us."
Debbie Wasserman Schultz insists she will continue to speak to delegates and at the convention. With the crowds assuredly to grow in mass over the week, it's almost certain that their volume and reactions will only increase as well.
Here's video of the incident:
Debbie Wasserman Schultz gets booed off the stage at #DemsInPhilly #DNCLeaks #DNCLeak #DNCinPHL #TruePundit pic.twitter.com/9qbEoOLjun

— True Pundit (@true_pundit) July 25, 2016