Featured Bars and Lounges
…
Featured Bars and Restaurants
Philadelphia is a major spanning city. It's always brimming with exiting new activities and things to do each week. Sometimes answering the simple question of where to eat or get a quick drink can be overwhelming. Each week Philly Influencer will highlight some new places and local favorites to add to your list.
Café Ynez: Café Ynez serves up great and authentic Mexican food daily. Chef Juan Carlos "JC" Piña is producing phenomenal dishes at this eclectic BYOB. This week the café will be hosting a Mexico City-inspired dinner in celebration of the Feast of Our Lady of Guadalupe. On December 12th, 15th and 16th, the establishment will have a special $45 four-course menu and a la carte selections in addition to their traditional dinner menu. The dishes include everything from steak tacos to pan-seared bass.
On Friday, December 15th, Café Ynez will offer guests a complimentary tequila starter and glass of wine. As for Saturday, December 16th, Jet Wine Bar will be at the café hosting a holiday cash-only pop-up bar serving tequila, margaritas, wine and beer for $7 each.
Double Knot: Double Knot is a Vietnamese inspired coffee gem etched in the heart of Center City. The hotspot is known for its flavorful noodle dishes, diverse range of coffee brews, and extensive lunch and dinner menus. Come by this interestingly lit eatery for great drinks, fantastic skewers, and tasty dumplings.
Talula's Garden: Artsy farmhouse decor is all over this spanning restaurant.  The American style culinary hotspot is a favorite of many Philadelphians. Their brunch is one of the best things that highlights a menu full of great farm to table options. From pan-roasted Scottish salmon to tangy ricotta ravioli, you'll have plenty options.
Brigantessa: Down Passyunk Avenue you'll find Italian eatery Brigantessa. Come try their signature brick oven pizza, savory pasta dishes, and more. The pastas are house-made at this welcoming restaurant. They also have a long wine  and dessert list.
Little Nonna's: Speaking of Italian, Little Nonna's also has great option for avid pasta and authentic cuisine lovers in the area. Their annual Feast of Seven Fishes is December, 17th, 18th, and 19th. For $50 a person you'll get a sumptuous four-course menu that includes warm seafood salad, Maryland crab rigatoni, and more.
…
Weekly Events Roundup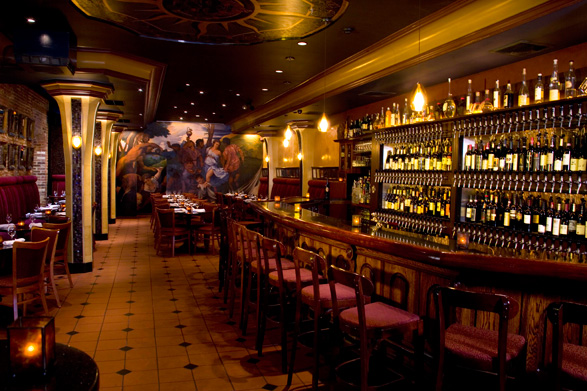 Each week, Philly Influencer picks the best parties, events, and social gatherings the area has to offer.
Jet Wine Bar's Holiday Week: Today and Wednesday, December 20th, Jet Wine Bar will be hosting a Holiday Wine Bazaar from 6PM-8PM. Specialty wine vendors will be in the trendy location to talk about their wines, offer samples, and accommodate your wine loving needs. There will be wine accessories up for sale, free gift wrapping, and more.
Star Wars Trivia and Screening: Today the TLA will be hosting a Star Wars: The Force Awakens screening and trivia party. There will be two burlesque performances, the doors open at 6PM, and the movie kicks off at 8:30PM.
Movie and Drinks: The Blue Cross RiverRink Winterfest Lodge hosts a 12 Movies Till Christmas series of screenings each year. This Thursday enjoy A Christmas Melody and try any of the various beverages, cocktails, and food up for sale in the winter themed haven.
Spinadelphia: This Friday the Philadelphia DJ series Spinadelphia will take over the area. Asher Roth, Vic B, Swizzymack, and more will be rocking the mic at the event. There will be games, activities, great music, and an open dance floor. This will be a great gathering and a fresh place to meet new energetic people.
1925 76ers and Thunder After party: This Friday the Philadelphia 76ers take on the Oklahoma City Thunder. After the game there will be a party at the 1925 Lounge. The event is free with an RSVP before 11PM.
---
You can follow Candis McLean on Twitter (@CandisRMcLean) and e-mail her at [email protected]. Follow Philly Influencer on Twitter (@PHL_Influencer), Facebook and Instagram.