Here we go again. Another Sunday has passed, Tiger Woods was in contention and CBS gets a ratings spike they haven't seen in years. Yes, Tiger didn't win. Yes, he had a chance to close, but didn't. But, in the end, it didn't matter. The main thing we learned is Tiger is back and locked in moving forward.
We all know the history and have read all the reports. Tiger Woods is a human being, plain and simple. He is just another person who deserves a second chance to come back and display his greatest skill. He has been in this situation before, but this past weekend felt different. This was the first time you actually felt an excitement we haven't felt for years. People notice and as the summer went on, more were watching. These moments sum up the raw emotion the fans felt, as well as the golfer himself.
Tiger Woods shot -14 this weekend to finish 2 strokes behind victor Brooks Koepka at the 100th #PGAChampionship. Including yesterday's 2nd place finish at Bellerive, Woods has 4 straight top 10 finishes.

Tiger's back ?
pic.twitter.com/tWHEl4KtKG

— Sup Dog Sports (@supdogsports) August 13, 2018
The following are ratings statistics courtesy of Yahoo!
When Woods is in contention:
During The Masters in April, CBS's ratings on Sunday ended up 14% higher than the year before.
At the British Open in July, NBC's ratings on Sunday were up 37% over the previous year.
At the PGA Championship, CBS's ratings soared by 69%.
When Woods isn't in contention:
Woods missed the cut at the U.S. Open.
Ratings for Fox on that Sunday were up just barely over the year before.
Third-lowest rating on record for the final round of the U.S. Open. Ouch!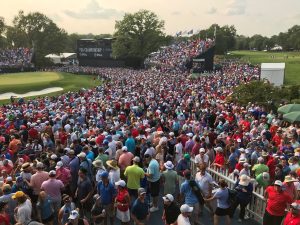 The proof is front and center, compiled in percentages all across the board. All you had to do was witness the action in front of the television when everyone was crowded around Tiger's every stroke, just hoping to get an action shot. No offense against Brooks Koepka, but he was in the lead and I didn't see a herd of spectators following his caddy down to the green.
Tiger Woods might very well be the greatest athlete in the world today. Many may disagree, but I feel this is far from an understatement. This is one of the best tweets of the day that sums it all up.
He's the reason so many people play golf, the reason so many watch golf, the reason a guy like Brooks Koepka took up the sport.

On a sizzling Sunday at the PGA, where Tiger Woods made them roar again https://t.co/tbqlVeVj9K

— Zak Keefer (@zkeefer) August 13, 2018
Lastly, I would like to thank Tiger for giving me another sports moment and memory to witness with my son. The world of sports brings us defining moments that catch us off guard sometimes, but give us something special to remember. Yesterday, while Tiger was on the screen, my son took a break from "Fortnite" and sat down because he heard me getting excited. From that moment on, he asked questions about the game and in no time was fist bumping with me all the way to 18. He has never watched golf before and would turn his nose at the mere mention of it in the past. Now he is fan and I have a new golf buddy. 
Thank you, Tiger.
Sincerely,
Jigsaw
---
As always you can stop by my Facebook page (FantasySportsAddiction) or tweet me (@TCutillo23) for questions or some nice fantasy debates. E-mail me at [email protected]. You can listen to The Heat Ratio (@TheHeatRatio) podcast every Wednesday at 12 P.M. on Wildfire Radio, and subscribe on iTunes here.
I can also be heard weekly via the internet stream live at WengRadio every Monday at 4:00pm EST for a weekend sports wrap. But most importantly, you can catch me here at Pi!
Follow Philly Influencer on Twitter (@PHL_Influencer), Facebook and Instagram.