Happy Selection Sunday and St. Patrick's Day to you and yours.
Everyone and their mother does one of these brackets – whether it's in a work pool, because you're a die-hard or as part of a math assignment (shoutout to Mr. Murphy at Triton Regional High School, when I was in his advanced math class in 2010-11, we filled these out as part of his class.) March is synonymous with basketball and the NCAA March Madness brackets are now official.
Without further ado, here's a look at your 2019 bracket, via CBS Sports: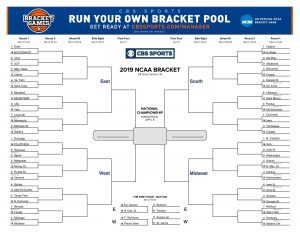 Some things that stand out to me:
• Zion Williamson coming back locked Duke into that first overall seed. Winning the ACC Tournament gives them all kinds of life heading into The Dance.
• I don't hate Villanova's seed. Winning the Big East Tournament definitely helped them out; let's see what Jay Wright and the Wildcats can do this year.
• I'm hoping and praying Temple can make some noise in Fran Dunphy's last season.
• How the hell did Virginia get one of the four one seeds?
Who are your sleepers? What match-ups do you like? Who's the most overrated on the board? Let us know on Twitter (@PHL_Influencer).
---
You can follow Anthony Mazziotti on Twitter (@AntMazziotti) and e-mail him at [email protected].
Follow Philly Influencer on Twitter (@PHL_Influencer), Facebook and Instagram.