Cue "It's Been Awhile" by Staind, I'm back with more shower thoughts.
Here we stand, days before Opening Day, and it feels like an eternity has passed since the end of last season. Let's recap what happened from November until now:
The Phillies opened free agency by trading J.P. Crawford and Carlos Santana to the Seattle Mariners for All-Star shortstop Jean Segura. The moves didn't stop there, Matt Klentak and co. added former MVP outfielder Andrew McCutchen and All-Star relief pitcher Dave Robertson. From there, they traded blue chip prospect Sixto Sanchez to the Miami Marlins for All-Star catcher J.T. Realmuto. Finally, the Phillies signed Bryce Harper to the second-most lucrative contract in baseball history. A franchise altering off-season for sure.
There is a lot to be excited about this season. The obvious is seeing Bryce Harper take the field every day in red pinstripes. To a lesser extent, people are clamoring about Aaron Nola trying to replicate his Cy Young caliber season. Rhys Hoskins is a beast in his own right and watching the best catcher in baseball, Realmuto, is going to be fun. I mean, just look at the Sports Illustrated cover.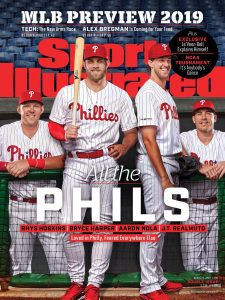 I don't want this to be misconstrued in the least: I'm over the moon about Harper being a Phillie. Dude is gonna mash at Citizens Bank Park this season and the atmosphere, mostly because of him, is going to be electric. However, the move I think that puts this team in a different tier is signing Andrew McCutchen.
Not to sound cliché, but you can't overlook the veteran leadership he brings. A voice like his in the locker room will carry a lot of weight. A price tag can't be put on the intangibles he brings to the table.
Second, he is a huge upgrade defensively in left field. I love Hoskins, but he was bad in left field last year; and I'm being nice. Simply getting rid of Santana and allowing Hoskins to move back to first base and replacing him with a former Gold Glove center fielder is fantastic.
Third, in the hitter's hell that is Oracle Park in San Francisco, Cutch slashed .255/.357/.415/.772 with 15 home runs and 55 RBIs. Switching to a hitter's park, I think he could hit 20 homers by accident. Plus, throw him at the top of the lineup with guys like Segura, Harper, Hoskins, and Realmuto, pitchers will be faced with a murderer's row of hitters, forcing them to be perfect against Cutch or suffer the consequences. There's not a doubt in my mind he can hit .280 and get on base at a .400 tick this year.
Sure the obvious thing to be excited about is Harper, but McCutchen is the under-the-radar difference maker this team needed. We know what Harper, Hoskins, Segura and Realmuto bring to the table. If Cutch has the bounce back season I know he can, this lineup is easily the deadliest in the National League. With all of the moves made this off-season, the acquisition of McCutchen is being brushed to the wayside when in reality it was pound-for-pound the best move the general manager has made this offseason.
---
You can follow Anthony Mazziotti on Twitter (@AntMazziotti) and e-mail him at [email protected].
Follow Philly Influencer on Twitter (@PHL_Influencer), Facebook and Instagram.