We all have group texts that fill up with excitement right before a big game starts. Shit-talking, wagering leans and normally a few over-confident takes is what fills our screens most of the time, however, every one one of them were filled up with panic texts as soon as Joel Embiid was seen still in street clothes up to an hour before tip-off.  The big man will always be a game-time decision, but this felt different.
30 minutes until tip at Barclays as Joel Embiid tests his hurt knee. Said he's still experiencing pain, added he's "the most unstoppable player in the league." @TheCrossover pic.twitter.com/80vKUU8Day

— Michael Shapiro (@mshap2) April 18, 2019
Five minutes before tip, Embiid was ruled out for Game 3 in Brooklyn. Not what you want to hear when you're facing the first playoff road test of 2019. Wasn't scared, but my first thought was Jimmy Butler will have to assume the leadership role, as he did in Game 1, when he finished with 36. I even caught a few tweets that were calling on Tobias Harris to step up and prove to the doubters that he is anything but "soft." Harris finished with 29 and 16, much needed rebounds. Butler finished with 16 and 7 assists. Much credit to them both, but Thursday night was all about Ben Simmons.
Game 3 in Brooklyn will be known as "The Ben Simmons Game."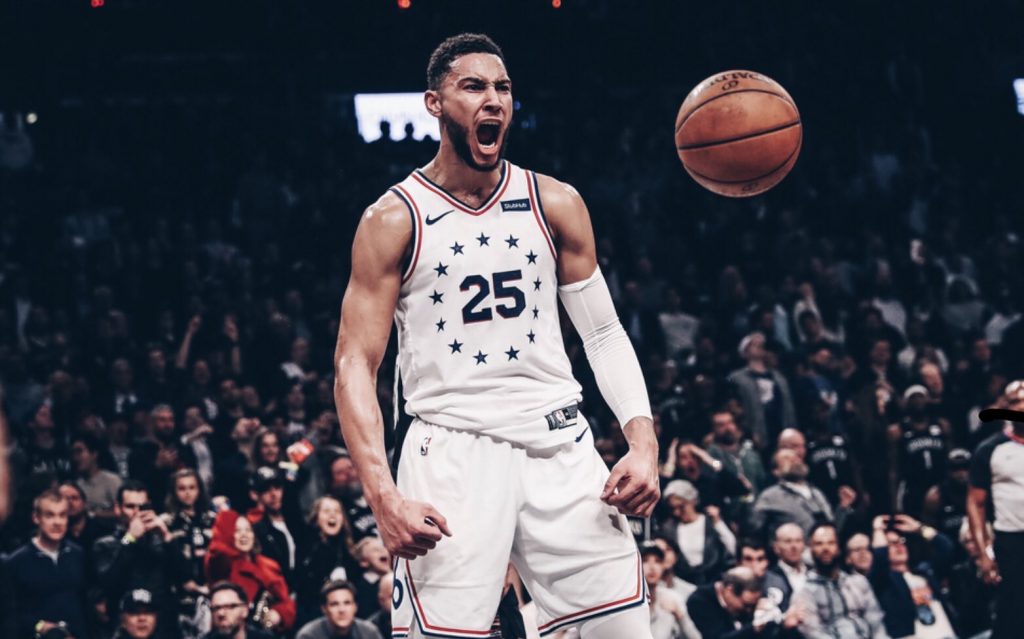 Ben was incredible. Controlled the floor from all angles. Both sides, defensively swatting three-point shots and on offense, running down hill and outreaching all Brooklyn defenders.
Ben Simmons silenced the crowd in Brooklyn with a playoff career-high 31 PTS in the @sixers Game 3 W! 🔥#HereTheyCome | #NBAPlayoffs pic.twitter.com/kYRkFDjrBz

— NBA on TNT (@NBAonTNT) April 19, 2019
Cleaning up around the rim and pulling down four boards, and also dropping seven assists, Ben checked all the boxes for a complete game. The difference for me, though? Stepping up and hitting nine of 11 from the stripe. The Nets even fouled Simmons on purpose to ignite one final comeback, but Simmons nailed them both. Eat it, Brooklyn.
The 76ers have three 25-point scorers (Simmons, Harris, Redick) in a playoff game for the 1st time since Game 3 of the 1978 Conference Semis vs the Knicks.

That night, it was Julius Erving, George McGinnis and World B. Free. That's the only other instance in the last 50 seasons. pic.twitter.com/HweUR94l2Y

— ESPN Stats & Info (@ESPNStatsInfo) April 19, 2019
We have watched Ben ball over the last two years and Thursday night, for my money, was the best performance I have seen of him in a Sixers uniform. Hopefully he brings that same flow on Saturday so we can rap this series up in 5.
IS BROOKLYN IN THE HOUSE!
---
You can follow Sean Brace on Twitter (@Sean_Brace) and Instagram (@sean_brace), and e-mail him at [email protected]. You can also watch him sports anchor on weekends at FOX 29.
Follow Philly Influencer on Twitter (@PHL_Influencer), Facebook and Instagram.