City Works Brew Years Eve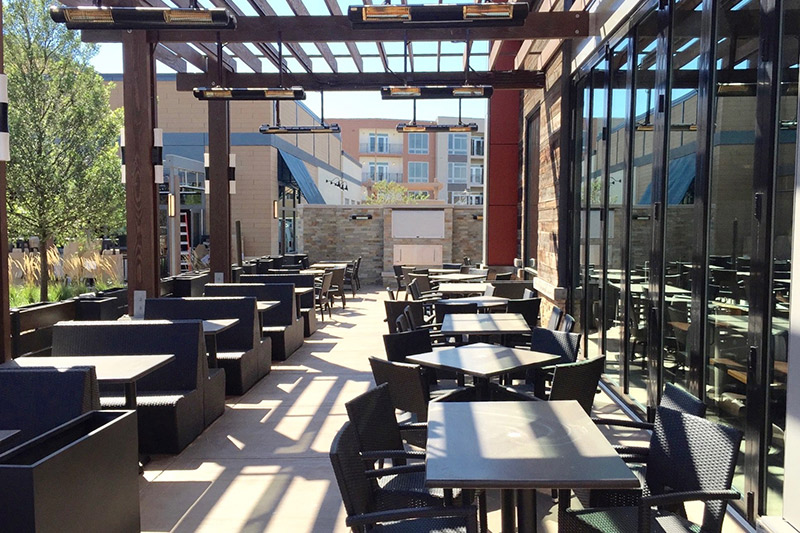 City Works Eatery & Pour House in King of Prussia (220 Main St.) invites guests to bid farewell to 2020 with 'Brew Year's Eve' on December 31. The craft beer bar with over 90 beers on draft offers an elevated menu of chef's specials with recommended beer pairings from City Works experts. Guests also receive a complimentary glass of Champagne. Those celebrating the holiday are invited to come back to City Works the next morning beginning at 10 a.m. to officially usher in 2021 with a New Year's Day Rock N' Roll recovery brunch with dishes such as the Jon Bun Jovi, Chak Shuka Khan, and the Johnny Hash. Reservations encouraged for New Year's Eve and New Year's Day.
The menu includes:
Filet Medallions ($28)

Pan-seared filet medallions, bleu cheese mashed potatoes, sautéed baby arugula, red wine demi-glace
Pair with Blonde Ale or Pilsner

Short Rib ($22)

Braised boneless short rib, creamy grits, bacon tomato jam, crispy pickled fennel, au jus gravy
Pair with Brown Ale

Cajun Linguine ($14)

Blackened chicken, andouille sausage, bell peppers, red onion, scallions, sriracha cream, linguine pasta
Pair with Helles Lager

Steak Sandwich ($18)

French onion soup-style grilled onions, smoked provolone, toasted french bread
Pair with IPA
For those spending New Year's Eve at home, City Works offers the above Brew Year's Eve specials along with its entire a la carte menu for takeout.
…
Cheesesteak Takeover and Sausage in the Street Pop-Up hosted by Fond
Chef Lee Styer is back at it with round two of Sausage in the Street plus an exciting bonus pop-up! Off the success of the last weekend's sausage sammie event, the crew at Fond are hosting a pop-up focusing on the classic Philly cheesesteak, in addition to hearty, delicious menu items and a bevy of libations through Sunday, December 6.
Chef Styer will grill street-side on 11th and Tasker outside of Fond this Friday and with delicious offerings such as cheesesteaks with American cheese and fried onions ($10), New England clam chowder, sausage sammies, and potato salad. Baked goods such as molasses spiced cookies will be available for purchase as well.
As for beverages, imbibers can expect Jai Alai IPA and Guayabera Citrus Pale Ale by Cigar City, Bourbon Spiked Mulled Cider ($11), and Hot Apple Cider.
The cheesesteak pop-up will be available on Friday, December 4 from 12 – 7 pm.
For the second weekend in a row, Sausage in the Street will be available from 11 – 7 p.m. on Saturday, December 5, and Sunday, December 6. The street-side pop-up will consist of rich, flavorful offerings such as the following:
Thai Pork Sausage with red curry aioli and Napa cabbage slaw on partner and Chef Jessie's homemade sourdough grilled flatbread ($9)
Red Wine Rosemary Juniper Lamb Sausage, accompanied by apple salad and homemade mustard on Jessie's sourdough grilled flatbread ($9). The soup du jour will be a hearty Beef and Lamb Soup serviced in a paper cup to-go ($5)
Imbibers can expect a bevy of drink specials, such as mimosas and bloody marys ($9), in addition to the same Cigar City brews, hot apple cider, and bourbon-spiked mulled cider as is available during the cheesesteak pop-up. Batched up cocktails including Hemingway daiquiri, old fashioned, and a cinnamon Moscow mule (all $12) will be ready to go for pick-up during the shindig.
Take-away and prepared meal kits are also available for pick-up and delivery, as well as wine and cocktails to-go.
Fond is also partnering with Philabundance on a food drive from now until December 11. If interested, there will be a drop off location outside of Fond available for any canned goods.
… 
Hanukkah Happenings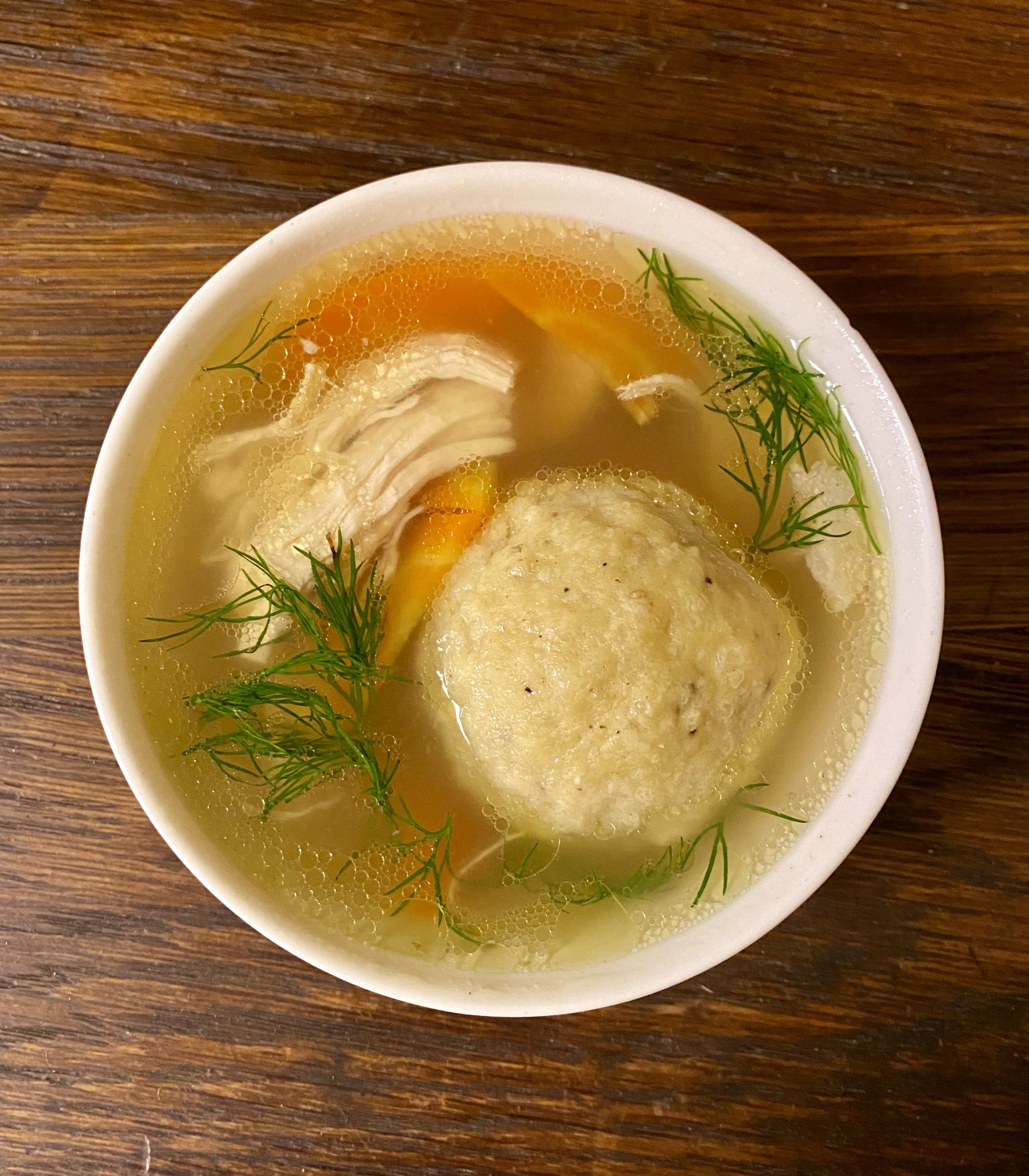 •  a.kitchen: a.kitchen  will be serving up a Hanukkah meal for the ages. Each meal comes with the following:
Cucumber and Celery Salad
Matzah Balls with Roasted Chicken Stock
Chopped Chicken Liver Mousse with House-Made Pickles
Steelhead Trout Lox with Cream Cheese and Herb Salad
Everything-Spiced Crackers
Latkes with Creme Fraiche, Apples, and Honey
Spice-Braised Brisket with Sumac Carrots and Onions
Apple Cake
The prices are: $85 dinner for two people, $160 for four. Each meal is available for pre-order via Tock. Pick-ups are available from December 10 to December 18.
•  Fork: Fork is offering a holiday feast for two hungry people with a choice of main dishes and an assortment of side dishes – plus dessert!
The Box Includes:
Green Salad
Carrot-Ginger Soup
Sumac-Carrot Quinoa Salad
Braised Greens
Latkes with Apple Butter & Créme Fraiche
Flourless Chocolate Cake
Choice of Main Dish:
Red Wine Braised Lamb Shank with rosemary
Champagne Braised Chicken
Applewood Smoked Trout with lavender créme fraiche
The price is $120 for two people and available for pre-order via Tock. Pick-ups are available from December 10 to December 17.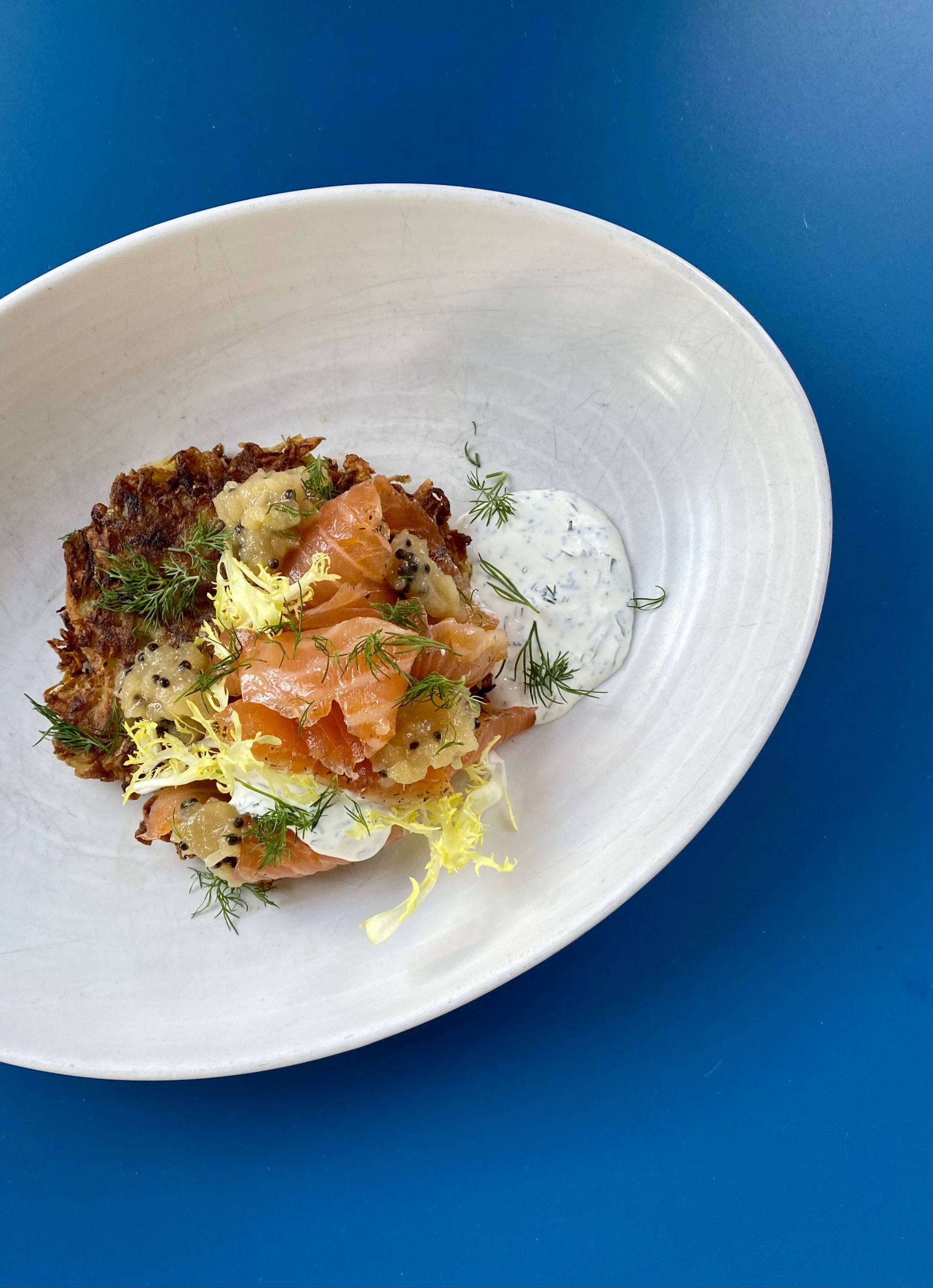 •  High Street Philly: With Hanukkah just about a week away, Ellen Yin's High Street Philly has plenty in store for all those celebrating this year. In true High Street form, their bakery will be on full display in their Hanukkah Bake Sale offering classics like braided challah, rugelach, and babka, plus donuts.
All house-made and available for pre-order a la carte here, with pick-up time-slots spanning December 8 through December 17.
High Street will also be offering a dinner package. Guests can choose a two-course dinner for one person ($35) with the option of a first course and a main protein with sides and a la carte dessert. For starters, opinions include potato and sunchoke latke with citrus cured salmon, apple mostarda, and herb sour cream; citrus and endive salad with pickled red onions and burnt orange-pomegranate vinaigrette; or chicken matzoh ball soup with dill. Main courses — all served with noodle kugel and wilted greens are red wine-braised brisket, pomegranate glazed salmon, and roasted half chicken with thyme-malted butter. Pre-orders will be available on Tock.
…
Taste the flavors of Loews Philadelphia Hotel, Bank & Bourbon with "Getaway in a Glass"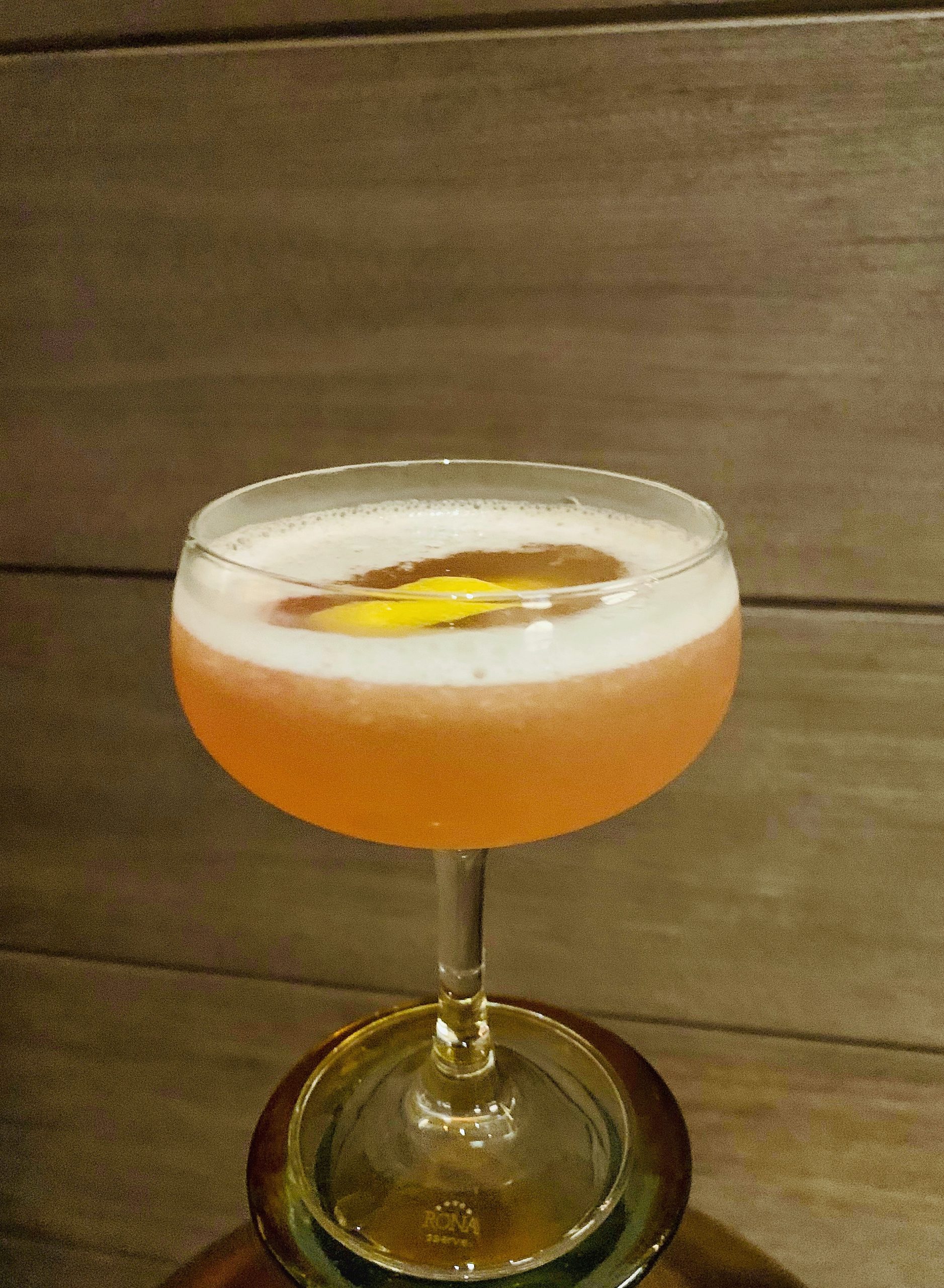 Loews Philadelphia Hotel and Bank & Bourbon are sharing its iconic cocktail, "Citrus Chill," to give a little taste of Philadelphia for those dreaming of a getaway. "Getaways in a Glass" is a new Loews Hotels brand-wide offering featuring signature cocktail recipes from properties around the country that can be recreated at home. Each recipe is handcrafted locally, with a subtle nod to its destination
"At Loews Philadelphia Hotel, our food & beverage is seamlessly and deeply intertwined into Philadelphia, which we call home," said Rick Staub, Managing Director.  "In sharing our 'Getaway in a Glass' cocktail, we hope to give guests the chance to have a taste of our incredible city, while still delivering that locally handcrafted hospitality that Loews is known for."
Loews Philadelphia's special "Getaways in a Glass" cocktail is the "Citrus Chill" made with:
1.05 oz. Four Roses Bourbon
0.5 oz. Pamplemousse liqueur
0.5 fresh squeezed lemon juice
2 dashes of Peychaud's Bitters
2 oz. of local Pennsylvania wine, Pinnacle Ridge Brut Rosé
Simply blend and shake the Four Roses Bourbon, Pamplemousse liqueur, fresh lemon juice with ice, and strain over a coupe glass. Float with the Pinnacle Ridge Brut Rosé
Serve in a coupe glass and garnish with two dashes of Peychaud's Bitters and a lemon peel.
"Getaways in a Glass" is part of the "Loews at Home: Our Cocktails, Your Bar" and "Loews at Home: Our Kitchen, Your Table," brand-wide approach to meaningful engagement with guests near and far. "Loews at Home" offers the ability to experience Loew's culinary creativity and iconic cocktails in the comfort of home. This new offering further demonstrates the brand's commitment to "Welcoming You Like Family," a fresh position that defines Loews as more than simply a collection of hotels, but a legacy of hospitality, deeply rooted in welcoming and caring for guests like family. Loews prides itself on delivering handcrafted, authentically-local experiences at every step of the guest experience.
For those looking to enjoy the "Citrus Chill," order it to go at Bank & Bourbon. Additionally, guests can experience Philadelphia this season with the hotel's new Third Night Free promotion now available.
…
Virtual Cooking Classes w/ Grocery Home Delivery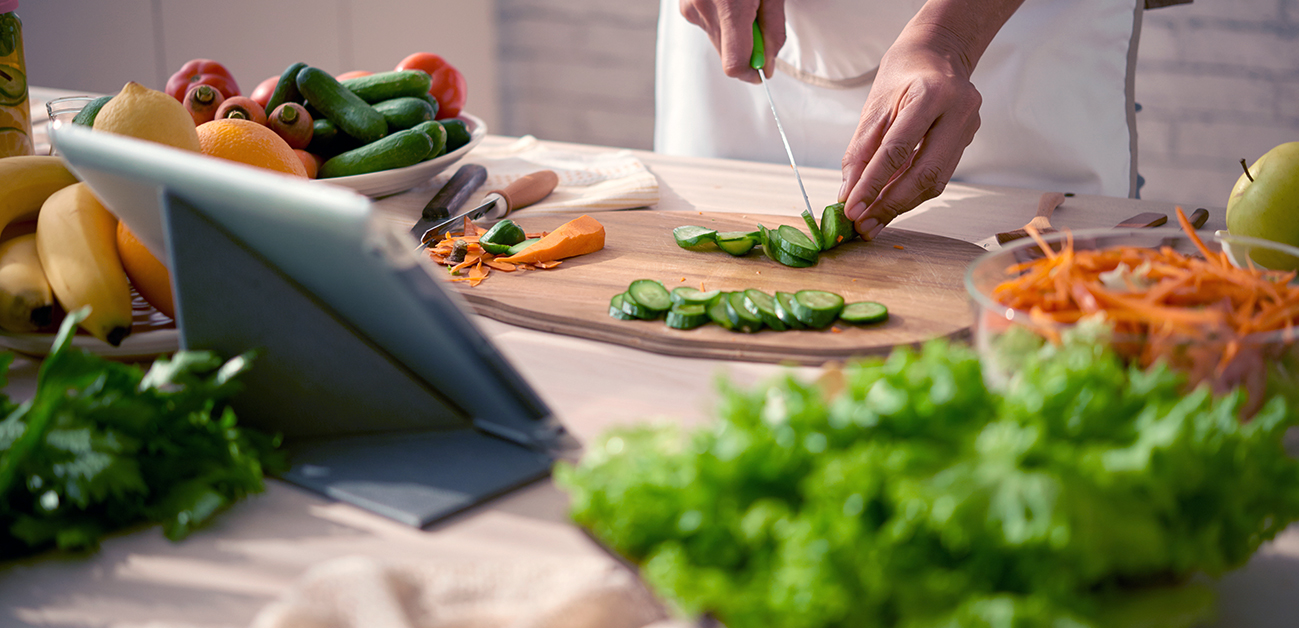 Deri Dari, a brand new virtual cooking experience for aspiring chefs and inexperienced home-cooks alike, is launching in Philadelphia ahead of a national roll out to cities such as New York, Los Angeles, and Chicago in 2021. On the Deri Dari platform, users can browse a range of dishes, themes, or directly by chef to book virtual cooking classes with professional chefs! Cooking experiences range from 30-90 minutes and start at $15 for a side dish.
Launching in Philadelphia with grocery delivery as a way to support our out-of-work chefs, Deri Dari has also struck up an exclusive partnership with Mama-Tee's Community Fridge Project by sponsoring two fridges and providing recipe cards, ingredients, and free classes on building delicious and nutritious meals from the staple ingredients provided.
…
Weekly Events
Each week, Philly Influencer picks the best parties, events, and social gatherings the area has to offer.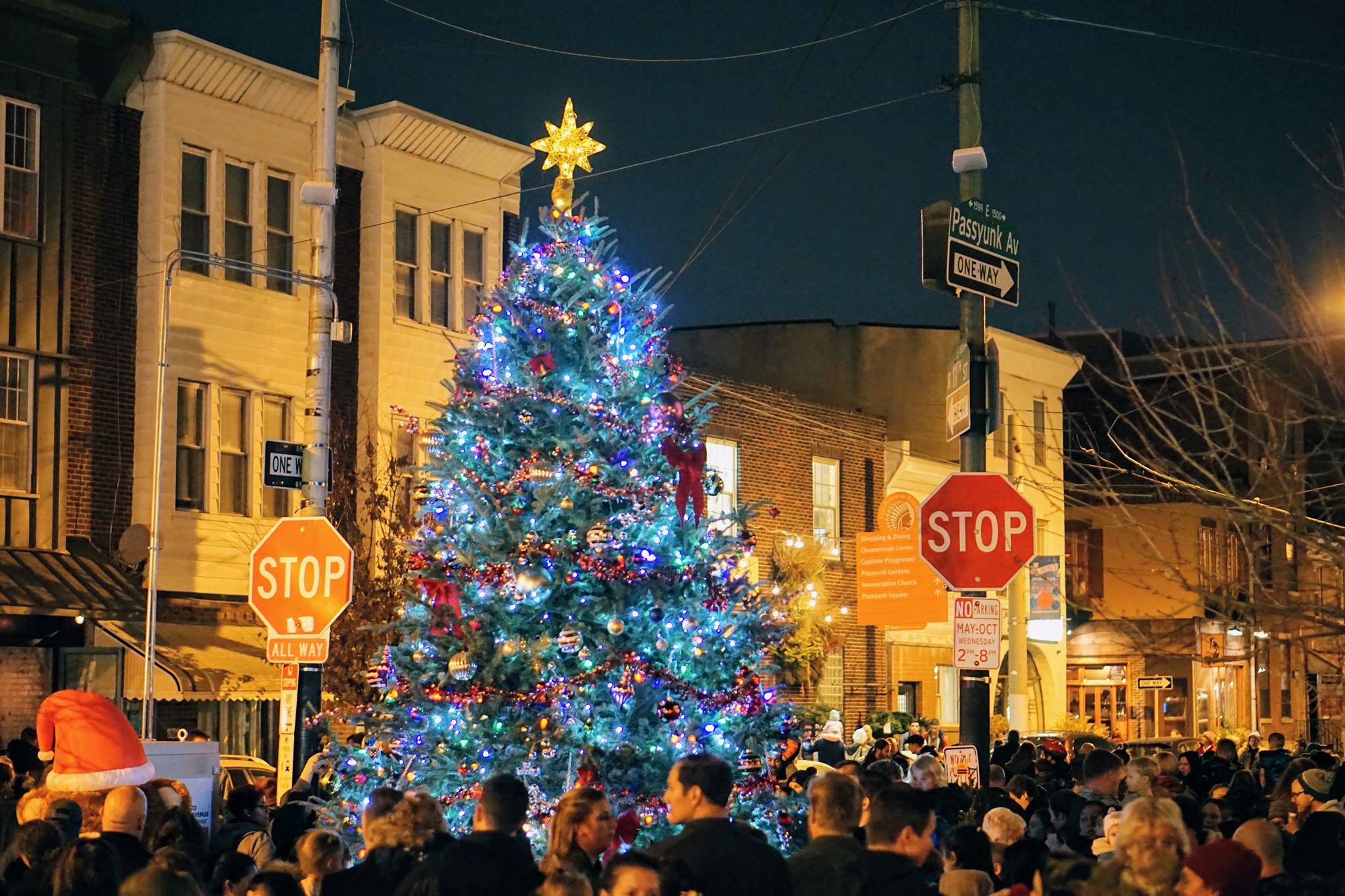 •  Blue Cross RiverRink Winterfest: Blue Cross RiverRink Winterfest is open for a mask-required fun time . The Winterfest season is filling the area with ice skating, seasonal cocktails and brews,  fire pits, food, and more.
• Stag and Doe Night in Chestnut Hill: Stag and Doe Night in Chestnut Hill is on Wednesday, December 9. Running from 6:30 pm – 8:30 pm, you can eat, drink, and be merry during Chestnut Hill's oldest holiday tradition. The celebration fills the picturesque village with holiday charm and festivities, perfect for a family-friendly evening. Activities along Germantown Avenue include a meet-and-greet with Santa and the sounds of the holiday – all while snacking on roasted chestnuts, treats, and seasonal sips.
• Christmas Village: The edges of LOVE Park will be packed with many popup wooden boutiques. The bustling and socially-distanced mercantile village will have the best crafters in Philadelphia all in the same place. Come purchase your holiday gifts at this fun annual fair.
• Made Philadephia Market: Over the next few months, you can find treasured gifts and unique gems at this adjacent mercantile event. Come get your holiday trees, green plants,  fine art, jewelry, ceramics, woodworking, and more at Dilworth Park.
• East Passyunk Holiday Happenings: Deck the Avenue this holiday season, safely and virtually! East Passyunk Avenue Business Improvement District (EPABID) is bringing cheer to locals this holiday season with their annual tree lighting ceremony, which will be done virtually this year, as well as photos with Santa, a digital scavenger hunt, pop-up music performances throughout the holiday season.
---
You can follow Candis McLean on Twitter (@CandisRMcLean) and e-mail her at [email protected].
Subscribe, rate, and review all Philly Influencer podcasts here. Follow Philly Influencer on Twitter, Facebook, and Instagram.