The 2022-23 NHL regular season has come and gone but the quest to lift Lord Stanley's Cup for 16 franchises continues starting on Monday.
The Boston Bruins remain heavy favorites to capture the Stanley Cup after winning the Presidents Trophy this season and also setting new league records for wins, road wins, and points. Jim Montgomery's squad will have early pressure on them though as they face off with a Florida Panthers team that ended the regular season on a high note.
Defending Stanley Cup Champions Colorado Avalanche are also back in the postseason after overcoming a difficult first half of the season. The Avs will have a tough test against the Seattle Kraken, who clinched a playoff berth in their second season of existence.
The Tampa Bay Lightning will be an underdog in the first round as Jon Cooper's team takes on the Toronto Maple Leafs. Toronto is led by the star abilities of Auston Matthews and Mitch Marner, but the Leafs haven't advanced out of the first round of the playoffs in each of their last seven attempts of doing so.
I took a closer look at three intriguing playoff series that I will be betting on. Not only did I break down the top players for each team, but also the regular season head-to-head records for each series.
Here's a closer look:
---
Toronto Maple Leafs (111 points) vs. Tampa Bay Lightning (98 points)
Toronto won 2 of its 3 head-to-head meetings in 2022-23.
---
The Tampa Bay Lightning are in the strange position of being an underdog heading into the first round, but with three Stanley Cup appearances in each of the last three seasons, Jon Cooper's side will be eager to start another title run this spring.
Tampa Bay finished 13 points behind the Leafs in the Atlantic Division, winning just four of their last 10 regular season games down the stretch. Still, I am a big believer in the Lightning, especially with their strong core returning after two Stanley Cup hauls in the last three seasons. Nikita Kucherov led the team with 113 points (30 goals, 83 assists), while Brayden Point's 51 goals helped him remain one of the top goalscorers in the NHL. Steven Stamkos, Alex Killorn, and Brandon Hagel all registered 25 goals or more and will be a tough group for Toronto to limit in the attacking zone. Andrei Vasilevskiy finished the regular season with 34 wins and a 2.65 GAA, still strong numbers for the Finnish goalkeeper.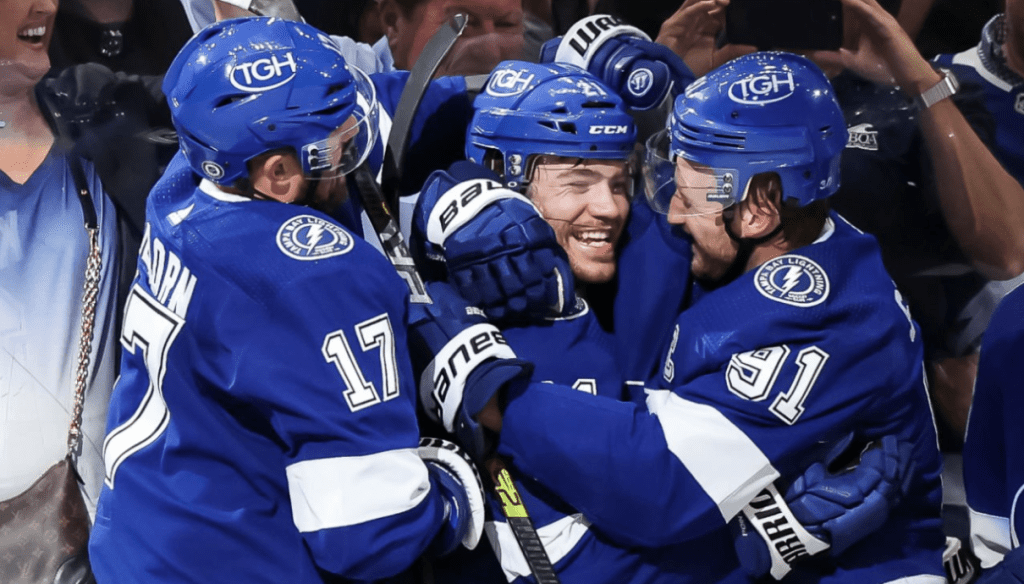 Toronto had a great regular season, but once again the pressure will remain on them to actually deliver in the playoffs. Form will be on the Maple Leafs side though with seven victories earned out of their final 10 regular season games. Toronto had six players register 20+ goals or more during the regular season with Auston Matthews and William Nylander combining for 80 of them. John Tavares enjoyed a strong campaign with 36 tallies of his own, and Mitch Marner finished with 99 points, remaining a top attacking piece on the roster. Ilya Samsonov and Matt Murray both split time in goal with Samsonov totaling 27 wins and a 2.33 GAA.
This series also pits two of the top-five power play units against each other as Toronto finished second (26%) and Tampa Bay finished third (25.4%).
Toronto will be favored, but I love Tampa Bay's (+130 to advance) experience in this matchup.
---
Dallas Stars (108 points) vs. Minnesota Wild (103 points)
Dallas and Minnesota split their 4 regular season meetings.
---
The Dallas Stars might have finished five points better than the Minnesota Wild during the regular season, but these two teams weren't far apart in their head-to-head meetings.
Dallas won eight of their last 10 regular season games, albeit falling one point short of tying the Colorado Avalanche for top spot in the Central Division. Jason Robertson remains the main man in Dallas after recording 46 goals and 109 points for the Stars offensive this season. Similar to Toronto, Dallas had six players registered 20+ goals or more during the regular season, with Roope Hintz and Jamie Benn joining Robertson as the only Stars player to total 30 tallies or more. Joe Pavelski and Tyler Seguin continue to play well beyond their years and Miro Heiskanen was key on the back end with 73 points. Jake Oettinger was stellar in goal, finishing the regular season with a 2.37 GAA and 37 wins.
Dallas also excelled on penalty kill, finishing third in the regular season with a 83.5% success rate.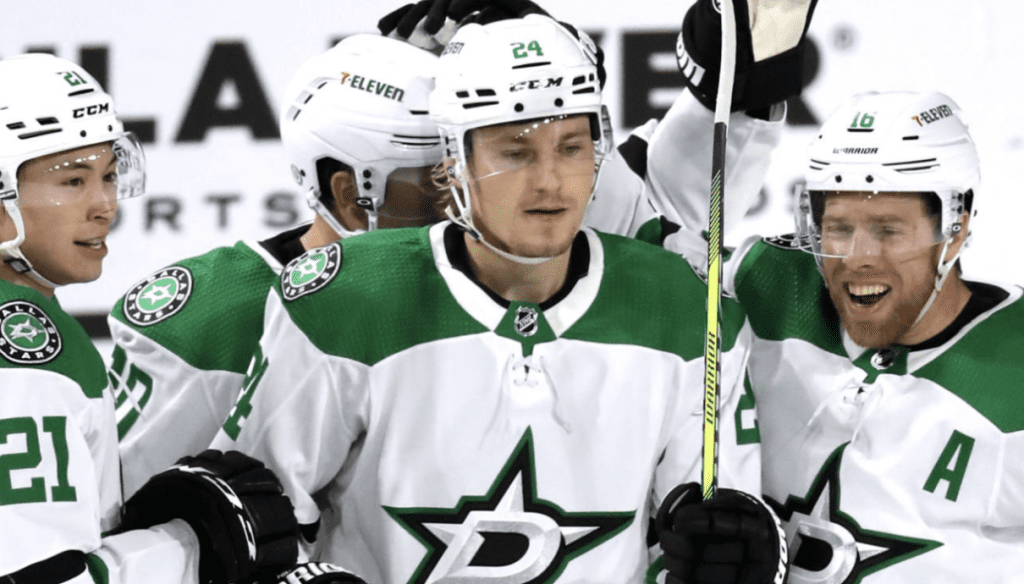 Minnesota might not have had a single 100-point scorer in 2022-23, but the depth in the Wild roster was key in them totaling over 100 points in the league standings. Kirill Kaprizov's 40 goals led the Wild offense while Matt Boldy added 31 tallies of his own. There are plenty of hardworking players in the Wild roster, which could help them knock off the Stars and keep their goalscoring threats at bay. Mats Zuccarello, Joel Eriksson Ek, and Frederick Gaudreau will all be hoping to deliver strong playoff runs as the Wild hope to advance far. Filip Gustavsson and Marc-Andre Fleury both registered 20+ wins apiece in goal, giving head coach Dean Eavson a tough decision to make about who will be his No. 1 guy.
Minnesota brings grit to the table, but Dallas' (-140 to advance) star power will be too much for the Wild in the end.
---
New Jersey Devils (112 points) vs. New York Rangers (107 points)
New Jersey won 3 of its 4 head-t0-head meetings in 2022-23.
---
Two of the Metropolitan Division's heated rivals will square off with a second-round berth at stake.
New Jersey Devils fans were calling for Lindy Ruff to be fired prior to the midseason break, but Ruff answered the call by leading the Devils to a terrific season. The Devils had 10 players register 10+ goals or more, showing off their depth in the attacking end and giving plenty of the NHL's best reason to be worried. Jack Hughes' rapid rise continued as the young center finished with 99 points and and 43 goals (both team-highs). Tomas Tatar's arrival was a key move for the Devils as the veteran forward contributed 20 goals and 48 points. Nico Hischier, Jesper Bratt, and Dawson Mercer all played secondary roles as the Devils impressed in the competitive Metro. Timo Meier's midseason arrival could also be huge in the playoffs. Vitek Vanecek led the way in goal with a 2.45 GAA, a .911 save percentage, and 33 wins.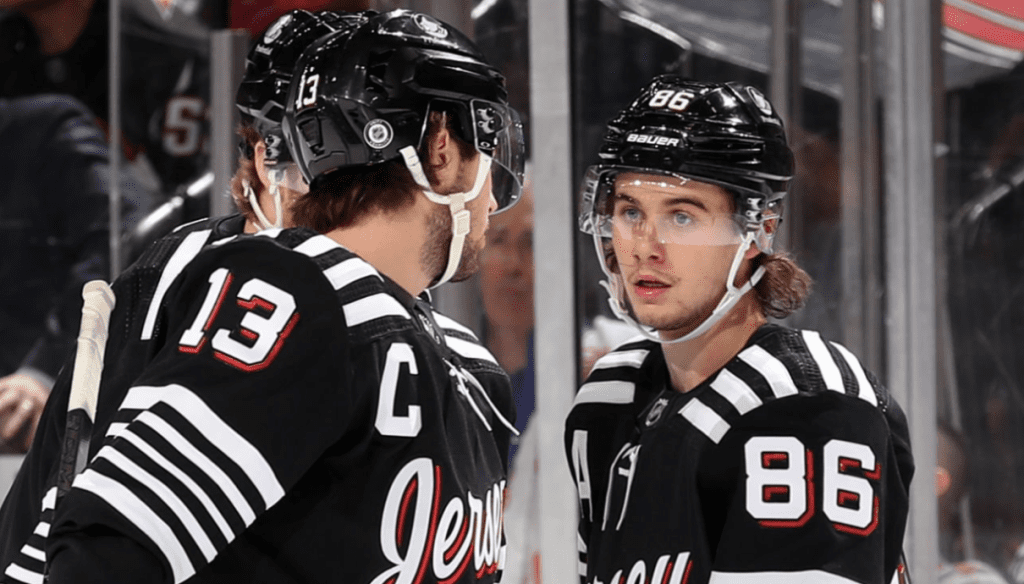 Special teams could be crucial with the Devils finishing with the fourth-best penalty kill unit (82.6%) and the Rangers finishing with the seventh-best power play unit (24.1%).
The New York Rangers will be fighting to get back to the Eastern Conference Finals, but the Devils will certainly not lie down for them in the playoffs. New York lost three of their four head-to-head meetings during the regular season and should have revenge on its mind. Mika Zibanejad and Artemi Panarin both finished with 90+ points apiece and remain key attacking weapons for the Rangers. Chris Kreider continues to find his way on the goal sheet after tallying 36 goals this season. Vincent Trocheck was a key addition for the Rangers after bringing a strong two-way work ethic to the team. Adam Fox and K'Andre Miller are big defensive pieces to how the Rangers try to keep their opponents from finding the back of the net. Goaltending has been crucial as well with Igor Shesterskin totaling 37 wins despite only three shutouts.
After supporting the Flyers most of my life, it's hard to pick a winner here, but I think the Devils will have plenty of confidence in their roster (-120 to advance).
---
I also dove into NHL Playoffs talk on Thursday's edition of "The Daily Ticket with Sean Brace".
---
You can follow Larry Henry on Twitter (@lhenry019) and e-mail him at [email protected].
Subscribe, rate, and review all Philly Influencer podcasts here. Follow Philly Influencer on Twitter, Facebook, and Instagram.