In a time where soccer is taking the country by storm thanks to Lionel Messi's decision to join Major League Soccer, and a sport with "pickle" in its name is dominating parks coast to coast, we are on the verge of a new golden age in another sport that has been written off, stored away and left for dead. That sport, of course, is tennis.
There's no doubt that what we've seen over the past 20 years in tennis has been nothing short of amazing. It's the golden era of the sport. An era that has shown us the dominance of the GOAT in Roger Federer, and the rise of the best tennis player of all time, Serena Williams. But over the past few years, it was evident that these two giants in the sport were on the decline, and eventually, in 2022, we saw both retire from the sport they've dominated and made their own for over 20 years. Federer was the first men's player to ever achieve 20 Grand Slam major titles, amassed a total of 103 ATP singles titles and scored a gold and silver medal in the 2008 Beijing and 2012 London Olympics. Most tennis enthusiasts consider Federer to be the best men's player of all time (although we may have to revisit this conversation in a few years with the respective careers of Rafael Nadal and Novak Djokovic).
Meanwhile, Williams has won 23 career singles, an open era record. Four Olympic gold medals and a total of 73 career WTA singles titles. That is some serious silverware and probably something we will never see again in the women's game.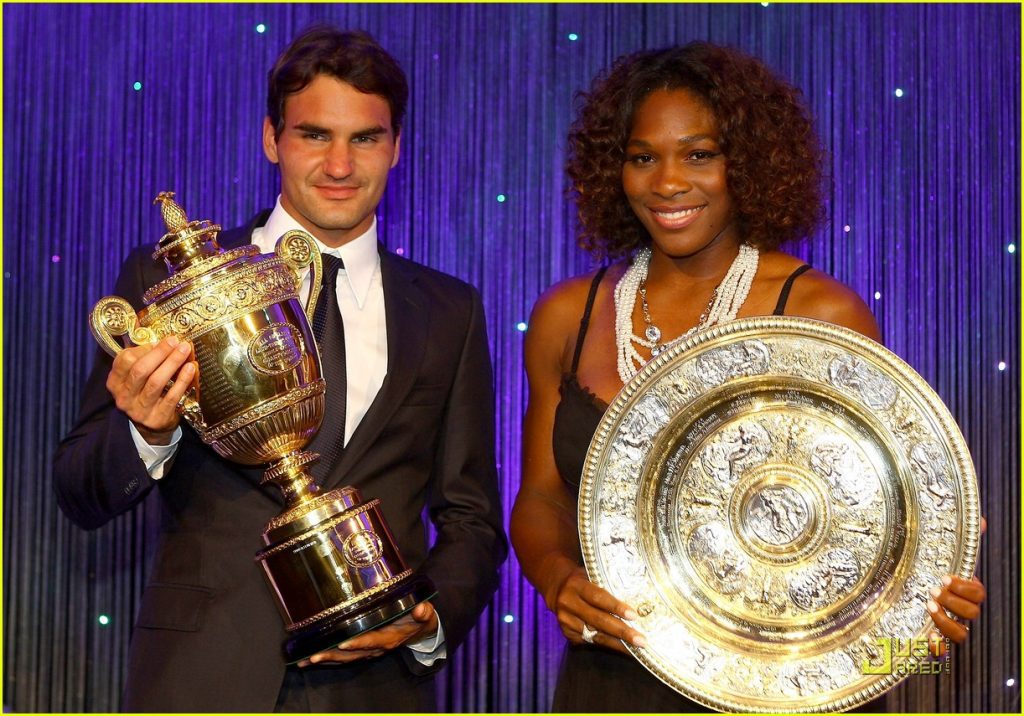 But why is it important to try to replace greatness with greatness? I think many were left in doubt once these two greats retired from the sport. Many asked, "Will the sport be left in good hands?" Some people even mentioned they weren't interested in watching tennis anymore without these two gracing the courts.
It's time to change that thought process. We are seeing the beginning foundations of the sport's facelift. Coco Gauff and Carlos Alcaraz have entered the chat and it's time we pay attention.
Win or lose… Coco Gauff is THAT GIRL! ❤️ 🎾 (📷 Getty) pic.twitter.com/7XmtAXPq4g

— xoNecole (@xonecole) August 30, 2023
Let's start first with Gauff. There's no doubt that the United States women have dominated more so than the men in tennis. The last American male to win a major was Andy Roddick at the 2003 U.S. Open. With the likes of Serena and Venus Williams winning multiple majors and doubles titles, and the occasional Lindsey Davenport title run, we've had a lot to be proud of here in the States.
Now, we continue to have that pride and look forward to a new star who is taking the tennis world by storm with her talent, grace and humility. Gauff first burst onto the scene in 2019 when she made headlines by defeating Venus Williams at Wimbledon. She was only 15! Since her debut on the tour, Gauff has gone on to win five WTA tournaments, and most recently, captured huge titles in Washington, D.C and Cincinnati this summer in two of the biggest tournaments in the lead up to the U.S Open. During her first-round match Monday night in Flushing, Gauff once again made headlines when taking it to the chair umpire when her opponent wasn't being punished for breaking the rules.
Fans are applauding tennis star Coco Gauff after the athlete stood up for herself at the U.S. Open — here's why she was forced to confront the referees pic.twitter.com/JW5Vf7yiR8

— NowThis (@nowthisnews) August 31, 2023
If she wasn't already, Gauff is definitely on tennis fans' radars worldwide, and for good reason. At only 19 years of age, she has proven that she is already a role model to our youth. She speaks with clarity and never breaks a racquet when things don't go her way. She shows wisdom that is beyond her age. She is easy to root for and the perfect model of which to mold a tennis player. Now it's time for us here in the U.S. to take note and root for one of our own.
Now to the men's side. Carlos Alcaraz is only 20 years old and already has won two major singles Grand Slams. Ranked No. 1 in the world, he's taken the baton as "The Next Big Thing" in men's tennis. We were all worried what was going to happen to the sport once Federer retired, followed closely by Nadal and even Djokovic [eventually]. But alas, we have found the next great one in Alcaraz.
Alcaraz turned professional in 2018 and cracked the top 100 in 2021. His rise to the top since has been nothing short of meteoric. At the U.S Open in 2022, he broke through and won his first major Grand Slam. The talent is obvious, but what's more impressive is his calm and cool demeanor. For someone who is only 20, it is certainly more than refreshing to see a tennis player act like a professional out there, who doesn't have crazy outbursts on court, never breaks a racquet, and always is respectful to his opponent. Just look at this quote in regards to his relationship with his Coach, former tennis pro Juan Carlos Ferrero.
Juan Carlos Ferrero is 𝒔𝒐 𝒎𝒖𝒄𝒉 𝒎𝒐𝒓𝒆 than just a coach to Carlos Alcaraz 🥰 pic.twitter.com/1BfIsMBSpf

— Eurosport (@eurosport) August 29, 2023
Wise. Beyond. Years.
Not only is Alcaraz better than %99.99999 of men's players on the planet, but he is proving to everyone that he can be entertaining, as well. Just look at this dude out there doing his best Karaoke stand up.
Juan Carlos Ferrero is 𝒔𝒐 𝒎𝒖𝒄𝒉 𝒎𝒐𝒓𝒆 than just a coach to Carlos Alcaraz 🥰 pic.twitter.com/1BfIsMBSpf

— Eurosport (@eurosport) August 29, 2023
As I'm writing this, Alcaraz is well on his way to making the fourth round of the U.S Open, and is certainly the odds makers favorite to meet Djokovic in the final, setting up what possibly could be the third consecutive major final these two would play with Djokovic winning the French Open final this year and Alcaraz winning his first Wimbledon title this past July. Could we see the rubber match in just a short time?
There's a new rivalry in tennis and we should all be here for it.
If there's anything to take away from the landscape of tennis right now, it is that we should be paying attention and pulling for these two young superstars. Put down the pickleball paddle, stop reading all the Inter Miami posts, and root for Coco and Carlos.
Tennis is back.
Photo: AP
---
You can follow Bruce Vail on Twitter (@BruceJVail) and e-mail him at [email protected].
Subscribe, rate, and review all Philly Influencer podcasts here. Follow Philly Influencer on Twitter, Facebook, and Instagram.