We are now entering the final week of NFL preseason games, which means you've either already drafted your Fantasy Football team or you're getting ready to. Some people go all out for their Fantasy draft preparations, while some people don't even bother. It's all about having fun, so to each his own. However, if you're serious about winning your league, you should at the very least be in between the two types of aforementioned players. So let's take a brief look at some of the things that you should be paying attention to prior to your Fantasy Football draft.
1. Injuries
The last thing that you want to do is draft players that are injured and that are going to miss a good portion, if not all of the season. I'll go more in depth later this week and take a look at the key injured players this season and who benefits the most from said injuries. But for now, a good example would be wide receiver Kelvin Benjamin from the Carolina Panthers. As of a week ago, Benjamin was being projected to have another big season with the Panthers by most. Now, not so much. Benjamin is set to miss the entire 2015 season due to a torn ACL that he suffered in practice. It's a tough break for Benjamin and the Panthers. We wish him a speedy recovery. It may seem like people should know his season is over, but I'm still coming across people that weren't aware of this and they might've drafted Benjamin had I not mentioned it. Do yourself a favor and before you draft, pull up a list of injured players and make sure that you're aware of who they are, so that you don't make the mistake and draft them. [Editor's note: One of my buds drafted Suisham as his kicker last night, and I didn't have the heart to not say anything to him. He bought me a beer. So, if you're trying to remain ultra competitive and don't want to say anything if someone drafts an injured player, just remember, you may get a free beer out of it.]
2. Bye weeks
Another thing that you should be aware of going into the season is bye weeks for teams. It's a detail that often gets overlooked. [Editor's note: Hi. I'm the guy that always drafts players with the same bye weeks. I never learn my lesson. Ever.] But, the last thing you need if your team is in a dog fight to make the playoffs, is to have to worry about bye weeks. You don't want to draft a team where six of your players share the same bye. It could have terrible ramifications for your playoff hopes. Below is a list of the NFL bye weeks this year:
Week 4: Tennessee Titans, New England Patriots
Week 5: Carolina Panthers, Miami Dolphins, Minnesota Vikings, New York Jets
Week 6: Dallas Cowboys, Oakland Raiders, St. Louis Rams, Tampa Bay Buccaneers
Week 7: Chicago Bears, Cincinnati Bengals, Denver Broncos, Green Bay Packers
Week 8: Buffalo Bills, Jacksonville Jaguars, Philadelphia Eagles, Washington Redskins
Week 9: Arizona Cardinals, Baltimore Ravens, Detroit Lions, Houston Texans, Kansas City Chiefs, Seattle Seahawks
Week 10: Atlanta Falcons, Indianapolis Colts, San Diego Chargers, San Francisco 49ers
Week 11: Cleveland Browns, New Orleans Saints, New York Giants, Pittsburgh Steelers
As you can see above, week 9 has the most amount of teams on a bye, so be extra careful not to draft too many players from those teams. And if you can't help yourself, make sure you get quality players to cover for them.
3. League Settings
This may be the silliest of all tips, but please take the time to review your league's settings. It is absolutely crucial to know the rules of your league. For instance, know what type of league that you're in, whether it be Standard or PPR. Some players have more value in a PPR league than a standard league. For example, Danny Woodhead. Woodhead is magical at times in PPR for the fact that he can catch the ball out of the backfield and get points for it. However, in standard leagues, where you don't get points per receptions, the man has absolutely no value unless he's the only running back on his team. Another setting to pay attention to is moves allowed during the season. Some leagues only allow for you to make 50 or 100 moves during a season. Should you have a rule like this, be mindful of it all season. Only make moves that you really think will benefit you because the last thing that you want is to be in the playoffs and have zero moves left to make and one of your starters is injured. You're toast if that's the case. If you're unsure of what certain settings in your league mean, be sure to have your league's commissioner to explain them to you.
The above are basic tips that all players need to understand prior to their drafts. Take a little time out to look into injuries, bye weeks and your league's settings as it will save you time and make you that much better when it's time to draft. I understand that a lot of people of daily responsibilities that don't include Fantasy-related activities, so with that in mind below are some articles that I've written over the last couple of weeks in regards to the players in the league. Take a few minutes to read:
Your Top 100 Overall Fantasy Football Players
Your Top 30 Fantasy Football Wide Receivers for 2015
Top Ten Fantasy Football Running Backs for 2015
Your Top Ten Fantasy Football Quarterbacks for 2015
Your 2015 Fantasy Football All-Schmo Team [Busts]
Fantasy Football: The Restless Seven [Sleepers]
…
And now, because I love you all so much, here's an actual cheat sheet that you can keep by your side when you're making your draft picks. Click the link. It's best viewed and printed with Microsoft Excel, but you can also view it via Google Docs here.
Below is a sample of what you could be carrying around with you for your drafts. [Click to enlarge]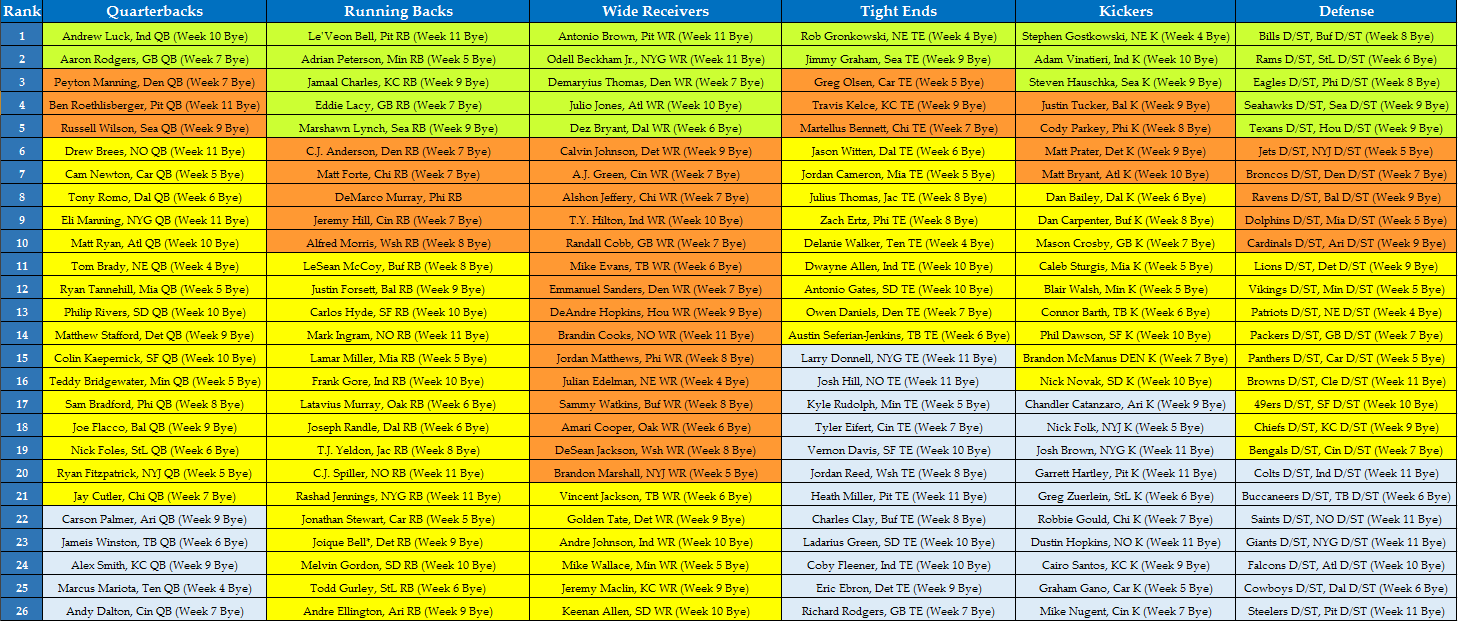 You can stay up to date with everything fantasy football related by following me on Twitter (@ViggieSmalls765) and Instagram. I'll be available on Twitter for upcoming Twitter Chats and to give out advice to help guide you through your fantasy seasons.