It's the last day of August and that means we're officially two weeks away from the start of football season. I can't tell you how excited I am, along with the PhillyInfluencer.com team with Sean Brace, Seth Vigdor and Anthony DiBona. You'll find everything you need right here, so bookmark us now.
Let's get to the brew:
My fantasy football team is a killer for having 10th overall pick in a 10-team league.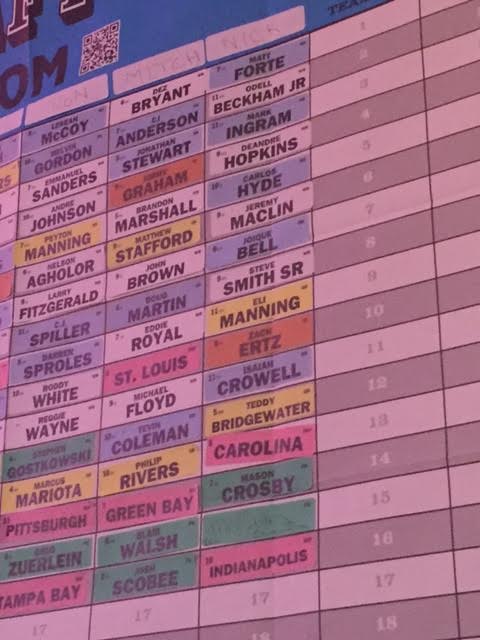 Couple things: League rules dictated we draft two defenses and two kickers during the draft, but can make waiver moves however we see fit afterward. And drafting last is harder than I thought.
We'll have an announcement on the Philly Influencer Fantasy Football League later today.
The Eagles throttled the Packers on Saturday night, and I'm getting more and more excited even though I'm trying to temper expectations because, yes, it's still preseason. But you'd be hard-pressed to find any other team that looks this good at this point.
The third string quarterbacking is still an issue, but it's an issue that likely won't affect the Eagles if they can stay healthy. And that's what everybody's waiting on.
Anthony DiBona says we should all stop trying to figure out Chip Kelly.
Jimmy Rollins and Chase Utley were no-hit last night… again… for the second time in nine days. This time against the Cubs' Jake Arrieta.
RIP "Chocolate Thunder" Darryl Dawkins.
Since Jason La Canfora wants to throw shit at a wall to see if it sticks, he'll have a good time covering this one – Washington apparently wants to trade RG3, but Dan Snyder is preventing them from doing so.
Joshua Harris donated a lot of money to the Philly PAL.
A fan fell to his death at Turner Field Saturday night during the Yankees-Braves game.
Ravens coach John Harbaugh visited the jerk store this weekend.
Gracious halftime interview from John Harbaugh pic.twitter.com/RWqzF3TUlU

— Warren Sharp (@SharpFootball) August 30, 2015
The Eagles released 12 players yesterday. G.J. Kinne was among them.
Japan won the Little League World Series by coming back from a 10-2 deficit and outscoring the team from Lewisberry, PA, 16-1.
The Phantoms announced their 2015-16 schedule.
Los Angeles will bid to be the United States' host city for the 2024 Summer Olympics.
First the Phillies want to expand safety netting, then they don't. Rob Manfred throwing shade the Phillies' way.
Wes Craven died after a bout with brain cancer.
Check out our latest Philly Influencer Live podcasts. Sean returns this week.