Advertise
Here is your chance to reach tens of thousands of passionate Philadelphia sports fans daily. In the short time we've had the site up and running, we've grown exponentially and that's a testament to our readers who keep coming back for great content and information, which we provide each and every day. Reaching hundreds of thousands of people monthly, PhillyInfluencer.com is the fastest-growing Philadelphia sports and entertainment site in the city.
What we offer: Strategically-placed advertisements, sponsored posts, the opportunity to work together on branding events, and the ability to reach many more via our Facebook, Twitter, and Instagram accounts. We use search engine optimization to get the very most out of each and every post we publish.
Sean Brace is Program Director of Fox Sports The Gambler, the newest and fastest-growing sports talk radio station in and around Philadelphia. Heard on 102.5 FM, 1480 AM, 104.5 HD2, and nationwide on the iHeartRadio app, The Gambler has become the destination for sports betting talk in the City of Philadelphia and surrounding areas. Brace hosts The Daily Ticket every Monday through Friday from 3 p.m. to 6 p.m. and
Nick Piccone has been a mainstay in the Philadelphia sports scene for almost a decade. He began the blog Bleeding Brotherly Love in 2011, which was renamed to Bleed Philly shortly after, and then began working with Sean right here at Philly Influencer in 2015. His work has been seen on ESPN's digital and TV platforms, NBC Sports Philadelphia, FOX Sports, NBC Sports, and much more. Helping produce digital content for Fox Sports The Gambler, as well as running the day-to-day operations of Philly Influencer, Nick is an excellent resource to get the job done!
PhillyInfluencer.com also has great working relationships with some of the best sports blogs in the city which further enhances our ability to reach thousands of fans locally and nationally on a daily basis.
If you'd like to advertise on PhillyInfluencer.com, send an email to [email protected], or fill out the contact fields below.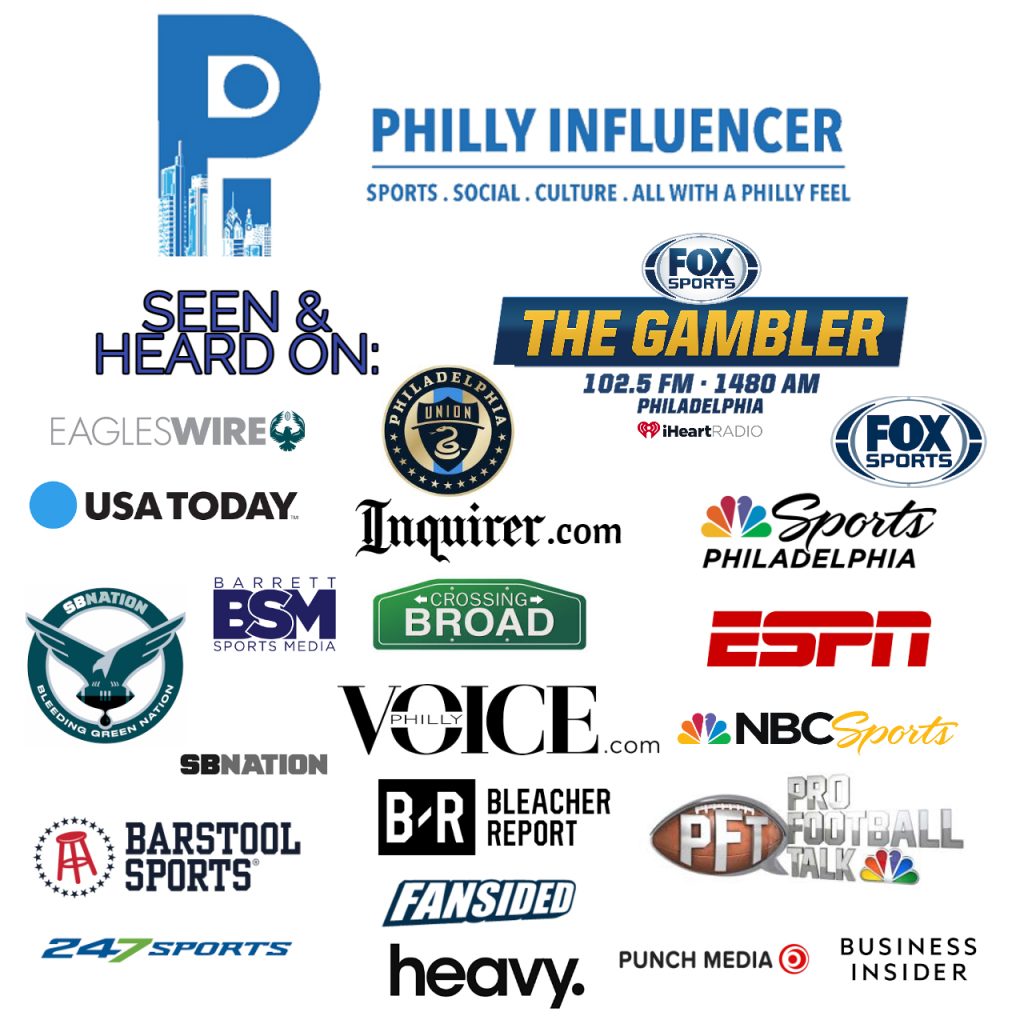 Some links:
• 'Saturday Night Live's' Weekend Update takes its shot at Gritty
• Philly.com is Rebranding as Inquirer.com
• Eagles increasing season ticket prices in 2017
• New WIP deal means Merrill Reese and Mike Quick will call Eagles games for a while
• Here's Merrill Reese's Call of The Game Winning Field Goal
• Vikings, Eagles can't stop turning the ball over (Video)
• Fox Sports The Gambler is launching in Philadelphia
• This is One of the Most Audacious Sports Radio Calls, Ever
• It's gameday and Sean Brace from FOX 29 has a message for you!
[contact-form-7 id="3″ title="Contact form 1″]