Though many have speculated as this being Kobe Bryant's last season, for all intents and purposes, the Black Mamba never gave any inkling if it would be or not. He's 37 years old and his best basketball days are clearly behind him, and people have basically criticized him for holding the Lakers back from trying to rebuild their team into a perennial playoff contender. They aren't exactly wrong. By now, I'm sure he's heard everyone around him, and he's finally announced he's leaving the game at the end of this season.
Kobe announced his retirement on The Players' Tribune. He basically wrote a poem. To basketball. Weird. But cool.
Dear Basketball,

From the moment
I started rolling my dad's tube socks
And shooting imaginary
Game-winning shots
In the Great Western Forum
I knew one thing was real:

I fell in love with you.

A love so deep I gave you my all —
From my mind & body
To my spirit & soul.

As a six-year-old boy
Deeply in love with you
I never saw the end of the tunnel.
I only saw myself
Running out of one.

And so I ran.
I ran up and down every court
After every loose ball for you.
You asked for my hustle
I gave you my heart
Because it came with so much more.

I played through the sweat and hurt
Not because challenge called me
But because YOU called me.
I did everything for YOU
Because that's what you do
When someone makes you feel as
Alive as you've made me feel.

You gave a six-year-old boy his Laker dream
And I'll always love you for it.
But I can't love you obsessively for much longer.
This season is all I have left to give.
My heart can take the pounding
My mind can handle the grind
But my body knows it's time to say goodbye.

And that's OK.
I'm ready to let you go.
I want you to know now
So we both can savor every moment we have left together.
The good and the bad.
We have given each other
All that we have.

And we both know, no matter what I do next
I'll always be that kid
With the rolled up socks
Garbage can in the corner
:05 seconds on the clock
Ball in my hands.
5 … 4 … 3 … 2 … 1

Love you always,
Kobe

This also will mark Kobe's last game in Philly as being this Tuesday, when the Lakers visit town. The Sixers are honoring Moses Malone that night, and it wouldn't surprise me if they have something planned for Kobe as he's a "hometown kid." NBA commissioner, Adam Silver, issued his own statement on Kobe's retirement announcement.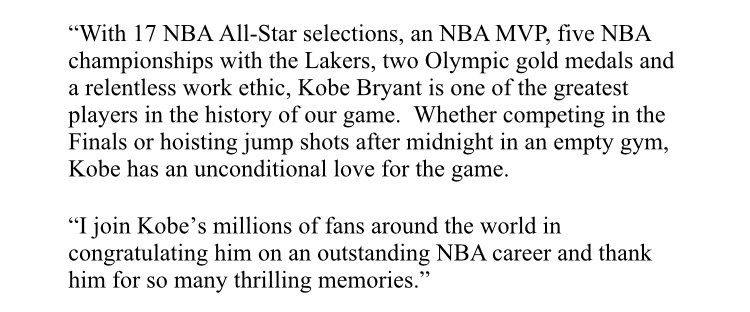 As much as he was hated in Philly, he'll still always be a basketball icon. Would love to see him coach someday.