Week 14 is in the books. It was a week dominated by LeSean McCoy talk. We also saw more of the same storylines from recent weeks with the Panthers remaining undefeated and with a few more big injuries to some big names. Let's take a look at the week in review.
Five key storylines from Week 14
A Sad Ending for Shady –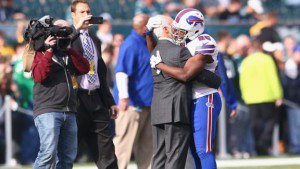 It wasn't the ending that LeSean McCoy was hoping for. The Eagles took down Shady's Bills 23-20. While Shady was silent after the game, the Eagles fans weren't. McCoy was talking all week long and in the end, he's as sad as he was when the week started. McCoy had 20 carries for 74 yards against the Eagles, but it wasn't enough. Shady can't be too sad though, Eagles players threw a Homecoming Party for him on Sunday night, so I guess all is well now.
https://www.youtube.com/watch?v=s49fIhjS3es
Down goes Dalton –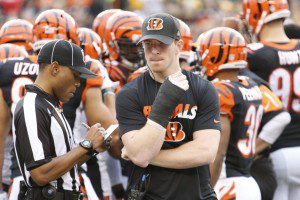 Welp! Lady luck just ran out on the Bengals. Andy Dalton broke his thumb and is likely done for the season.  The Bengals had a chance to clinch their division, but instead they lost their QB and were dominated by the Steelers. AJ McCarron will try to fill the void left by Dalton's absence. Prior to the injury, Dalton was 255/386 for 3,250 yards, with 25 touchdowns, seven interceptions and five fumbles. He was having a hell of a year and he will be greatly missed by the Bengals.
Andy Dalton headed to locker room with thumb injury after making this horrible decision: pic.twitter.com/2Svu4PKYSK

— Deadspin (@Deadspin) December 13, 2015
The Jags drop 50 on the Colts –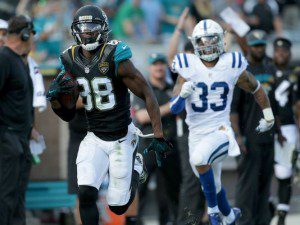 I'm aware that the Colts stink this year and I know that the Jaguars offense is really, really good. But, holy crap! The Colts gave up 51 points to the Jags on Sunday. The Jags are 5-8 on the season, but between Blake Bortles, Allen Robinson and Allen Hurns, their offense is insane! Colts defensive end Robert Mathis had this to say via ESPN.com.
"You never want to let a team score 50 points on you. Jacksonville is a lot better football team than what we saw the first time. The last time we got stomped like this was in 2006 and we went on to win the Super Bowl. You can climb from the depths, from the bottom of the valley all the way up the mountain top. It can be done. That's what I've told the guys. It can be done."
I don't know, dude. I know it's possible, but the Colts are struggling big time this season. It's time to go back to square one for the Colts.
https://www.youtube.com/watch?v=nqDkUfOYZW8
Meanwhile, the Jags offense will be scary for years to come.
Back on Track  –
The Patriots have stopped the bleeding for now. They were on a two game losing streak, but with the return of Rob Gronkowski, so came the return to the win column. Tom Brady led the way for the Patriots as he was 22/30 for 226 yards with two touchdowns. Gronk added a touchdown of his own. The Patriots clinched a playoff birth with this 27-6 victory over Houston. They've moved ahead of the Broncos and Bengals for the number one seed in the AFC. Julian Edelman's return may be near and that would provide a big boost to the Patriots offense. With Andy Dalton done for the season in Cincinnati, the Patriots are looking good again in the Conference.
Still Undefeated –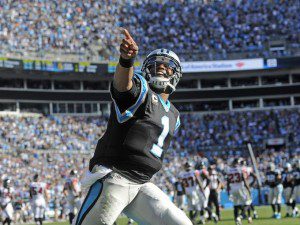 The Panthers can't be stopped right now. They had a cake walk victory against the Falcons. Carolina moved to 14-0 with their 38-0 shut out victory over Atlanta. Cam Newton led the charge again this week. He was 15/21 for 265 yards and threw three touchdowns. Ted Ginn, Jr. chipped in with two touchdowns of his own. The Panthers have a tough matchup against the Giants next week. It will not be an easy game for them – in fact I'm calling it right now, the Giants will pull out the victory.
Waiver Wire Watch (*Keep an eye on, **Time to consider it, *** MUST Grab)
Each week, I will supply you with a list of players that you should consider adding from the waiver wire. Above, I listed the three tiers of players they are. So let's take a look at the guys that you should be paying attention to. To qualify as a Waiver Wire guy, I'll only consider those players that are owned in less than 60% of Yahoo! leagues at the time of this writing.
***Tim Hightower (NO– RB) – 41% owned – With Mark Ingram out for the season, Hightower is stepping into the Ingram role. He looked great yesterday, so grab him now! He may win you a Championship.
***Darren Sproles (PHI – RB) – 50% owned – Sproles is now essentially the number one back in Philly – though he'll still see a time share with the other three backs. Still, that's good enough for me to pick him up, especially if I'm hurting at the RB position.
*Denard Robinson (JAX– RB) – 4% owned – TJ Yeldon got injured on Sunday and Robinson filled in nicely. Grab Robinson and keep an eye on Yeldon's status.
**Tyrod Taylor (BUF– QB) – 55% owned – If you're an Andy Dalton owner, take a hard look at Taylor if you're still around in the playoffs.
***Ryan Fitzpatrick (NYJ – QB) – 46% owned – I told you a couple weeks back that Fitzpatrick was going to be a great pickup for the stretch run and he's proving me right. Grab him now!
…
Here are Week 14's Studs:
Quarterbacks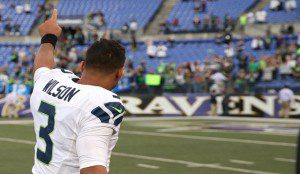 Russell Wilson (SEA vs. BAL) – Russ was 23/32 for 292 yards and five touchdowns against the Ravens. Wilson and the Seahawks are rolling right now and are a very dangerous team. Watch out!
https://www.youtube.com/watch?v=eBVWlH8gPwY
Blake Bortles (JAX vs. IND) – Bortles had another huge game this week going 16/30 for 250 yards, three passing touchdowns and one rushing touchdown. The Jags offense is nasty right now.
Ryan Fitzpatrick (NYJ vs. TEN) – Fitzpatrick was 21/36 for 263 yards and three touchdowns. He's a must start right now.
Running Backs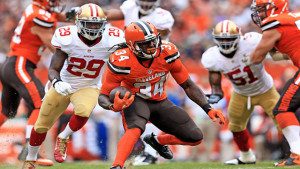 Isaiah Crowell (CLE vs. SF) – Who? Yeah, I know. I'm stunned too. Crowell had 20 carries for 145 yards and two touchdowns. Relax though because this won't happen again.
https://www.youtube.com/watch?v=soXt-OhqFgc
Todd Gurley (STL vs. DET) – Gurley got back to his dominant ways this week against the Lions. He had 16 carries for 140 yards and two touchdowns. That's more like it!
DeAngelo Williams (PIT vs. CIN) – Williams had another nice week. He had 23 carries for 76 yards and two touchdowns. I'm telling you, the Steelers could find their way to the Super Bowl.
Wide Receivers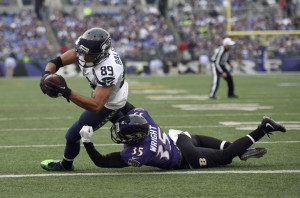 Doug Baldwin (SEA vs. BAL) – Wowzers! Baldwin had six receptions for 82 yards and three touchdowns against the Ravens. This man is carrying Fantasy teams on his back right now.
Tedd Ginn Jr. (CAR vs. ATL) – There was a Ted Ginn sighting this weekend. He had two receptions for 120 yards to go along with two touchdowns. Niiice!!!
https://www.youtube.com/watch?v=dOs36iRNtus
Tyler Lockett (SEA vs. BAL) – The Seahawks are killin' it right now. Lockett had six receptions for 104 yards and two touchdowns. The NFC is on notice.
Tight Ends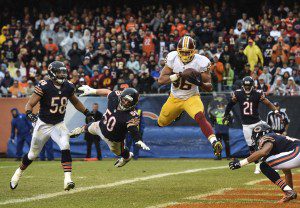 Jordan Reed (WAS vs. CHI) – Reed keeps on proving me wrong. He had nine receptions for 120 yards and one touchdown. Keep him in your lineups going forward.
Rob Gronkowski (NE vs. HOU) – No surprise here. Gronk had four receptions for 87 yards and one touchdown in his return from an injury. Best TE in the game without a doubt.
Defense/Special Teams
Carolina Panthers (vs. ATL) – The Panthers forced two interceptions and had two fumble recoveries against the Falcons for a total of 2o Fantasy points.
Kickers
Chris Boswell (PIT vs. CIN) – 4/4 FGA's, 3 extra points for 18 Fantasy points
…
Here are Week 14's Duds:
Quarterbacks
Philip Rivers (SD vs. KC) – Another bad week for Rivers. He was 24/43 for 263 yards and one interception. That just ain't cuttin' it.
https://www.youtube.com/watch?v=9uByHRmb4bo
Case Keenum (STL vs. DET) – Rams won – but Keenum sucked. He was 14/22 for 124 yards with zero touchdowns and one interception. He's just not very good.
Matt Hasselbeck (IND vs. JAX) – Hasselbeck was 18/35 for 252 yards and zero touchdowns. Colts got destroyed. They suck!
Running Backs
Latavius Murray (OAK vs. DEN) – Jeez Louise, Murray is killin' me! He had 16 carries for 27 yards. Not good at all.
Antonio Andrews (TEN vs. NYJ) – Lol! Andrews had four carries for eight yards. Way to go there, slugger!
Jeremy Hill (CIN vs. PIT) – I give up on Hill. He had seven carries for 16 yards. He totally let me down this season.
Wide Receivers
Calvin Johnson (DET vs. STL) – Bahahahaha! Megatron had one reception for 16 yards. Thanks for showing up, Calvin!
Emmanuel Sanders (DEN vs. OAK) – Welp, Sanders sucked this week. He had two receptions for 17 yards. Ugly!
Martavis Bryant (PIT vs. CIN) – Bryant had one reception for one yard. No comment.
Tight Ends
Travis Kelce (KC vs. SD) – Kelce had three receptions for 18 yards. My head hurts from this!
Coby Fleener (IND vs. JAX) – Fleener had one reception for six yards. Once a fleener, always a weiner!
Defense/Special Teams
Indianapolis Colts (vs. JAX) – Sure the Colts D/ST had 7 fantasy points, but c'mon! I know that the Jags have a lot of offensive talent now, but you can't give up 51 points to them. Sheesh!!
Kickers
Robbie Gould (CHI vs. WAS) – Gould was 0/1 in FGA's, had three extra points for two Fantasy points. The Bears lost by three. Gould's missed FG was a killer.
…
Here's a brief look at the results of Week 14 in the PhillyInfluencer.com Fantasy Football league:
The first round of the playoffs are complete. I won my sixth game in a row by beating Chip Kelly Rejects 144-110. Doug Baldwin, Brandon Marshall and DeAngelo Williams carried me to a big victory. Meanwhile, FeelMyBalls, SqueezeMyBalls advanced to the semi-finals with a win against "Luck Her Right" 141-108. Balls was led by Odell Beckham, Jr, who hooked him up with 35 Fantasy points.
Semi-Final Playoff Matchups –
#2. Victorious Secret vs. #6. Notorious V.I.G.
#1. Team Marino vs. #4. FeelMyBalls, SqueezeMyBalls
You can stay up to date with everything Fantasy Football related by following me on Twitter(@ViggieSmalls765) and Instagram. I'll be available on Twitter for upcoming Twitter Chats and to give out advice to help guide you through your fantasy season.