What a disappointing weekend of football this past weekend. Thankfully for us, we had our fantasy football players to keep us interested. Aaron Rodgers, Ben Roethlisberger, Le'Veon Bell, Antonio Brown and Jordy Nelson are all gone. This is a ton of talent and big pieces of everyone's predicted roster all gone until next year.
Even without the names above, there still is some prime time talent left in the pool beginning with Matt Ryan and Julio Jones. Looking at the stats shows how unstoppable the Atlanta offense has really been this postseason:
Matt Ryan: 730 yards, 7 TDs and no interceptions.
Julio Jones: 15 rec, 247 yards, 3 TDs … all the while dealing with a lingering toe injury.
Not to take anything away from the illustrious New England Patriots, but the momentum is clearly in Atlanta's favor. Just ask Pats' owner Robert Kraft, who won the conference championship, and was still at a loss for words. Oh, wait, that was the pregame meetings held to "lessen punishment" regarding marijuana use in the NFL.
---
RELATED: Fantasy Football: Triple Threat Challenge Playoff Results and Analysis for the Divisional Round
---
When Atlanta hired Dan Quinn, they fully expected him to bring his experience to the locker room and his attitude to the field. Not only did he bring it, but the players are buying in as well. There has been a certain poise about the Falcons this year and it has been evident with each and every play. We may be closer to seeing Arthur Blank do The Whip than you think and that will be something you don't want to miss!
This is the last week of the season and there a ton of teams that need new players. Remember, you must submit your new picks to me by Saturday, February 4th at 6:00 P.M.. The scores are really close and this is the last week to fill the gap.
Here are the results from Round 3: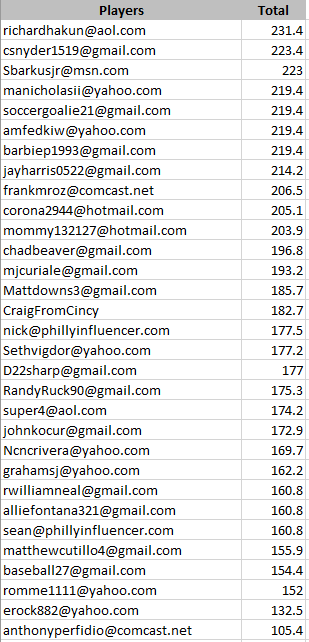 It's now onto to the Super Bowl!
As always you can stop by my Facebook page (FantasySportsAddiction) or tweet me (@TCutillo23) for questions or some nice fantasy debates. I can also be heard weekly via the internet stream live at WengRadio every Monday at 4:00pm EST for a weekend sports wrap. But most importantly, you can catch me here at Pi! Follow Philly Influencer on Twitter (@PHL_Influencer), Facebook and Instagram.
For fantasy purposes, all my articles are predicated upon a PPR-based system.