Eagles legend Brian Dawkins has officially etched his name in the annals of the Pro Football Hall of Fame. His induction ceremony took place in Canton, Ohio last night. After plenty of fan-centric activities, formal dinners, and press buildup, the gold jacket finally came on. There isn't an Eagles legend or a player so beloved by the fans that deserved it more.
Plenty of the Eagles brass was in attendance to see the Eagles Ring of Honor member view his Hall of Fame bust and to hear his speech. Those in attendance included Jeff Lurie, Howie Roseman, Hugh Douglas, former coach Andy Reid, and plenty others. Reid even charted a jet from Kansas City to ensure that he would be there for Dawkins. Andy almost immediately had to turn around and return once the speech ended so that he could lead the Chiefs practice Sunday morning.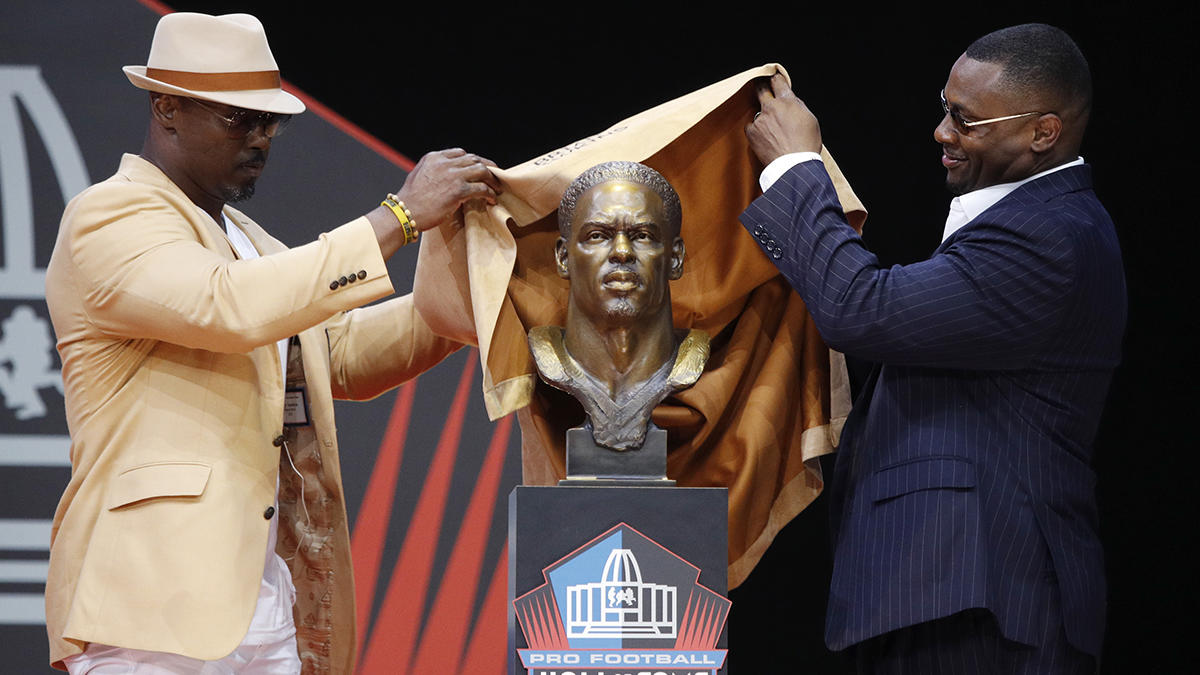 Former Eagles great and current Executive Vice President of Football Operations for the NFL, Troy Vincent, provided the introduction for Dawkins. The speech was full of the passion, intensity, and heart that B Dawk played with. His walk in even included Weapon X's signature moves. Dawkins implored people to "push through your pain and never settle." He assured people there's always hope," for those who are going through it right now, there's hope. You do have hope. There is something on the other side of this." He highlighted the adversities in his life, his battle with depression, his progression as a player on the field, those who helped him develop, and his vision for his future. He understands that life will throw many more hurdles his way but because he's conquered and overcame so many trials previously, he'll be prepared. Plenty of joy and hope comes on the other side of pain. He thanked Eagles fans for their love, devotion, and for coming all the way from Philly to "celebrate with your boy."
Watch the full speech below:
The Emmy-nominated NFL Network feature series A Football Life announced that Dawkins will be a part of the upcoming season. The episode will air on October 12th.
To watch the speeches from all the inductees this year, click here.
Reactions
I caught up with Brian Dawkins after speech on thanking Eagles fans

"I can't come up with any more adjectives to describe how much I love those crazy cats. Im crazy. They're crazy. We're crazy together"#BrianDawkins #FlyEaglesFly pic.twitter.com/WcMfs9iI6B

— John Clark (@JClarkNBCS) August 5, 2018
Eagles fans last night you showed the world AGAIN why you are the best fans in football! As I walked into the stadium surrounded by Bears Packers Vikings & Ravens fans all I could hear was E-A-G-L-E-S Eagles. An AMAZING NIGHT capped by a great speech by my boy @BrianDawkins

— Brian Westbrook (@36westbrook) August 5, 2018
Correct me if I'm wrong but notice last night Brian Dawkins didn't mention the Denver Broncos once..Not even in passing..Yet the NFL insists on putting his Broncos jersey in the Hall with his Eagles one

— Stoned Philly Fan (@StonedPhillyFan) August 5, 2018
Many of us grew up idolizing him. His speeches still give us chills. His 13 seasons in Green left us with endless memories.

Yet tonight we're in for the greatest of them all. I don't think there will be a single dry eye when we officially meet Hall-of-Famer Brian Dawkins. pic.twitter.com/mFA8m2aGw8

— Eagles Fan Problems (@EagleFanProbs) August 4, 2018
If someone asked you to name 3 current or ex-NFL players you'd want to bring with you to fight in war & your list didn't include Brian Dawkins, your list is wrong and you'd probably die.

— Tyler Steege (@TSteegeNFL) August 5, 2018
This Brian Dawkins speech is about to be the greatest speech you've ever heard in your entire life.
You will question what life was like before his speech.
Enjoy.

— Adam Lefkoe (@AdamLefkoe) August 5, 2018
@BrianDawkins Thank you for speaking last night about about your depression I too have had battle from depression and I also want to end my life. But from the grace of God and talking about my problem I keep going every day. You save someone life with your speech. God bless.

— LAWRENCE THOMAS (@LAWRENC40264013) August 5, 2018
When I see Denver fans on my TL claiming @BrianDawkins as "their guy"…… Please pic.twitter.com/VQPYTU8TiR

— John Frazier (@Eaglefan12) August 5, 2018
I didn't* cry during Dawkins' HOF speech or Brandy Halladay's speech

*I did

— Nick Piccone (@nickpiccone) August 5, 2018
---
You can follow Candis McLean on Twitter (@CandisRMcLean) and e-mail her at [email protected]. 
Follow Philly Influencer on Twitter (@PHL_Influencer),Facebook and Instagram.