Featured Bars and Lounges
…
Cocktails of the Week: Parks On Tap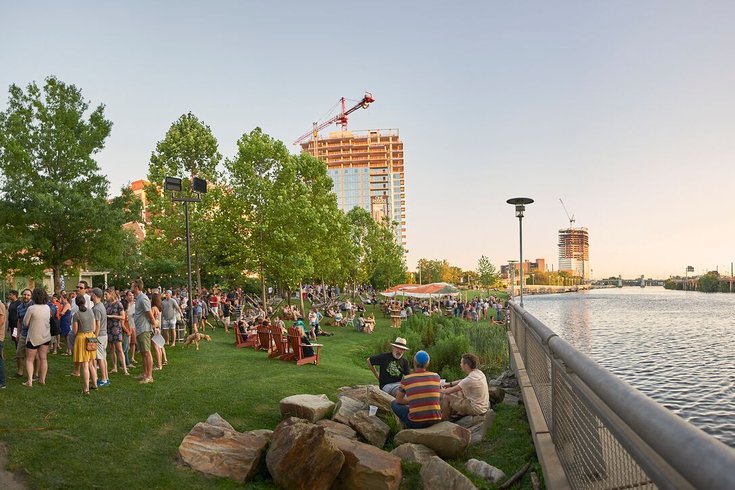 Parks on Tap will be at Pleasant Hill Park this week through Sunday evening. There will special happy hour this Wednesday including the Summer Sendoff Festival in partnership with Riverfront North from 5pm-9pm. Thursday you can indulge in free yoga starting at 6pm. As usual, the pop-up beer garden will have plenty of drinks and food available at any of the food trucks nearby.
…
Featured Restaurants and Bars
Philadelphia is a major spanning city. It's always brimming with exciting new activities and things to do each week. Sometimes answering the simple question of where to eat or get a quick drink can be overwhelming. Each week Philly Influencer will highlight some new places and local favorites to add to your list. 
Bare Burger: Bare Burger is a Walnut Street establishment that offers organic burgers and is very eco-minded. The trendy spot has an eclectic décor that includes bulb lights, colorfully framed paintings of produce, and artist chicken wire. The burger filled menu is full of many options. The bar has a great selection of wines and beers.
Bellini Grill: Bellini Grill offers traditional Italian cuisine in an amazing setting. The diverse menu includes options like Gnocchi di Spinaci, Ravioli di Granchio, various risottos, sautéed veal medallions, and many more savory options. The restaurant also has a very extensive wine list and cocktail menu.
Indeblue: Indeblue serves up some of the best Indian cuisine that the city has to offer. They have a great tasting menu and has several vegetarian options. The bar serves up $3-$5 cocktails and food each day from 5 pm until closing. From barbeque pork samosa rolls, lollipop lamb chops, to vegetable shashlik skewers this menu has many mouth-watering items.
Kensington Quarters: Kensington Quarters is a one-of-a-kind refurbished warehouse offering delicious food in an industrial setting. Come out and try the establishment's Tomato Lasagna, Hungarian Sausage, Almond Ginger Cake, and other selections.
…
Weekly Events
Each week, Philly Influencer picks the best parties, events, and social gatherings the area has to offer.
Goose Island Beer Co.'s 215 Block Party: Yeah Yeah Yeahs and others will be performing live on the Electric Factory outdoor stage at a massive block party this Saturday. There will be more than 20 Goose Island beers available at this music fest for $3 each as well as food trucks with food from both Chicago and Philly.
Bikes and Beers: Love City Brewing Company will be hosting Bikes and Beers this Saturday from 9:30 am-2:30 pm. On Sunday the event will take place at Yards Brewery during the same hours. The 5th annual event has riders picking between a 15-mile or 30-mile course. Once the race is over there's a huge party with food trucks, live music, free prizes, and more.
Philadelphia Pizza Festival: This Saturday come out to Citizens Bank Park for the Philadelphia Pizza Festival. You'll be able to taste hundreds of diverse pizzas, take part in an eating contest, and more. The festival will also have the allure of walking the professional bases, featured cocktails and brews, games, and plenty of activities. The event is from 1 pm- 7 pm.
Brew Blast on the Battleship: This Saturday is the WMGK Brew Blast on the Battleship New Jersey. You'll be able to sample from over 50 craft beers on the deck of this historic ship while rocking out to some amazing live music.
Camden Jam: On the same day as the brew blast, those in the area can stop by the Camden Jam. The largescale music and arts festival will be kicking off at 2 pm and will conclude at 8 pm. There will be tons of artists, musicians,  crafters, merchants, and more at the celebration. Lil' Mo and Arrested Development will be headlining the event.
Grunge-A-Palooza: World Cafe Live will be hosting Grunge-A-Palooza this Saturday night starting at 7 pm. Several cover bands will be transforming the hits by Nirvana, Pearl Jam, and plenty others at this night of great acoustic sound. This will be a night of nostalgia for this memorable era of music.
Foam 'N' Glow: The self-proclaimed "World's largest foam party" will be taking over the TLA this Saturday night. Foam 'N' Glow will be an all night dance party featuring LED lights, custom shirts, drink specials, and of course tons of suds.
Pickledelphia Pickle Fest: This Sunday bring your friends out to The Schmidt's Commons for Pickledelphia Pickle Fest 2018. The event runs from 1 pm-6 pm and will feature several variations of pickled food and beverages. There will also be beers, cocktails, and live entertainment.
---
You can follow Candis McLean on Twitter (@CandisRMcLean) and e-mail her at [email protected]. 
Follow Philly Influencer on Twitter (@PHL_Influencer),Facebook and Instagram.