"Vegas baby, Vegas!"
From Swingers to The Hangover, Hollywood has captured in three words the feeling that you get when you arrive in Las Vegas, Nevada.  To say it's different arriving at McCarran International Airport than deplaning at PHL would be an understatement.  There's a sense of energy unlike that in any airport, anywhere.  The Las Vegas Strip is even better.  From the bright, flashing lights to the noise to the casinos that look so close together but are actually "I can't believe how far apart these things are" as you walk from one to the next, the Strip is a unique experience.  Las Vegas feels like you're in a world unto itself, far away from home.  It's a place where you can forget about the pressures, stresses, and responsibilities of everyday life.  In Las Vegas, you can put reality on hold for a few days.
I've been to Vegas for a bunch of different reasons. I've gone with my wife and I've gone with friends. I've gone for bachelor parties and for conferences. I've gone when I was just barely 21 and I've gone as I get closer to turning 40.
Given my current role at SugarHouse, I was in Las Vegas last week for the Global Gaming Expo (or "G2E"), the industry's largest trade show. Last year, I arrived for G2E only 15 hours after a gunman killed 58 people (and injured over 800 more) who were doing nothing more than standing outside of a casino and watching a concert.
Last year, 6abc's veteran newscaster Jim Gardner was on our plane asking passengers what they were expecting to encounter when we landed. McCarran was eerily quiet. The Strip even more so. The signs that usually tout casinos' entertainment or buffet options instead offered prayers for the victims and information on where to call to locate loved ones.
Police were camped out in front of the resorts. It was a sobering reminder that while Las Vegas might feel like a bubble of sorts, it's still a place where reality can take hold. And last year, it did. The bubble popped. Casino workers kept on keeping on despite the fact that many of them had friends who had been injured in the shooting. The Entertainment Capital of the World was still entertaining, but with an asterisk of sorts.
This year, I wasn't sure what to expect when I stepped off the plane. Excitement to be in Vegas, to see old friends, to eat some great food, to maybe win a dollar or two playing craps?  Or a town forever changed by the tragedy that struck here just a year ago?
In short, it was the former. The town proved that it is truly, as the t-shirts read, #VegasStrong. The same signs that last year had become reminders of the horror that had just occurred once again touted famous nightclubs and stores named after Sex and the City stars.
Last year, my wife was scared for me to go to Vegas. This year? She was all in.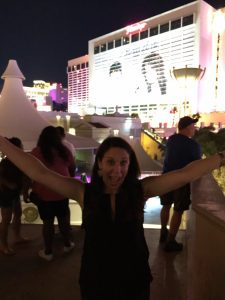 Las Vegas may not be our country's most historical or "cultured" city by some people's standards – you're not going to find the Met, or the White House, or a world class symphony there.  But you will find something that's just as important: a sense of being somewhere truly special.  Somewhere where you can play blackjack, ride a dune buggy in the desert, drink a Corona by the pool, watch Tom Green do comedy, and eat an amazing Italian meal – all in the same day. Las Vegas is truly the world's "City of Lights," and while tragedies like the one that occurred last year may have momentarily dimmed the switch, they simply can't touch this city's resolve.
So if you haven't been to Vegas, go.  Now. If you've been before, go again. Now. No matter how many times you've been to Las Vegas, you won't have the same experience twice. It's still the City of Lights, Sin City, the Entertainment Capital of the World, truly America's City That Never Sleeps. In the words of the one and only Elvis Presley, "Man, I really like Vegas." You will, too. Promise. 
#VegasStrong.
---
You can follow Evan Davis on Twitter (@ewdavis) and e-mail him at [email protected].
Follow Philly Influencer on Twitter (@PHL_Influencer), Facebook and Instagram.