Well, the Eagles did it. They've sucked us right back in. The playoffs hang in the balance. An AFC team stands in the way of a possible showdown in Week 17 with division rival Washington that could determine the Eagles' playoff fate.
The Texans, no less. A team that the Eagles have no real rivalry with. Which could bode well… or not so well.
To the predictions:
Mike Diaz (@PhillyMike), 4-8:
Was the L.A. game a mirage? Did the Birds take a step forward or was the timing just right? It's frustrating for the thought to even cross your mind that the entire organization from players to coaches to water boys seems to step up whenever Carson Wentz goes down and that championship level focus comes back. Houston has won 40 games in a row since September against FCS teams. Chris Long has a shrine to BDN set up in his locker, complete with an elaborate candle and incense lighting ceremony. I have no clue why the line isn't Eagles -25.
Eagles 28-20.
…
Candis McLean (@CandisRMcLean), 6-8:
Light all the candles you want. Call in every Christmas Miracle to the old Westeros gods and the new. That still won't save us. I'm all for ski mask season, but I just don't see the Eagles winning this game. We've only seized back-to-back victories one time this year and I just don't think our injuries allow us to be a consistent team. I'm sitting in the hope line with the most of you, but I really do see DeAndre Hopkins being the Grinch who steals our Christmas dreams.
Texans 24-19.
…
Anthony Mazziotti (@AntMazziotti), 7-7: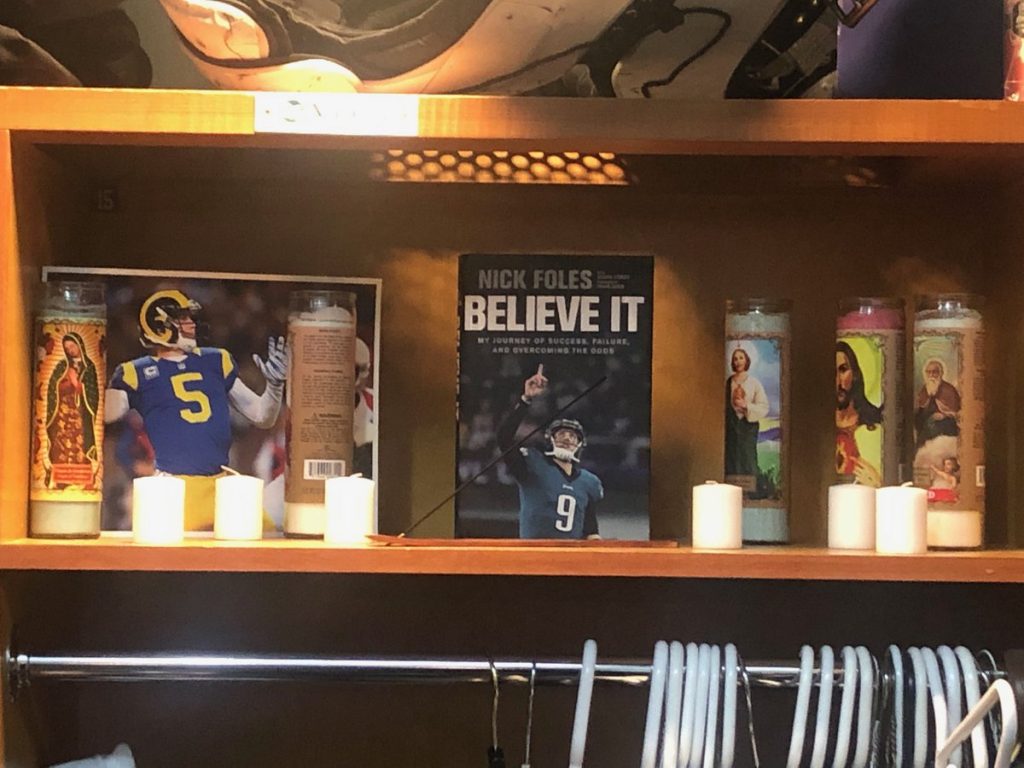 I'm a believer. That's all I have to say. [Photo via Jeff McLane]
Eagles 27-20.
…
Tony Cutillo (@TCutillo23), 6-8:
Are we really going to re-write this narrative once again? Can destiny strike twice in one lifetime? Most would agree that the Eagles making the playoffs was a long shot. However, after watching them outplay the Rams last week, I, for one, have admit they even have me starting to believe!
Eagles 28-24.
…
Adrian Fedkiw (@AdrianFedkiw), 6-8:
Getting DeAndre Hopkins and Demaryius Thomas is going to be key and with the emergence of Avonte Maddox last week, that all of a sudden looks a bit less daunting. But it's not going to be Maddox and Rasul Douglas who keep Hopkins and Thomas in check, they're going to get major help from Fletcher Cox, Michael Bennett and the rest of a defensive line going against a suspect offensive line. The Eagles' season lives another week.
Eagles 24-20.
…
Sean Brace (@Sean_Brace), 6-8:
The Eagles' theme for 2018: Too little, too late. Sorry. I loved the win over the Rams, but I can't believe that everything will start to come together with only two games left. We had our chances. The Titans, Panthers, and Dallas twice. It's not our year. Vikings win out.
Birds still get the W.
Eagles 27-21.
…
Nick Piccone (@nickpiccone), 4-10:
What I learned today:

I'm not predicting an Eagles win the rest of the season

— Nick Piccone (@nickpiccone) October 22, 2018
Good win last week. I need the Birds to go on a run. I need the playoffs. I need another Super Bowl. I don't care if it's Nick Foles or Carson Wentz. Let's just do this.
But I said I wouldn't pick them to win the rest of the season, and it's been working. So Houston wins big Sunday. After going 18-1 last season in my predictions with the only incorrect prediction being the Seahawks game, I'd love to finish out this season with four correct predictions. Go Birds!
Texans 34-21.
---
You can follow Nick Piccone on Twitter (@nickpiccone) and Instagram (@picconenick), and e-mail him at [email protected]. Subscribe to The Straight Shooters Podcast (@ShootersRadio) on iTunes here and listen every Friday afternoon at 2:00 P.M. on Wildfire Radio. Click here to read his pro wrestling articles on PhillyVoice.
Follow Philly Influencer on Twitter (@PHL_Influencer), Facebook and Instagram.