Every year, the hype around the NFL schedule release cracks us up… but no matter what, you know you seek it out. Laugh all you want at sports talk radio breaking it down week by week, but you know you listen! Hell, we can look right here at Pi where our two most popular posts yesterday were both schedule related.
For the record, I have us going 16-0. Go Birds.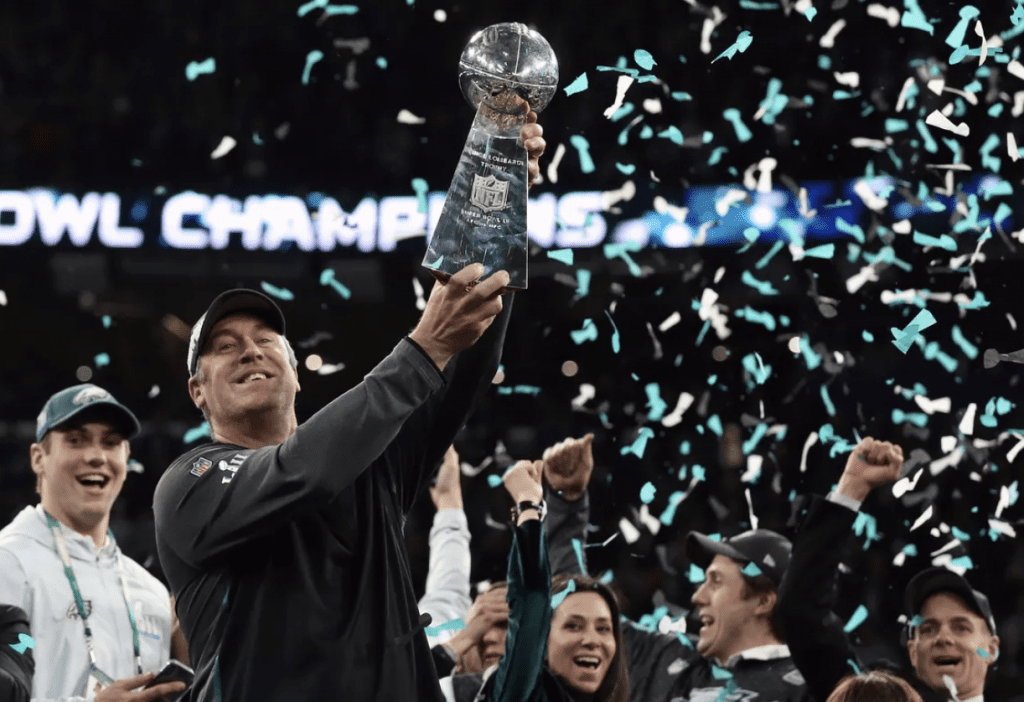 One way to keep it interesting is for each team's creative department to come up with different themes. For the most part, every team did a video of some sort. A few took the easy path and only released a graphic. Booooo, do better Arizona Cardinals and 49ers.
Three teams went with the Game of Thrones theme. Original concept, you most definitely weren't the only ones thinking that. And a few teams went with a celebratory theme as they are celebrating anniversaries. 
Here are my top five from around the league! Let me know which one you liked the best?
5. The Ravens and their Sunday-Sunday-Sunday Monster Truck theme.
‼️THIS FOOTBALL SEASON ‼️
PREPARE FOR DOMINATION
‼️MEGA RAVENS FOOTBALL‼️ pic.twitter.com/6gKU0m9009

— Baltimore Ravens (@Ravens) April 18, 2019
4. The Jets brought the Blitz, arcade style!
Blow in the cartridge. Insert the Rumble Pak. Dial up Da Bomb.

It's 2019 schedule release, NFL Blitz style! 🎮 pic.twitter.com/JrHU8PiUeX

— #TakeFlight (@nyjets) April 18, 2019
3. In one of the more detailed videos, the Bills want you to swipe right!
Hey 2019 opponents…

Sup? 😏 pic.twitter.com/JPpU3Wu4FH

— Buffalo Bills (@buffalobills) April 18, 2019
2. The Browns kick it OLD school. Hilarious to see how long printers used to take.
EXCLUSIVE: The exact moment GM John Dorsey got our schedule pic.twitter.com/EC1tAvMs4E

— Cleveland Browns (@Browns) April 18, 2019
1.Last, but certainly not least, nobody delivers a celebrity lineup quite like the Birds.
Announcing the schedule proved tougher than we thought, so we enlisted the help of some of our friends.#FlyEaglesFly | #EaglesEverywhere pic.twitter.com/fQvlX0PdEd

— Philadelphia Eagles (@Eagles) April 18, 2019
…
A huge shoutout to the Falcons on keeping up their tradition of shitting on the Saints. Everybody wins when it's a healthy rivalry.
Ultimate troll nugget in the @AtlantaFalcons @GameOfThrones schedule release: a loose Ram comes sprinting in, crushes a Saint and a ref rules it incomplete. Savage. pic.twitter.com/XcVW2j7LUT

— Will Brinson (@WillBrinson) April 18, 2019
---
You can follow Sean Brace on Twitter (@Sean_Brace) and Instagram (@sean_brace), and e-mail him at [email protected]. You can also watch him sports anchor on weekends at FOX 29.
Follow Philly Influencer on Twitter (@PHL_Influencer), Facebook and Instagram.