The Spotlight of the Week:  Small Biz Saturday
Saturday, November 30 is Small Business Saturday. Several local restaurants and bars are looking to enhance your holiday season with tremendous unique deals.
Art in the Age: Art in the Age, sn inviting Small Business Saturday shoppers in to make Art in the Age their one-stop-shop for all things creative cocktail curation in addition to finding unique spirits and cordials. Shoppers can find the perfect gift for the cocktail lover, bar cart enthusiast, and adventurous imbiber in their life. On Small Business Saturday this year, Art in the Age is giving a tote to every shopper who spends $100 or more.
Jet Wine Bar: Jet Wine Bar, Philadelphia's "global vineyard," is offering both Small Business Saturday and Black Friday shoppers a "buy one, get one free" deal on all wine to go purchases. In addition to getting great deals on wine, shoppers will also take their four bottles home in a free wine tote, perfect for bringing a selection of wines to any holiday party or Philadelphia BYOB.
MilkBoy: Milkboy just launched a brand new online store that represents the MilkBoy brand, Philadelphia and the city's music scene. From men's, women's and kids apparel to hats and beanies, accessories and home & living articles, there is something for everybody on the list. For Small Business Saturday (and through December 1), MilkBoy will run a promo action, giving shoppers 20% off their entire order. To get 20% off, shoppers have to apply the promo code 'MILKMONEY'.
…
Featured Bars and Restaurants: Thanksgiving Edition 
With Thanksgiving approaching, it's great to know your holiday options. Some people choose to bring the family together in the comfort of their own homes. Others ditch the traditional sit-down for a trip to one of their favorite restaurants. Here's a rundown of all the options the top eateries in the city have for Thanksgiving.
• a.kitchen: a.kitchen will be open for Thanksgiving dinner service for the first time this year. You are guaranteed to make new memories with family and friends, enjoy Chef's seasonal menu— complete with thoughtful wine pairings — and have an experience worth being thankful for at a.kitchen. First-course options feature pumpkin curry soup with brown butter, Swiss chard, and chestnut dumpling. Second-course options include heritage turkey, salmon with mussels sauce, braised short rib, or winter roots lasagna. You can sweeten up your dinner with your choice of pie.  Reservations can be made here or by calling 215-825-7030. The dinner runs from 11 a.m -7 p.m. and is $65 per person.
• Bank & Bourbon: This Thanksgiving, enjoy a festive buffet of seasonal fare at American restaurant, Bank & Bourbon.  Created by Chef Joe Thomas Jr. and his talented culinary team, guests will enjoy fresh seafood displays, autumn salads, traditional accompaniments and most importantly, carved local turkey and prime rib. But the fun doesn't stop there; feast on an elaborate selection of pies for dessert, including Apple, Sweet Potato, Pumpkin and our signature, Maple Bourbon all prepared by pastry chef Amanda Kaewvichien. Enjoy this elaborate buffet for just $70 per person, and $22 per child (ages 12 and under). Optional wine pairings are available for $35.
• Chez Collette at Sofitel: Chez Collette at Sofitel Philadelphia will have a tremendous Thanksgiving buffet from 12 p.m. – 4 p.m. Come to Chez Collette for a savory roasted butternut squash salad, herb-brined turkey, colcannon mashed potatoes, prime rib, and more. Guests (adults) can taste these amazing options for $65 (includes a glass of champagne). Kids under 12  can eat for just $32.50.
• Chima Steakhouse: Chima Steakhouse Thanksgiving menu features s like roasted turkey, cranberry sauce, stuffing, mashed sweet potatoes, green bean casserole, and cornbread. You can book on the phone at 215-523-3233 or reserve online. The dinner is $56.90 per person and runs from 12 p.m. to 8 p.m.
• CO-OP Restaurant & Lounge: Stop by CO-OP Restaurant and Lounge for a savory and affordable family-style Thanksgiving menu. Boasting a full spread of Thanksgiving classics, groups and families of four to five people can dig into turkey breasts, mashed potatoes, stuffing, brussels sprouts, cranberry sauce, gravy, a whole pumpkin pie, and a bottle of wine for $125 all-in. Dinner will be served from noon to 7 pm. Reservations are highly encouraged and can be made through Open Table.
• Davio's Northern Italian Steakhouse: Executive Chef Chris Tavares will be filling Davio's Northern Italian Steakhouse with plenty of tremendous Thanksgiving options. Guests can salivate over orange-cranberry chutney, creamy mashed potatoes, oven-roasted, free-range organic turkey, and more. The dinner is $65 for adults and $23 for kids under 12.
• Def Frisco's Double Eagle Steakhouse: Del Frisco's Double Eagle Steakhouse has a crowd-pleasing three-course menu to offer you this Thanksgiving. You can try a harvest salad or butternut squash soup for your first course. You'll move onto a slow-roasted turkey breast with all the trimmings. For dessert, try pumpkin cheesecake or pecan pie à la mode.
• Devil's Alley: The Mama Devil's Holiday Dinner runs from 2:30 p.m.-8 p.m. this Thursday. For just $35.00 for adults and $19.95 for kids, you can enjoy a mouth-watering three-course meal. Classics like roasted turkey, mac and cheese, sweet potato gratin, and more will all be on the menu.
• Dim Sum House: Dim Sum House is a University City gem that provides a phenomenal selection of Cantonese and Shanghai dim sum. Dishes inspired by the Jiang Nan region of China also highlight the menu. You can enjoy Thanksgiving all-day dim sum and seafood specials.
• Red Owl Tavern: Red Owl Tavern's new Executive Chef Jonathan Dearden is offering guests his take on delicious Thanksgiving classics, including light and dark turkey meat, polenta stuffing, garlic braised collard greens, whipped buttermilk potatoes, cranberry apple compote, and country-style gravy. Guests can dig into this prix fixe menu for $24 from 12:30 to 8 pm. In addition to their Thanksgiving feast, Red Owl Tavern is bringing back its popular Month of 1000 Pies for the fifth year in a row with all proceeds benefitting Philabundance, now through the end of November.
• The Twisted Tail: The Twisted Tail is inviting guests in to share a meal with friends and family this Thanksgiving. Just like at home, everyone is able to select their favorite meat option from Roasted Lancaster Turkey, Herb Crusted Prime Rib, Pineapple-Glazed Ham and Honey-BBQ Glazed Salmon. All of the sides, including kale salad, mashed potatoes, and cornbread stuffing, are served family-style in bowls with serving utensils. For dessert, guests can enjoy fresh-baked pumpkin, apple and pecan mini pies. Guests can enjoy this delicious cornucopia of food for $49 per person ($25 for children under 10; children under 3 are free) from 12 to 10 pm.
• Square 1682: Square 1682 is planning a five-course menu from Executive Chef Mackenson Horebe, offering options such as Bone Marrow Ravioli, Cornbread, Crispy Brussels Sprouts, Slow Roasted Turkey Breast, Smoked Country Ham, challah stuffing, and whipped sweet potato. For guests who aren't meat eaters, Horebe is also offering a hearty vegan Cauliflower Curry. Dessert brings a choice between Apple Biscuit Bread Pudding or Frosted Beignets. Options are also available a la carte. Thanksgiving dinner is $65 per person and is available from 4 to 9 pm.
• Urban Farmer: Urban Farmer will offer a specially-prepared Thanksgiving Menu from Executive Chef Sonny Ingui, available for $75 per person, 4-9 pm on Thanksgiving; half-priced for children 12 and under. Choices from first course options include Roasted Cauliflower Almond Soup and Seared Potato Gnocchi. Entrée options include a Pennsylvania Raised Turkey, Herb and Mushroom Crusted Prime Rib with horseradish crème fraiche, as well as a Skuna Bay Salmon. Sides will be served family-style and will please even the most discerning family member— Cornbread Turkey Stuffing, Red Bliss Mashed Potatoes, Harvest Vegetables and more. Dessert will include choices of classic Pumpkin Pie, Pumpkin Bourbon Cheesecake and Chocolate Pecan Tart. Guests can choose to do à la carte as well, however, the entire table must all choose either a la carte or prix fixe.
…
Weekly Events 
Each week, Philly Influencer picks the best parties, events, and social gatherings the area has to offer.
•  Thanksgiving Eve at Zee Bar: On Wednesday, November 27th from 10 p.m. to 3 a.m. Zee Bar will be rocking the house.  DJ Sat One will be playing the latest hits. There will be bottle service, drink specials, and more.
•  La Festa Thanksgiving Eve onMoshulu: This Wednesday come aboard Moshulu for an evening of drink specials, live entertainment, and more on the decks of this hotspot on the water. The La Festa party will be the biggest Latin boat party of the season.
•  Shake it Off: Taylor Swift Dance Party at Milk Boy: MilkBoy has teamed up with Riot Nerd to host a Taylor Swift-themed dance party this Friday. Starting at 10:30 p.m., at their Chestnut Street location will be blasting Taylor Swift's biggest hits all night long.  Tickets are available in advance via Eventbrite ($9) or at the door the night of the show ($13).
• Thanksgiving Eve at ITV:Every year, the night before Thanksgiving is a time for merriment at Nicholas Elmi's ITV in South Philly. Stop by and party with full-on turkey ice luge filled to the brim with Wild Turkey will be providing complimentary shots to help ease you into a long holiday weekend. Chef Elmi will also be preparing some BBQ Turkey Tails ($8) as his fun, festive riff on a traditional chicken wing. The rest of the cocktail bar's food and beverage menu will be available as usual to make sure the only struggle cooking you have to endure is on the big day itself.
•  90's Thanksgiving Eve Party:  This Wednesday, Germantown Gardens will be transformed into a  throwback dance party.  R&B and hip-hop tracks from the '90s and 2000s will be played all night long. Come hear the best hits from Tupac, Biggie, Snoop Dogg, Mary J, Lauryn Hill, and more.
•  Thanksgiving Eve Throwback Comedy Jam: Punch Line Philly will be hosting a Thanksgiving Eve Throwback Comedy Jam this Wednesday night. Chris Thomas "Mayor" of BET's Rap City, Kool Bubba Ice "Mr. Too Much FreeTime" from HBO's Def Comedy Jam, and more will be bringing the laughs.
•  Vango Fridays: Every Friday you can enjoy amazing rooftop views of Philly at Vango Lounge and Sky Bar from 9 p.m.- 2 a.m. Club King DJ, DJ Spontane, and other DJs will be making their rounds throughout the night. There will be drink specials, bottle service, and more.
•  Game Night on Black Friday: HOPS Brewerytown will be hosting a Game Night on Black Friday. There will be a spades table, dominos, Jenga, UNO, flip cup, and more. Prepare yourself to drive the boat while partaking from trays of delicious bites, drink specials, and great music.  DJ Caution and DJ HBK will be providing the music.
•  Blue Cross RiverRink Winterfest Opening: This Friday the  Blue Cross RiverRink Winterfest opens up. The Winterfest season will fill the area with ice skating, seasonal cocktails and brews,  fire pits, food, and more.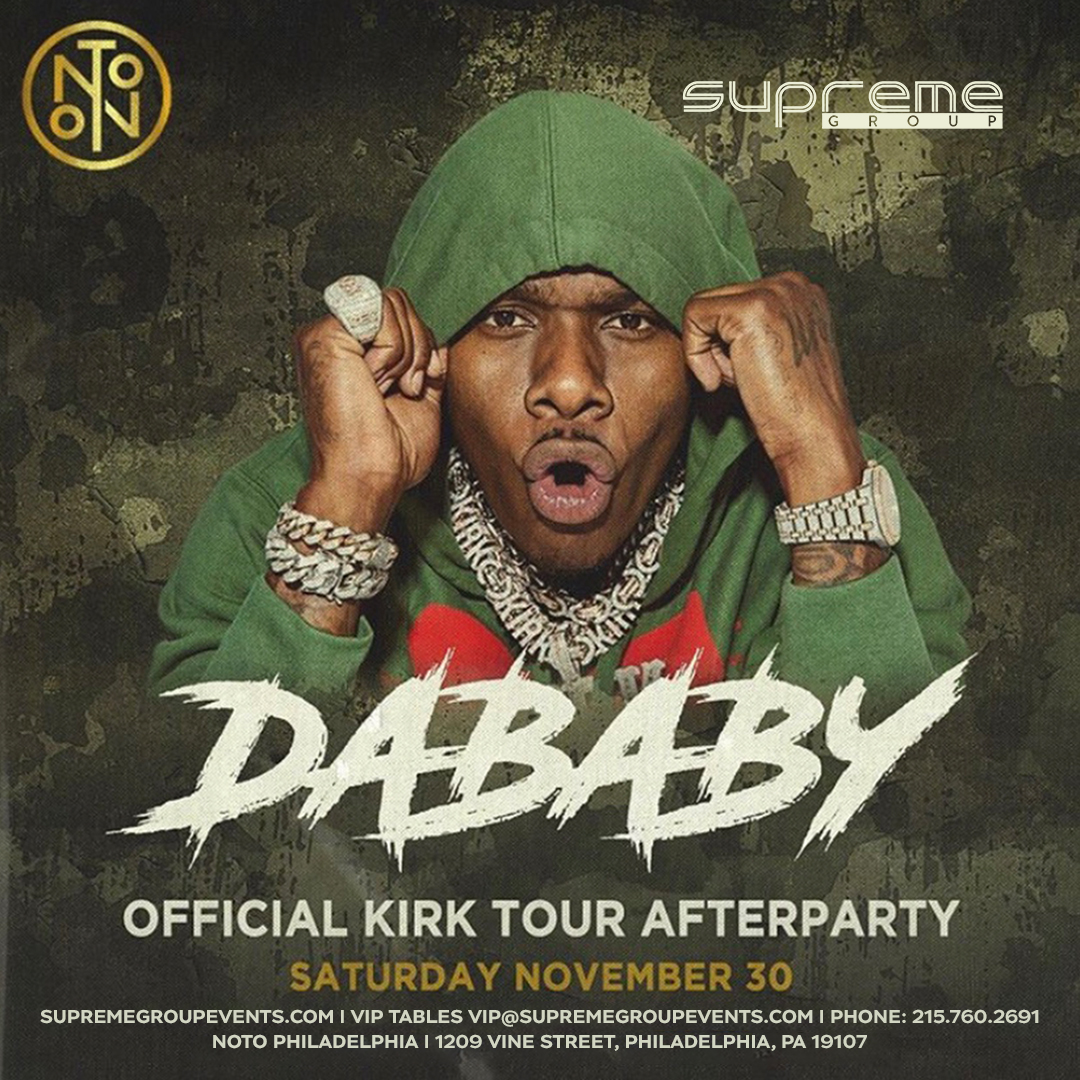 •  DaBaby at NOTO: DaBaby & Friends will be at NOTO Philadelphia this Saturday night. NOTO offers up a premier nightlife experience. The party for the blazing hip-hop act starts at 10 p.m. and runs through 3 a.m.
---
You can follow Candis McLean on Twitter (@CandisRMcLean) and e-mail her at candis.mclean@gmail.com.
Subscribe, rate, and review all Philly Influencer podcasts here. Follow Philly Influencer onTwitter, Facebook, and Instagram.