National IPA Day at Iron Hill Brewery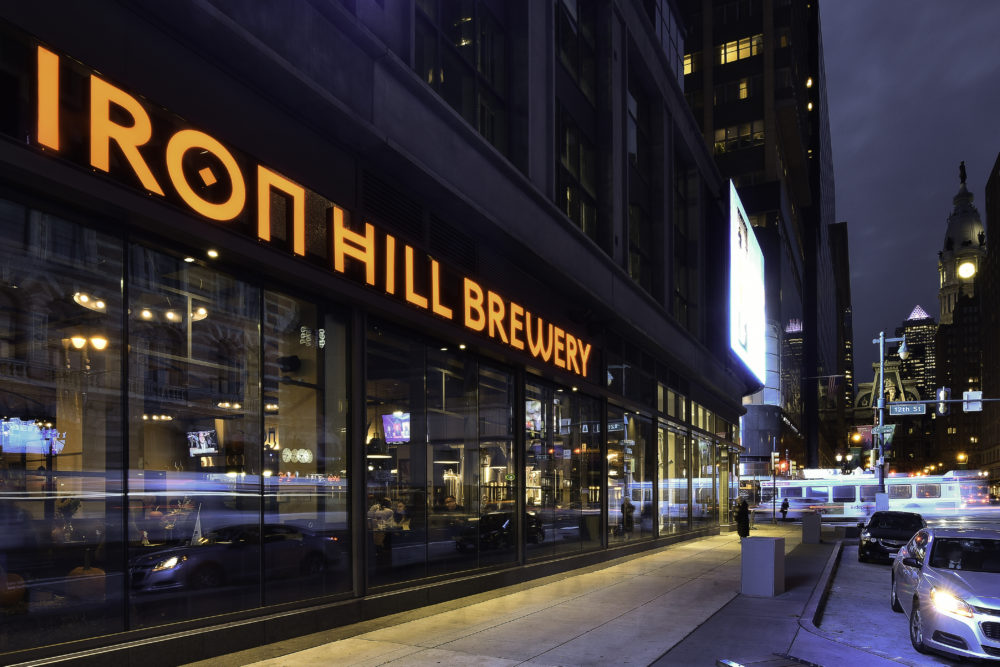 Iron Hill Brewery & Restaurant is celebrating National IPA Day this Thursday, August 6 by offering a special deal on a multi-pack of their four most popular IPA cans!
The pack includes:
• Philly Special IPA— This hazy beer may be considered a New England IPA, but its inspiration is pure Philly. Brewed with flaked oats and wheat, this beer features tropical fruit and resinous pine notes almost as intense as your passion for the home team. 6.7% ABV
• Kryptonite IPA— Brewed with more than twice the usual hops, this Double IPA is a hop hero of sorts. First, you'll taste notes of citrus, tropical fruit, and pine. Then, that coveted bitterness swoops in to take over your palate. 9.4% ABV
• Chewie IPA— You won't be able to resist the imperial forces at work in this mouthwatering New England IPA. It overflows with notes of pineapple, mango and citrus from American hops, making it a rebellious force to be reckoned with. 6.5% ABV
• Sweet Leaf IPA—Brewed with whole leaf hops and far-out vibes, this beer is a happening of peace, love, and flavor. Take in its earthy hops. Tune into the subtle undertones of grapefruit, pine, and tropical fruit that keep things grooving. 7.2% ABV
As a special promotion for those IPA loving guests, the four-pack of these hoppy brews will debut at all Iron Hill locations for just $13 if purchased this Thursday on National IPA Day. The four-pack will also be available for purchase throughout the rest of the weekend for $18.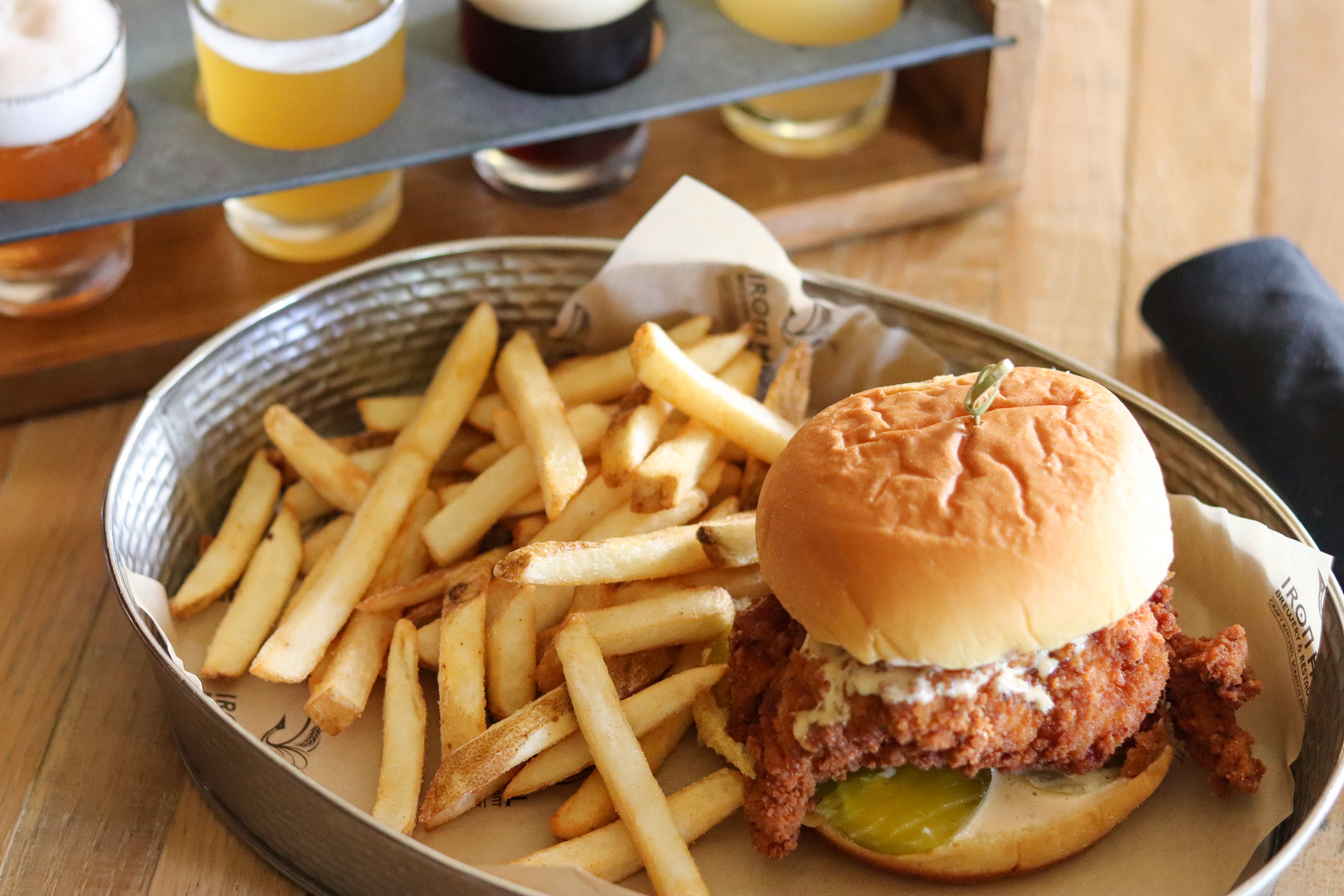 For folks who just can't get enough of IPA flavor, Iron Hill debuted a new menu last month featuring dishes made with their signature beers like their Fried Chicken Sandwich with tangy IPA Sriracha Ranch Sauce.
…
New Restaurants in Philly
With the safety protocols in place in the city and indoor dining being pushed back to September 1st, it may be easy to forget the Foodie paradise that Philadelphia is. There are several outdoor dining experiences you can partake in and new places are opening up each week! Here are three new places to add to your must-dine list:  
•  Añejo Philadelphia: Añejo Philadelphia is a new Mexican restaurant perched in the Northern Liberties section of the city. The follow-up to Hell's Kitchen's wildly popular tequila restaurant and bar Añejo, this new eatery currently sits 50 people outdoors. There are flavorful shrimp tacos, zesty duck enchiladas, octopus tostadas, and more. Tequila, mezcal, and Mexican distillations fans will not be disappointed. Añejo Philadelphia has a long list of spirits and brews to pair with any meal.  The owners include Tim Lu and Derek Gibbons, of Leda & the Swan, Germantown Garden, and Vesper.
• The Wayward: The Wayward opened on Monday, August 3. The American Brasserie "is inspired by the rebellious spirit of Stephen Girard and his journey from Bordeaux to Philly." Here you can try corn beignets, meatball blanquette, Pommes Frites, Main mussels, oysters, and more. A nod to classic French bistros, you'll find great wines, cocktails, and an extensive gin list. Executive chef Yun Fuentes has cooked Philly staples Alma de Cuba, Amada, Tinto.
• Pizza Jawn: Pizza Jawn's grand is this  Saturday, August 8. Located in Manayunk, at 4330 Main Street, this uber-successful pop-up will be serving up a diverse ran of pies from Neapolitan to Detroit-style. Owners David and Ana Lee are sharing their love of crafting pizza for over a decade. David gives nods to fellow Philly pizza-makers Joe Beddia, of Pizzeria Beddia, and Daniel Gutter, of Circles and Squares, for motivating him. The takeout shop is currently open.
…
ROOT Crafted Cocktails Recipes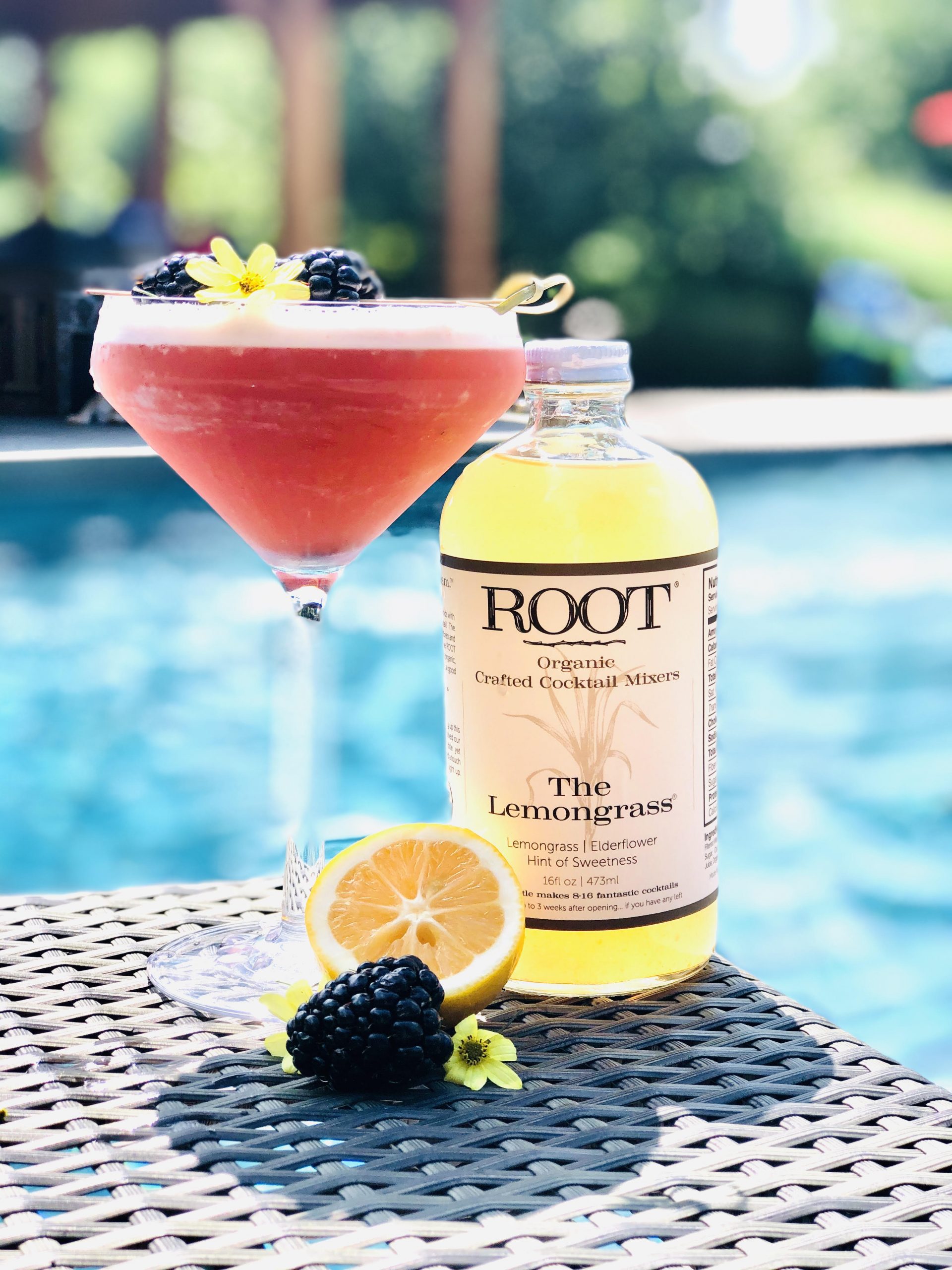 ROOT Crafted, a local, woman-owned company that makes all-natural and organic cocktail mixers is taking over the region. Below are three of their most popular and unique summer cocktails and recipes from the amazing brand.
• Lemongrass Blackberry Margarita:
This tart and bright cocktail uses The Lemongrass, one of ROOT Crafted's original flavors, which features elderflower syrup, organic lemon juice, organic lemongrass, and organic lemongrass extract.
Recipe:
2 oz. of The Lemongrass
4 smashed fresh blackberries
1 oz. vodka of your choice (we suggest something local like Boardroom Spirits' GMO-free Vodka)
Add all ingredients to a shaker filled with ice, shake, and strain into a margarita glass. Garnish with fresh blackberries.
• The Cuke:
The Cuke is the hero cocktail that uses the mixer of the same name, which features cucumber concentrate, organic lime juice, and elderflower extract. Super refreshing and bright.
Recipe:
2 oz. The Cuke
1 oz. Vodka
Add both to a shaker filled with ice and cucumber slices. Shake and strain into a martini glass and garnish with a cucumber slice or fresh mint.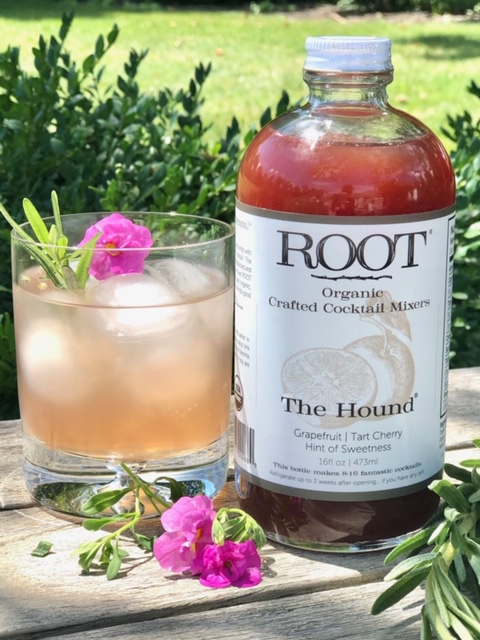 • Hound Gin Fizz:
A classic summer cocktail, this uses The Hound, which features notes of bright organic grapefruit juice and tart organic cherry juice for a flavorful kick.
Recipe:
1 oz. The Hound
1 oz. Gin
Add ingredients to a rocks glass filled with ice. Top with grapefruit-flavored seltzer and garnish with fresh rosemary.
…
The Water Garden at Spruce Street Harbor Park Returns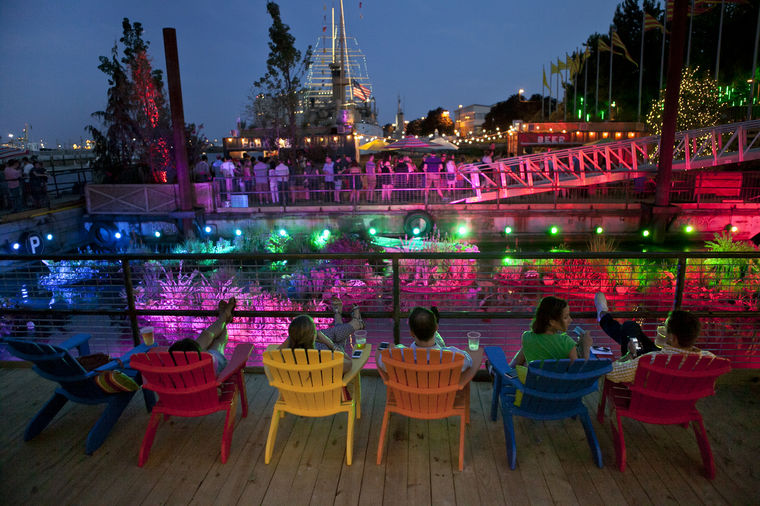 Sustained by UNIVEST, Spruce Street Harbor Park has re-opened. The beautiful water garden and hotspot has hammocks, floating gardens, stellar and colorful lights, craft beer stands, and plenty of food from the area's top restaurants. Enjoy bites from local vendors like Garces, Chickie's and Pete's, French toast bites, funnel cake, and more. Please note that the water garden requires a reservation.
Hours
Monday-Thursday: 4 p.m. – 9 p.m.
Friday: 4 p.m. – 10 p.m.
Saturday: 12 p.m. – 10 p.m.
Sunday: 12 p.m. – 9 p.m.
…
Whiskey Garden at Butcher Bar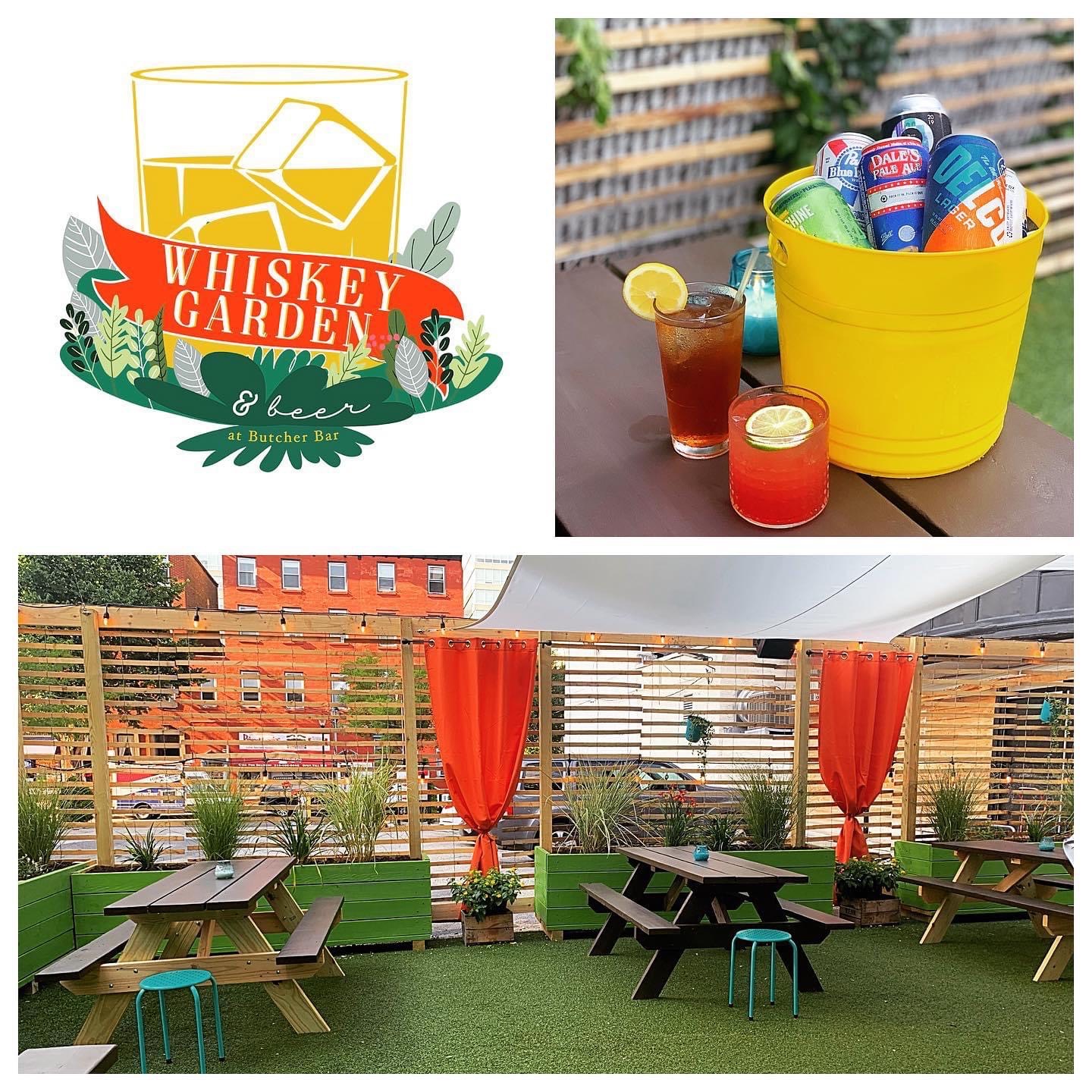 Center City and Chestnut Street hotspot Butcher Bar Philly has opened an alluring new spirits oasis with the Whiskey Garden at Butcher Bar. The Brown spirits and meaty culinary gem welcomes whiskey lovers to this outdoor patio which features great dining options, buckets of beer, growlers, wines, signature whiskey cocktails, and more.
Don't forget to pair your whiskey flight or premium cocktail with a sizzling surf and turf spread, roasted cauliflower and brussels sprouts, a savory Italian sausage rigatoni, a bourbon-braised short rib sandwich, or any other specialized dishes on the menu.
Don't forget to reserve your place at Butcher Bar Philly or the exciting new Whiskey Garden today.
---
You can follow Candis McLean on Twitter (@CandisRMcLean) and e-mail her at [email protected].
Subscribe, rate, and review all Philly Influencer podcasts here. Follow Philly Influencer on Twitter, Facebook, and Instagram.