In this episode of The PHLY Zone, we begin our ramp-up for NFL Draft week. We break down the best wide receivers and running backs in the 2021 NFL Draft. From the top prospects to the sleeper picks in the draft, we examine it all. We also shed light on what a number one running back and wide receiver means to us. This draft has elite speed guys, physical playmakers off the line of scrimmage, and players. with a massive catch radius.
…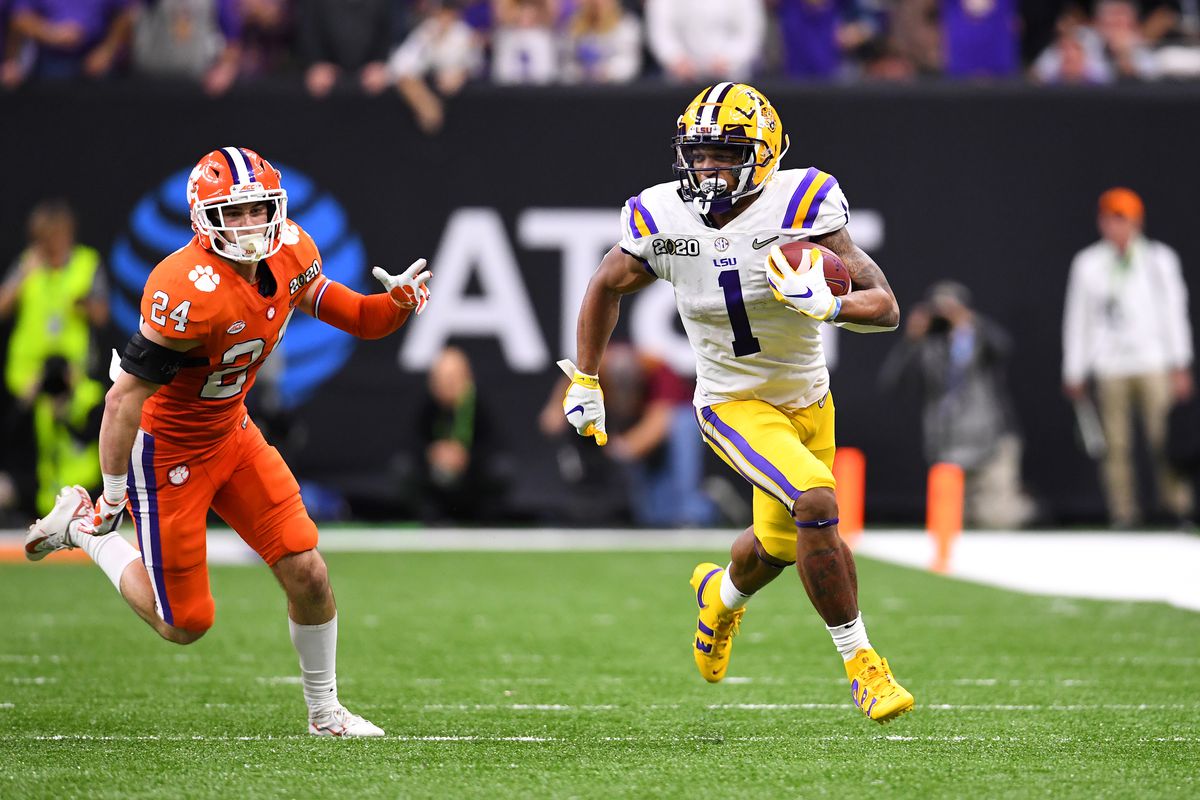 • Ja'Marr Chase: Chase was the 2019 Biletnikoff award winner for a reason. He's a great height and speed guy, a physical freak, and although he has room to improve in route running, he's a phenomenal talent.
• Kyle Pitts:  In a shock pick by Terrell, Pitts was through into the WR room conversation. You just don't see 245-pounders move the way he can. He's a massive chess piece for any passing offense.
• Jaylen Waddle: Because of his ankle injury, Waddle didn't finish off his amazing year. If he did, we all believe he would've put up the same numbers as DeVonta Smith. He plays like he has a jet pack attached to his back. Although he played injured in the National Championship game injured, he was still as fast as anyone on the field.
• DeVonta Smith: Smith became the eye-popping mismatch of Alabama's offense this year. He ranked in the top five in yards per route run against press coverage in both 2019 and 2020. So despite the conversations about his size, he has shown the ability to get off the line.
• Rashod Bateman: Bateman led the nation in yards per route run from an outside alignment. He doesn't have many issues in his game. His limited production last season and then opt-out has raised questions about how to evaluate him. But he has size, strong hands, and good speed to help any offense.
• Kadarius Toney: This electric Florida Gators playmaker is truly dynamic with the ball in his hands. He's still raw as a route-runner, but he's fantastic in the open field. He also broke 43 tackles in 2020 which is great for a guy his size.
• Rondale Moore: Moore led all of college football in broken tackles (33) as a true freshman in 2018. He has a massive injury flag. Measured in at only 5-foot-7 and 180 pounds on his pro day, if you told us he'd be healthy for his entire NFL career, we'd sprint to the podium.
Sleepers: Tamorrion Tarry, Nico Collins, Micahel Strachan
…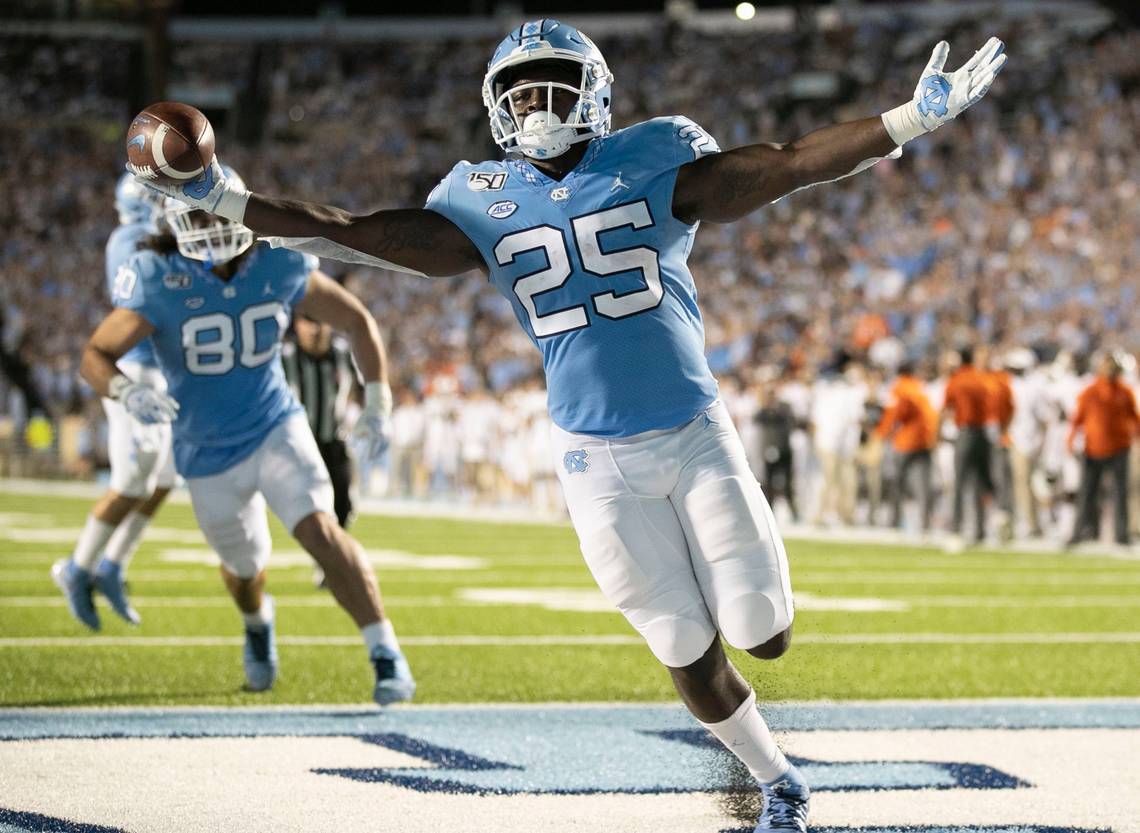 The landscape of the play in the NFL is passing. With the shift to the skies, we've seen a downturn of taking running backs high in the NFL draft each year. We question why the position is being devalued. We also give our criteria of valuing dynamic playmaking anility over pure runners who are every-down-backs.
•  Najee Harris: Harris has the bruising running style and size to be that guy at the NFL level, as well. He tallied 80 career catches — 43 this past season — and dropped only three targets. He also established himself as one of the best receiving backs in the country, with only three career drops on 83 catchable targets. He can be an every-down runner and a threat in the open field when called upon.
•  Travis Etienne: Etienne was running in the low 4.4s in high school so speed is never a question with him. The best home-run threat in college football racked up 85 runs of 15-plus yards in his Clemson career. He also had 588 receiving yards in 2020 making him a threat in each phase of the game.
•  Javonte Williams: The 20-year-old back shredded 76 tackles on only 157 carries. He has a rare fusion of speed, balance, and strength, rushing for 8.0 yards per attempt. He's a truly ascending player.
• Micahel Carter: Terrell's surprise pick for the number one running back in the 2021 class, Carter has elite skills. Carter ran for 7.9 yards per carry at UNC in 2020. He's also a weapon in the passing game and caught 25 balls for 267 yards this past season. Terrell believes he's the kind of back you can build your running back room around because of his ability to do so many things well.
• Kalil Herbert: The best zone-runner in the draft, he gained 8.2 yards per attempt on 157 such carries.  After transferring from Kansas to Virginia Tech, Herbert broke out and broke through.  He had 42 broken tackles on 155 attempts and averaged 7.6 yards per carry in 2020.
• Trey Sermon: Sermon, a transfer from Oklahoma to Ohio State, jumped onto the scene after a stellar performance against a dominant defense in Northwestern. He tallied 331 yards rushing against the Wildcats. He also had an impressive showing in the College Football Playoffs against the Clemson Tigers. He has good vision and speed, yet, we don't believe he will be transforming any running back room in the NFL.
• Rhamondre Stevenson: When his name was dropped on the podcast, Sean yelled, "He's a beast!" Stevenson has finished 2020 with a whopping 8.3 yards per attempt on only 69 nice carries. He's a human freight train that will punish you at the point of contact. For a team still committed to running a bruising style of offense, he's your guy.
• Kenneth Gainewell: Gainwell finished his career with more than six yards a carry at Memphis. Gainwell is exceptional and a mismatch at receiver. You could probably play him in the slot full-time if you wanted to. We can't forget his monster 200 yard plus performance against Tulane in 2019. His decision to opt out of the 2020 season probably pushed him down some.
Sleepers: Jaret Patterson, Demetric Felton, Larry Roundtree
…
…
Episode 22: Elite Level Talent
In this week's episode of The PHLY Zone, we bring our draft breakdown guy Terrell McLean back to talk running backs and wide receivers. We evaluate our top five players at those positions and talk sleeper picks.
Spotify:
Anchor: 
…
LATEST EPISODES:
…
CONTRIBUTORS:
Candis: Twitter (@CandisRMcLean) | Instagram (@candisrmclean)
DeSean: Twitter (@DeseanCarter3) | Instagram (@realestate_connect)
Follow The PHLY Zone on Twitter, Instagram, and YouTube.
---
You can follow Candis McLean on Twitter (@CandisRMcLean) and e-mail her at [email protected].
Subscribe, rate, and review all Philly Influencer podcasts here. Follow Philly Influencer on Twitter, Facebook, and Instagram.