Yards Brewing and Lokal Artisan Foods to Make History with New French Toast Bites Ale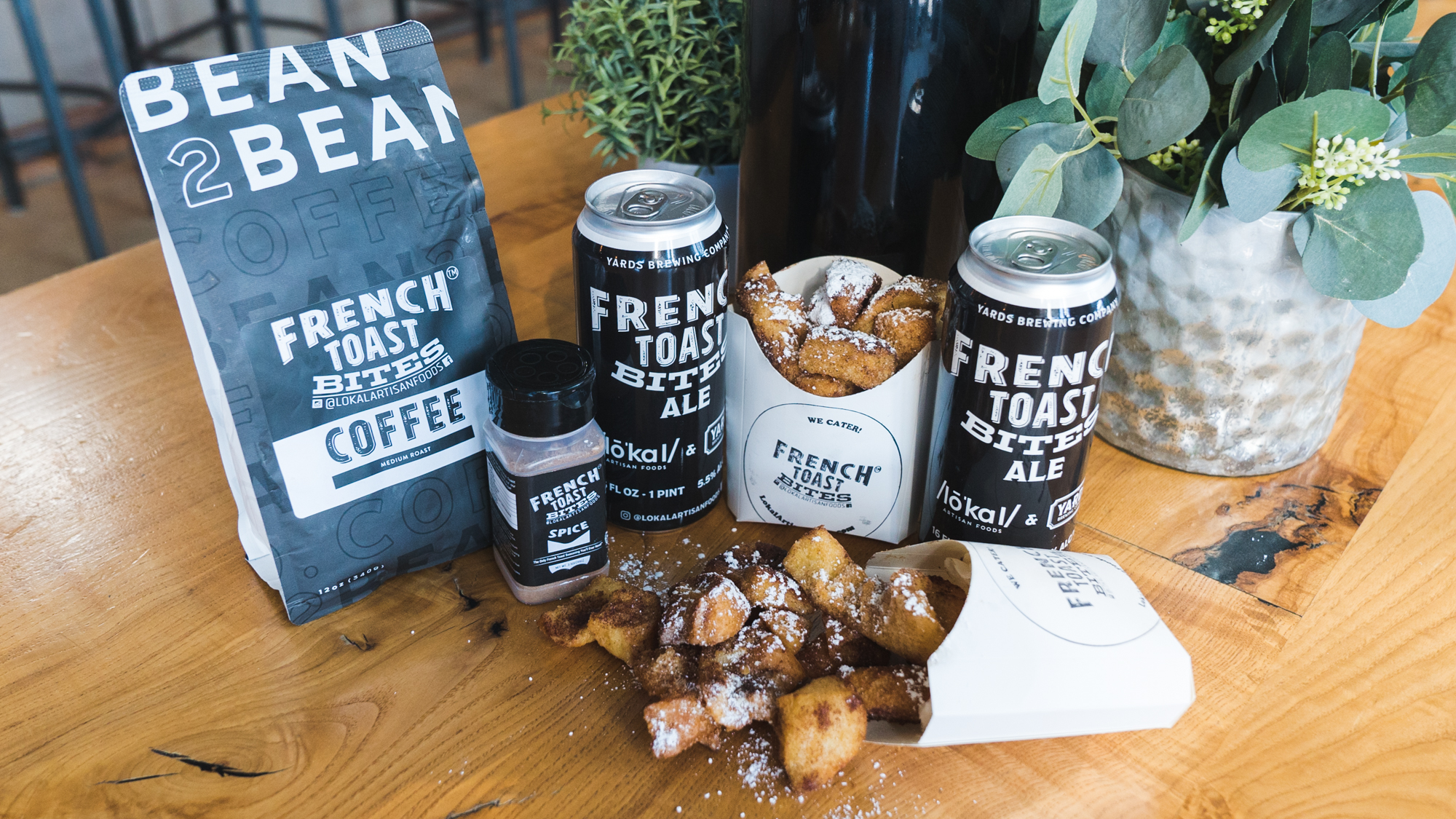 Charisse McGill and Lokal Artisan Foods have made history again with their new release of Pennsylvania's only beer by a Black-owned, female-owned business. What started out as a fresh-made street food treat in Philadelphia has now found its way onto the beer scene – just in time for summer and your Memorial Day Weekend. In collaboration with  Yards Brewing Company, Lokal Artisan Foods recently launched a new French Toast Bites Ale. The smooth and malty brew was inspired by the famous French Toast Bites sold at Cherry Street Pier, Spruce Street Harbor Park, Made in America, St. Joe's, Better Box, and Bronx Night Market.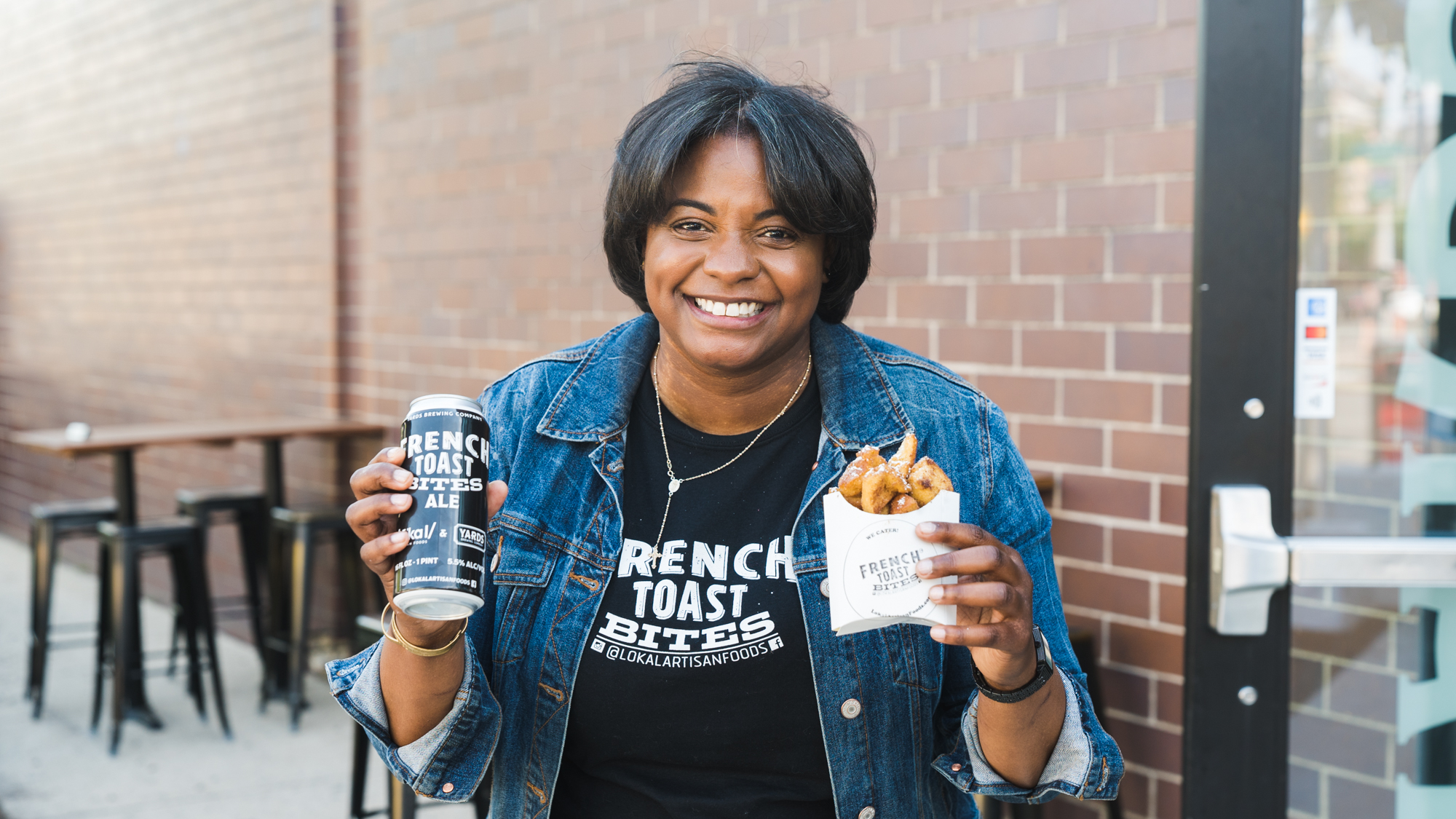 For Lokal Artisan Foods, this continues McGill's pivot journey and relaunch of her entire business after she saw nearly 100% of her event business wiped away due to the pandemic. Lokal Artisan Foods now has three products ready for the market and grocery shelves, including the beer, her spice, and also a brand-new coffee with Bean2Bean. The French Toast Bites brand went from a small limited release of her first beer in 2020 to jumping to having her own year-round permanent release with the first order of 2,500 cases and 10,000 cases. The great partnership with Yards Brewing Co. led to over 1,000 cases being sold after the beer went on the market in its first three days.
"When we met Charisse, we were drawn to her spirit and positive energy, and immediately felt that our values and interests were really well aligned," said Yards Brewing Company CEO Trevor Prichett. "As a small player in a big field, at Yards we are all about promoting Philadelphia's hometown companies and entrepreneurs, and we are proud to brew in collaboration with Charisse and to bring her ingenuity to beer lovers throughout our region. A big thanks to Dave Goldman at Urban Village Brewing Company for introducing us to Charisse and helping to kick start this partnership."
The collaboration brew is a result of months of development work between Charisse and the brewing team at Yards. The end result is an "anytime" amber-colored ale that clocks in at 5.5% ABV. The cinnamon, sugar, and vanilla-infused beer is perfect for any time – from breakfast, lunch, dinner, dessert, and all points in between. Yards wanted to create an entirely new beer that was completely inspired by and that celebrates the deliciousness of Philly's famous French Toast Bites.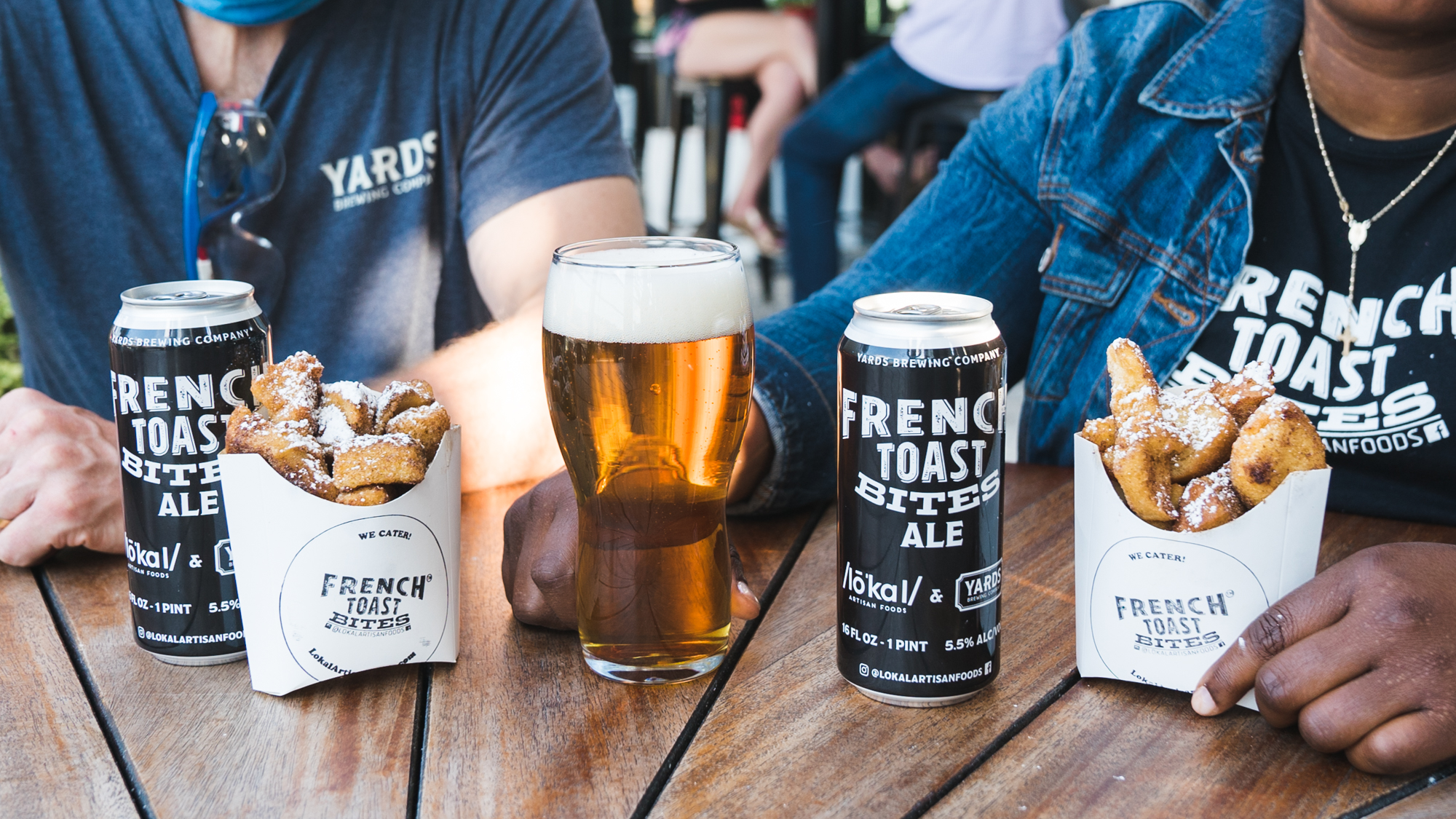 For McGill, the debut of the new beer makes her the first and the only black female in the state of Pennsylvania with her own signature beer. The debut of the new beer is also part of the expansive pivot story for the black-owned, female-owned small and local business operating out of the Philadelphia market. From a devastating loss of special event income for her French Toast Bites business, to a major pivots and grand openings, and now to the debut of this beer, the entrepreneur is getting out of the box, getting creative, working hard, and ensuring her success in a year filled with challenges for the hospitality business as a whole.
Beyond Yards' home base in Northern Liberties, look for French Toast Bites at grocery stores, bottle shops, bars, and restaurants in the coming days and weeks. ACME and Total Wine have both committed to selling the beer, and goPuff has picked up a major order of the beer for home delivery – as they did for the first release by McGill. The beer is set to expand to three states.
French Toast Bites Ale is available for purchase at Yards' taproom and shop with four-pack cans retailing at Yards for $13.99 and $7 per print on draft.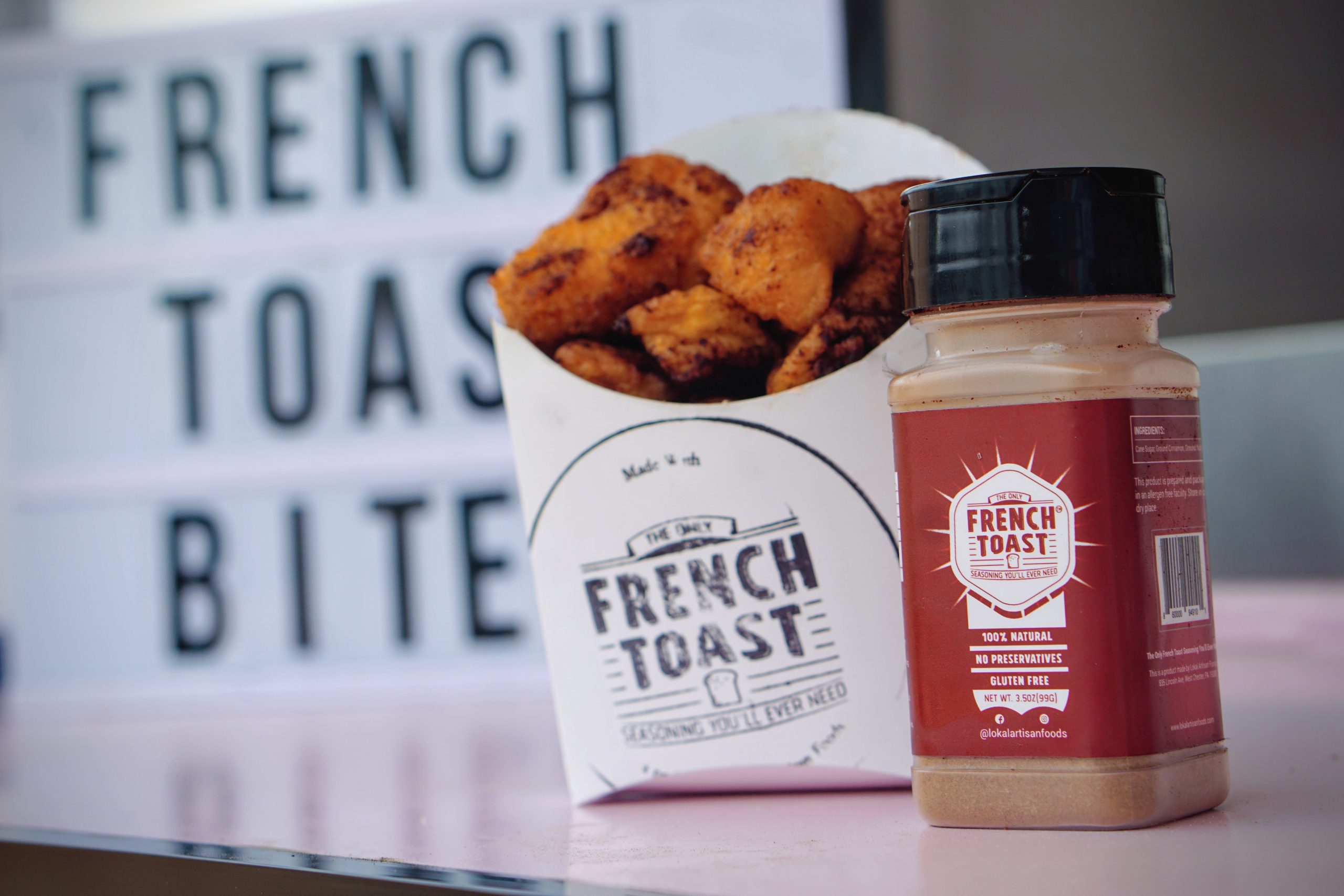 For a taste of the actual French Toast Bites, visit McGill and Lokal Artisan Foods at Cherry Street Pier and Spruce Street Harbor this summer. Plus, with restrictions being lifted, watch for McGill back out at festivals, fairs and events when they begin to resume. And of course, watch for McGill to return to Christmas Village and Made in Philadelphia Holiday Market.
Connect on social media at @lokalartisanfoods on Facebook and Instagram and Yards Brewing Company on Facebook and Instagram.
…
Morgan's BBQ in King of Prussia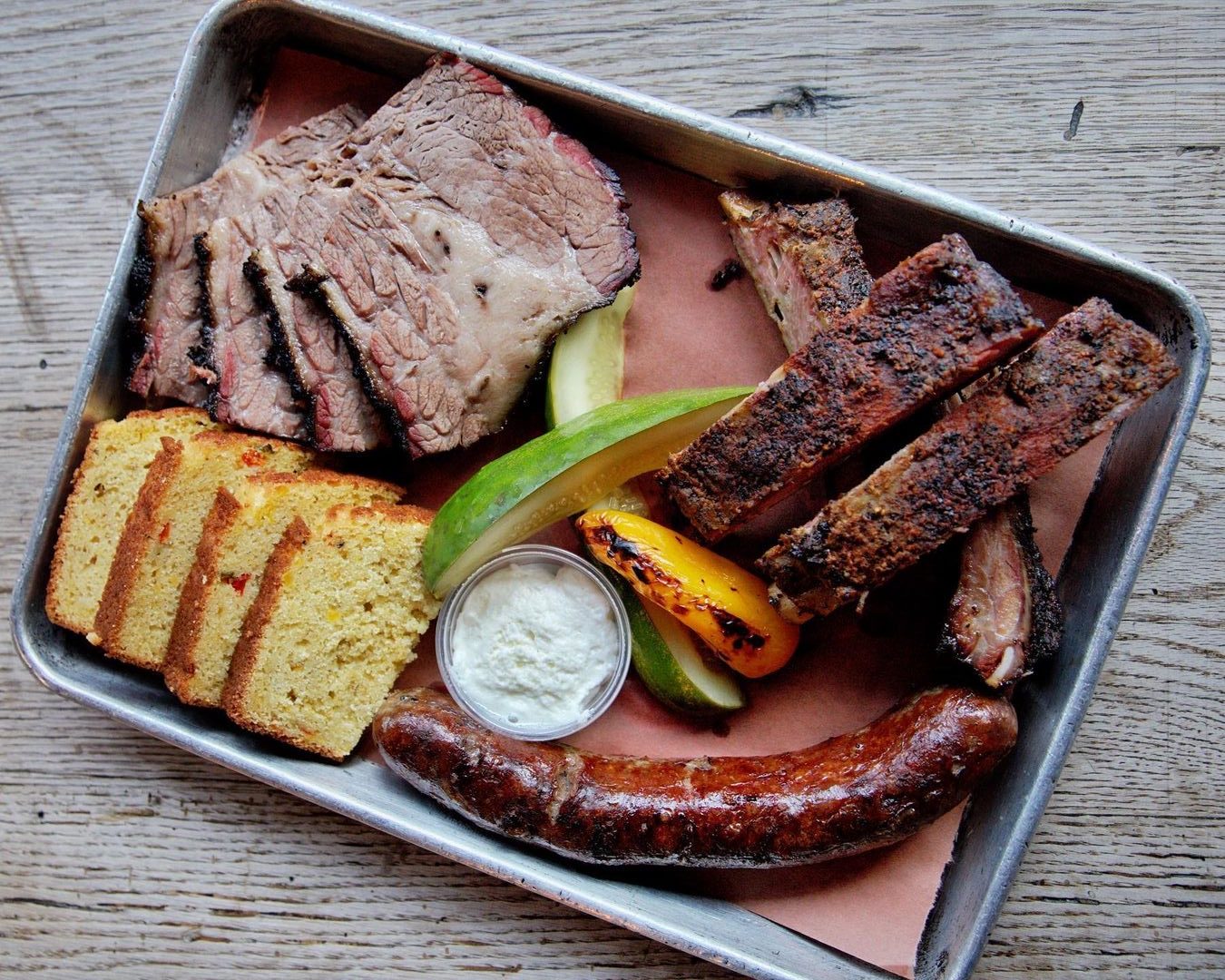 There's another exciting spot that's opened in the region just in time for Memorial Day weekend. The team behind New York barbecue institution Morgan's Brooklyn Barbecue recently opened Morgan's Barbecue in King of Prussia. Bringing its signature combination of barbecue and Brooklyn ethos to greater Philadelphia, the menu highlights plenty of savory options and bbq favorites. From the Ginormous Rib — an outsize, 8-hour-smoked bone-in beef plate rib, the largest butcher cut available to the BB-Bow- an array of regional barbecue sauces served alongside naked smoked wings: (Carolina Mustard) Yellow, (Alabama) White, (Kentucky) Black and (Kansas City Molasses) Red, there's something for everyone.
Located along the perimeter of the massive shopping center, the KoP Mall, Morgan's brings its award-winning combination of smokehouse fare, craft brews, and cocktails. You don't want to miss all of the finger-licking options they have.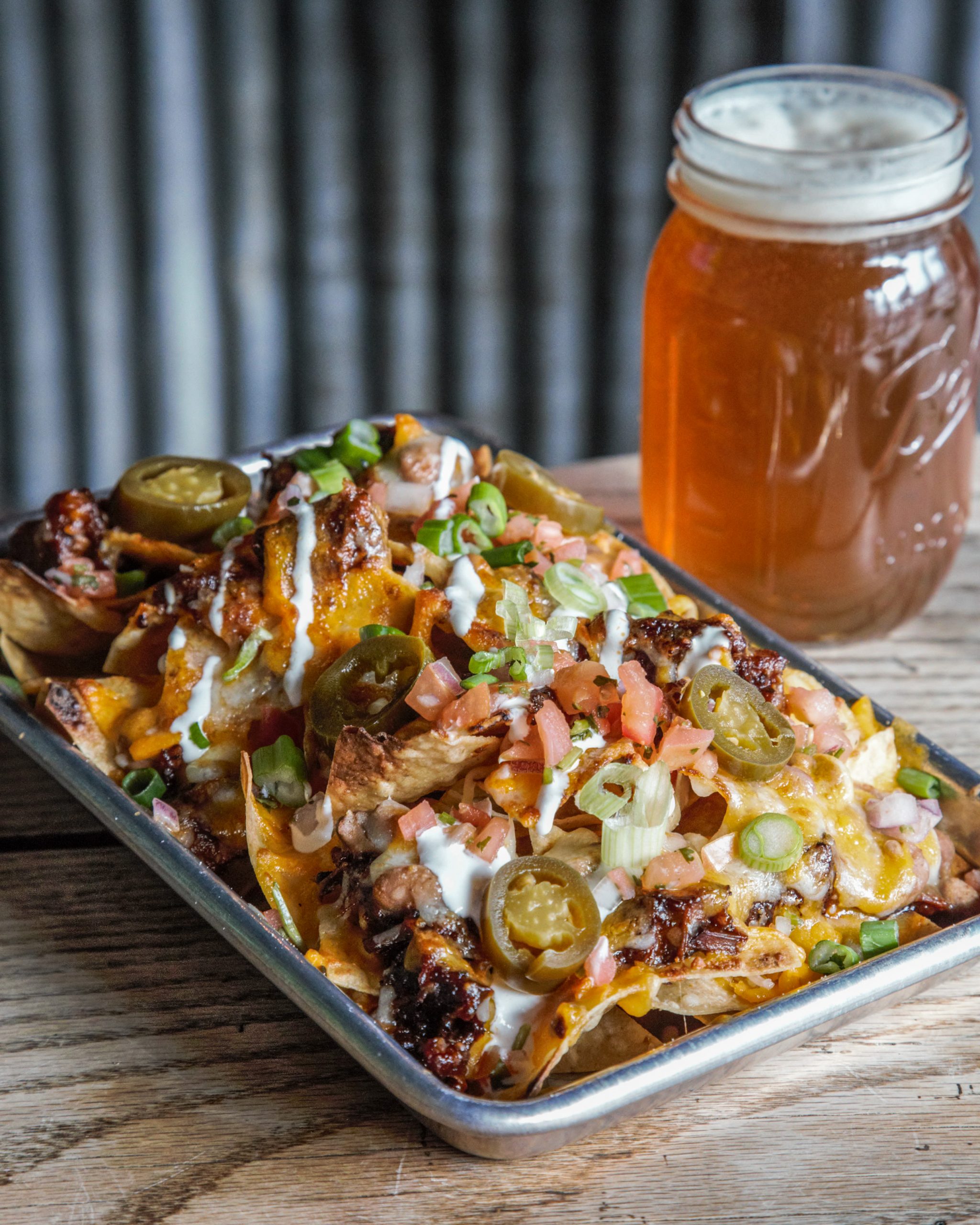 Launched by restaurateur Mathew Glazier of GlazierWorks (Monkey Bar, Strip House, Michael Jordan's The Steakhouse) and helmed by Pitmaster and Executive Chef Cenobio Canalizo, Morgan's KoP builds on the legacy of its Brooklyn flagship with high-quality slow-smoked meats via an on-site smoker, a deep well of craft beer and bourbon within an inviting, indoor/outdoor feel. Reminiscent of the festive outdoor dining available in front of the Brooklyn flagship, the King of Prussia location boasts a large, 80-seat outdoor patio.
The KoP location features Morgan's signature wood-smoked meats including its overnight smoked beef brisket (available in fatty and lean cuts), pork ribs, smoked chicken, pulled pork, and smoked turkey. Signature plates include the Ginormous Beef Rib, an outsize 8-hour-smoked bone-in beef plate rib as well as the best-selling "Holy Trinity" — house-smoked sausage, brisket, and pork ribs — offering Morgan's greatest hits within one value combo.
The menu also highlights Morgan's crowd favorite Smoky Queso with housemade tortilla chips, Frito Chili Pie, Chopped Brisket Sandwich, Morgan's Cheddar Burger, Fried Chicken Sandwich, Mexican Street Corn, Collard Greens, Morgan's Wedge Salad, Smoked Tacos (catfish, pulled pork, brisket, and vegetarian soyrizo) and six varieties of specialty macaroni & cheese.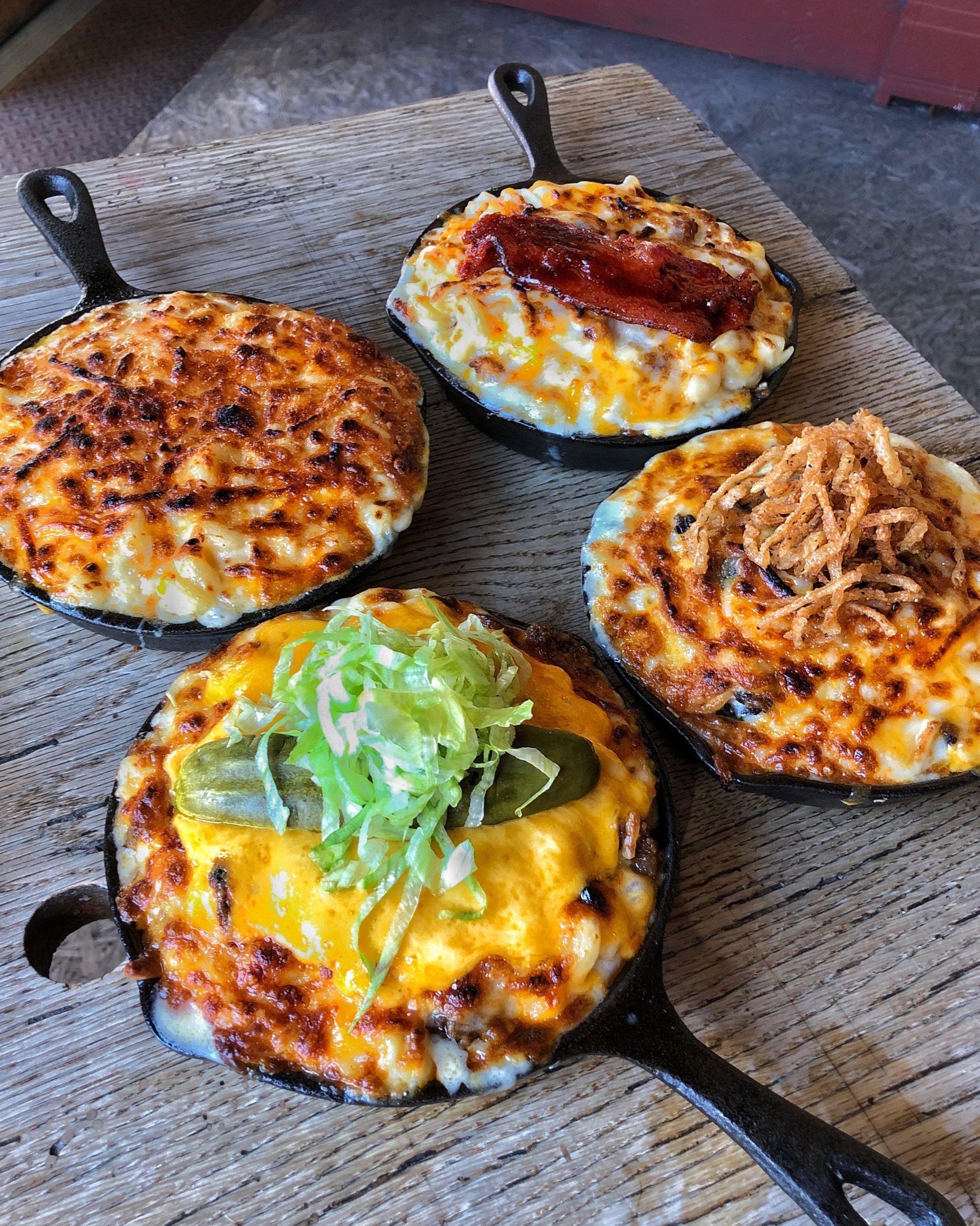 Morgan's KoP will focus on a robust craft beer program with a rotating 8-tap station featuring seasonal varietals and an additional canned selection. Curated by General Manager Jason Gates, the beverage program will emphasize Brooklyn craft beers as well as hyperlocal KoP breweries such as Workhorse and Conshohocken Brewing Company. The drink menu also includes a long list of domestic and local craft whiskey from KoP distilleries such as Five Saints, Bluebird, and Manatawny Still Works. The cocktail list features classics such as the Texas Two-Step (bourbon, sweet tea, lemon rind), house specialty Berry Fresca (vodka-spiked berry-infused lemonade), and the Smoky Jalapeño Margarita. Frozen mason jar daiquiris are also available in flavors such as Raspberry Fields (rum + berries) or Sunshine (tequila + citrus), as well as non-alcoholic options such as the Little Pucker (grapefruit, sweet pickle brine).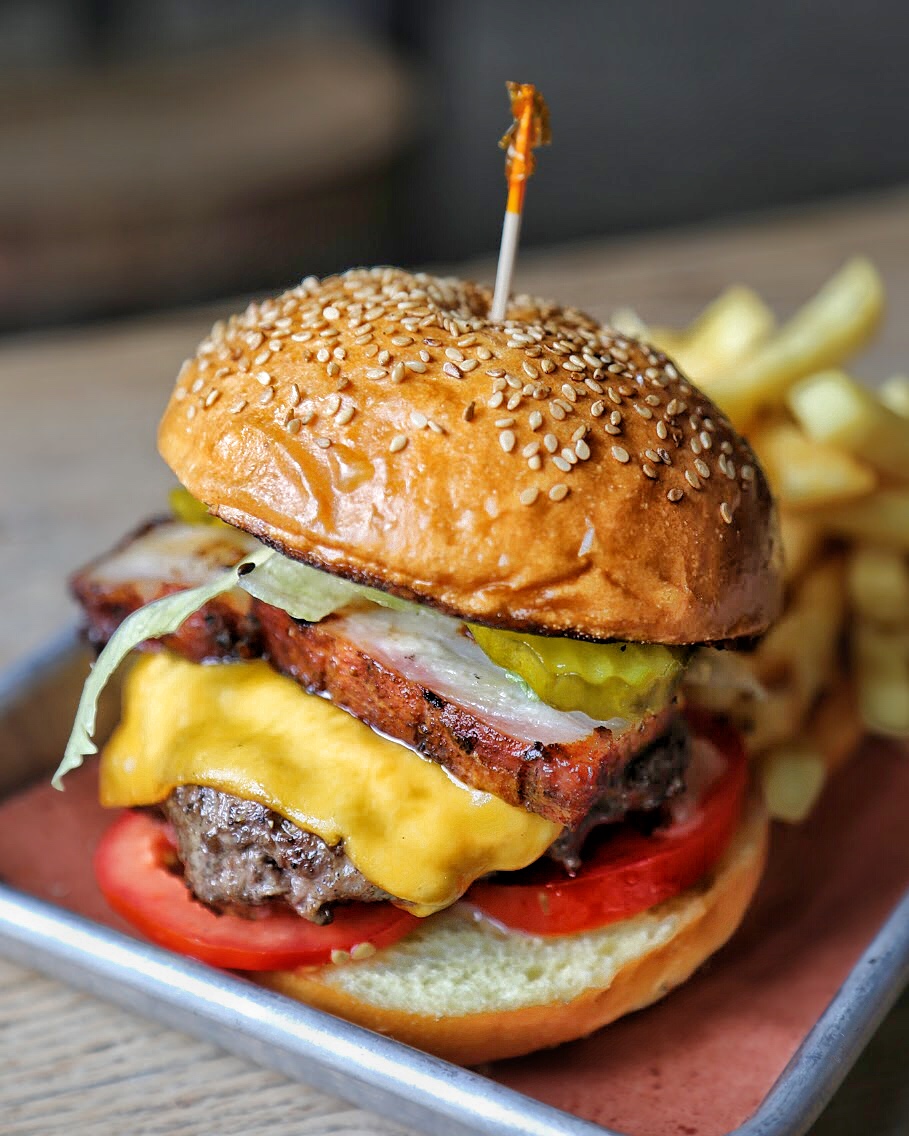 Architect David Whipple drew inspiration from Morgan's Brooklyn Barbecue flagship to oversee the 70-seat interior, which includes a large, square-shaped bar and many similar design elements reimagined for the space such as wooden furnishings, metal accents, and chalkboard menus. Making great use of the spacious outdoor area, Morgan's KoP also boasts an 80-seat patio with picnic tables, planters, plenty of umbrellas for shade.
Arriving just in time for Memorial Day and prime grilling season, Morgan's Brooklyn Barbecue is open in King of Prussia Mall for dinner, takeout, and delivery.
…
Center City Restaurant Week Continues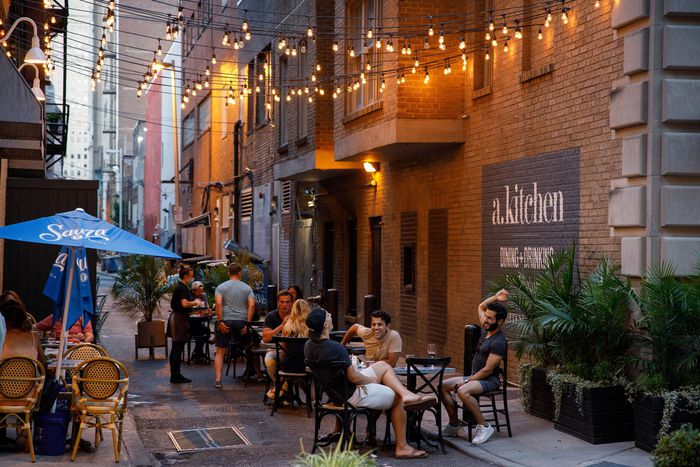 Through Friday, September 28, Center City Restaurant Week will be taking over the city. This amazing culinary offering is very wallet-friendly and is palate-pleasing. Diners can get access to $20 lunches and $35 dinners just in time for your holiday weekend. Whether you're dining out or taking home your favorite dish, Center City has plenty of options for you.
While enjoying CCD Restaurant Week, park for $9 or less at participating Philadelphia Parking Association and Philadelphia Parking Authority facilities from 4:45 p.m. – 1:00 a.m.
Click here to view a list and searchable map of participating parking facilities and instructions for receiving the CCD Restaurant Week discount.
Click here for CCD Restaurant Week participants.
Click here for CCD Restaurant Week takeout participants.
Click here for CCD Restaurant Week outdoor seating participants.
…
International Burger Day
International Burger Day is Friday, May 28. And we've got a rundown of all of our favorite bars, restaurants, and hotels in the city are serving ups some of the juiciest bites around.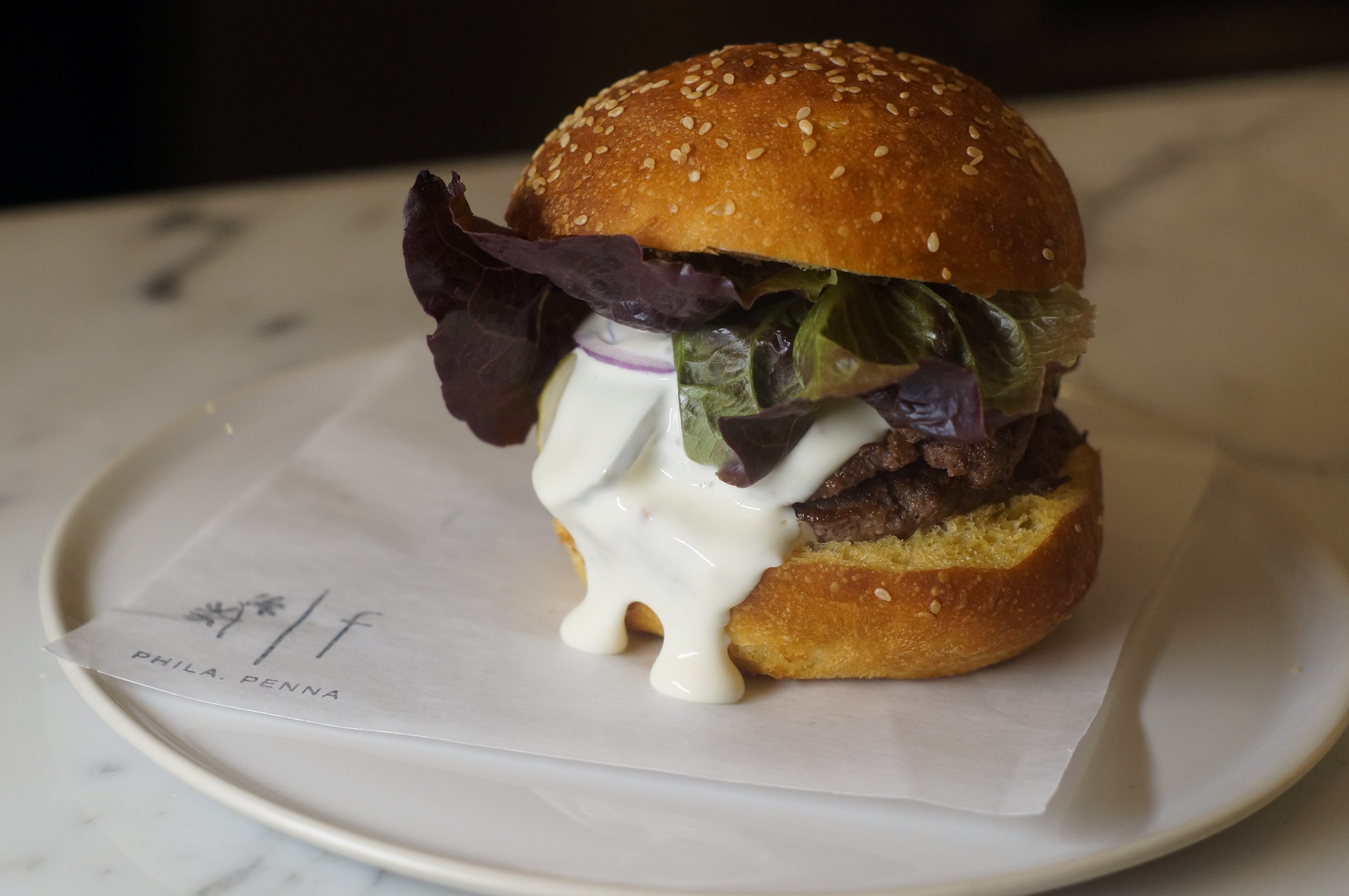 •  Devil's Den: Devil's Den, the South Philadelphia gastropub, is planning beer-tastic specials with Burger and a Beer ($13) consisting of a signature house burger, an 8 oz patty, American cheese, bacon, lettuce, tomato, and onion on a brioche bun paired with a pint or can of Sweetwater Brewery beer, available for dine-in only. Additionally, Devil's Den will offer a Burger and a Four-Pack ($12), including the signature house burger and a four-pack of Sweetwater G13 IPA, available solely for takeaway.
•  The Dutch: The Dutch, the popular breakfast and lunch eatery with a focus on reinventing the Pennsylvania Dutch classics, recently revamped the menu with the addition of the Burger ($12) consisting of classic toppings such as lettuce, tomato, onion, and cheese, served with choice of French fries or a house side salad. Folks have the option of adding an egg for $1 up-charge, bacon for an additional $2, and double the meat with an added patty for just $2 more. Available for limited outdoor dining, takeaway, and outdoor sidewalk seating.
•  Forsythia: Forsythia boasts an ever-evolving menu of French-forward dishes that rotate by the month, with one constant — the famous Burger Royale ($16) which consists of two smashed patties oozing in raclette and their top-secret 'comeback sauce'. Available for limited indoor dining, expanded sidewalk seating, and takeaway.
•  Grubhouse at The Bourse: Grubhouse at The Bourse,  Old City's modern artisanal food hall, offers its signature Hangover Burger ($10), composed of ⅓ lb LaFrieda beef with pork roll, American cheese, fried egg, and chipotle sauce to top off the masterpiece of a sandwich. Available for takeaway and delivery via Grubhub, Doordash, and Caviar.
•  MilkBoy: MilkBoy is serving up bodacious beef burgers at both of its dining concepts, MilkBoy Philly (Chestnut St) and MilkBoy South Street. MilkBoy Philly, the bar known for offering early service — the kitchen and bar open at 7 am — offers burger lovers a classic Cheeseburger ($13), topped with cheddar cheese, lettuce, onion, tomato, pickle, mayo, and ketchup, as well as a morning-friendly Hangover Burger ($15) with an egg sunny-side-up, smoked bacon, American cheese, fried onions, and chili mayo. Vegetarian guests can enjoy the Veggie Burger ($14), with optional cheddar cheese, lettuce, onion, tomato, pickle, mayo, and ketchup.
•  North 3rd: North 3rd, Northern Liberties' new American bar and grille, has not one, but two equally creative, mouthwatering burgers on its dinner and brunch menu including the Philly Hot Burger ($16) with provolone cheese, bacon, arugula, roasted long hot, hoagie spread, and special sauce, and the Sesame & Ginger Spiced Tuna Burger ($15) with miso greens, wasabi mayo, on Martin's roll. Diners can enjoy these sandwiches with a choice of hand-cut fries and pickles, or substitute a house salad for an additional $3.
•  Pub on Passyunk East: Pub on Passyunk East on East Passyunk Avenue, home to over 150 independently-owned businesses in South Philadelphia, is a beer-hall boasting the local favorite P.O.P.E. Burger ($13.50) composed of an 8 oz. Black Angus burger, fried green tomato, grilled red onion, aged cheddar, and basil mayo, served with fries.
•  Red Owl Tavern: Red Owl Tavern offers burger-lovers a toppling Tavern Burger ($20) with lettuce, tomato, onion, and cheddar cheese — Or, with additional add-ons of applewood smoked bacon (+$3) or avocado (+$4). Guests can choose between a side of fries or salad, or, upgrade to truffle fries for an additional $5.
•  Rex 1516: Rex 1516, Philadelphia's go-to for elevated Southern cuisine, offers not one — but two crowd-pleasers for burger-lovers on their all-day menu, starting with the "Best of Philly" Hamburger ($17), an 8 oz house grind patty, bacon, spicy pimento cheese, crispy red onions, and bibb lettuce, with the add-on of fried egg for $2. Vegans, too, can enjoy this stellar sandwich with the plant-based alternative Veggie Burger ($14) composed of black bean and roasted beet patty, vegan pimento cheese, crispy red onions, and bibb lettuce.
•  Royal Boucherie: Royal Boucherie, Old City's American brasserie specializing in French-style cuisine, boasts an elevated take on the classic cheeseburger — which just so happens to be a fan-favorite amongst local foodies — with their Grass-Fed Boucherie Burger ($18) consisting of bone marrow, watercress, and gruyere cheese, with the optional add on of bacon for $2, served with french fries.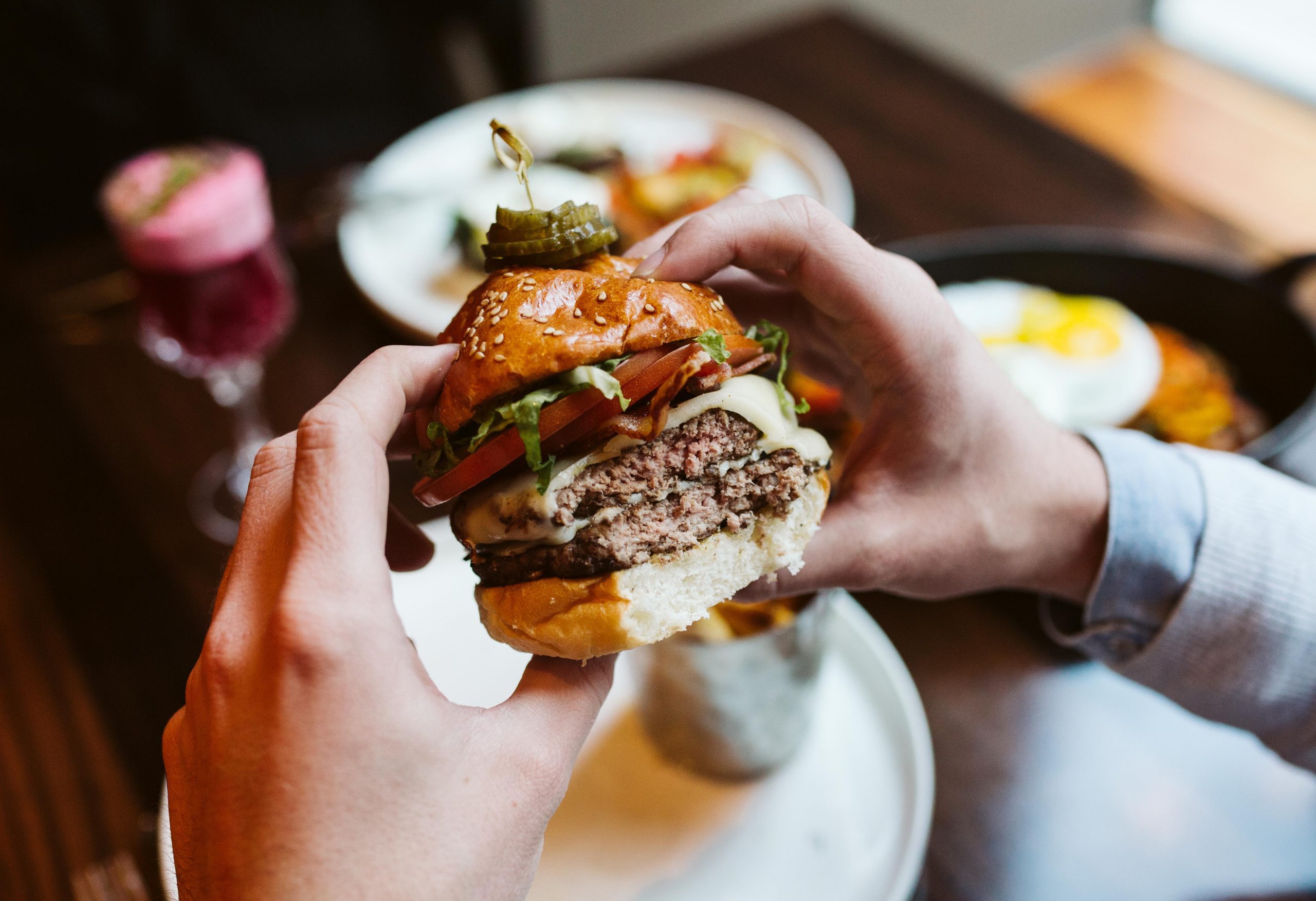 •  Sabrina's Cafe: Sabrina's Café is serving up three juicy and delicious burgers such as the Build Your Own Burger ($13.79) with lettuce, tomato, and choice of three toppings, the Santa Fe Turkey Burger ($13.79) with jalapeno, corn, black beans, and tomato, topped with cheddar jack cheese, pickled onion, pickled onion, and chipotle-ranch sauce, and the House Burger ($13.89) composed of Angus beef, "Big Spence" sauce, buttermilk fried onions, leaf lettuce, and sliced tomatoes and an over-easy egg on a brioche roll.
• Silk Diner: Silk City Diner, the retro and eclectic bar and lounge with beautiful art and an artifact-filled outdoor garden, has burgers perfect for both meat-eaters and herbivores: The Silk Burger ($8) is a 4 oz. beef patty topped with cooper sharp cheese, lettuce, tomato, onion, pickles, thousand island dressing, served on a Martin's potato bun, and the Impossible Burger ($10) comes with a 4oz patty, shredded lettuce, tomato, onion, pickle, vegan thousand island dressing, served piping hot on a vegan sweet potato bun. For both of these sizzling sandwiches, guests can add a patty for an additional $4.
•  Square 1682: Square 1682, the modern American kitchen located at the intersection of 17th and Sansom streets, boasts a premiere staple amongst the bevy of delicious brunch offerings with the Wagyu Burger ($18) composed of a double bacon cheeseburger, cooper sharp, hickory bacon, and served with fries.
•  The Twisted Tail: The Twisted Tail puts a twist on the classic cheeseburger with The Twisted Burger ($14) crafted with bacon, blue cheese, and bourbon BBQ sauce, available on the popular brunch menu.
•  Urban Farmer: Urban Farmer, Logan Square's modern American steakhouse, offers foodies an elevated, gourmet sandwich in The Farm Burger ($16) with white cheddar, aioli, served on a house-made English muffin. Indulge in this masterpiece for brunch or dinner service, available indoors at limited capacity, and outdoor on Urban Farmer's sweeping patio overlooking the Benjamin Franklin Parkway.
---
You can follow Candis McLean on Twitter (@CandisRMcLean) and e-mail her at [email protected].
Subscribe, rate, and review all Philly Influencer podcasts here. Follow Philly Influencer on Twitter, Facebook, and Instagram.