The Philadelphia Eagles have several playmakers on their offense, but one that might not get the recognition he deserves so far in 2022 is tight end Dallas Goedert.
Goedert has flown under the radar so far this season, registering 521 yards and two touchdowns on 40 catches, teaming up nicely with wide receivers A.J. Brown and DeVonta Smith, as well as tailback Miles Sanders. The fifth-year tight end heads into Week 10 off the back of his best performance of the regular season, hauling in eight passes from quarterback Jalen Hurts for 100 yards and one touchdown against the Houston Texans.
Goedert has totaled 500 receiving yards or more in four of his five seasons, and remains on pace to set a new career-high in receptions, receiving yards, and touchdowns. Although he isn't a No. 1 option for Hurts unlike other top tight ends George Kittle and Travis Kelce, his presence remains very important for offensive coordinator Shane Steichen.
"There's no question about it," Steichen said Tuesday when asked if Goedert is moving towards the league's upper echelon of tight ends. "[TE] Dallas [Goedert] is one of the premier tight ends in this league right now. He continues to show it week in and week out, what he does on the field. It starts in the meeting rooms. It starts on the practice field. The way he takes care of his body to get ready for football games. And the way he mentally prepares for football games.
"Then just his strength and size and his quickness and his play strength, it's at the top of the league right now without question," he added.
Who else? @goedert33 #PHIvsHOU | #FlyEaglesFly pic.twitter.com/1X9k1QMiXh

— Philadelphia Eagles (@Eagles) November 4, 2022
Goedert's ability to deliver big-time catches is crucial to the Eagles offensive gameplan, especially with his 6-feet-5, 256 lb. frame. Not only does Goedert provide a major threat in the redzone, he is also one of the best at his position when it comes to run-blocking and opening holes for Sanders, Kenny Gainwell, among others.
With the Eagles continuing to maneuver their way through the regular season, Goedert's presence will remain just as useful as the NFC East leaders now prepare for a Monday Night Football showdown with the Washington Commanders. Goedert, Brown, and Smith can slowly become one of the best receiving groups in the NFL and with Jalen Hurts' added abilities of getting after defenses with his feet, the Eagles will be hard for anyone to stop during the second half of the season.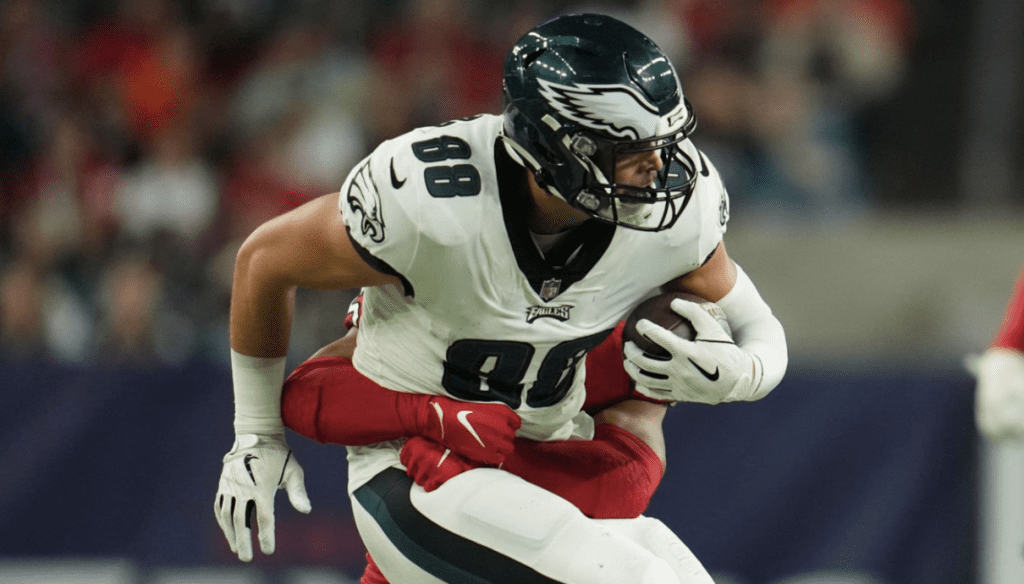 "No, I think so," Steichen said when asked if Goedert is exceeding the team's expectations. "I think when you have the guys we have on the outside, we talked about this, we start the season just spreading the love around to all these guys, and it could be game by game. Last week it was [TE] Dallas' [Goedert] game. He had eight for 100 yards and the touchdown, and I think we look at that every week and we try to get those guys the ball. Sometimes it'll dictate where the ball goes, the coverage will dictate that, and last week we saw some things on tape that we were able to take advantage of, and [QB] Jalen [Hurts] made great throws and he ran great routes."
The Eagles face Washington at Lincoln Financial Field on Monday.