IT'S DALLAS WEEK! I NEED SUNDAY TO GET HERE NOW! I know, relax as the Eagles are the top dogs in the NFL. AGAIN!
A big reason for the success [and someone the Eagles will need more from in the middle], of course I'm talking about the DROY front runner, Jalen Carter. Be sure to show your support and scoop up a new bobblehead from the folks over at FOCO.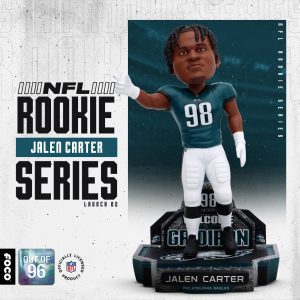 Let's Show Our Stud Rookie Some Love with FOCO's Jalen Carter Eagles Rookie Bobblehead
Another week down and another thrilling win and a close one indeed this past weekend in Landover, Maryland as the birds came into the Commanders house and shut the door late in the game with a fake tush push outside handoff to D'andre Swift to put the Eagle ahead by 2 scores.  Slight concern for the Eagles still despite their 7-1 record giving up 397 passing yards and 4 passing touchdowns to a struggling young quarterback in Sam Howell but all in all, a solid performance by the Eagles as their offense continues to prove why they can compete with any team in the National Football League. 
Always have to show love, however, to the defensive unit that truly wins the Eagles these football games and highlight their star rookie defensive tackle, Jalen Carter, with a special bobblehead from our friends at FOCOc.  This morning, the company released a rookie bobblehead of Jalen Carter in an action pose sporting his green Eagles uniform as he is standing on the Eagles logo base with the "Welcome to the Gridiron" sign in the background of the bobblehead with his name on the decal of the bobblehead.
This bobble is part of a collection of NFL rookie bobbleheads launched by FOCO from several NFL teams.  The Jalen Carter Philadelphia Eagles Rookie Bobblehead stands proudly at 8 inches tall with 96 of these available now for preorder at a retail price of $75.  Like every bobblehead FOCO makes, each one is hand-crafted and painted so no two pieces look exactly the same creating a diverse and unique look to each piece they launch.
Make sure to get your hands on the Jalen Carter Philadelphia Eagles Rookie Bobblehead now before they are all gone and rep your rookie defensive tackle with a little bit of good luck in your home every Sunday for gameday.  Also, be sure to check out FOCO's Kelly Green collection as they carry a variety of different products to fit your Philadelphia fandom needs!  GO BIRDS!!!