Let me start off by saying that my mind works differently than most Fantasy Football heads out there. I'm not Mr. Conventional, nor do I have any desire to be. When it comes to Fantasy Football, I take chances. Sometimes it comes back to burn me, but more times than not, it doesn't. I like to stay aggressive because while most other players like to stay complacent, there are other players like me that are constantly gunning for the top. When most "experts" say that you only should have one TE on your roster, I say screw it! If my second TE can be used as a flex and is a beast, then why would I limit myself and not use two TE's? This isn't kindergarten where everyone will get a little gold star for just showing up. This is a competition for bragging rights and I aim to be the best at what I do. Nobody ever remembers second place. All of that to say, I base my viewpoints off of facts and experience. Over the next two weeks you will see a few articles from me where I size up the main positions in fantasy.
At the end of the season, if you look back on projections that were made, there will always be hits and misses, no matter where it came from. So let's take a look at my top ten quarterbacks heading into the new season.
#1 – Andrew Luck (Indianapolis Colts)
Number one on my list is Andrew Luck. There is no surprise here. If you plugged Aaron Rodgers into this position, I'd completely understand. There is no wrong answer between those two players. The Colts offense has always been explosive, but they added two big pieces to their offensive puzzle in the offseason and they're Andre Johnson and Frank Gore. The Colts waved bye-bye to Reggie Wayne and now have a hungry Andre Johnson to play next to an explosive TY Hilton. With Andre Johnson also comes the potential threat of injury, but I wouldn't be concerned with that for now. The addition of Frank Gore is huge for the Colts as it's a big time upgrade over last year, when they had Trent Richardson. The Gore pickup will allow them to be a more balanced offense and assure that they don't have to fully rely on Luck's arm. It also will make Luck more deadly with the play action pass. Last year Luck was 380-616 for 4,761 yards and 40 touchdowns. He threw 17 more touchdowns last year than he did in 2013 and he's played in all 16 games in each of his first three seasons. Look for another big time year for Luck as he looks to take the next step of his career.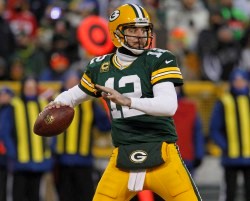 #2 – Aaron Rodgers (Green Bay Packers)
As stated earlier, Aaron Rodgers and Andrew Luck are essentially #1 and #1a on any QB list. Who you put first really doesn't matter because they both bring it. Rodgers is entering his 11th NFL season this year. Rodgers was 341-520 last year and threw for 4,381 yards, 38 touchdowns and only 5 interceptions. He did however fumble the ball 7 times, so he'll have to do a better job this year of protecting the football. In Rodgers' defense, the Packers offensive line had a tough time staying healthy last year, so for their sake and Rodgers' health, that line better get back to business in protecting their franchise QB. Their offense is stacked as always and Rodgers will have plenty of weapons. The Packers still have Fat Eddie Lacy at running back who'll look to build on his strong second half of the season last year, after performing at a putrid level in the first half of the season. Their offense only lost Wide Receiver James Jones, but they have some young studs like DaVante Adams and Jeff Janis that will step up and fill in for Jones going forward. They still have Jordy Nelson and Randall Cobb, so as long as the offensive line protects Rodgers, he'll have another monster season this year.
#3 – Peyton Manning (Denver Broncos)
This is the part of this list where things get a bit interesting. My number 3 Quarterback going into this year is Peyton Manning. I'm a firm believer in consistency and consistent is Manning's middle name (until he gets into the playoffs and chokes). I too, like some of you fantasy football geeks, was a little stunned at how the Broncos changed their offensive style in the middle of last year, when they became a run first team. In the offseason, the Broncos hired Gary Kubiak as their head coach and while I still think that the Broncos will be a run heavy team this year with their solid backs, CJ Anderson, Ronnie Hillman and Montee Ball, I do think that Manning will be more comfortable with this style of play this year. You could tell at times last year that he just couldn't get into the rhythm that we're used to seeing out of Manning. The Broncos also lost their stud TE, Julius Thomas in free agency, which might've been a devastating blow to any other QB, but Manning. With Manning, he always has a next man up to the plate mindset. Plus, the Broncos did bring in some solid replacements at the position with Owen Daniels and James Casey. They have some nice talent still at WR with DeMaryius Thomas, Emmanuel Sanders & Cody Latimer. The Broncos will be fine this year and so will Peyton Manning, as he'll look to improve upon his 2014 year in which he was 395-597 for 4,727 yards, 39 touchdowns, 15 interceptions and 5 fumbles. The sun is setting on his tremendous career and we'll have to see if he's got one last Super Bowl run in him.
#4 – Ben Roethlisberger (Pittsburgh Steelers)
A big surprise last year at the QB position was Ben Roethlisberger, as he had some monster fantasy games. This year, the Steelers starting RB, Le'Veon Bell will miss the first two games of the season, due to suspension. But, I don't expect the Steelers to be too terrible without him for those two games. The Steelers signed DeAngelo Williams in the offseason and he can step into the RB role, while Bell is out. Plus, Roethlisberger just knows how to get things done when things seem impossible. For his 2014 campaign, Roethlisberger was 408-608 for 4,952 yards, 32 touchdowns and 9 interceptions. The 32 touchdowns thrown by him match a career high from back in 2007. He has arguably the best fantasy WR in the game that he can throw to in Antonio Brown, plus he has the up and coming Martavis Bryant and they signed veteran WR Lance Moore in the offseason as well. That will be enough to get them through to week 3 when Bell returns. I expect Roethlisberger to put up big numbers while Bell is out and even more so when Bell returns as Bell is always a threat to catch the ball out of the backfield. Look for Roethlisberger to build off of his momentum from last year and keep things going, all while keeping the Steelers in playoff contention.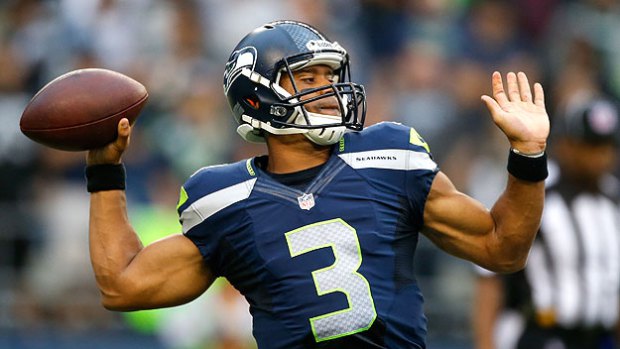 #5 – Russell Wilson (Seattle Seahawks)
Russell Wilson just got paid as he recently signed a new 4 year contract with the Seahawks for $87.6 million. That's fantastic news for him and his "lady friend" Ciara. Wilson certainly deserved the new contract as he was one really dumb, Pete Carroll play call away from leading the Seahawks to their second consecutive Super Bowl title. Wilson has played in all 16 games in each of his first three seasons in the league. Last year, Wilson was 285-452 for 3,475 yards, 20 pass touchdowns, 7 interceptions and 6 fumbles. But, the best part of Wilson's game is what he can do with his legs. Wilson was able to rush 118 times last year for 849 yards and rushed for 6 touchdowns. The Seahawks went out and traded for stud TE, Jimmy Graham, which will only make Wilson more dangerous. I put Wilson on my list at #5 going into the season, but I have to admit that I'm getting a bad feeling about this Seahawks team this year. It's very tough for teams that are in the Super Bowl to perform at a high level the next year. The Seahawks were fortunate enough to make it to back to back Super Bowls, but I believe bad luck is on their horizon and it may start with their QB. To be continued.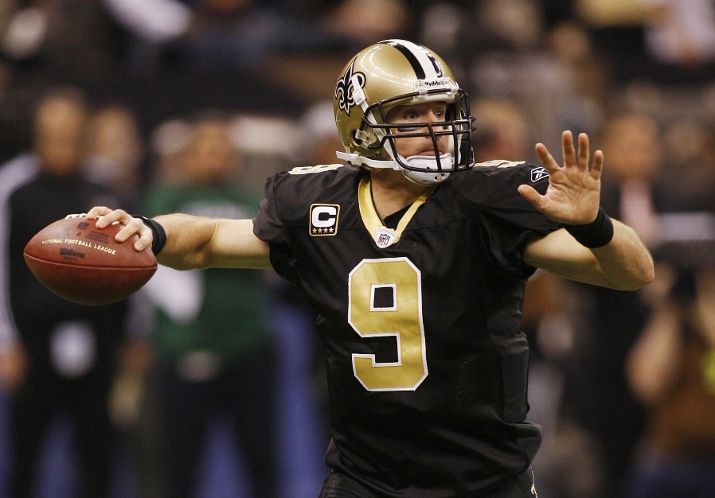 #6 – Drew Brees (New Orleans Saints)
If you had a chance to read one of my articles last week where I discussed players that I won't be drafting (2015 Fantasy Football All-Schmo Team), you'll know that I'm not very high on Drew Brees at all this year. However, that doesn't mean that I can't recognize that he's still one of the better QB's in the league. He's just not an elite QB anymore IMO. The Saints traded away Brees' favorite target Jimmy Graham and brought in RB CJ Spiller through free agency. Those two deals alone change how the Saints will conduct business on offense. The Saints will be more run heavy, which is great for the team, but it'll be bad news for fantasy purposes for Brees. In the 2014 regular season, Brees was 456-659 for 4,952 yards, 33 touchdowns, 17 interceptions and 7 fumbles. With the Saints turning more to the run game, it should allow for less turnovers by Brees, but ultimately, I see a big hit coming in the overall numbers for Brees this year. His overall yardage that he's thrown for and touchdowns thrown have decreased in every year since 2011. Brees still has some left in the tank, but don't expect him to be a stud like Andrew Luck or Aaron Rodgers. To me, he's starting to fall into the Tony Romo/Matt Ryan category.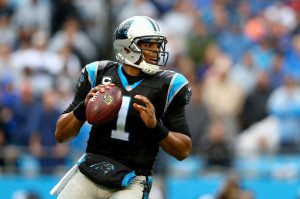 #7 – Cam Newton (Carolina Panthers)
Cam Newton had a rough 2014, especially coming off of his fantasy high in the previous season, where he led many fantasy teams to their Championships. Newton was banged up at times last year and it was clearly understandable as to why that was the case. Besides poor offensive line play at times, the Panthers running backs were dreadful and injured (as always) and on top of that they had only one legit receiver for Newton to throw to and that was then rookie, Kelvin Benjamin. For the year, Newton was 262-448 for 3,127 yards, only 18 touchdown passes, while throwing 18 interceptions and fumbling 6 times. Much like Russell Wilson, what makes Newton special is his ability to run with the ball. Newton is a big boy and is very hard to tackle at 6'5 and 245 pounds. His wear and tear started to show towards the end of the year. As a rusher, Newton finished the year with 103 carries for 539 yards and found the end zone 5 times. The Panthers did go out in the offseason and get Newton some nice young talent that can potentially help him as they drafted 6'4 rookie, Devin Funchess out of Michigan and they signed the speedster, Jarrett Boykin, who played last season with the Green Bay Packers. But, perhaps the key to how Newton's success this year, lies within their running game and Jonathan Stewart. Stewart is getting a lot of praise from within the fantasy community, that I personally don't believe is justified, which is why I threw Stewart on my 2015 All-Schmo team. If there's ever going to be a year that Stewart breaks through, it would have to be this year, as DeAngelo Williams signed with the Pittsburgh Steelers and there won't be stiff competition for Stewart's job. Cam Newton will need Stewart to take away some of the pressure that he felt last year. We shall see if Stewart is up to that task, but we do know that Newton is a Warrior and should be able to contribute to your fantasy team nicely with his legs and arm.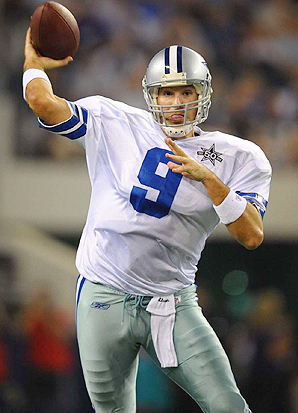 #8 – Tony Romo (Dallas Cowboys)
The Dallas Cowboys like last year are a very talented team. Their defense is getting better, their offensive line is downright mean and nasty and they perhaps have the best WR in the game in Dez Bryant. However, as the saying goes, how Tony Romo goes, so goes this Cowboys team. Last year Romo played really well because the Cowboys relied more on their ground game, which was led by the NFL rushing leader, DeMarco Murray. When pressed with the decision of which franchise player to keep in the offseason, the Cowboys elected to keep Dez Bryant over DeMarco Murray. That decision may come back to bite them in their Texas rears. The Cowboys have Joseph Randle as their primary back and he easily could be a decent replacement for Murray, but that is yet to be determined. They also brought in for some odd reason, the fantasy laughing stock, Darren McFadden, who as of this writing is probably getting injured while trying to sleep. Last year, Romo was 304-435 for 3,705 yards, threw 34 touchdowns and only 9 interceptions. He made better decisions last year and that could probably be attributed to the fact that he wasn't heavily relied onto put the team on his back through the air, along with the fact that the Cowboys have the best offensive line in the game. With the exception of the Murray loss, the Cowboys offense will pretty much look the same. Though, if no running back steps up for them, Romo might have to pass even more, which will go like this. He'll throw for 300+ yards per game, to go along with 1 or 2 Tony Romo like interceptions a game and will likely end their season when he throws one in a prime time spot in a big game. Look for Romo to produce much of the same numbers he's produced in the past.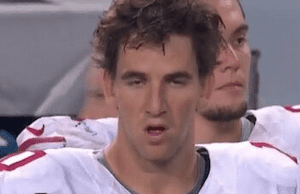 #9 – Eli Manning (New York Giants)
If there was ever a guy that you wanted to smack in the face for looking like a doofus, Eli Manning would be that guy. His #ManningFace makes me want to vomit, but since we're not talking about a competition on looks, let me bring myself back on the topic of fantasy. Manning has the most talented WR in the game to throw to in Odell Beckham, Jr. and on top of that Mr. Salsa himself, Victor Cruz will return to the lineup after suffering a patellar tendon tear last season. The Giants running game is average, but Manning was able to build some trust with his TE, Larry Donnell last season. Provided the Giants give Manning protection, he should be able to have a solid year and is definitely a guy that I would target in the later rounds of the draft to anchor my team at QB. Manning is now entering his 12th season in the league and will certainly look to regroup from a year that had him throw an interception every time you turned on the TV to watch him, which made for a hell of a drinking game. He ended the year with 14 interceptions, while completing 379 passes out of 601 attempts. He also threw for 4,410 yards to go along with 30 touchdowns. I have a feeling that Eli and the Giants bounce back a bit this year, while still having to look up at the Eagles atop the division. NFC East football is always entertaining and I expect some better football from that ugly Eli kid.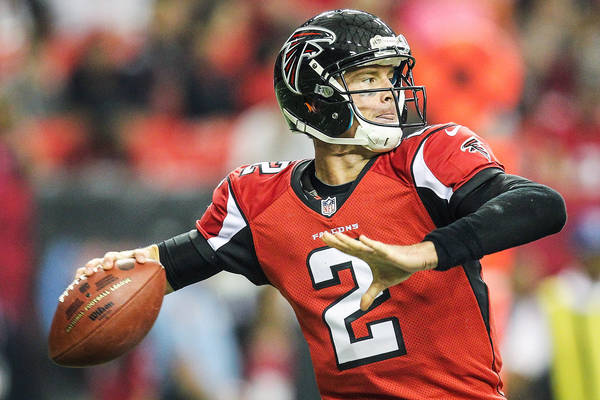 #10 – Matt Ryan (Atlanta Falcons)
Rounding out my top 10 QB's entering the 2015 season, is Matty Ice a.k.a Matt Ryan. God that nickname blows. Ryan may have fallen victim to the predictability of a Mike Smith led offense, so the fact that Smith is no longer Head Coach means that Matt Ryan is already starting this year off on a better foot. The Falcons hired defensive specialist, Dan Quinn as their Head Coach, but more importantly to Ryan and the offense is that they hired Kyle Shanahan as their Offensive Coordinator. The Falcons uncertain run game will almost certainly lead to the Falcons throwing a ton this tear. In 2014, Ryan threw for 415-628 for 4,694 yards, 28 touchdowns and 14 interceptions. The WR core is slightly improved over last year as they added Leonard Hankerson in free agency to go along with Julio Jones, Roddy White and Devin Hester. Expect more of the same this year from Ryan. He needs to work on his accuracy a bit and perhaps, if the running game surprises us, maybe it can open things up for Ryan and the pass game and lead to some bigger and better things for the Falcons.
There are some positions in Fantasy Football that are more important than others and the QB position is one of them. It's tough to win on a weekly basis if you're only getting 15 points or less from one of the positions that can give you the highest return weekly. In my opinion, there are only two sure fire studs going into the season with Luck and Rodgers. If you're like me and don't like to draft a QB with one of your first few picks, there are plenty of options that could give you some solid value this year. My advice is to do as many mock drafts as you can, so that you can see which QB's are going where in the drafts, so that when it's time to go live for your real draft, you're prepared and so that you can pounce on your guy like a shark when necessary.
You can stay up to date with everything Fantasy Football related by following me on Twitter (@ViggieSmalls765) and Instagram.