The start of the NFL regular season is just days away, it's finally here! Each week here at PhillyInfluencer.com, I'll take a look at the NFC East as a whole. Breaking down the latest news for your hometown Philadelphia Eagles and all of those other teams in their division.
So let's jump right into it, here's your NFC East report for the first week of the 2015 season!
Philadelphia Eagles (0-0)
Sadly we have to wait until Monday night to watch the Eagles take on those dirty birds, the Atlanta Falcons and all of their fake crowd noise. Either way, the Eagles have a tough match-up ahead of them to open the season. Although they were a major disappointment last year, the Falcons have plenty of weapons, especially on offense and will provide a big first test for the Eagles' new-look secondary featuring three new starters in Byron Maxwell, Nolan Carroll and Walter Thurmond.
Luckily for our Birds, it looks like they'll be relatively healthy for the regular season opener. Besides tight end Zach Ertz and outside linebacker Marcus Smith, everyone else should be good to go. There's even a chance that both Ertz and Smith are ready by kickoff as well. Now that I think about it, maybe having a game on Monday night instead of Sunday isn't that bad after all.
Dallas Cowboys (0-0)
Isn't it awesome that we're just a few days away from the regular season opener and the Cowboys still have no damn clue who their starting running back will be? I certainly think it is. First, all of the Cowboys' fans were begging for the team to re-sign DeMarco Murray (we all know where he ended up). Then they all jumped on the Joseph "Meat on the bone" Randle bandwagon. Lastly they were all over the impossible resurgence of a fossil…sorry, I meant Darren McFadden.
Now it turns out that the team is still not completely sold on either Randle or McFadden so they just traded for former Seattle Seahawks backup running back Christine Michael. While he's certainly talented, it's well documented that Michael isn't exactly the brightest guy off the field. But hey, that seems to be what the Cowboys go for these days, isn't that right Greg Hardy?
Do you guys think Greg Hardy might get confused because of Christine Michael's girly name and accidentally abuse him?

— IgglesNest (@IgglesNest) September 6, 2015
New York Giants (0-0)
As someone that lives in a household full of Giants' fans, it's awesome to see them doubt all of their team's recent moves. During their final cuts, the Giants released linebacker Jameel McClain for some reason. McClain was the Giants' leading tackler in 2014, totaling 117 tackles and 2.5 sacks. But yet the Giants let him go, leaving their fans speechless.
Somehow that's not all, they also recently signed Stevie Brown, which was actually a good move. Until they released Brown days later for another safety, Craig Dahl. But the weird thing is that while Brown is injury prone, he's actually a competent player. Dahl is just not very good, to put it nicely. In eight NFL seasons, Dahl has received a positive grade for the season just once from ProFootballFocus.com…that's awful.
How about this awesome tweet from a Niners' fan I stumbled upon regarding Dahl?
WHY oh WHY did the #49ers bring back Craig Dahl? He Sucks MONKEY BALLS, what is goin on this offseason @JedYork ur killing us #Niners Fans

— OptimusMagnum 🇵🇷 (@OptimusMagnum) March 9, 2015
While the Giants seem to be trending in the right direction on offense, their defense has certainly taken a step backwards on paper heading into this season.
Washington Redskins (0-0)
Oh man, where do I even begin? The Redskins went from division champions in 2012 to the laughing stock of the NFL in 2015. That's what happens when you hire an awful offensive coordinator such as Jay Gruden to be your head coach. Seriously though, why did they ever think that was a good idea? Especially when you had a promising, mobile quarterback in Robert Griffin III.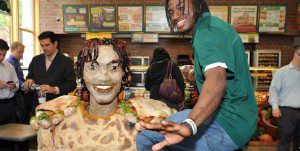 Now they've just thrown "RGIII" under the bus and have moved on to Kirk Cousins…KIRK COUSINS! But don't worry, if anything happens to Cousins, they have Colt McCoy behind him to save the day. That about sums it up, things are going to be rough in Washington this year and they'll likely clean house following the upcoming season.
That's all for my NFC East report for Week 1, be sure to check back here at PhillyInfluencer.com for all of the latest news regarding your beloved Birds and everything else happening in Philadelphia!