Ah, the life of a Champion. It must feel real sweet right about now to be new UFC Women's Bantamweight Champion, Holly Holm. After knocking out Ronda Rousey last Saturday night, Holm now gets to bask in all of her glory. Holm had the chance to spend a little time with Jamie Foxx this week.
Here the two are as they first met.
From there the two hung out for a bit and it was caught on Periscope.
That's pretty cool, huh? Holm came out of nowhere and has become the talk of the sports world since handing Rousey her first defeat. But, the fun didn't end there. She attended the L.A. Clippers game at the Staples Center, where she had the chance to meet Floyd Mayweather.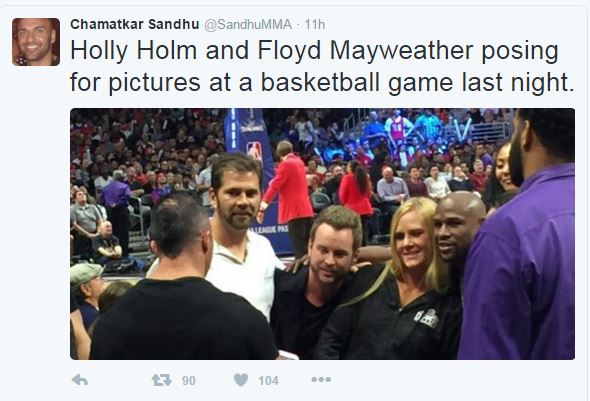 Here's a close-up of the two.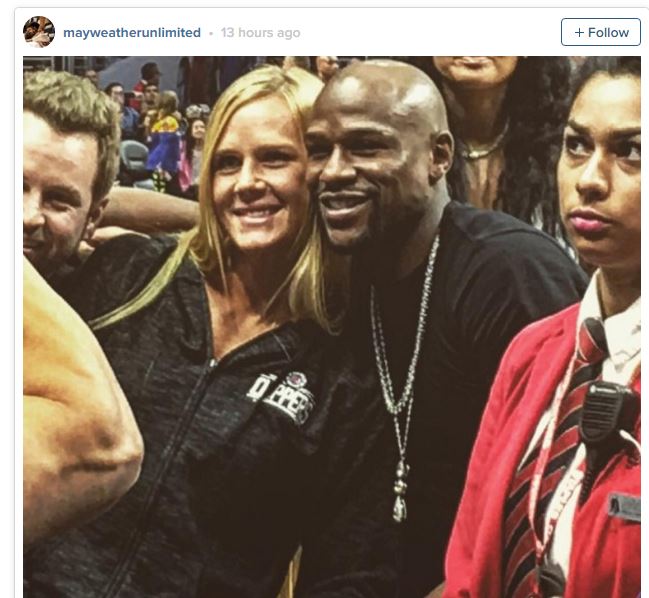 Something tells me that Mayweather really enjoyed taking these pictures. Though, to his defense this one time and one time only, he actually came to Rousey's defense earlier in the week by stating the following.
"I don't think it's cool how everyone is trolling her on social media. Certain things you have to learn. People will love you on Friday and then Sunday morning, it's nothing but negative comments and people making jokes and people making fun about you, which I don't think is cool. I've never been on the other side, so I don't know how it feels. I'm pretty sure she's a very, very strong person, but we still have to take into consideration that she has feelings," Mayweather explained. "Everything happens for a reason. This was already written. Listen, if God says, 'In Floyd's career, I don't want him to lose,' you know what? I wasn't going to lose. That doesn't mean that I haven't took a loss before. I'm not talking about boxing; I'm just talking about life. When you lose a loved one, that's taking a loss. I think that everything is just a learning experience. In due time, she'll be able to bounce back and make some noise again in mixed martial arts."
Not to be outdone, Holm had this to say about Rousey.
At the end of the day though, this is Holm's moment in the sun, and she's earned it, so let her enjoy it.