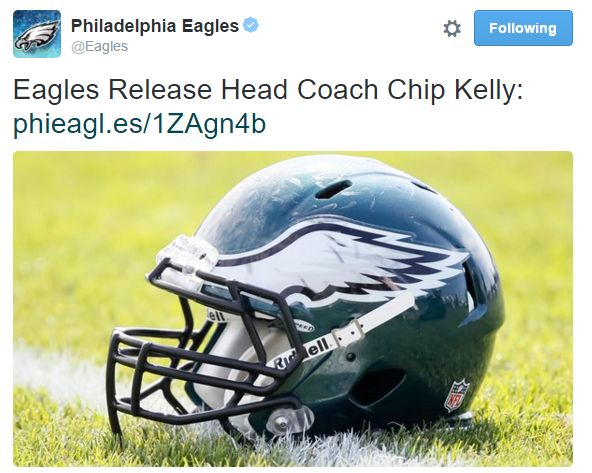 Jeffrey Lurie fired Chip Kelly today. I didn't see this coming. I don't think anyone saw this coming.
Uhm, holy shit. Ed Marynowitz is gone, too. Pat Shurmur will be the interim head coach Sunday. More to come.
Today, Jeffrey Lurie, Chairman and CEO of the Philadelphia Eagles, released Head Coach Chip Kelly.

"We appreciate all the contributions that Chip Kelly made and wish him every success going forward," said Lurie.

Coach Pat Shurmur will be interim head coach for Sunday's game against the New York Giants.

Ed Marynowitz, vice president of player personnel, was also released. Tom Donahoe, former GM of the Buffalo Bills and director of football operations for the Pittsburgh Steelers and senior football advisor for the Eagles since 2012, will assume the role of senior director of player personnel.

A press conference will be held Wednesday, December 30 at the NovaCare Complex at Noon with Lurie.
So, why the timing? Why not fire him Monday after the Giants game? Something happened.
Emmanuel Acho, who Chip cut before bringing him back before cutting him again this season, weighs in:

Here's Donovan McNabb's take on Chip's firing:
Well I tried to tell you before the game Saturday that the game meant much more to Chip then anything. Philly is about playoff wins. Fired

— Donovan McNabb (@donovanjmcnabb) December 30, 2015