February may be the shortest month, but sometimes it can feel like the longest. If you've spent the dark and dreary winter months in hibernation, here are a few events happening in Philly this weekend to get you out of the house. Also, spring is just around the corner. Chin up, folks, we're almost there!
As always, click the links for event and ticket info.
Closing of Winterfest Weekend Festivities
Blue Cross RiverRink
Friday, February 26 1pm-1am
Saturday, February 27 11am-1am
Sunday, February 28 11am-11pm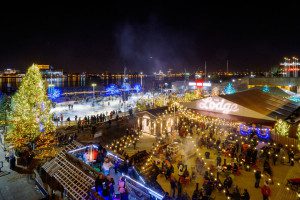 Celebrate the closing of Blue Cross RiverRink's Winterfest as it says goodbye until November by attending this weekend's many festivities. If drink specials and free Dunkin Donuts' samples aren't enticing enough, I don't know what is. More details in the link above!
…
Philly Bierfest
The German Society of Pennsylvania (611 Spring Garden St.)
Saturday, Feb. 27 1-5:30 p.m.
Did you know that the German Society of Pennsylvania is the nation's oldest German-American cultural organization, founded in 1762? Come celebrate Pennsylvania's German brewing heritage with the Brewers of PA, the German Society of PA and Philly Roller Derby (you can even challenge the ferocious female athletes to an arm wrestling match). Visit with nearly two dozen of PA's leading brewers of lagers, bocks and weizens, and sample a diverse array of imports from Germany! Sign up for Brauhaus Schmitz's Beer-Jello Masskrugstemmen, or tour the new Sam Adams Lager Learning Lounge. Tickets are $48 for general admission and up to $78 for VIP packages.
…
King Georges
PFS Roxy Theater (2023 Sansom St.)
Friday, Feb. 26 – Thursday, March 3 (click here for showtime and ticket info)
This acclaimed documentary returns to Philadelphia after two sold-out screenings during the 24th Philadelphia Film Festival. After four decades of ruling Philadelphia's culinary scene with his world-renowned restaurant, Le Bec-Fin, Chef Georges Perrier must fight to keep his reign as times and tastes change.
If you plan to go, you'll want to catch the Saturday screening as Perrier and director Erika Frankel will be on hand for a Q&A along with former Le Bec-Fin chef de cuisine Nick Elmi, now the owner of Laurel, Philadelphia Magazine's two-time reigning Best Restaurant winner.
…
Naughty by Nature
Theatre of Living Arts
Sunday, Feb. 28 8 p.m.
Whether or not you're down with O.P.P. or just want to get down to some old-school jams, word is these guys still got it. New Jersey's beloved hip-hop trio brings its 25th anniversary tour to South Street, with plans to release a new EP and documentary. Rolling Stone has the details.
…
Oscars Viewing Party
Square 1682 at the Hotel Palomar
Sunday, February 28, 6pm-midnight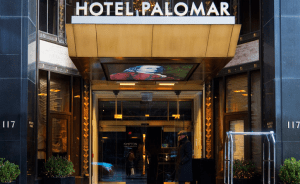 Every year, Square 1682 at the Hotel Palomar hosts an Oscar viewing party. Starting at 6 p.m., guests can enjoy movie-themed cocktails, champagne, truffled popcorn and more while watching the results unfold on multiple televisions throughout the space. No cover fee, just pay as you go!
[Editor's note: Both Rachel Mack and Mike Castiglione contributed to this article.]