He did not!
"I feel like I took a year off last year, so I am fresh,'' DeMarco Murray joked about his lone season in Philadelphia where he ran for just 702 yards on the season and averaged 3.6 yards per carry. This came after leading the NFL with 1,845 yards rushing in 2014.
The audacity!
Former Eagles linebacker Seth Joyner wasn't thrilled with the comment either.
@ZBerm @Titans Yea, we all in Philly watched you take the year off!! #thief. SMDH

— Seth Joyner (@sethjoyner) March 10, 2016
Murray says that he's "100 percent motivated" and willing to do whatever the Titans ask.
I have seen what coach Mularkey has done with a guy like Michael Turner in Atlanta and that excites me," Murray said. "Whatever they ask me to do I am willing to do it, whether it is carrying the ball 20 times, 30 times, whatever. I'm excited, and I am going to do my best to help this team out and do as much as I can."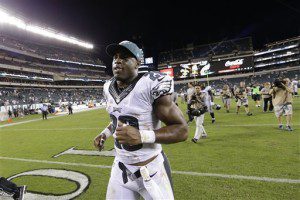 (AP Photo/Matt Rourke)
We've seen this act before. Murray is saying all the right things, something he also did when he arrived in Philadelphia. Just wait until he starts to not get his 20-30 touches. That's when the moping begins, when those long talks with the owner on the plane take place.
Just wait.
Murray's Titans don't visit Lincoln Financial Field until 2022. He'll be 34 and most likely out of the league by then.
Lucky schmuck!